Head Pro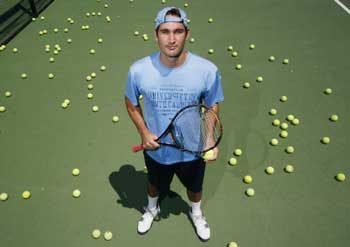 Stefan Hardy, a Santa Maria native, has over 20+ years tennis tournament competition and coaching experience.

Stefan coached at Haviland tennis academy til 2017; an elite junior tennis program that focused on clinics, personal lessons, and tournament coaching.

He was also the Cal Poly menís tennis Assistant Coach in 2011-2014 where they won 2 Big west conference championships.

As an all American at the University of North Carolina, Hardy amassed a 63-30 singles record and a 76-23 doubles record in 4 seasonís of competition with the Tar Heels.

He earned All-America honors after reaching semifinals of NCAA doubles tournament with partner Clay Donato during the 2009-10 season and a ranking of No. 11 nationally in doubles. The duo compiled a record of 25-9 playing exclusively at the first court. Hardy and his partner upset No. 1-ranked doubles team of Henrique Cunha and Reid Carleton (Duke) in Durham, 9-7, handing them their only ACC loss of the season. He completed the singles season with a record of 21-11 (.656 winning percentage) playing mostly on the No. 3 court.

As a sophomore he earned All-ACC honors when he won 20 singles matches from the second court. Posted a doubles record of 28-6 and advanced to the quarterfinals of the ITA Mideast Indoor Championships.

His freshman season he compiled a 12-3 record at No. 2 singles and a 9-3 record at No. 3 singles and was 7-3 in ACC dual matches, earning ACC Freshman of the Year honors. Recorded a 18-5 record at No. 2 doubles and finished the year ranked No. 31 in the final ITA Mideast Rankings.

He was a standout player at Righetti High School and a five-star blue chip recruit. He was a doubles finalist in boys 16s at Kalamazoo Nationals and Easter Bowl Singles quarterfinalist in boys 18s. He was also a member of the Southern California Junior Davis Cup Team championship.

Hardy was ranked top 10 in Southern California from the age group of 12 and under to 18 and under.