What's Up at ABAC - June 13
Summer Club Hours
Monday – Friday 5:30 am – 9 pm
Saturday 7 am – 9 pm
Sunday 8 am – 8 pm
Kids' Club Hours (by reservation only - on the ABAC app under Adventure Central)
Monday through Friday 8:30 am - 12:30 pm
Tuesday, Wednesday, & Thursday 3:30 pm – 6 pm
Saturday & Sunday 9 am – 12 pm
Face Covering Update
Unless something changes in the mandates between now and then, face coverings will be optional inside and outside for club patrons that are vaccinated beginning on Tuesday, June 15. Unvaccinated members and guests will still need to wear a face covering when indoors anywhere at the club. Let's all be considerate of each other. We can't assume that someone wearing a mask means they are not vaccinated – there are other reasons people may choose to continue wearing one.
TRIBE Team Training New Session Starts This Week

June 14 – July 24

When you join a TRIBE, you commit to your fitness, your goals, and your Team! You are part of a Team that will train, motivate, and succeed together for six weeks. Your TRIBE Coach adapts each exercise to suit all fitness levels, from beginner to athlete. TRIBE Team Training™ creates community, fosters accountability and delivers RESULTS!
It worked out best to offer TRIBE Core this season, instead of TRIBE Life.

TRIBE Core is a fun, focused, low-impact workout that zeros in on your belly, back, bum and shoulders. You will have a great whole body workout in a unifying team environment.
Please email [email protected] if you want to sign-up or have any questions!
TRIBE Core Session Dates - Choose your TRIBE!
June 14 – July 24
Mondays & Wednesdays - 8:30 to 9:30 am
or Tuesdays & Saturdays - 6:15-7:15 pm (Tues) & 8:30 – 9:30am (Sat)

Each TRIBE Season of 12 sessions is $240 Member / $360 Non-member
Great value – even less cost than traditional small group training!
Pool News And Reminders

-Reminder – you do not need a reservation to use the large pool. Lanes 1 & 2 are open for drop in use all day long. Only lanes 3-6 require a reservation.
-It's sauna time! One is open and ready to go with no reservations required. The second one has had parts on backorder for many weeks and we hope to have it running soon.
-PLEASE dry off before entering the saunas. We have had many repair issues stemming from people using them while wet.
-Beginning Tuesday, June 15, there will no longer be reservations for the hot tubs! The large hot tub ("adult hot tub") will go back to being only for those over 16 years old. Reservations for hot tubs made for the 15th and beyond will be cancelled.
-The small hot tub will be closed for repairs on Thursday, June 17.
-PLEASE stop and wait for a front desk staff person to check you in each time you come to the club – especially if you are swimming. If we forget to ask, please tell us you are swimming so we can check you into your swim reservation. (This is separate from your club check in.) Many people are still not doing this and it causes a lot of work for bookkeeping.)
Group Fitness Classes At ABAC

*Please note that Fit Kids is now Fridays from 3:15-4 pm

We started a "rough draft" trial of our summer schedule last week and it went fairly well. Please have patience during this transition time while we work around numerous different schedules and space sharing. We have received a lot of feedback and are doing our best to fulfill as many requests as we can. The updated class schedule is always available on our website and app. There will be more classes added in the coming weeks as well. And as always – please check the app before coming to class, as that is always up to date. We will continue to offer Zoom classes for now, and that schedule will still be emailed to active members on Sunday nights.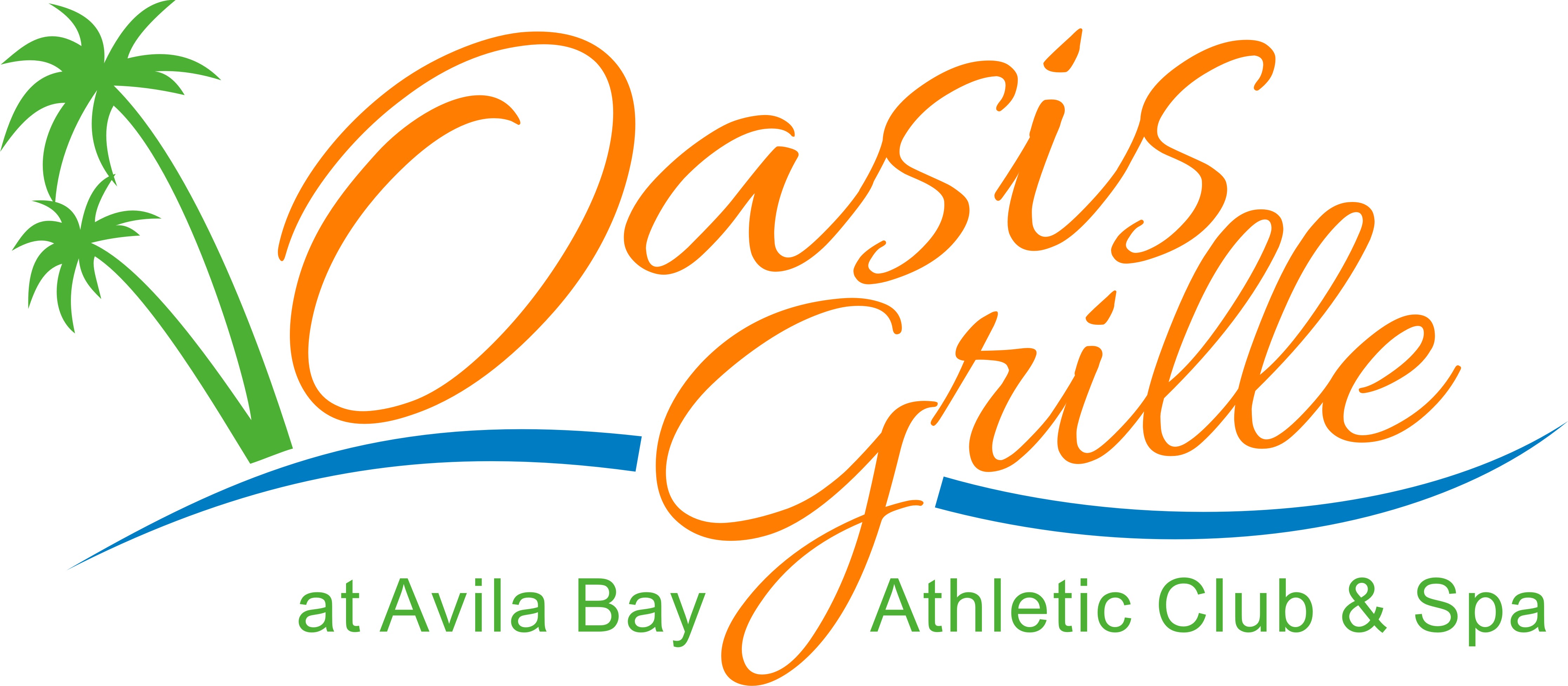 Come check out the new summer menu that started Friday at our awesome Oasis Grille!
Wednesday Night Dinners To-Go
June 16
Choose Your Pick-Up Time between 4-6 pm
Roasted New York Steak
Baked Potato w/ Traditional Toppings
Sauteed Veggies
Garlic Dinner Roll
$16 each (a 15% gratuity will be added)
Reply to this email to sign-up, or sign-up in the lobby.
Friday Night BBQ (available with or without attending Happy Hour)
June 18
Oasis Grille's Famous BBQ Chicken Dinner
Ranchero Beans
Caesar Salad
Garlic Bread
Corn on the Cob
Peach Cobbler
$16 ea. (a 15% gratuity will be added)
A link will be sent by email on Monday to sign-up, or sign-up in the lobby.
Friday Night Happy Hour – Superhero Theme!

Friday, June 18
6pm – 8 pm
Members Only
We changed gears with the theme. Honoring the members that stuck with us through the mess of the past year, and the fabulous employees that made it all happen, calls for a Superhero party! We will welcome back the rocking blues band - Blues Asylum – which has quickly become a club favorite! Oasis Grille will be serving up another BBQ Chicken Dinner with pre-purchase again. You won't have to sign-up to attend this Happy Hour (just sign-ups for the dinner using the link that will be sent out on Monday). This event is for active members only. A member on a single membership can bring one guest if they would like.
Tennis Reminders

-Please only wear non-marking soled tennis shoes on the tennis courts. Vans and other skateboarding shoes are good examples of shoes not to wear. We don't want to scuff up our new surfaces!
-PLEASE pick up your tennis balls when finished with your court. If you don't want them anymore, please put them in the tennis ball can on the pathway.
-The two free Thursday tennis clinics for tennis members require registration ahead of time using the app or a computer, or reserving a spot through the front desk.
Tennis Mixed Doubles
Every Friday
5:30 – 7:00 PM
Come join us for a good time on the courts! Meet some new people and keep your feet moving. No sign-up necessary. This weekly event is free, and open to members only.
Summer Blast At ABAC

One Week Sessions
June 7 to August 6
Monday – Friday 9 am – 3 pm

Looking for a fun and safe place for your kids to hang out this summer?
Register for the annual ABAC's Kid's Summer Blast! It's an activity based week that will keep your child moving and excited. Each week includes tennis instruction, swim instruction and games, science experiments, art projects, instructional hands on gardening, educational nature walks, soccer, kids' fitness, Kempo, obstacle courses, and a weekly walk to the Avila Barn. All counselors will be trained in COVID-19 protocols. Visit our website or front desk to receive a registration packet! Please contact Travis Hawley at 805-595-7600 ex. 113, or [email protected] if you have any questions.
Our New Weight Room Equipment Has Arrived!

The last few pieces of our new Weight Room equipment have arrived! There are now more options for everyone as we plan to continue to offer weight equipment outside as well as inside. Come check out the new glute/ham developer, quad/hamstring, smith rack, plate loaded leg press, and chest/shoulder in the weight room. And a spiffy new treadmill in the cardio room! Even bicycle addict Miguel loves the new treadmill – it has a special deck that is softer than normal treadmills which makes it better for your knees.
A personal trainer will be in the weight room available to answer questions about the new equipment this week at these times:
Monday 10-11 am and 11am-1pm
Tuesday 4-6 pm
Wednesday 9-10 am
Thursday 6-8 pm
Saturday 10am-12pm