September Newsletter 2022
What's Up At ABAC
The Deck Lounge Hours
Wednesday-Friday 4:30 – 7:30 pm
Saturday & Sunday 12:00 – 5:00 pm
Live Music Every Wednesday 5:30 – 7:30 pm!
Deck Parties
(Reminder that no outside alcohol is allowed in the club)
Wednesday, September 21 – Live Music w/ Take Two
Wednesday, September 28 – Live Music w/ Robert Herrera
Wednesday, October 5 – Live Music w/ Ted Waterhouse
Wednesday, October 12 – Live Music w/ Vance Fahie

Cal Poly Pro-Am Fundraiser – Sunday, September 25
Yoga Nidra Workshop – Sunday, September 25
West Coast Swing Dance Party – Monday, September 26
Parent's Night Out (It's Back!) – Saturday, Oct 8
ABAC Monster Bash Halloween Party – Saturday, October 29
Tennis News
-Congratulations to all the Avila Bay Club members that participated in the Level 5 Open: Santa Maria Open, Senior & NTRP Tournament. Avila Bay Club members that took home titles include:
NTRP 3.5 Men's Singles 18 & Over
Jim Maloney def. Jeong Woo : 6-1, 6-3
NTRP 3.5 Mixed Doubles 18 & Over
Fred Mina/Shannon Dossa def. Arum Jorgensen/Kenneth Jorgensen : 6-4, 6-1
NTRP 3.5 Men's Doubles 18 & Over
Jim Maloney/John Carlson def. Derek Glas/Chris Hoffman : 6-3, 6-4
NTRP 4.0 Men's Doubles 18 & Over
Stephen Lakowske/Dana Evangelista def. Joe Lazaer/James Clayton: 6-0, 6-0
-New! Men's Open Court Doubles Days!
These will start out as drop-in events. If there are regularly more than eight players that come, we will start a sign-up system.
Monday's : COURTS 1 & 2 : 8:00 AM - 9:30 AM
Tuesday's: COURTS 6 & 7 : 8:00 AM - 9:30 AM

-When we first started the reservation system, we said that there would potentially be fees for those that do not show up for their reserved court, or cancel it too close to the reservation time. If we continue to see an increase in court no-shows or late cancels, we will have to start charging fees. Please be considerate to fellow members and cancel your court at least two hours ahead of time if you are not going to come.
-We have had several requests from members to ask others to please wait patiently at the gate while the court finishes up their point. It is disturbing to those currently playing to have others walk onto the court. They will see you waiting and finish up quickly.
-Please, please, pick up all of your tennis balls when you are done with the court. We have nice containers on the courts to discard them into if you no longer want them.
-Only ABAC tennis pros are allowed to coach tennis on the courts. An exception would be family members coaching other family members. This is industry practice for both private and public courts.
Fitness News
Reminder that both TRX and the Saturday 10:30 am yoga classes require advanced sign-up. You can do it online or on the app by going to:
-Classes
-Select the class (up to four days in advance)
-Select "Sign-up"

Click Here To Download The Full Group Fitness Schedule
Goodbye To Kristin And Hello To Suzanne

In the spring we welcomed Kristin back to the role of fitness director. We knew she had big plans to build a house and move to Texas and sadly, the time has come. Thank you Kristin for all the cheer, positivity, fitness wisdom, and kindness you have shown us all for so many years. You are a great leader and we will dearly miss you. Kristin - we wish you all the best in your exciting adventure! THANK YOU KRISTIN!

We are blessed to welcome Suzanne Smith as the new director. She is a very seasoned fitness professional. Suzanne started her career as an aqua instructor at ABAC over 20 years ago! Since then she has gained many teaching certifications, owned a studio, trained instructors, became a personal trainer, and worked in a physical therapy office. Her loving nature is a magnet to all who meet her. She will be a valuable addition to the team and an asset to the club. Many of you already know her! We are so grateful that Kirstin is leaving us in good hands! Suzanne can be reached at [email protected].
Wednesday Night Deck Party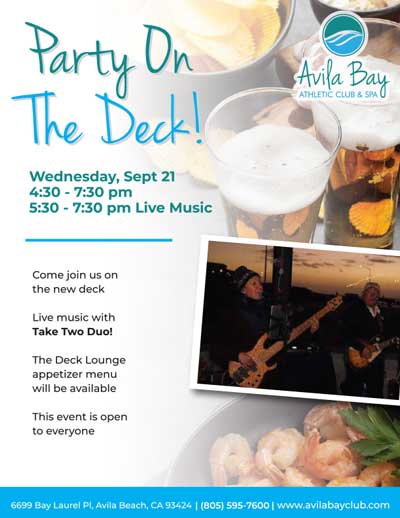 Cal-Poly ProAm Fundraiser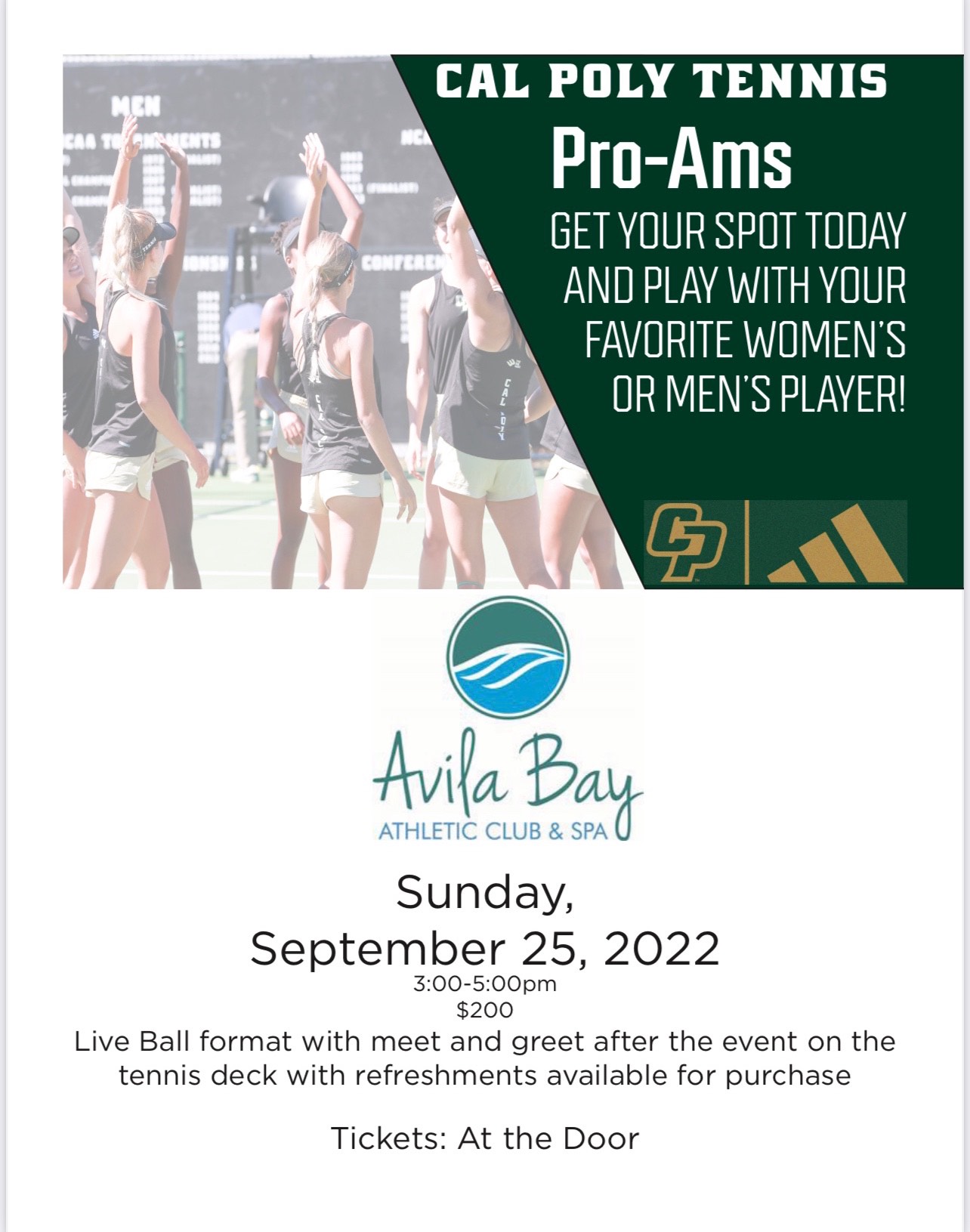 Yoga Nidra Workshop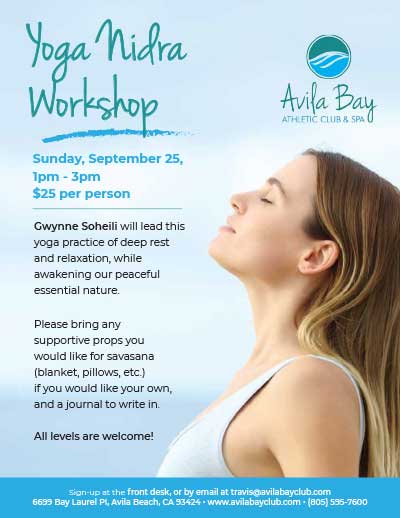 West Coast Swing Dance Party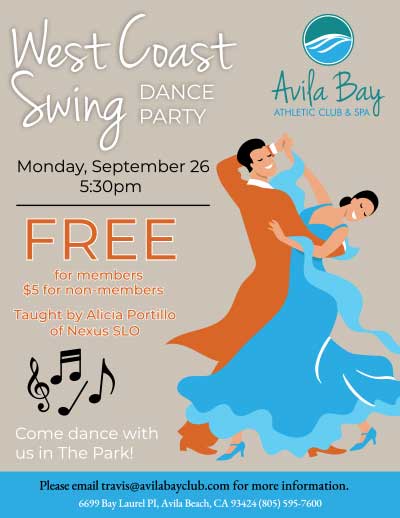 Fall Cornhole League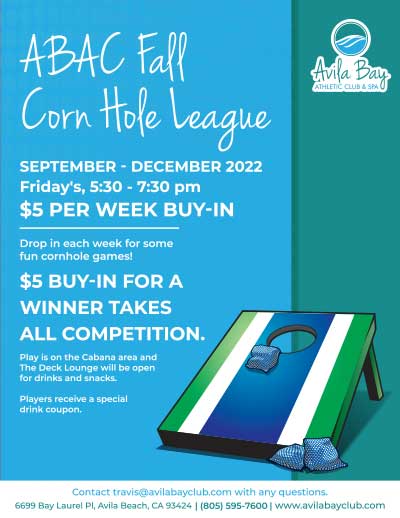 Pickleball Mixers – Twice The Fun In September!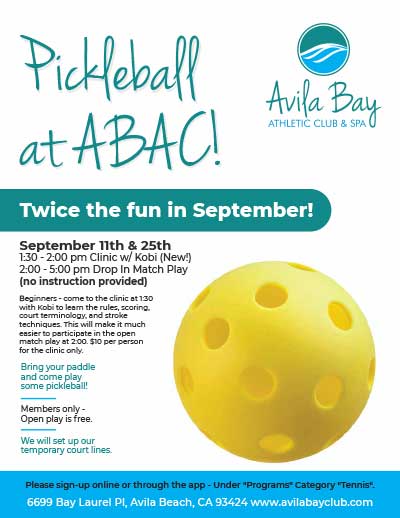 Fall / Winter / Spring Club Hours
Monday-Thursday 5:30 am – 9:00 pm
Friday 5:30 am – 8:00 pm
Saturday 7:00 am – 8:00 pm
Sunday 8:00 am – 8:00 pm
Please do not ask the staff to let you into the club early. We need to give everyone, including the pool company, time to get the club ready each morning. No one will be let in early.
Kids' Club Hours (by reservation only)
Note - We do not allow kids that appear sick, with even a runny nose, in Kids' Club.
Please make a separate reservation for each child.
Monday through Friday 8:30 am - 12:30 pm
Tuesday through Thursday 3:30 pm – 6:30 pm
Friday 3:30 pm – 6:00 pm
Saturday 9 am – 12:30 pm
Sunday 9 am – 12:00 pm