September Newsletter 2019
Fall / Winter / Spring Club Hours
Monday – Thursday 5:30 am – 9 pm
Friday 5:30 am – 8 pm
Saturday 7am – 8 pm
Sunday 8 am – 8 pm
The club will close early on Sunday, September 22 at 4 pm for our end of summer staff party.

Kids' Club Hours
Monday – Thursday 8:30 am – 12 pm & 3:30 pm – 6:30 pm
Friday 8:30 am – 12 pm & 3:30 pm – 6:00 pm
Saturday 8 am – 12:30 pm
Sunday 9 am – 12:00 pm


Notes From The General Manager
I am completely sincere when I say we had the best summer ABAC has ever had! Everyone was safe and had fun, all while the club kept from being too busy for enjoyment. We work hard to keep that balance and our online member survey results show that most members are very happy. I love reading the comments about how friendly the staff is, and that the club is clean.
Some of the more common survey requests are to update the locker rooms, fix the cracks on the tennis courts, publish a new Oasis Grille menu, expand the weight room floor areas, and offer more evening fitness classes. I am pleased to reply that we have plans in the near future to update the vanity areas of the family locker rooms (that was not done when we remodeled the showers and locker areas). Although we are not scheduled to re-surface the tennis courts for a few more years, we are going to work on the cracks this fall. A new Oasis Grille menu will be ready this month, and the new group fitness schedule will offer at least one more evening class. We do our best to respond to the suggestions and act on them when we can. Thanks for helping to take good care of our beautiful club!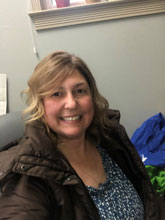 Nancy Terrell
General Manager
Survey Requests From Fellow Members

Here are a few club reminders as requested directly by members:
-Dry off before using the sauna. Folks don't like sitting on a wet bench, and it is best for the sauna not to enter while wet.
-Keep voices down while in the workout rooms. Please DO NOT talk on cell phones while in the weight room or cardio room.
-Please do not park in the electric vehicle spots unless you have an electric vehicle. (While we have not made them legally electric only spots, we do encourage people to leave them open for electric cars.)
-Pick up after yourself. Don't leave food or towels laying out when you are done.
Employee Of The Month - Olivia Wood

Olivia has worked at ABAC for one year, in the Kids' Club. She always has a great attitude about picking up extra shifts and worked a lot of hours over the summer. Her favorite part of working at the club is getting to watch the kids get older and learn new things. Their positivity always brightens her day. She enjoys hiking, going to the beach, and was on the dance team all four years of high school. Talented girl! Congratulations Olivia! We appreciate you.
A Spa Thank You!

"A week ago I hurt my shoulder and had to find subs for two tennis games so I just stayed away from the club.
When I came back Diane saw me and knew I was still in pain, when I thought I was better and just working through it. I had two chair massages two days apart then a full massage. She quickly found the source of my pain, suggested a couple stretches and VOILA!!
I wanted you to know how much I appreciate her and the fact that she's at MY club."
- Club Member Christine

"I couldn't even walk about three weeks ago. Diane gave me a massage and it was literally like a scene from the exorcist. She fixed me in one massage and got that demon out of my leg. Best massage I've ever had."
-Tennis Director Michael Marquez

Please contact [email protected] if you would like to schedule a spa treatment or have any questions about our massage, facial, hair, or nail services. We have amazing professionals for everyone's needs.
Refer A Friend in September!

Bring your friends in to try the club and when they join, you will receive $50 on your account! Free money! What a great way to enjoy the club with your best friends, and have some extra credit applied to your account.
If you have a friend that wants to try the club, just stop by the membership desk for a complimentary day pass.
Movie Night In The Park

Movie Night is back! Everyone is invited: Family, Friends, Guests, Employees, EVERYONE. Please come out and enjoy the fun evening on September 21. We will be providing popcorn and hot chocolate! Bring your lawn chairs, blankets, pillows, and teddy bears. The fun starts when the sun goes down ( around 8 pm). The movie is free for members and guests. Questions? [email protected] or 805-595-7600 ext 113
Bluff Trail Hike

Saturday, September 21
9:00 Meet at Trail head or 8:30 Carpool from the club
Come bring the family and hike this beautiful, easy and accessible hike in Montana de Oro Park.
Bluff Trail is a level coastal trail suitable for hikers, bikes, and wheelchairs that is 2.1 miles long one way with a host of side trails that allow for outings between one and five miles. A hike of around three miles round trip with 90 feet of elevation change is the perfect way to see all the tide pools, beaches, rock islands, and natural bridges, along the superb coastline of Montana de Oro Park.
Please sign up at the front desk area or for more information contact Amy in membership: 805-595-7600 ext: 105.
Pop-Up Class!

Saturday, September 21 at 7 am
Join us for this Pop-Up Power Yoga Flow class with Colby.
A fitness based approach to Vinyasa Yoga. All levels are welcome.
Aquatics Update

Summer is officially over! Our pools are still warm and inviting, though! Come join us for an adult group swim workout on Tuesdays and Thursdays at 9:00am for a great way to start your morning. Remember, there is no extra cost to join group swim. We also offer private lessons year-round. They are a flexible way for kids to keep their swimming skills up a day or two per week after school. Contact [email protected] to sign-up!




---
Tennis
Central Coast Women's Tennis League

ABAC members are feeling electricity in the air as the CCWTL started this week.
We have a total of seven teams this year with 104 participants. That is the most of any club on the Central Coast. Good luck to all the ladies and let's have some fun!
If you have never played tennis before and are interested in learning, please email tennis director Michael Marquez at [email protected]. He is looking for 12 to 14 members to start practicing now for next season. It's never too late to start playing!
Welcome New Pros Eric Johnson And Bryce Parmelly

We are honored to have Eric and Bryce join the tennis staff at ABAC. Book your lesson or clinic today with either of them by emailing [email protected] or calling the tennis tower.

During Eric Johnson's four-year playing career at USC, he was part of three national championship-winning teams. In 2014, Johnson was named to the NCAA All-Tournament Team after his undefeated singles play helped the Trojans claim the 2014 NCAA Championship. During his senior year, Johnson was team captain and played in the top lineup spots. He also earned PAC-12 All-Academic Honors and represented the United States at the University Games in Russia.
Most recently, Johnson wrapped up a successful run as a professional on the ATP tour, winning tournaments in both Israel and Greece. He held an ATP ranking as high as 507. Eric has been a staple of the tennis community in California for a long time. He was ranked as the top junior player in northern California in both singles and doubles in the 10-18 age range and was a blue-chip recruit coming out of high school.

Bryce Parmelly has coached at the NCAA Division III level since 2005 and recently was the head coach of women's tennis at Willamette University. He spent the past two seasons as the assistant men's tennis coach at Middlebury College (Vt.), and was also the head men's tennis coach at the University of California, Santa Cruz in 2011-12 and 2012-13. He previously served as the assistant men's tennis coach at UC Santa Cruz from 2005-06 through 2009-10.
Parmelly played tennis at UC Santa Cruz from 2001-02 through 2004-05. As a senior in 2004-05, he was a member of UCSC's national championship team (NCAA Division III) and received All-America honors from the ITA. While competing at UC Santa Cruz in 2004-05, Parmelly was ranked has high as #2 in the nation in doubles by the ITA. As a team, UCSC was ranked in the top five in the nation at the end of the spring season during all four years that Parmelly played for the Banana Slugs.
Pickleball Update

Avila Bay Athletic Club & Spa had a tremendous turnout of approximately 54 members at our last Pickleball Event in August.

The next Pickleball open play event will be Sunday, September 29 from 3 PM to 7 PM. Expect some great music, competitive and recreational play, along with lots of laughs with fellow ABAC members. Tennis Director Michael Marquez will be hosting the event and sign-ups will be taken in the tennis tower.
Bryan Bros Tennis Fest 2019

ABAC members, advanced junior tournament players, and tennis friends – Check out this incredible event at Spanish Hills Racquet Club with the Bryan Brothers. ABAC attended three years ago with about 16 of our junior players and participated in an exhibition with juniors from other areas including Ventura, Santa Barbara and Las Vegas, and will do it again this year. We will meet at the front entrance of the club at 2:30 before the start of the event. Please let Michael Marquez know by email at [email protected] if you will be attending this event. Avila Bay Club has a discount code of "ABAC2019" for 15% off of tickets. Michael Marquez, Stefan Hardy and possibly Hugh Bream will be in attendance to make it an extra special event. Use the link below to purchase your tickets. View the flyer here.


Day Pass Tickets
Enjoy the day tasting food and drinks from top area restaurants and watching world
class tennis. Day Pass Tickets are a $125 donation for adults and $50 for children under
18.

CLICK HERE to purchase your tickets.

Tennis Director Michael Marquez will be representing ABAC at the USPTA World Conference in Las Vegas, Nevada on September 22-26. The conference is the country's largest gathering of tennis-teaching professionals, industry leaders, as well as representatives, manufacturers, wholesalers and media across the racquet sport industry. In addition to the educational offerings, USPTA hosts committee meetings, division parties, industry meetings, the nation's largest tennis-specific Merchandise and Trade Show, awards presentations and more..Special guests include Andre Agassi, Dick Gould, Gil Reyes, Roger Crawford, Mark Bey, Alan Fox and Jeff Salzenstein.
We are thrilled that Michael can attend this premier educational event for the tennis industry.