Notes From The General Manager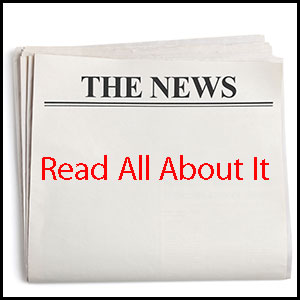 Happy October everyone! As many folks know, this begins my favorite time of year. We have so much fun decorating for the different holidays, hosting parties, and giving gifts. We are going all out this month with a Margarita Party at the fire pit, a movie night just for adults, and of course, our annual Halloween Bash. This year's theme of a scary Neverland will be fantastic! Watch for the return of an old club favorite outside the party. You'll have to wait and see it, but it will be better than ever!
ABAC is getting a new club software system later in October. This is something we have been looking into for many years. We are really excited to have finally found something better than our current system. *Please make sure we have your current email address. This will really help you in setting up your profile, and allow you to access the new app.

One other thing to note. We will no longer have numbers associated with each member. We will now only identify you by name. Knowing you by name is preferred for us anyway!


Please be courteous to those staying at the hotel, and do not park in spots labeled AV Inn. We have plenty of our own spots. (If you ever cannot find a spot out front, drive to the left of the club where the entire lot belongs to the club.) We try to think about it this way - imagine going to a hotel and having nowhere to park close by, and then having to carry in all of your luggage. We want to be as considerate as possible when it comes to leaving those spots for Inn guests.


The new outdoor pet policy, where you cannot leave your pet unattended directly out front of the club, will start on November 15 instead of October as originally planned. We are still getting the new designated spot (in front of the group fitness door) ready for use.




Upcoming Events
Wednesdays in Oct 4-7 pm Spa Happy Hours
Sat, Oct 13 5:30-8:30 Parent's Night Out
Thurs, Oct 11 4 pm Feldsman Loop Hike
Thurs, Oct 11 2-4pm First ABAC Bridge Club Meeting
Friday, Oct 12 7- 9 pm Free Classic Movie Night
Fri, Oct 19 5 pm Margarita Party At The Fire Pit
Sat, Oct 27 5:30-7:30 Halloween Bash
Sun, Oct 28 11 am-1 pm Halloween Tennis Costume Clinic
Sun, Nov 18 10am-2pm Holiday Arts & Crafts Sale
Sat & Sun, Nov 17-18 Club Tennis Championships



Halloween Bash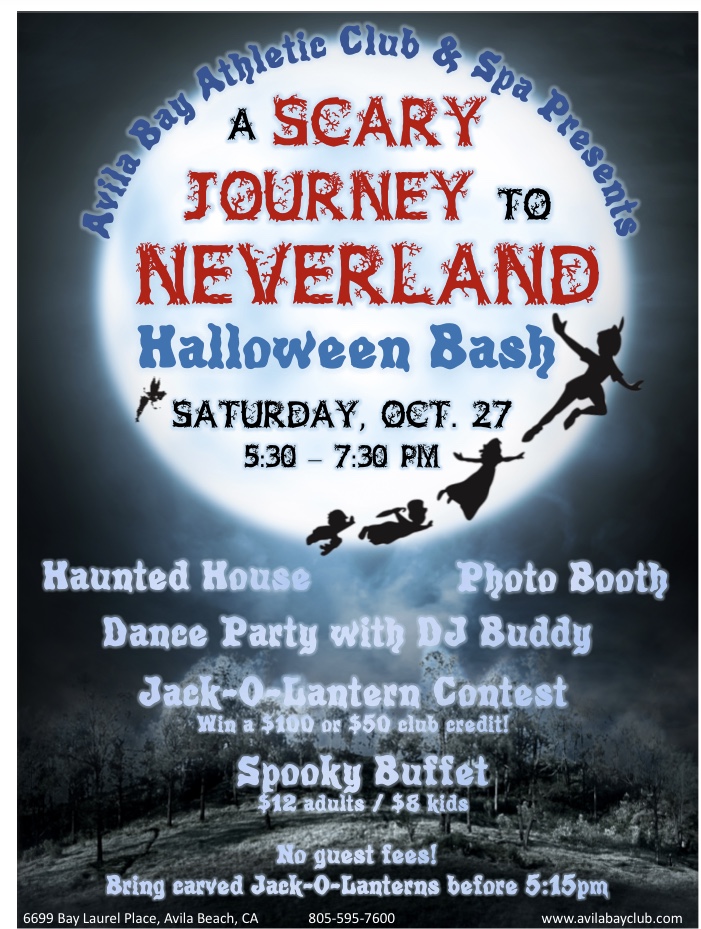 Hike with us!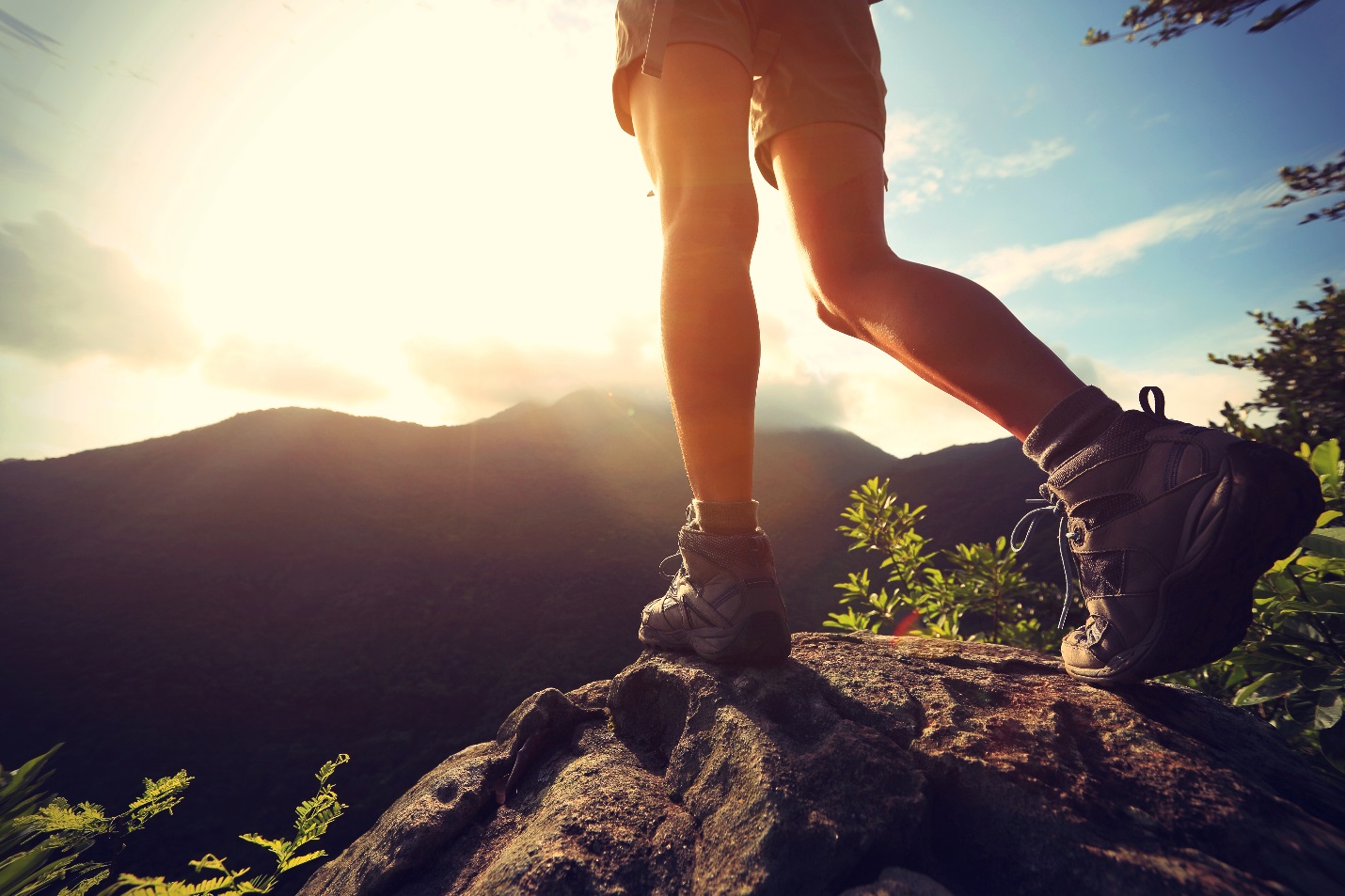 Feldsman Loop Hike
Thursday, October 11
4 p.m.

Join us after work on this fairly easy hike up Bishop Peak.
Bishop Peak rises high over San Luis Obispo and there is nothing it overshadows more than Felsman Loop Trail. This 2.7-mile loop in Bishop Peak Natural Reserve crosses oak, sagebrush, and grass-covered slopes around the base of Bishop Peak, providing excellent views of that notable rocky summit and its San Luis Obispo surroundings.
Please sign up at the front desk area, or contact Amy for more information: 805-595-7600 ext: 105.



MyZone Update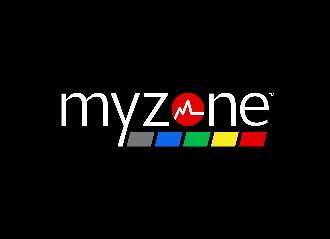 Congratulations to everyone who participated in our Monsters vs. Minions challenge last month! I saw a lot of MEPS being burned and some fierce competition! Now that it is over, we have our top Monster and top Minion! Steve L. was our top Monster with a whopping 5278 MEPS burned in 2 weeks, followed closely behind by Cyndy L. who had 5168. The Minions had a much closer race, with Ted M. coming in first with 1758 MEPS—just 48 points ahead of Penny M. Hmmm….maybe there is something to spousal rivalry! Both Steve and Ted will receive a $15 account credit for their efforts.

In the average MEPS per workout category, it also was pretty close: the monsters had a combined average of 206 MEPS per workout and the Minions had a combined averate of 179 MEPS per workout. That means everyone was really working hard at each workout they did!

We'll have our raffle drawing for a $100 gift card this Wednesday, October 10th at noon in the lobby. Everyone who participated will receive a raffle ticket for each 100 MEPS earned. The Monsters will receive an extra 3 raffle tickets for their MEPS/Workout win. Finally, everyone who participated will receive a free guest pass—you can pick that up from Mitch at any time.

Thank you again to everyone for participating, and we hope you had fun and were encouraged to stay on track with your workouts!
REFERRAL CREDIT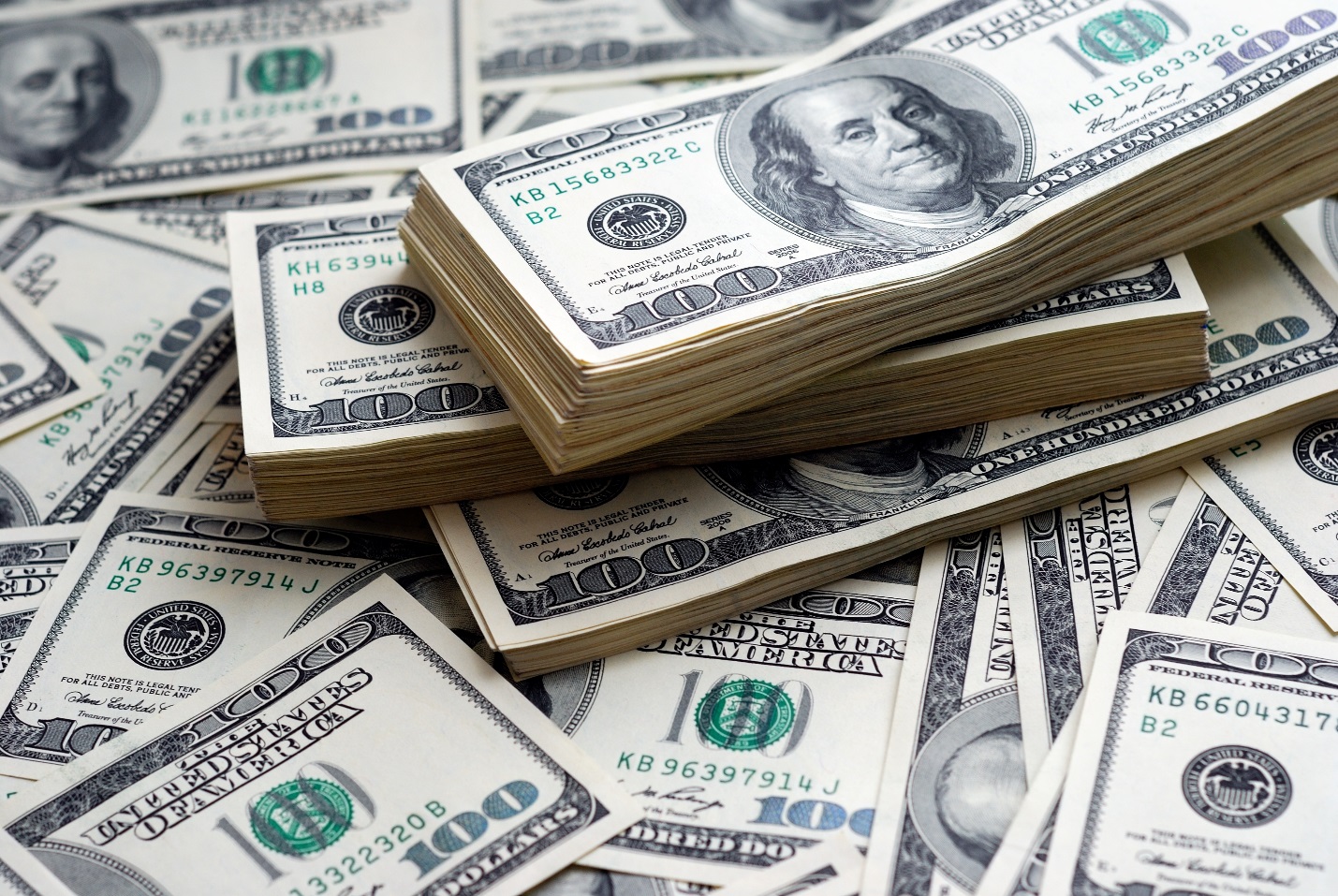 Receive $100 Referral Credit in October!
Do you ever wish you had an extra $100 to use for club expenses or maybe just some extra money to enjoy a dinner out?
Here is an easy way to earn it!
Just refer your friends to the club. When they join during the mont of October we give you $100 credit on your account. If you prefer, we could give you a $5 credit to your account EVERY month as long as both you and the new member are active members!
If you want to invite a friend to try the club, just stop by the membership desk for a complimentary day pass.




EMPLOYEE OF THE MONTH!
Congratulations Samantha Holcomb!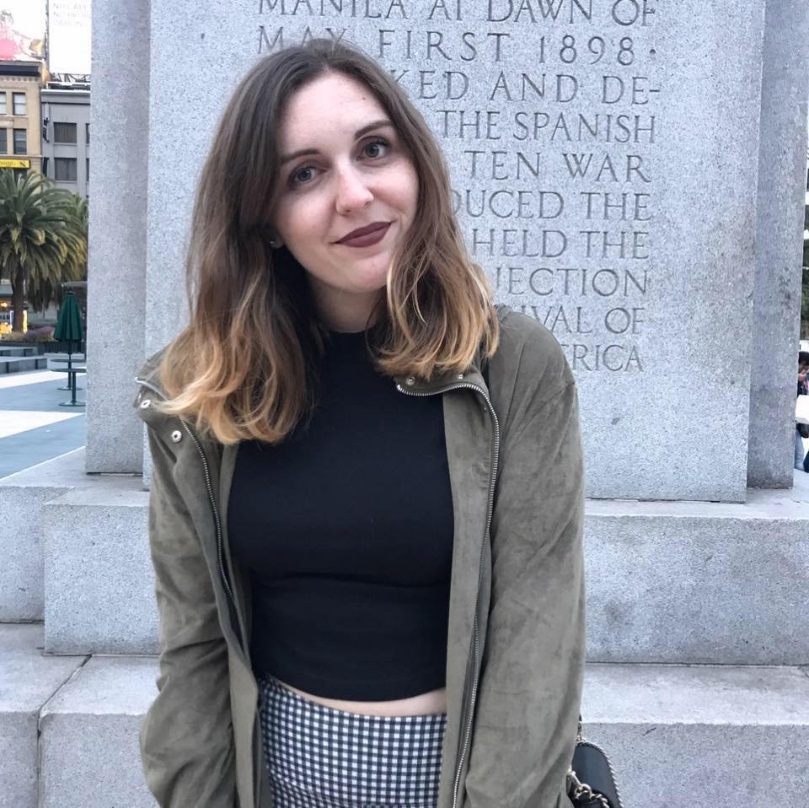 Samantha has been working at ABAC for a little over a year now! She works in Kids' Club and does an exceptional job watching your kiddos! Her favorite part of working at ABAC is seeing when little things like new markers or a change of class time, have a chain reaction that results in happier employees and members. In her free time, Samantha enjoys reading, going to the beach, and spending time with friends. One thing you might not know about her is that she is a mathematics major at Cal Poly! She loves math (seriously) and hopes to one day be a high school teacher! Way to go Samantha!



Special Events At The Club
Holiday Arts & Crafts Fair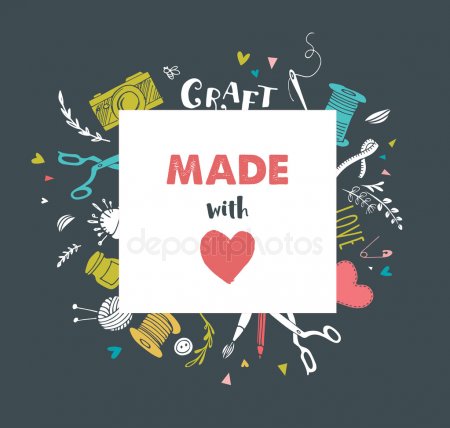 Holiday Arts & Craft Fair- Mark your calendars for November 18th! The annual Arts & Craft fair has finally arrived! Come get your holiday shopping done early with over 30 local artists and vendors displaying their work! We have something for everyone so it's sure to be a great time! Questions or comments? Contact Travis Hawley at [email protected]


CLASSIC MOVIE NIGHT!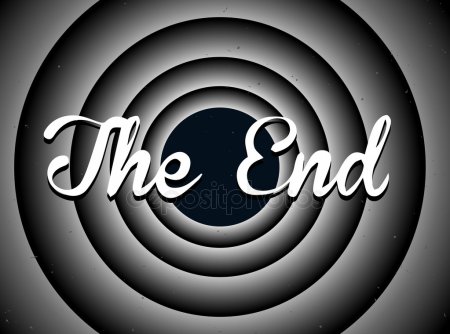 Classical Movie Night in the Park- Saturday, October 13 from 7-9PM. Movie night is back with a good 'ol fashioned twist for the adults. This month we will be watching "To Kill a Mockingbird" in the park. Bring your blankets and comfy chairs and I'll supply the heaters, popcorn, and hot chocolate, as we take a trip down memory lane. I also will be cooking up some hotdogs and hamburgers to be purchased that night. Non-Members are welcome! If you have any questions please contact Travis Hawley at [email protected]


PARTY AT THE PIT!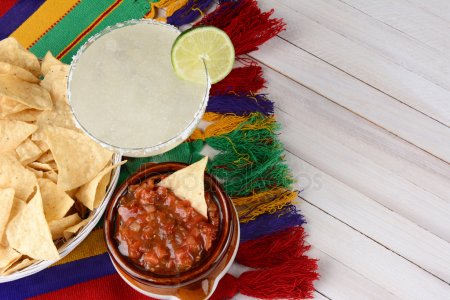 Party at the Pit-Friday, October 19 at 5PM
Come join us for a Margarita Party at the new fire pit! We will be supplying chips and salsa to everyone who buys a margarita. So pull up a comfy chair and let's watch the sunset with a cold drink and good company. Questions? Contact Travis Hawley at [email protected]



Spa Department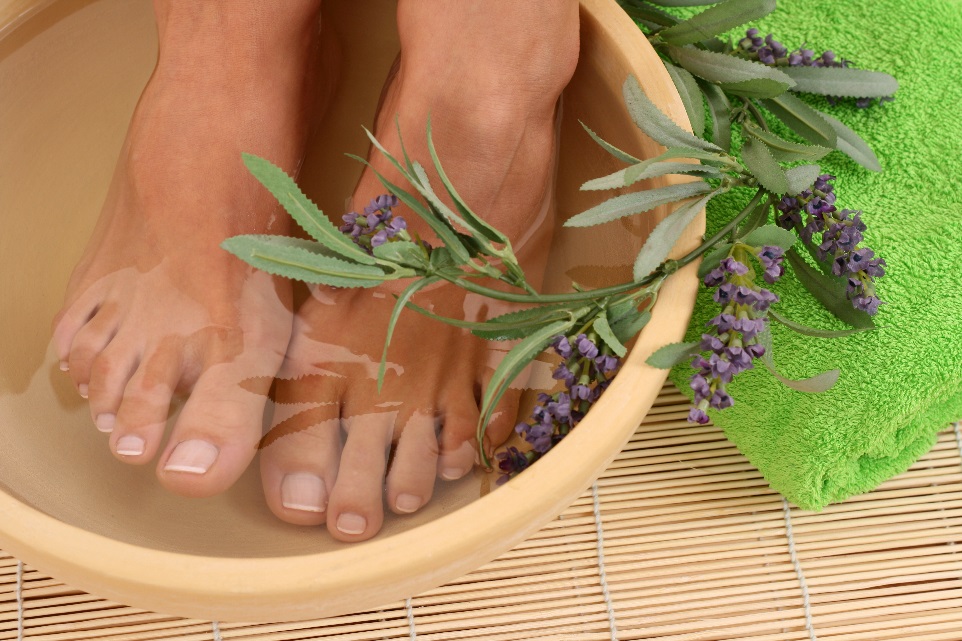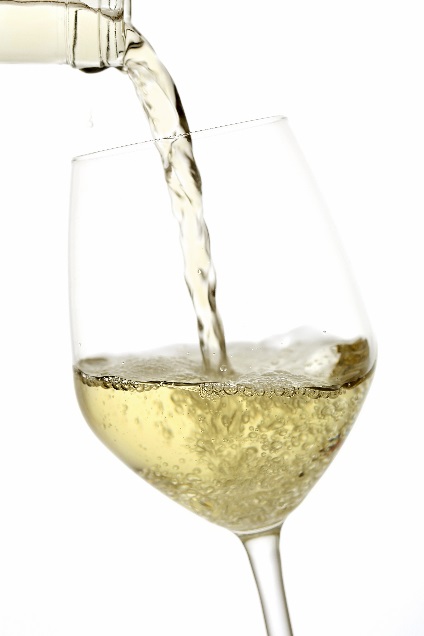 Please join us for Happy "Spa" Hour
Wednesdays in October
4pm-7pm

This one hour full body massage includes a Relaxing Lavender Foot Scrub, a complimentary glass of wine or cold beer to be enjoyed by the beautiful outdoor fire pit.

Our full service Salon/Spa is open 7 days a week. We offer pedicures, manicures, special occasion hair, waxing, facials. Any questions please email [email protected]



FITNESS DEPARTMENT
FALL SCHEDULE ADDITIONS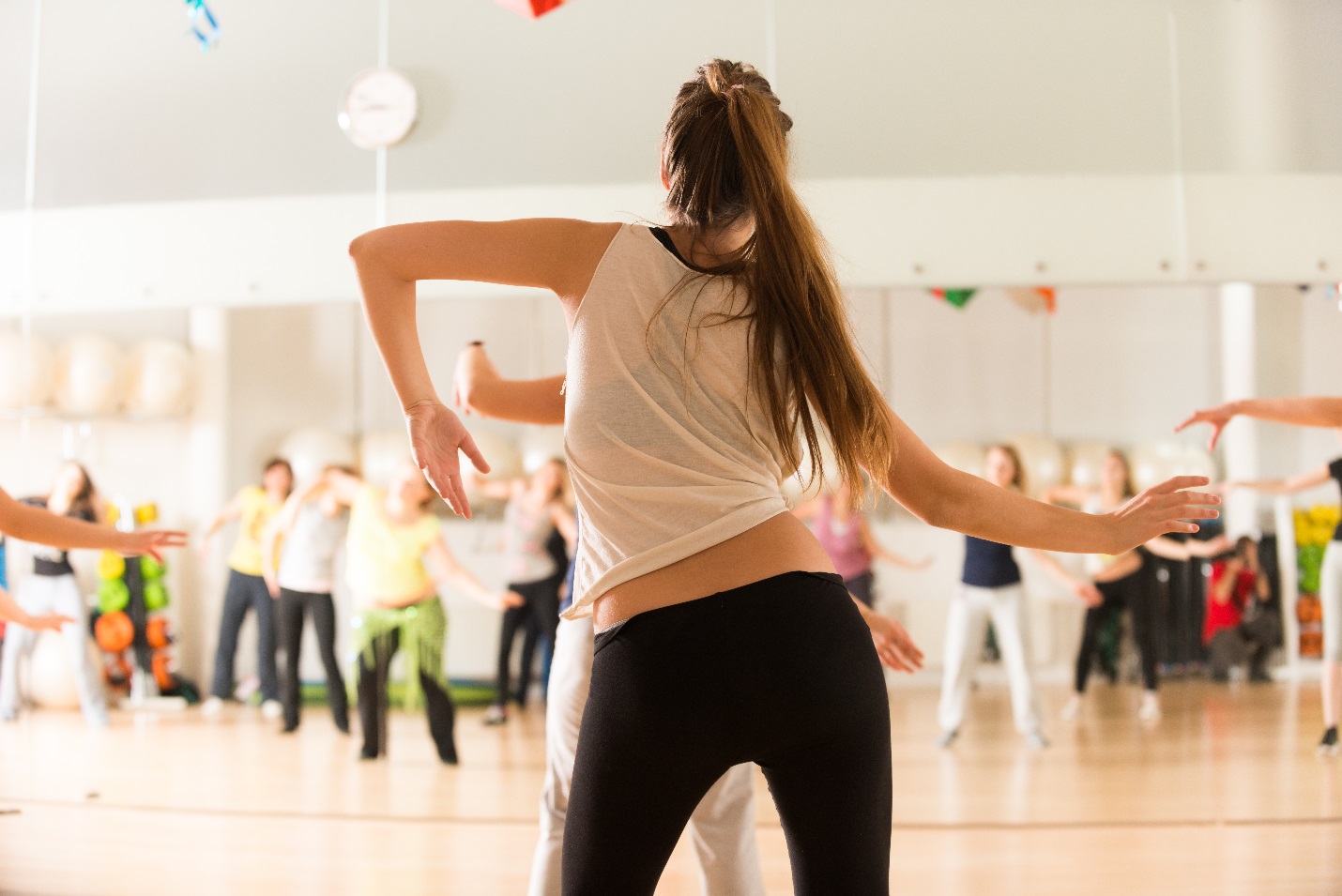 Groove is back!
Fridays at 8:25 and Sundays at 11am

Cycle with Mike!
Thursdays at 5:30pm



Using a Food Journal
My nutrition practice is based on metabolic individuality using a method called Metabolic Typing®. I use the 'dreaded' food journal to help you navigate how food affects you so you know how to reach that sweet spot called BALANCE!

Simply write down what you ate at a meal, and then anywhere from one to two hours later, jot down whether you are still satisfied or not. Cravings are likely a sign that the meal was lacking in one of the macronutrients-Protein/Fat/Carb. The next day, at the same meal, one would increase the percentage of one of the macronutrients until the cravings disappear. This is an excellent method to determine if you are eating enough high quality fats or proteins for instance.

Eating the perfect diet will help produce a positive outlook on life. Moodiness, irritability and malaise are often attributable to either the wrong foods or incorrect proportions of macronutrients. Certain foods may be eliminated using this method and, as always, one will soon learn which amounts of protein, fat, carbohydrates at each meal produce a reasonable sense of well-being.

Foods affect our health, vitality and appearance. Consider keeping a personal food journal for accountability and success in creating the perfect diet just for you.

I'm here to assist you in finding that perfect diet! Please call me at 805-440-6869.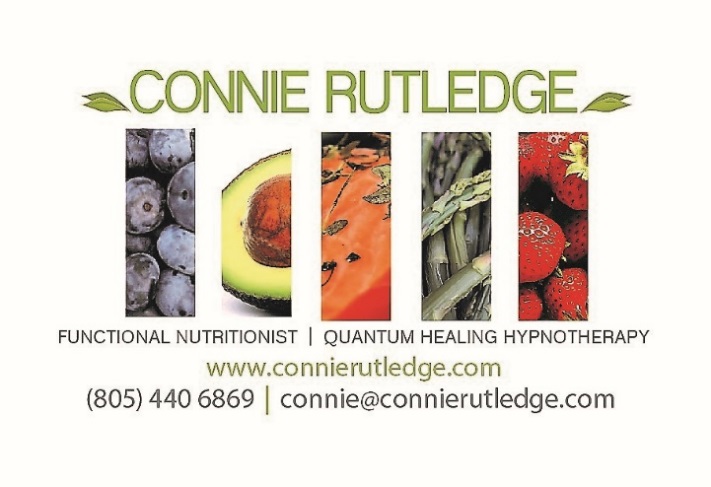 TENNIS UPDATES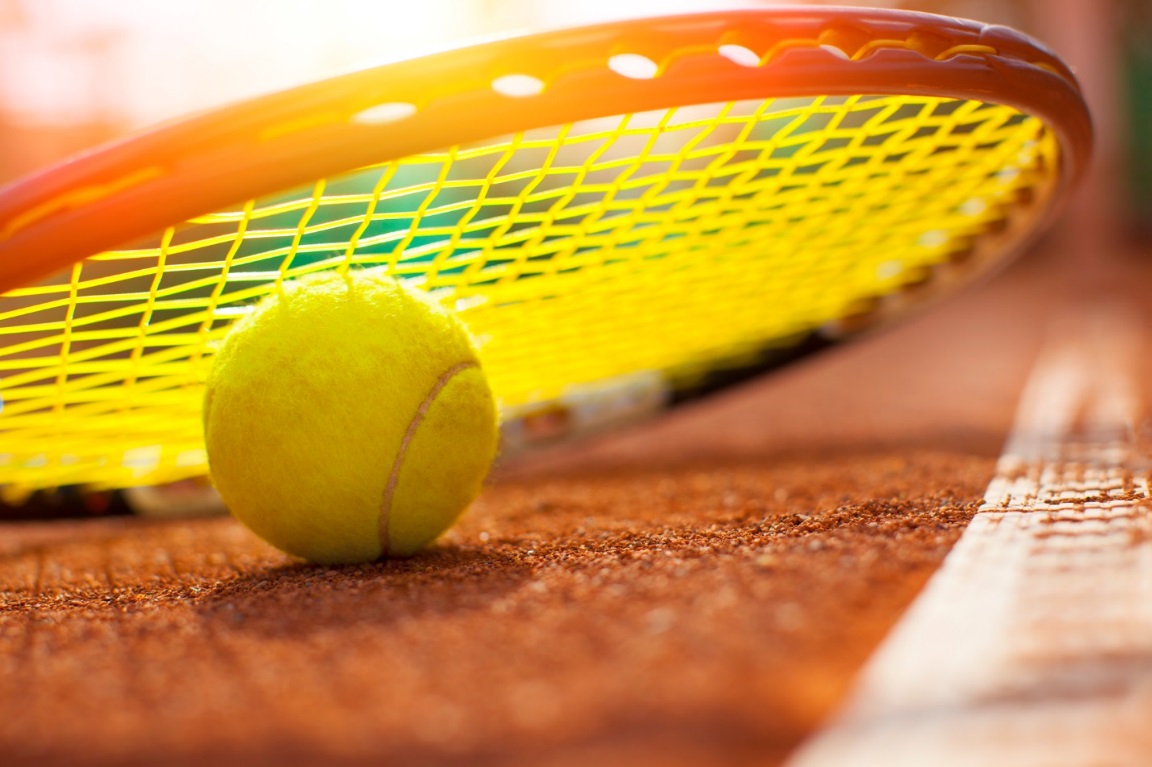 OUR TENNIS PROS
Stefan Hardy returns as a tennis professional at Avila Bay Club! He is available three days a week: on Tuesday, Thursday and Saturday afternoons. A Santa Maria native, Hardy has over 20+ years in tennis tournament competition and coaching experience. Stefan coached at Haviland tennis academy in Greenville South Carolina until 2017; an elite junior tennis program that focused on clinics, personal lessons, and tournament coaching. He was also the Cal Poly men's tennis Assistant Coach from 2011-2014, when they won two Big West Conference Championships. During those years, Stefan also coached at Avila Bay Club - working with many of our junior players.
As an All American at the University of North Carolina, Hardy amassed a 63-30 singles record and a 76-23 doubles record in four seasons of competition with the Tar Heels. He earned All-American honors after reaching semifinals of NCAA doubles tournament with partner Clay Donato during the 2009-10 season, and a ranking of No. 11 nationally in doubles. Contact [email protected] to book a session with him.

Tennis Professional David Wermuth is back coaching again and recovering well from his hamstring surgery. David is now available for private lessons and group clinics, and is eager to help develop our members into well rounded players. Contact [email protected] to book your appointment today.



USTA News
Avila Bay Men's USTA Tri-Level team had a great performance defeating San Luis Country Club 2-1 last Friday evening. Congratulations team on the great performance.

Results:
4.5 Line: Hal Sweasy/Aaron Burch def. Mark Sada/Sean Nagel 6-7, 6-2, 1-0
4.0 Line: Tai Martin/Fred Kelley over Rodney Cegelski/Brian Crawford 6-3, 6-1
3.5 Line: Chuck Braff/Martin Dunn over Dwight/Howard Nicolson 1-6, 6-4, 1-0
—————————-


Central Coast Women's Tennis League
The Central Coast women's tennis league is in full swing with mostly all of our Avila Bay teams sitting in the middle of the standings after week two. Whispers around the club from team captains and players are all highly confident that their teams are going to make a big push up the standings by Halloween. Good luck ladies and continued success this season.

————————
Halloween Costume Clinic
Our annual Halloween costume clinic will take place October 28 from 11 A.M. - 1 P.M. The clinic is complimentary to members and a great way to showcase your costume while attempting to play tennis at the same time!. Last year was a lot of fun with some great tennis and lots of laughs.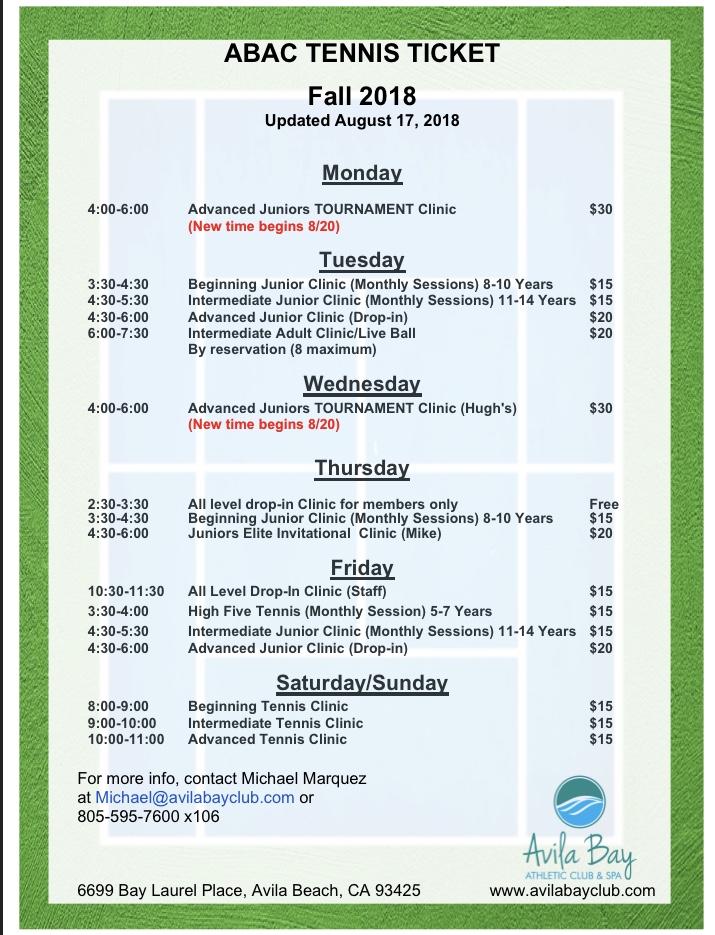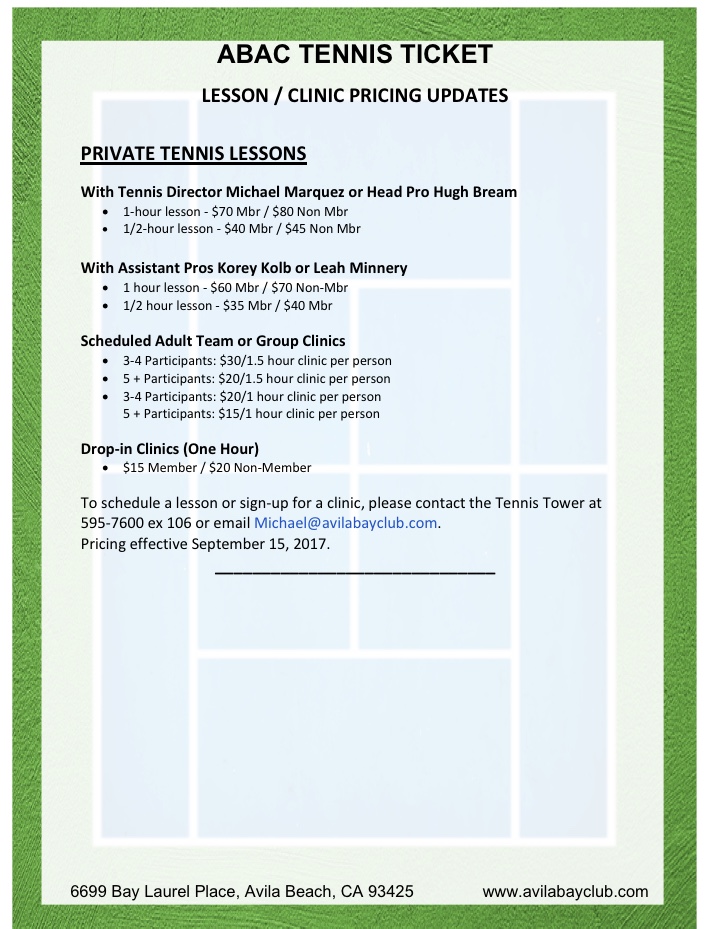 Aquatics Update
AQUATICS NEWSLETTER
It's starting to feel like fall! The mornings may be chilly and foggy at times, but our pools are still warm and inviting! Take advantage of the quieter mornings and evenings and come on down for a swim!

We also are part way into the Fall sessions of our After-School Swim Academy. Session 2 still has a couple spots left—it runs on Tuesdays and Thursdays between October 16-25. These are a great way to get some discounted swim lessons with our fantastic Aquatics staff! Your kids can get a few good lessons in and they will enjoy the pool time after school.

I've also put a few more workouts in the workout box behind the front counter. If you can't make it to one of the Group Swim classes with Colby or me, you can always check out a workout and bring it to the pool with you. They are laminated so you can leave it at the end of the lane, and there are several at varying lengths and difficulties. Try one and let me know what you think!

Also, a final reminder to everyone: with the cooler temperatures, I know it is tempting to sit for long periods in the hot tub or saunas, soaking and relaxing. However, remember that this can cause problems for any one at any age. Please remember to take a break from the heat after about 10 minutes, and also make sure you have some cool water to sip on to prevent your body from over-heating and getting dehydrated.

As always, please do not hesitate to contact me if you have any questions or suggestions about our Aquatics programs! I can be reached by email at [email protected].


New ABAC Bridge Club!
1st Meeting – Thursday, October 11
2 pm – 4 pm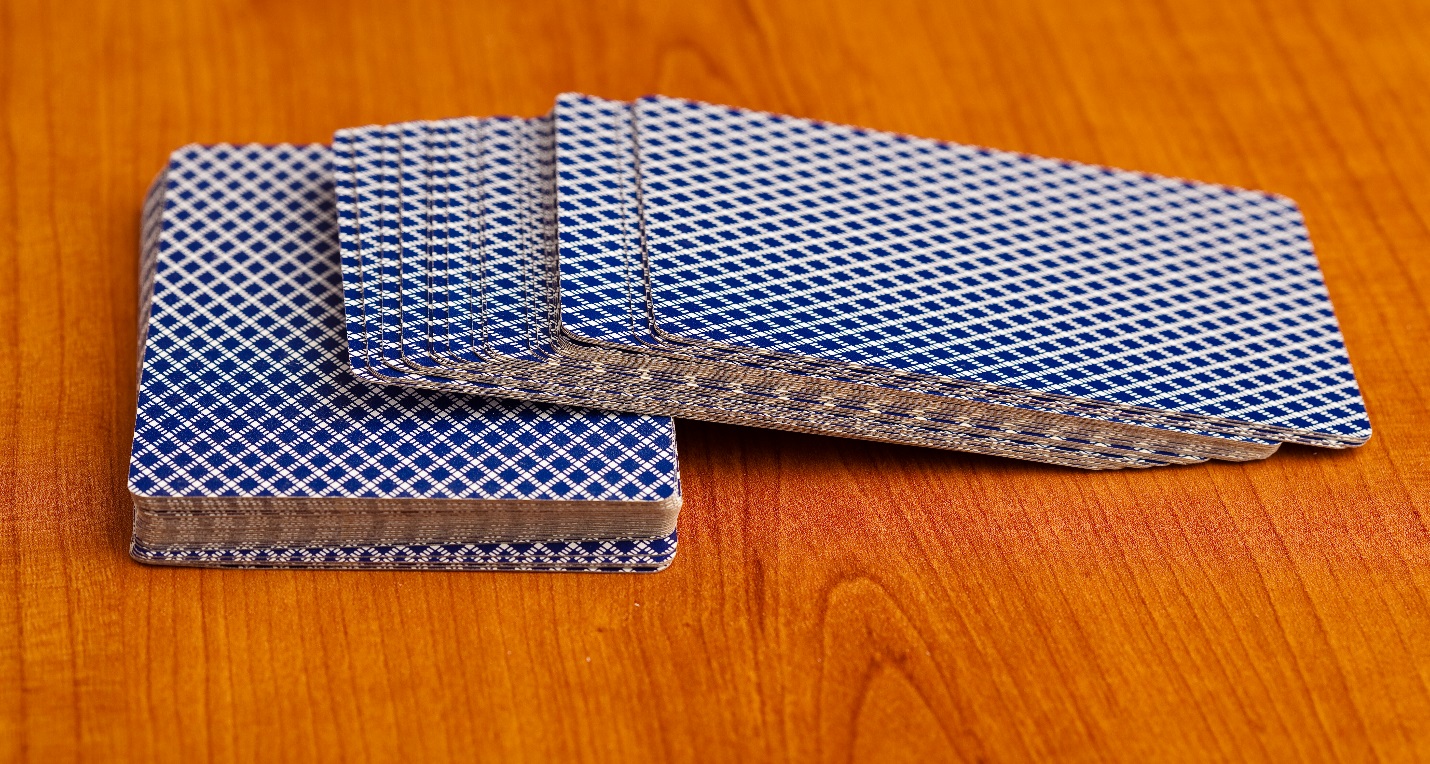 We have about 10 members signed up that plan to join us for the Bridge Club. Come join us on Thursdays at the club! Some have lots of experience and some folks want to learn how to play!
Feel free to come and join us! Contact Amy in membership by phone at 805-595-7600 ext: 105, or email [email protected] if you have any questions.