What's Up At ABAC
The Deck Lounge Hours
Wednesday-Friday 4:30 – 7:30 pm
Saturday & Sunday 12:00 – 5:00 pm
Live Music Every Wednesday 5:30 – 7:30 pm!

Deck Parties
(Reminder that no outside alcohol is allowed in the club)
Wednesday, November 2 – No live music (sorry, we originally thought it was going to rain!)
Wednesday, November 9 – Live Music w/ Lillian Dennis Duo
Please vote with the link in the article below, on future Wednesdays vs Fridays

Yoga Nidra Workshop – Sunday, November 6
Regular Pickleball Mixer – Sunday, November 6
Parent's Night Out (It's Back!) – Saturday, November 12
ABAC Club Champs Tennis Tournament – Friday-Sunday, November 18-20
Holiday Market – Sunday, November 20
Thanksgiving Potluck Doubles Tennis Mixer – November 21
Close Early at 5 pm – Wednesday, November 23
Closed for Thanksgiving – Thursday, November 24
Craft Beer & Wine Tennis Mixer – November 30
Paint & Sip – Saturday, December 3
Large Pool Update

A few weeks ago, our two-year-old ($11k) heater had a part break. We were able to get the part from our distributor and repair it within a couple of days. Last week a different part died, and this one must come from the manufacturer. They would not overnight it and would not give us an eta. We called many times and eventually found out that Raypak has the part in stock but is so behind in their shipping department that it could take two weeks (from last Thursday) to ship it out. (We have seen this issue with many supplies in every part of managing the club since Covid.) We called again yesterday, hoping it was located somewhere in the western US, as we are willing to drive to pick it up. Nope on that one too. We are "absolutely not allowed" to pick-up parts in person. Our distributor is now trying to see if he can work some magic for us. Fingers crossed. We had the idea to check around with large pool facilities in CA to see if anyone would have this part but are told that this is just not a part that anyone would have stocked. We aim for the pool to be 80-81, and it was holding well at 79 with the warmer weather this weekend. Now that it is getting chillier, the temp has been down to 77-78. We really apologize for this and will keep working hard to find a creative solution.
Kudos to the 20-year-old Raypak heater that is keeping the pool temp up all by itself. Apparently, they don't make them like they used to!
Pickleball News
We are excited to announce that pickleball is officially coming to ABAC! Next week, court seven will be converted to four pickleball courts. There has been a lot of interest and enthusiasm for this idea the past several years, and we have watched it be successful at our sister clubs. Pickleball is the fastest growing sport in the country, and we hope to get more people involved in improving their fitness by playing this fun sport. Our club must evolve by trying new things for us to be sustainable. We are happy to add this value to your full membership. We are offering an upgrade special for the rest of November for those that are interested. Please see Amy or Gwynne in membership, or you can email [email protected] for more information.
Our traditional semi-monthly pickleball mixer will take place on Sunday, November 6. This event is open to all members, so come try out pickleball if you have not already. Once the new courts are finished, pickleball players will need to have a full facility membership. Our next newsletter will list future pickleball events.

We have heard concerns from tennis members about losing a tennis court. Please know that we plan to take less teaching court time by limiting teaching even more during prime court time. This should keep you from feeling any impact from one less tennis court. Members have been much better about canceling their court if they won't be using it, since we sent out that request in the last newsletter. We have seen more open courts lately, including during prime time. If you don't see a court open during the time you would like, we encourage you to check back again the day before, and even the day of. (At the time this is being written, there is at least one open court each morning of this week.)


Tennis News
Friday – Sunday, November 18-20
ABAC Club Championships Tournament
Club Champs Are Back! After a two-year Covid break, we are excited to host this fun event again.
Don't miss the
Junior Divisions Singles & Doubles
Adult Divisions Singles & Doubles
Mixed Doubles Divisions
$25 per entry
Please email [email protected] to sign-up.
Thanksgiving Potluck Doubles Mixer
Monday, November 21
5:00-7:00 pm
Bring your favorite dish and play some doubles!

Craft Beer & Wine Tasting Tennis Mixer
Wednesday, November 30
6:00 – 8:00 pm
Start with a 1.5 hour liveball format clinic from Tennis Director Michael Marquez and staff, and end with a special craft beer tasting (with wine available)! $30 per person and members only please. Please sign-up online or through the app under Programs – Category "Tennis".
Men's Open Court Doubles Days!
These are drop-in events. If there are regularly more than four players that come, we will start a sign-up system.
Monday's : COURT 1: 8:00 AM - 9:30 AM
Tuesday's: COURT 6: 8:00 AM - 9:30 AM
In regard to tennis feedback, we have invested in the top of the line survey system (called Medallia, which is used by giant companies like Nordstrom, etc.) and reply to all the surveys that we receive. Any tennis requests (not on the pickle ball issue, as the decision has been made) are always considered by us, and as you have seen in the past, are acted on when they are possible. (For example - ball holders on the courts, new ball mowers, increasing the frequency of purchasing new balls, finding a morning spot for dedicated men's doubles times, repairing the large cracks on courts 4 and 5, which will also be done next week, etc.). We have explained to many members over the years about court cracks and will revisit that here. We used to re-surface courts every five years. This last time, they were done within four years. The earth here seems to be shifting differently, causing more damage to the structure of the courts. We sign off each time they are resurfaced, that we understand the crack patches are just that, and the cracks will re-appear. Usually the cracks are minimal, but we see the ones on courts 4 & 5 getting worse and will have those patched next week when the crew is here working on court seven. The weather is too cold for us to do a new surface again, and we will address that when we get some warmer weather.
Another reminder - Please, please, pick up all of your tennis balls when you are done with the court. We have nice containers on the courts to discard them into if you no longer want them.
Fitness News

New evening classes are coming this November!
Beginning November 7th, Monday evenings at 5:30PM (in place of Zumba) we will be offering TRX with Sophie! TRX is a form of suspension training that uses body weight exercises to develop strength, balance, flexibility and core stability. No matter your fitness level (beginner or advanced) you can achieve a great workout in each class. Online sign-ups are required as space is limited.

Also, on Thursday, November 10th, following Buddy's 4:30PM Dance Mix, we are adding BODY PUMP at 5:30PM with Lauren! This will give you the opportunity to do BODY PUMP on Tuesday and Thursdays evenings. BODY PUMP is a fun total body workout set to amazing motivational music. BODY PUMP uses light weights and lots of repetition to help you get lean and fit - fast!

Saturday yoga class has been back to normal attendance levels, so we will no longer ask you to sign-up for this class. We do ask that you please not come to yoga classes late. It is very disruptive to those in the class.
TRX classes do require advance sign-ups.
On the app or online, go to:
-Classes
-Select the class (up to four days in advance)
-Select "Sign-up"

Click Here To Download This Week's Full Group Fitness Schedule
Deck Party Survey

We had many requests to keep the weekly live music going all year round. We were prepared to do that, but attendance has really dropped since the summer. Should we move the live music on the deck to Fridays for the fall and winter? Please give us your opinion!
Click Here To Vote Here For Live Music On Wednesdays Or Fridays
Yoga Nidra Workshop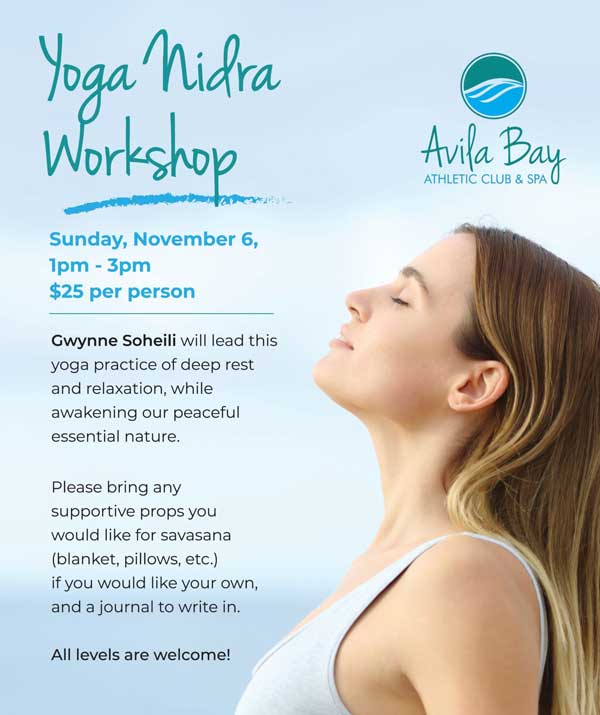 Parent's Night Out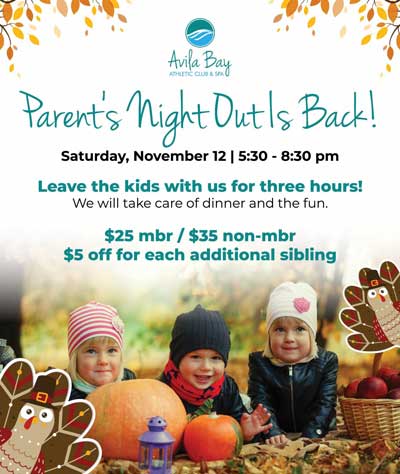 Fall Cornhole League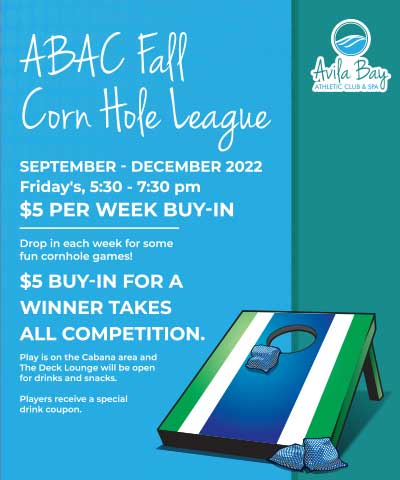 Holiday Market
Fall / Winter / Spring Club Hours
Monday-Thursday 5:30 am – 9:00 pm
Friday 5:30 am – 8:00 pm
Saturday 7:00 am – 8:00 pm
Sunday 8:00 am – 8:00 pm
Please do not ask the staff to let you into the club early. We need to give everyone, including the pool company, time to get the club ready each morning. No one will be let in early.
Kids' Club Hours (by reservation only)
Note - We do not allow kids that appear sick, with even a runny nose, in Kids' Club.
Please make a separate reservation for each child.
PLEASE CALL THE FRONT DESK THE NIGHT BEFORE IF YOU PLAN TO BRING AN INFANT. We must plan ahead for infants.
Monday through Friday 8:30 am - 12:30 pm
Tuesday through Thursday 3:30 pm – 6:30 pm
Friday 3:30 pm – 6:00 pm
Saturday 9 am – 12:30 pm
Sunday 9 am – 12:00 pm