Thanksgiving Club Hours
Wednesday, November 24 - Close early at 5 pm
Thursday, November 25 – Closed
Friday, November 26 – Normal Hours
6:30 am Cycle will be cancelled
Special Class – Turkey Burn w/ Sara 8:00-9:00 am
Fall/Winter/Spring Club Hours
Monday – Thursday 5:30 am – 9 pm
Friday 5:30 am – 8 pm
Saturday 7 am – 8 pm
Sunday 8 am – 8 pm
Kids' Club Hours (by reservation only - on the ABAC app under Adventure Central)
Note - We do not allow kids that appear sick, with even a runny nose, in Kids' Club.
Please make a separate reservation for each child.
Monday through Friday 8:30 am - 12:30 pm
Tuesday through Thursday 3:30 pm – 6:30 pm
Friday 3:30 pm – 6:00 pm
Saturday 9 am – 12:30 pm
Sunday 9 am – 12:00 pm
A huge THANK YOU to all the members that were a part of our photo shoot on Friday! It was a great success, and we really appreciate you being willing to share your workout time with us. It will be fun to see some of the finished photos and videos!
Important Club Class and Area Info:
The Weight Patio and Fitness Strip will be COMPLETELY closed on Tuesday, November 16 from 9 am to 11 am. We will be taking the final measurements for the new canvas structure that is being built and they cannot have any people around them. These structures will replace the pop-up tents. It is an exciting project!
HIIT class on Saturday, November 20 will be in person only. There will be no Zoom class as was listed on the Zoom schedule emailed out for the week.
There will be no yoga or Groove classes on Sunday, November 21 due to our annual Arts & Crafts Fair taking place. We hope to see you here for some early holiday shopping!


We had a great Halloween Happy Hour!
Congrats to Caroline & Stuart Marshall for 1st place costumes with $100 account credit, and Lynda & Doug Schoen 2nd place $50 account credit winners! We absolutely adored Jessa Lebed's creative cactus pumpkin too! Congrats on your $100 credit to account!
Stuart & Caroline
(she had twinkle lights on!)

Lynda & Maria
(sorry Doug, we failed to get your photo!)

Congrats Jessa!
Three pumpkins in one!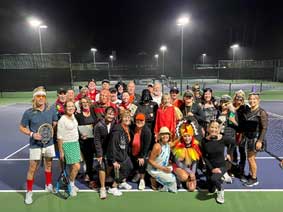 A very festive mixed doubles!
Karaoke At The Club

Thursday, November 18
6:00 – 7:30 pm
This event was so fun and went so well, that we are doing it again! Join DJ Buddy outside in our cabana area and show off your singing skills (or lack of)! Dress to impress as your favorite singer is optional! We have plans using COVID precautions, so this will be a safe and fun outdoor event. Free to members and their guests.
Annual Holiday Arts & Craft Faire

Sunday, November 21
10:00am – 2:00pm

Mark your calendars as our annual Arts & Craft Fair is returning this coming November! We will utilize our awesome outdoor tent spaces to keep it safe. Get all your holiday shopping done early with over 30 local artists and vendors. Handcrafted jewelry, pottery, woodworks, paintings, and much more will be for sale. We still have vendor spots available so if you'd like to participate, please email [email protected].
Tennis Mixed Doubles

MUST REGISTER ONLINE PLEASE
Every Friday
5:00 pm – 7:00 PM

Come join us for a good time on the courts! Meet some new people and keep your feet moving! This event has become very popular, so sign-ups are required by reserving on the app under classes, or by emailing [email protected]. This weekly event is free, and open to members only.
Ball Machine Reminder
The ball machine is available for use by reservation only. The only way to reserve it is by calling the front desk up to 24 hours in advance.
Group Exercise Classes

You asked so we are trying it out! Many surveys have asked for later group fitness classes, so we are trying some new class times. Come check out these evening classes:
Cycle at 5:15 on Mondays
LIFT at 6:15 on Mondays
Core & Sculpt at 5:15 on Tuesdays
Yin Yoga at 5:30 on Wednesdays
Cycle Sculpt at 5:30 on Wednesdays
Groove at 5:00 on Thursdays
LIFT at 6:00 on Thursdays

Click Here To View A Complete Group Fitness Schedule
Thanksgiving "Eve" Dinners To-Go
Click Here To Order Your Dinners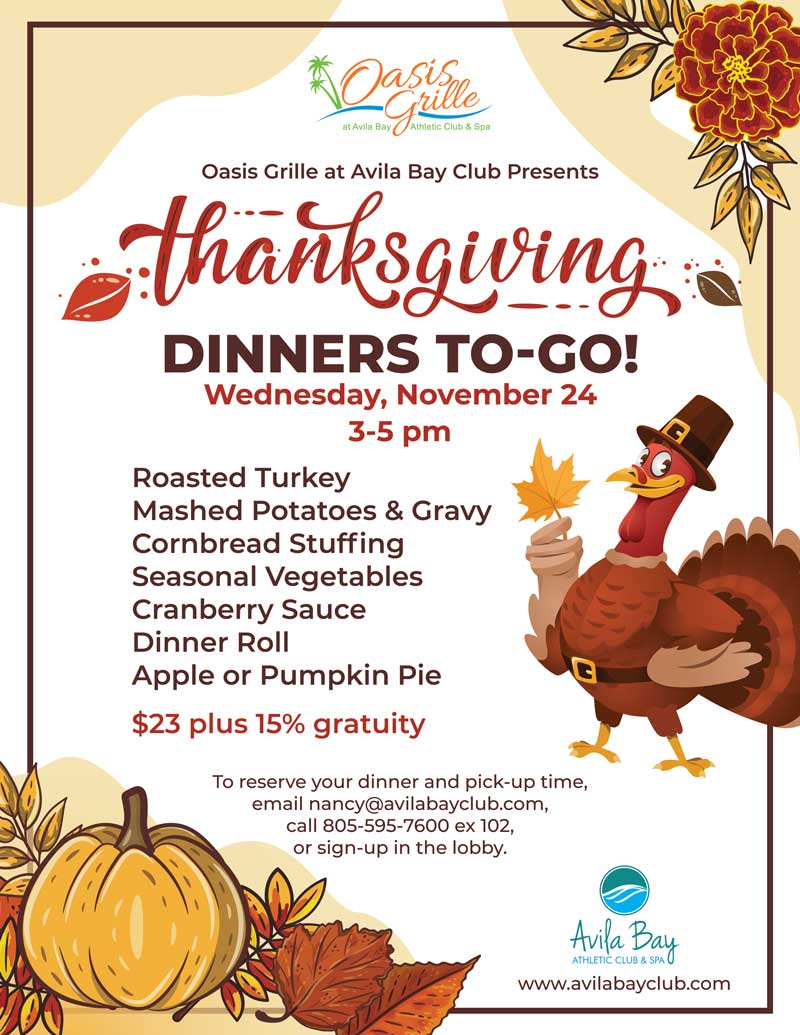 Turkey Troop Camp