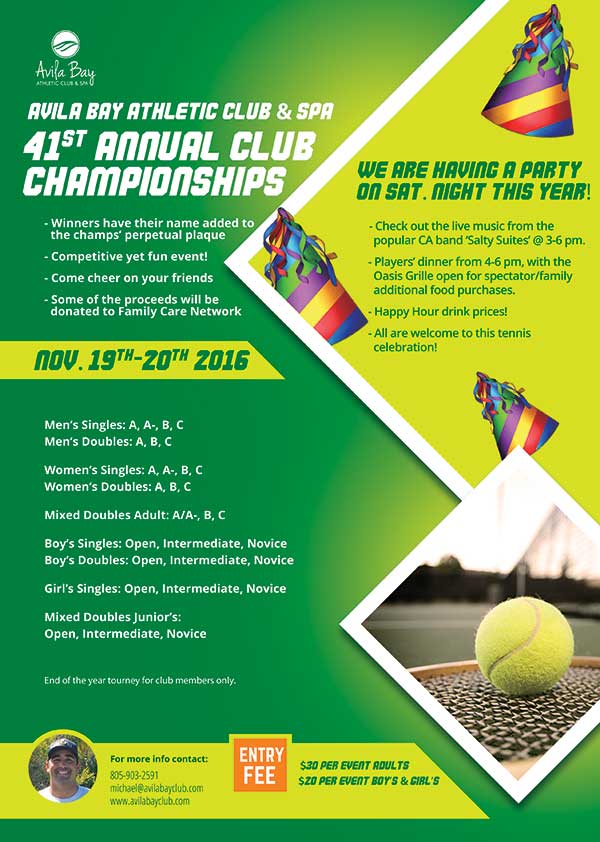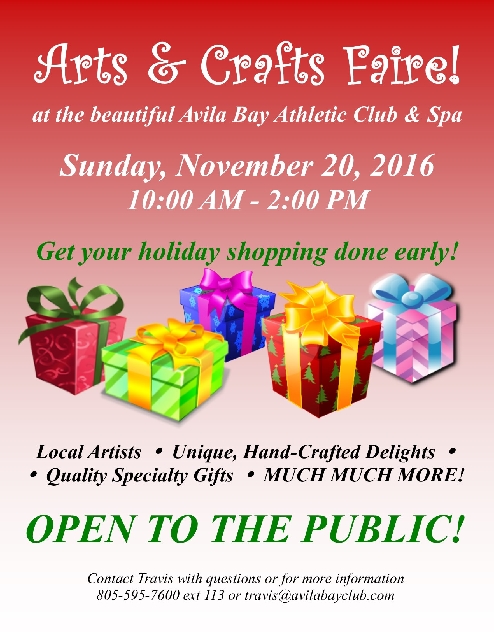 Upcoming Dates to Remember
Nov 19-20 Club Championships Tournament
Nov 20 Annual Arts & Crafts Sale 10-2
Nov 23 Club Closes Early at 5 pm
Nov 24 Club Closed for Thanksgiving
Dec 4 Club Closes Early at 5 pm for Staff Party
Dec 24 Club Closes Early at 2 pm
Dec 25 Club Closed for Christmas
Dec 31 Club Closes Early at 5 pm
Jan 1 Club Closed for New Year's Day 
Member of the Month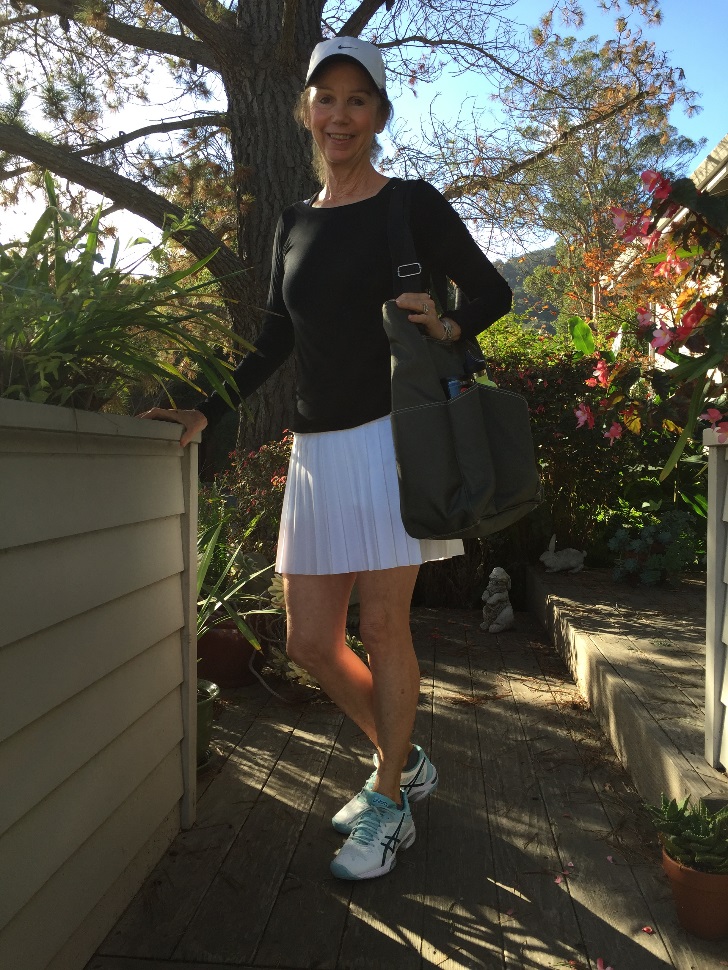 Madalyn Irwin
(Maddy)
Congratulations to Madalyn Irwin as our new Member of the Month! Maddy Irwin has been a member at the club for many years. She moved to the San Luis area in 1979, from Santa Cruz, Ca where she grew up. Maddy's husband was accepted into Cal Poly, and when they originally moved here they figured they would stay until he was out of school; however, they fell in love with the Central Coast. Madalyn is a retired banker, and her husband is a general contractor. They have one son, Tyler, who lives in Carlsbad, Ca. Maddy's favorite activities at the club are tennis and cycle. She loves the outdoors and also enjoys hiking. Maddy has met many of her best friends at the club, and says it's probably one of the biggest parts of her life. She loves the other members, the staff, and the atmosphere here, and considers it her second home. On behalf of the Avila Bay Athletic Club & Spa we are so happy to have Maddy a member!
Employee of the Month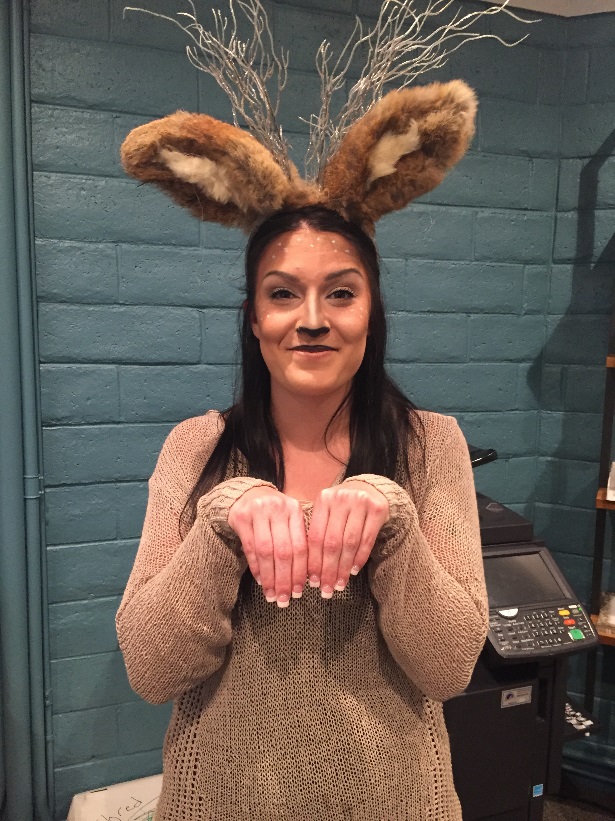 Rayna Mayberry
Super congratulations to Rayna Mayberry as our Employee of the Month! Rayna moved to the Central Coast from Clovis a few years ago. She loves the Central Coast but struggles with the cost of living, although she does miss the seasons that she experienced in the valley. Her passion in life is and has always been animals. The love of her life is her six year old Fox-Faced Pomeranian named Dixie. She has had her since Dixie was five weeks old. Rayna was lucky enough to assist the zookeeper at Chaffee Zoo for a year. While there she worked with the giraffes and elephants and enjoyed every minute of helping with the animals.
Rayna is a busy gal but when she has time she likes to workout independently in the weight room. Rayna joined our staff one year ago. Here at ABAC she wears many different hats. She works the front desk, in our administration office, assists with summer camp, special events, the newsletter, and is Nancy's right hand assistant. WOW! She hopes to continue to grow her position at the club. You have probably seen her all around the club. She said she has never worked at a place where all her co-workers are so happy and nice all the time. Rayna enjoys getting to know our members. We are so glad to have Rayna as part of our team here at ABAC! Kudos to Rayna!!!
Tennis Tips
by Michael Marquez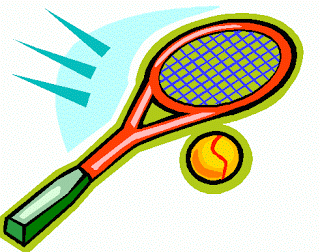 Champions or the Ordinary
In order to be successful in the sports arena, your ability to make good decisions under pressure is crucial. Fact of the matter is that you won't get it right under pressure during competition if you haven't practiced getting it right under pressure in practice. You need to prepare for pressure.
One of the biggest differences found in the most successful athletes and people, comes down to their ability to problem solve in adverse situations. They are able to handle pressure better due to the fact they've most likely placed themselves in more pressure situations and have practiced and developed a mindset that is both helpful and constructive.
If you want to become great at what you do, you need to put yourself in positions that challenge and put you in uncomfortable situations. For example in your practices, it's vital that you include enough opportunities that place you under pressure and challenge your ability to stay calm and collected under pressure.
Champion athletes are aware of this and challenge themselves daily in this area. They understand that when pressure visits, only the prepared succeed. Champion athletes also love pressure. What do I mean by that? They are energized by it, they thrive on it and love to prove themselves.
Remember, you won't get it right under pressure during competition if you haven't practiced getting it right under pressure in practice. You need to prepare for pressure.

And as Billie Jean King once said "Pressure is a privilege".
Allistair McCaw
McCaw Method



Kids are the future!
With kids, the level of skill or talent is not the most impressionable thing to me. How coachable, mannered and respectful they are is:

Don't be that bad apple!

Just takes one bad apple to ruin the bowl. Poor effort, bad attitudes or characters in a team can totally destroy team/culture dynamic.

Last year at 10 o'cock in the evening, I needed to pick up string for the Cal Poly men's tennis team from our team room (storage shed) because we were traveling to play University of Tennessee at Wake Forest the next day. One of my player's Timmy Tan was serving a basket of balls in the dark on court 6 and all other courts had no lights on. I yelled from the parking structure, Timmy what are you doing as sorority girls were screaming walking down the street. "I'm practicing my serve for our match."

What was Timmy's result in the match? It doesn't matter!

When watching Timmy, I learned if you want to look good in front of thousands, you have to outwork thousands in front of nobody.

One of my students Sophie Thoring two weeks ago was serving by herself on a Friday night with no one around. All courts were pitch black except court 5, where Sophie was serving in preparation for Paul Fiala's tournament.

What was her result in the tournament? It doesn't matter!

Sophie, if you want to look good in front of thousands, you have to outwork thousands in front of nobody.


October 2016 Spotify Playlist
Gretta Ray: Drive
Bloc Party: Stunt Queen
Lewis Del Mar: Such Small Scenes
Ella Vos: White Noise
Lanks: Holla
AFI: Snow Cats
Zeds Dead: Too Young
Salty Suites: Sit By Me
Gretta Ray: Unwind
Ben Howard: Esmerelda
Slumberhaze: Nothing But You
Tennis Ticket
There is something to do every day of the week!
Monday 6:00-7:30 pm Women's Live Ball Taught by Mike and Garrett
Tuesday 6:00-7:30pm Live Ball Clinic for all Taught by Kat
Wednesday 6:00-7:30pm Men's Live Ball Clinic Taught by Nick, Garrett, Mike
Thursday 9:30-11:30am Adult Clinic Contact Leah Minnery
Thursday 2:30-3:30pm All Level Drop In Clinic Taught by Mike Free
Friday 9:00-10:00am All Level Drop In Clinic Taught by Mike
Saturday 9:00-11:00am Fit Tennis Taught by Garrett and Trainer Kristin
Sunday 10:00-11:00am Every 4th Sunday Clinic Taught by Korey, sign up in the tower Free
Children/Teens
Tiny Tots every Thursday 3:30-4:30 pm. Contact Cami Hubbs
Beginning Jr. Tennis T/Th 3:30-4:30 pm, Intermediate Jr. Tennis 4:30-5:30 pm. Taught by Garrett
Tournament Play W 4:00-6:00pm. A collegiate type work out, by invitation only. Taught by Hugh
Advanced Junior Clinic M/F 4:00-5:30pm.
Fitness Department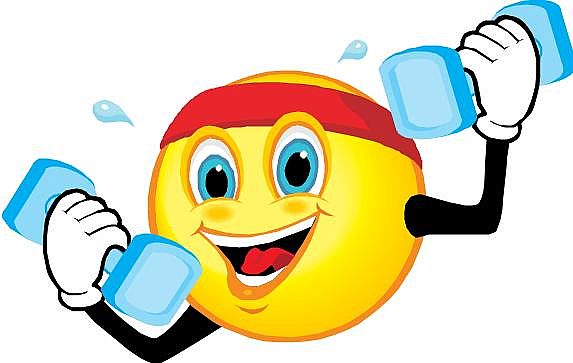 Mark your calendars!!
November 1-18
2 Step Reset –
All inclusive, 3-5 full days of meals weekly, 5 workouts per week for three weeks! Reset your body before the holidays! As low as $660.00!
November 1
Indoor/outdoor Spartan training through Dec 6. Tuesday evenings 5:30pm and Saturday mornings at 7:15. $20.00 per person. Text for reservation: 805-260-6438 Jan

November 5
Specialty workshop: The Melt Method with Leslie Ott!
Email:
[email protected]
by Nov 4 ($40.00)
The whole month of November:
Free functional movement assessment by trainer Randy Hose! Sign up located at the front desk!
Dance the night away with our lovely instructor and trainer Kristin Alexander.
Friday November 18th 5:30pm.
Couples Dancing! No charge! No sign up necessary.
Every Saturday Fit Tennis! 9am!
Meet your tennis pro and trainer at court 6/7 for a fun, fast and excellent opportunity to increase your FIT-ness and your Game!
Aquatics Department
by Michal Stalnaker

Greetings from the Aquatics Dept! Although summer is over and we are into fall, the weather is still great for swimming. Come out and enjoy the pools. There are many benefits as you well know. Here is a reminder.
What are the benefits of swimming?

Low impact
There's no ground impact when you swim, and so you protect the joints from stress and strain. In fact, the Arthritis Foundation strongly recommends swimming and water activities for this reason, so much so that they sponsor water classes all over the country (check http://www.arthritis.org for information). Water aerobics classes are also desirable for this reason, because even if you do jump and hit the bottom of the pool, you do so with less force because you're buoyant in the water. Not only that, but if you wear or hold a flotation device during a water aerobics class, the impact is even less.

Can be continued for a lifetime
Because there's no impact with swimming, it can be continued for a lifetime. If you check the United States Masters swimming (http://www.usms.org/) Web site for age categories of their swim competitions, you will find a 100- to 104-year-old age group! And the master of fitness, Jack La Lanne, who died in 2011, reportedly still swam one hour every day at age 93!

Builds cardio-respiratory fitness
Swimming improves endurance. In one study of sedentary middle-aged men and women who did swim training for 12 weeks, maximal oxygen consumption improved 10% and stroke volume (the amount of blood pumped with each beat which indicates heart strength) improved as much as 18%.

Builds muscle mass
In a study of men who completed an eight-week swimming program, there was a 23.8% increase in the triceps muscle (the back of the arm). My take on muscle mass and swimming is that if you have been doing no resistance exercise at all and you start to swim, you will certainly get more toned and you may even gain mass like the men in this study. But even without the gain in mass, it's well worth the strength and tone that you will almost certainly gain.

"Swimming" Author: Richard Weil, MEd, CDE
We hope to see in the pools!!
Cancer Well-fit Program
Congratulations to our fall Cancer Well-fit (CWF) group! 12 graduates completed the 10 week exercise and support program! The participants met with our CWF trainers three times a week for support, exercise and fun! The trainers meet and work with them on strength building, endurance, social and emotional support, and balance. One of the participants told us: "It has helped to start a new life after cancer."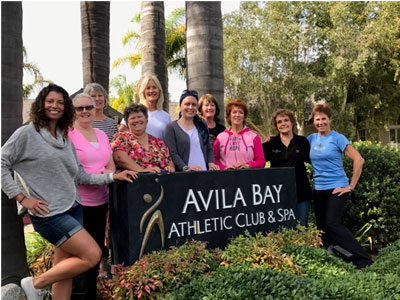 The next group of participants will start in January. If you know of anyone interested in the program who are within their first year of cancer treatment call Jan Secord at: 595-7600 Ext: 122 or email:
[email protected]
Donations are welcome! If you are interested in donating go to: www.cancerwell-fit.com. We are grateful for all members who have supported the program over the eight years! CWF is a California non-profit organization Fed Tax ID 27-3635992.
Holiday Parties at The Avila Bay Athletic Club & Spa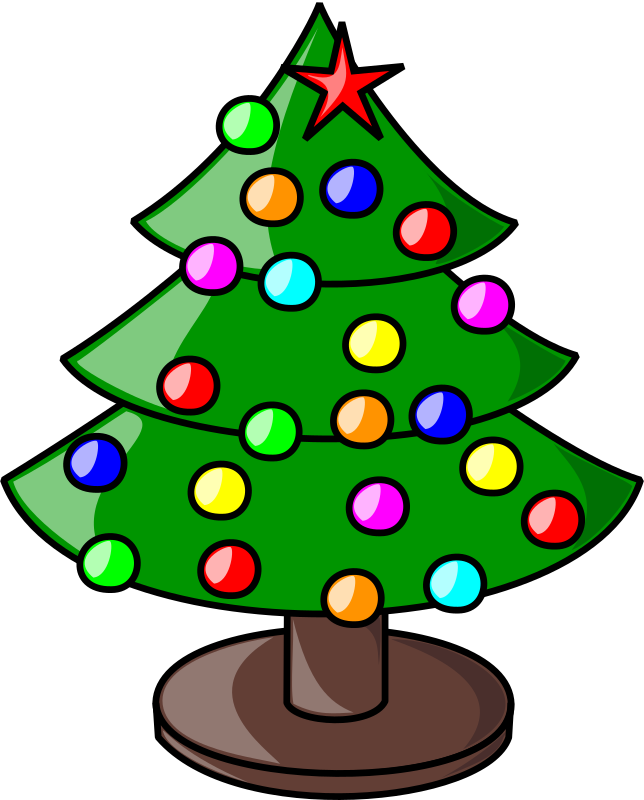 No better way to finish off the year then with a PARTY! The Avila Bay Athletic Club & Spa is the perfect venue for any special occasion! Our mission at the Avila Bay Club & Spa is to ensure your happiness and satisfaction with the planning and implementation of your event. We tailor each and every event to result in a day (or evening) that is enjoyable and stress-free, and one that creates a beautiful lasting memory for yourself, your family, and your friends. You will find our staff to be personable and experienced. Attention to detail and superb service are our specialties. Our skilled and accomplished Oasis Grille team is always eager to please, offering the convenience of on-site catering and a wide variety of delicious menu/banquet choices. The Avila Bay Club & Spa is the ideal site for a memorable celebration!
For all venue information and booking please contact Travis Hawley at
[email protected]
or
805-595-7600 ext. 113.
Wine Club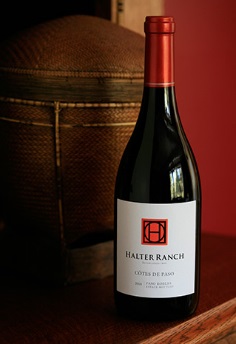 Join us every third Friday for a night of Great Wines & Good Times. This month we are meeting November 18th, from 6-7:30 and are happy to have Halter Ranch pouring! As always we will have wonderful Hors d' oeuvres prepared by the Oasis Grille staff. The event is $20 with RSVP and $25 at the door. Non-Members are welcome but be sure to reserve your spot as they are going fast! Child care is also FREE with reservation.
Questions? Contact Travis Hawley at [email protected]



Spa Department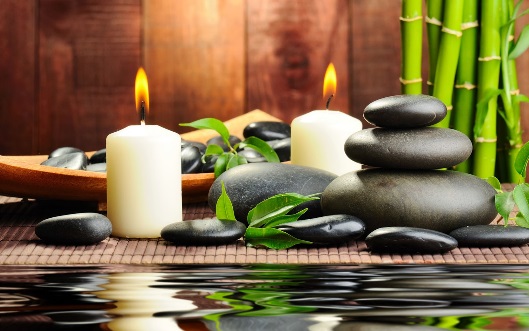 by Diane DiResto
FALL INTO BLISS

The holidays are fast approaching along with the stress that comes with them. Escape the chaos and fall into complete relaxation with a visit to our Salon & Spa.

Our Spa offers many types of massage treatments. Swedish, Deep Tissue, Mom-To-Be, Hot Stone, Aromatherapy, and Cranial Sacral. Our talented team of 9 massage therapists are looking forward to meeting you: Diane, Megan, MaryAine, Sherry, Michelle, Sarah, Laura, Shanti, and Christina.

Spend an afternoon at The Salon with Nancy Tejada and Lisa Duron. Create an exciting new hairstyle and gorgeous hair color with Nancy and/or receive a luxurious facial treatment or a holiday set of nails from Lisa.

Looking for that perfect gift for any occasion? You can purchase an Avila Bay Athletic Club & Spa gift card for as little or as much as you want.
Call our wonderful team at 805.595.7600.
Kids' Club by Breane Boswell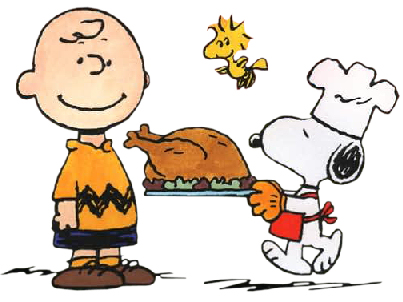 November is here, along with the holiday season. What a great time of year this is.
Keep an eye out for a few changes that occur this time of year. We will only be open the morning, the day before and after Thanksgiving, and will be closed on Thanksgiving Day.
Spending quality time with our family is very important so we hope you understand.
Please make sure to take note of those few days this month.
Congratulations to our new Kid of the Month!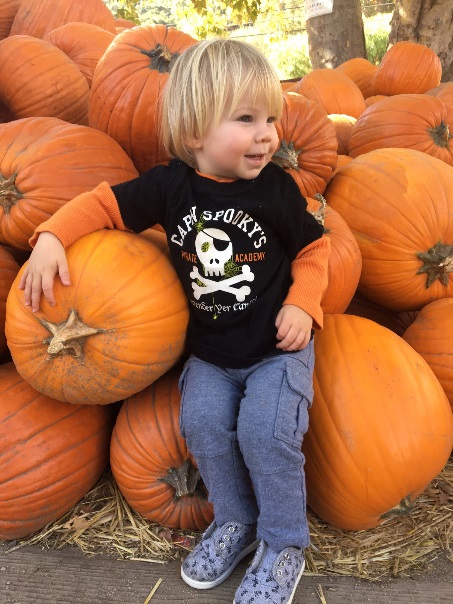 Asher Stellpflug
I would like to honor Asher Stellpflug as Kid of the Month! He has been so positive and we are so proud of him! He enjoys the cars and keyboard almost
as much as he loves watching his brother Gavin play. Asher no longer gets super sad when mom and dad leave. Give him a big high five next time you see hi Please be respectful of the Kids' Club policies that are set in place. The two hour limit, and staying on the property while you are signed in are two major policies that have to be followed. And of course, please don't bring sick kids in, they should be home resting. As always, any questions or concerns can be directed to
[email protected]
.
Thank you.
Parent's Night out is back again!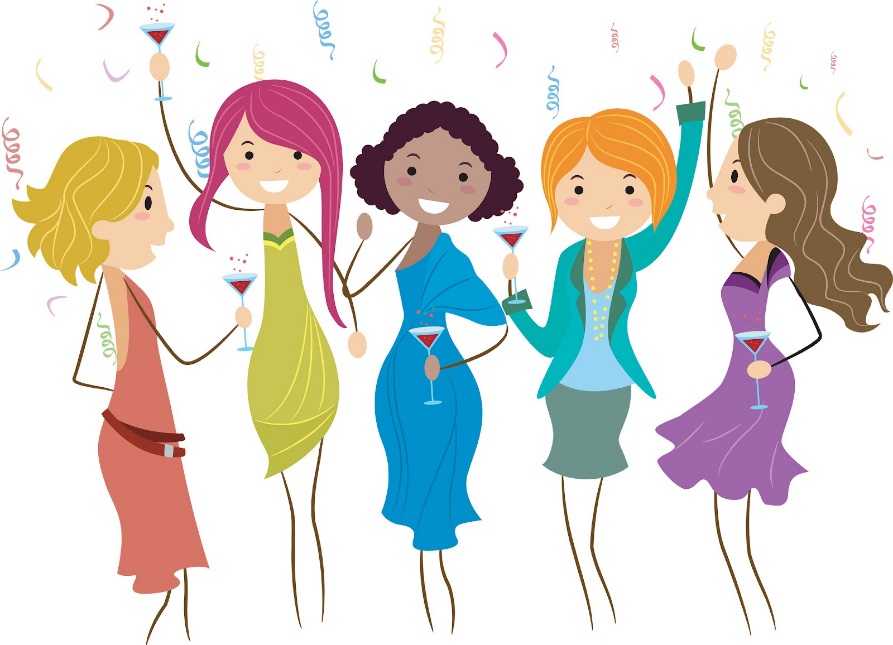 Saturday, November 12th is when all the fun happens.
Sign up the kiddos to join us from 5:30-8:30pm. We socialize together to create an atmosphere to facilitate playing games, designing crafts, have a dance party, completing obstacle courses and we even take care of dinner! Enjoy a couple hours to yourself while you know your kids will be having a great time - you deserve it! Sign up in Kids' Club, at the front desk, or email [email protected].