What's Up At ABAC
The Deck Lounge Hours
Thursdays, Friday, & Saturdays - 4:30 pm to 7:30 pm
May Deck Parties
Thursday, May 5 – Cinco de Mayo Party
Wednesday, May 18 – Live Music with Solstice Sisters Collective
May Calendar Of Events
May 14 – Sunset Hike At Pismo Preserve
May 15 & 22 – Pickleball For Members
May 27 – First Summer Friday Night Happy Hour w/ Ghost Monster Full Band
May 27-29 – ABAC Memorial Weekend Fitness Challenge
Fitness At ABAC

Spring is in the air! It feels wonderful to emerge from the worst of Covid just like those freshly planted blooming flowers at the entrance to the club. If there is one major thing we have all learned over the past two years, it is that our health should be a top priority and fitness is a GIANT contributor to maintaining a healthy immune system and keeping us all younger. There are so many options available to you at ABAC and I am excited to share with you just a few you may not be aware of. Our Pilates reformer classes not only strengthen your entire body and build core stability, but when you are finished it feels like you just had a massage! We have every type of group fitness class available with some new classes and instructors being added for the summer. Our small group trainings really help hone in on spectacular form and get you comfortable with our beautiful (and new) indoor/outdoor weight training area. Finally, we offer nutritional counseling as well as health coaching for when you are ready to level up your eating habits. As the fitness director I am here for you! I want to give you the best experience possible while at ABAC and help you feel healthy and confident. Please reach out to me personally at [email protected] with any questions, concerns, or for help with any of your fitness/nutritional needs. I look forward to speaking with you soon!
-Kristin Alexander, fitness director
The Deck Parties In May

The Deck Lounge will be open now for drinks and the special appetizer menu every Thursday, Friday, and Saturday from 4:30 – 7:30 pm. Each month we will have special Deck Parties with varied events and live music. We have even more beers on tap and some new great wines on tap as well! Stay tuned for lots of fun stuff!
Thursday, May 5 – Cinco de Mayo party with special tacos and festive music
Wednesday, May 18 – Live Music with Solstice Sisters Collective

We purchased a set of Six Theraguns and Four Wave Rollers! They are located in the Cardio Room and free for members to use. We ask that you please keep them in the Cardio Room.
Theraguns, provide targeted deep muscle treatment to increase blood flow, reduce tension, improve movement, maximize recovery, and optimize sleep. We are thrilled to offer this amenity for recovery! Our staff is becoming more trained with this equipment now and will be able to help you utilize them in the best way. Look for our spa staff to share in using them along with your table or chair massage appointment as well.
Pickleball Mixers – Twice The Fun In May!
Sunday, May 15th and 22nd (Note – two weeks in a row)
1:30 pm – 2:00 pm Clinic w/ Kobi
2:00 pm – 5:00 pm Drop-in Match Play (No instruction provided)

This event is for members only.
Beginners – Come to the clinic at 1:30 with Kobi to learn the rules, scoring, court terminology, and stroke techniques. This will make it much easier to participate in the open match play at 2:00. $10 per person for the clinic only.
Open Match Play - Bring your paddle and come play some pickleball! It's great way to meet someone new. We will set up our temporary court lines. Please sign-up online through the app under Programs – Category "Tennis".
Pool Rules Reminders

With summer approaching quickly, we would like to refresh our members on the pool rules. Following the pool rules allows for safety and fun for everyone.
Do not ever enter a reserved lane unless it is your reserved time. Members that arrive to swim and see someone in their lane, usually come back to the front desk for help. This causes a lot of problems.
The large pool lanes 3-6 are reservation only Monday-Friday.
Lane One is the Free Swim Lane. Anyone can be playing in that lane as well as swimming laps.
Children under age 14 must be directly supervised by their parents or guardian, even when a lifeguard is on duty.
Rules and requests made by staff must be complied with at all times.
Children who wear diapers must wear swim diapers.
No one under the age of 16 is allowed in the adult spa.
Remove and throw away band aids before entering the pools and spas.
Rinse off before entering the pools and spas.
For safety, the following are prohibited
Running, shoving, dunking, or hitting
Screaming or excessive noise
Diving in less than 8 feet of water
Glass containers
No food allowed in pool or spa
Flips, back dives, or spinning entries from the side of the pool
Throwing balls, with exception of sponge balls
No flotation devices larger than 24" by 24"
No water guns
ABAC Summer Blast!

One Week Sessions
June 13 – Aug 5
Mon – Fri 9 am – 3 pm

Looking for a fun and safe place for your kids to hang out this summer?
Register for the annual ABAC's Kid's Summer Blast! It's an activity based week that will keep your child moving and excited. Each week includes tennis instruction, swim instruction and games, science experiments, art projects, instructional hands on gardening, educational nature walks, soccer, kids' fitness, Kempo, obstacle courses, and a weekly walk to the Avila Barn. All counselors will be trained in COVID-19 protocols. Visit our website or front desk to receive a registration packet! Please contact Travis Hawley at 805-595-7600 ex. 113, or [email protected] if you have any questions.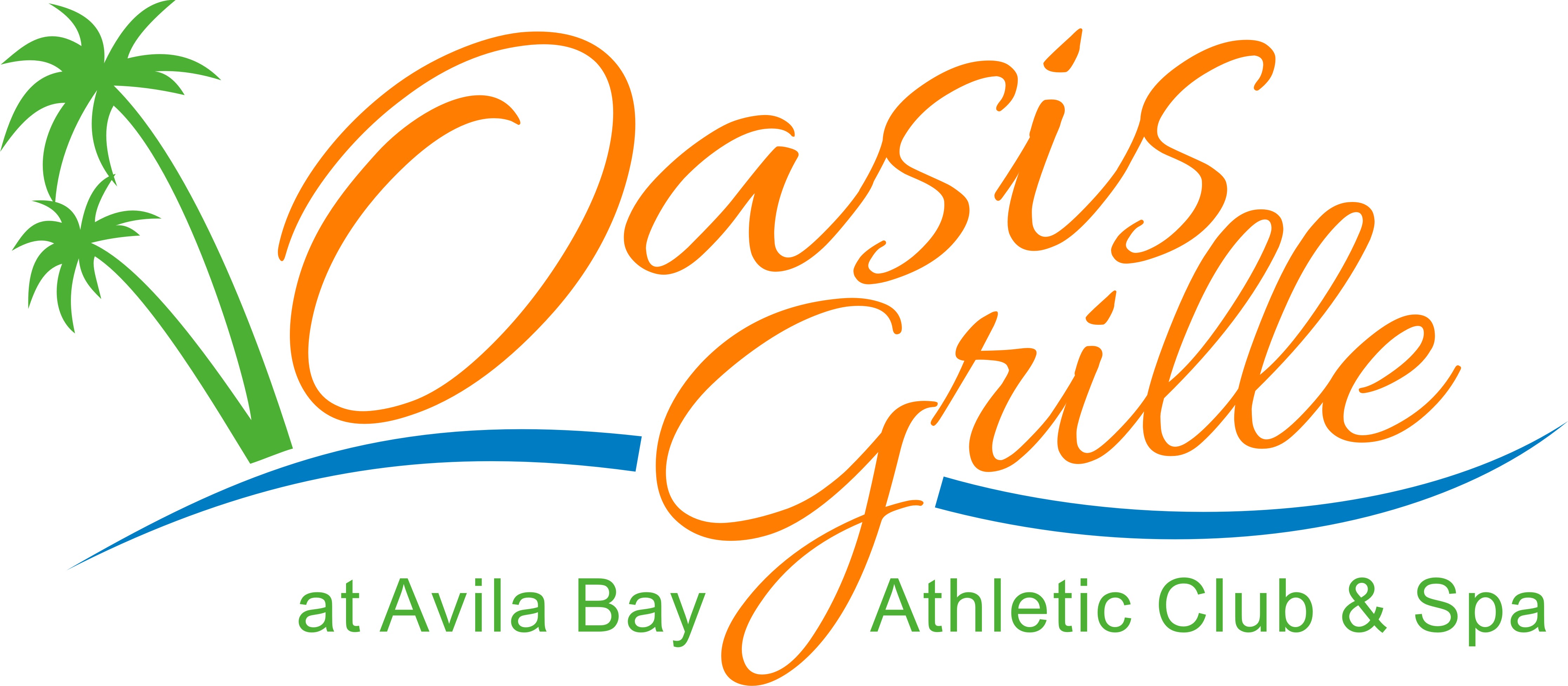 Mother's Day Brunch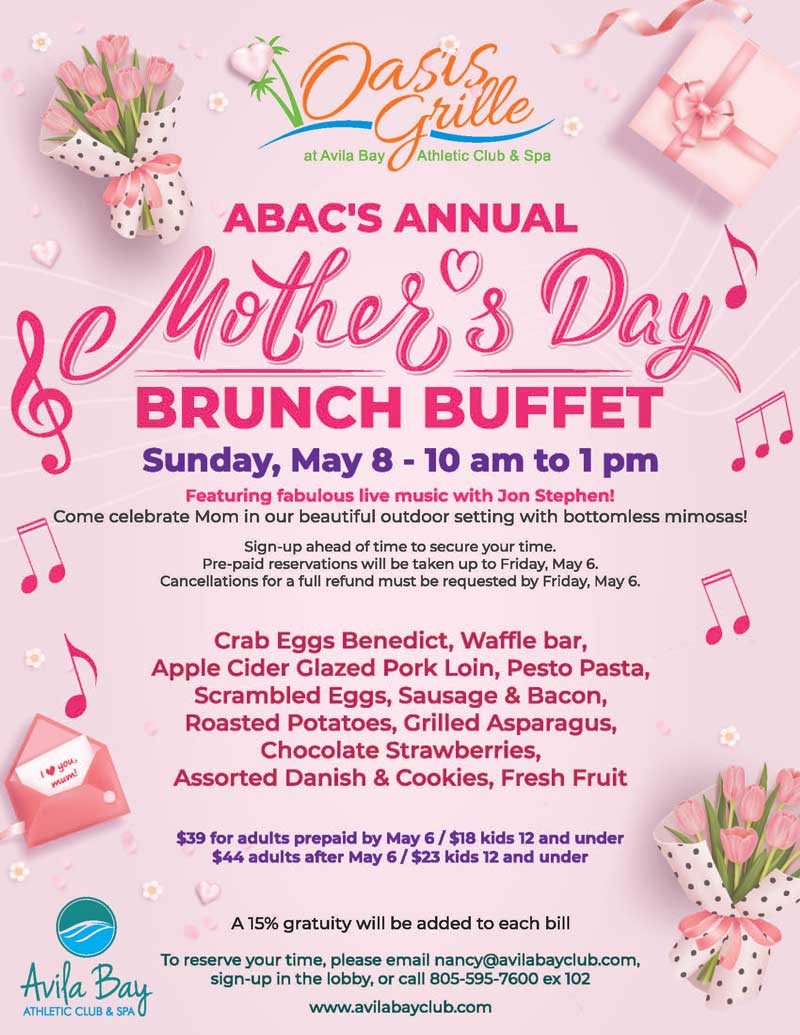 Fall/Winter/Spring Club Hours (Summer Hours Start May, 27)
Monday – Thursday 5:30 am – 9 pm
Friday 5:30 am – 8 pm
Saturday 7 am – 8 pm
Sunday 8 am – 8 pm
Kids' Club Hours
(by reservation only - on the ABAC app under Adventure Central)
Note - We do not allow kids that appear sick, with even a runny nose, in Kids' Club.
Please make a separate reservation for each child.
Monday through Friday 8:30 am - 12:30 pm
Tuesday through Thursday 3:30 pm – 6:30 pm
Friday 3:30 pm – 6:00 pm
Saturday 9 am – 12:30 pm
Sunday 9 am – 12:00 pm