Mom Deserves a Day Off!

TAKE HER TO BRUNCH AT THE CLUB
Sunday, May 10
10 to 1
Mom should not be cooking, doing dishes, or catering to anyone on this day. And we're pretty sure she doesn't want to go to one of those overcrowded, overpriced brunches, either. So let the Oasis Grille do the cooking. Let our staff clean up. Let mom relax with her family on our cabana, where there will be live music, an extraordinary array of edibles, and mimosas! Making your reservation and prepaying by Wednesday, May 6 will save you $$.
595-7600 ext. 100
From Cancer Well-Fit…
Q. What's the Silent Auction in the ABAC lobby about?
A. Raising money for our in-house program "Cancer Well-fit" which is a non-profit organization offering a no fee, exercise program for first year cancer survivors! Community donations keep the program running... now in its 5th year at the Avila Bay Athletic Club & Spa. We help strengthen those individuals on a cancer journey.
So, come shop the auction throughout the week, make your bids, and support a wonderful cause. Open for one week, May 1 - 8. Join us for festivities at the auction closing party Friday night, May 8th, on our cabana/patio, 5-7p.m. Live music, food and drink! Winners announced.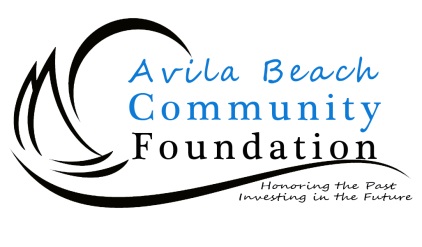 Donations received (up to $2,000) will be generously matched dollar for dollar by the Avila Beach Community Foundation! We are grateful for this, and the ongoing support and generosity of our members and community.
Kate Wels, Clara Vanherweg, and Jan Secord Cancer Well-fit Trainers

This fabulous piece of art generously donated by Paul McCloskey is an example of the awesome items available to bid on.
From the Tennis Tower…
It's coming . . . Vince Dente Memorial/Avila Bay Classic Tennis Tournament!!
It is that time of year again when we begin thinking "Where am I going to spend my Memorial Day Weekend?" and more importantly "Whose memory will I honor on this special weekend?" In the tennis world, we can honor many world renowned players and promoters who changed the face of the game . . . Arthur Ashe, Althea Gibson, Barry MacKay, and recently Vic Braden. Each of these individuals had an impact on not only the sport, but also how the game was viewed in society from crossing racial borders to promoting the sport to the world! Locally, we honor former ABAC member Vince Dente who was a tennis enthusiast, supporter of junior tennis, and had an infectious personality that captured everyone who met him. Vince was the primary sponsor, creative force, and played annually in our Avila Bay Classic. After his passing, the powers that be thought it fitting to name one of the premier tournaments in our area in his honor! This year, the Avila Bay Classic/Vince Dente Memorial Tennis Tournament will be held from May 22nd - 25th. This year's sponsors - Tennis Warehouse, Straight Down, Hal Sweasey-REMAX, Toyota & Honda of Santa Maria - have donated $5000 in Prize Money for Open Events! Other Sponsors donating other items for the tournament include Wilson Sports and Pacific Beverage. This tournament is divided into a sanctioned portion (Open and some Senior Events) and an unsanctioned portion (NTRP: A(4.5)-C(3.0), junior, and some senior events). The brochure and registration form can be found on our Website or can be picked up in the Front area of the Club or in the Tower. You can also sign up on-line under USTA.com by entering the Tournament ID #. Please see brochure for details! Any questions should be directed toward the Tennis Tower. 805-595-7600 ext 106
*Our most important entrants are our Avila Bay Club members. WE WANT YOU (!!!) in our tourney!
April's Wilson BURN CHALLENGE & DEMO DAY
What a FABULOUS group of people we had who came out for the Wilson Demo Day and BURN CHALLENGE!! Enthusiastic Wilson Rep Lauren Colalillo brought all of the latest styles of Wilson racquets for participants to try while being run through four courts of drills! Over 40 people showed up for this event and after an hour and half, gave their best shots to win prizes!! After everyone walked away a WINNER of prizes, the BURN CHALLENGE began! Wilson's BURN racquet was used with Sony sensors placed in the butt cap of the racquet handle. Each participant's specs – name, age, level, gender – were entered electronically then the BURN CHALLENGE began. Lauren initiated the sensor and each participant ran through a series of ground strokes, foot movement drills, squats, and pushups then ended with serves. The sensor recorded data such as amount of spin & speed of ball, where on the strings it was contacted, accuracy of shots, speed of footwork through course, and compared this data to other people with the same demographics across the globe! Each person received a score that can be compared to others in their category. Although the BURN CHALLENGE is a global event, the winners of each age/gender category win tickets to the US OPEN!!
Anyone that did the Burn Challenge can find their scores online at
www.wilson.com/burnchallenge
. The event ID was US1005, or they can search by finding their name. The system currently operates much better on a PC than a mobile device.
Thanks to everyone who came out for this fun and free event hosted by our club and sponsored by Tennis Warehouse and Wilson Sports. Also, thanks to our pros Mark, Hugh, Korey, and Jenny for donated their time on the drill courts! We hope you all had a GREAT time and maybe even learned a little about Wilson racquets too!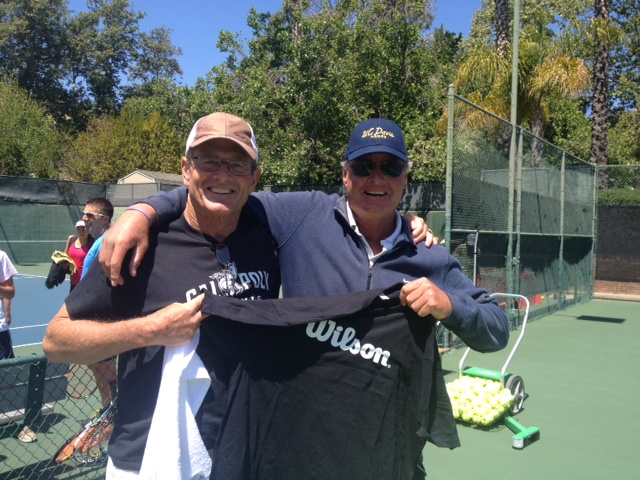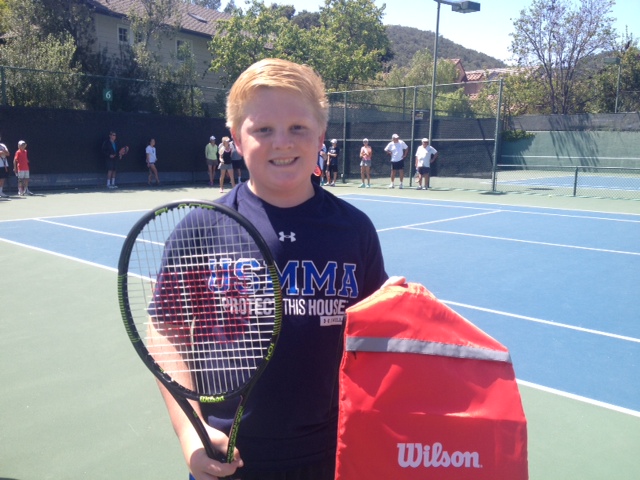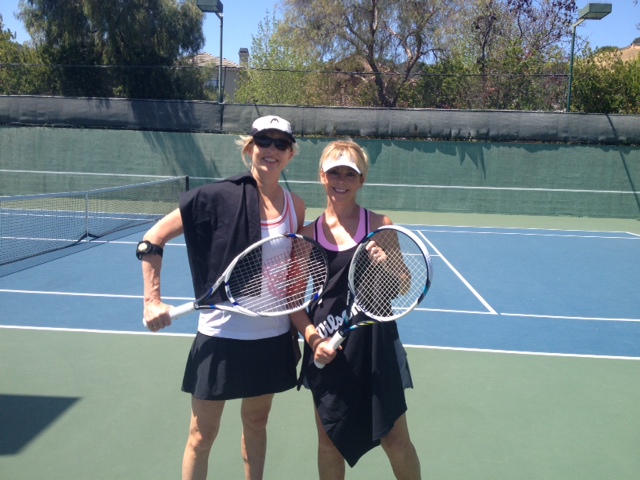 From our Events Director…

2015 Friday Happy Hour
Band Schedule
May 22 - August 28 ● 6-8 p.m.
Please note – No Happy Hour July 24, Aug 7, or Aug 21
August 7 is BBQ & Bingo, tickets on sale in July
Let the party begin! Great music, featured wineries, food and beverages available for purchase. No guest fees (does NOT include use of the club by non-members). Don't miss the first Happy Hour with the great music of Big Daddy's Blues Band! Heck, don't miss any of these fabulous Friday nights!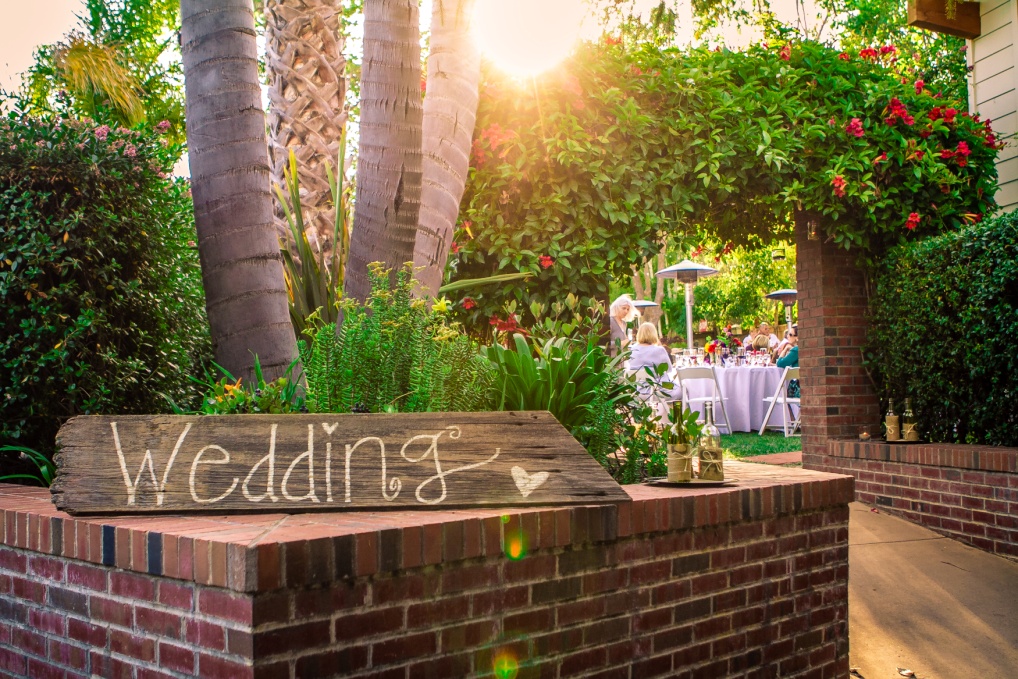 Special Events at the club:
Special Events @ the club- Summer is near and that means it's PARTY TIME! The Avila Bay Athletic Club & Spa is the perfect venue for any special occasion! Our mission at the Avila Bay Club & Spa is to ensure your happiness and satisfaction with the planning and implementation of your event. We tailor each and every event to result in a day (or evening) that is enjoyable and stress-free, and one that creates a beautiful lasting memory for yourself, your family, and your friends. You will find our staff to be personable and experienced. Attention to detail and superb service are our specialties. Our skilled and accomplished Oasis Grille team is always eager to please, offering the convenience of on-site catering and a wide variety of delicious menu/banquet choices. The Avila Bay Club & Spa is the ideal site for a memorable celebration! Questions? Please contact Travis Hawley at 805-595-7600 ext 113 or
[email protected]
From our Membership Department…
Four Most Important Things in Life:
In this fast paced life, it is important to reflect back on four important basics in life:
Health, Relationships, Positive View of Self, and Life with Purpose
. You, the members, probably realized this when you joined the club. (We, at the Avila Bay Club seem to have dialed that in! ) This club offers the members, staff, and guests a beautiful "oasis" to live a healthy life with strong and lasting friendships. Who do you know that could use some help in becoming healthier, or maybe in need of some support? Maybe a neighbor down the street that recently lost a family member and is feeling lonely? What about a mom that is struggling to find time for herself and needs an outlet? If you know anyone that could use a place to get more active, to meet others, or maybe just get motivated, invite them into our club! If you need a pass for someone, just stop in and ask for a pass from the membership staff.
And,
thank YOU
, for being a part of the Avila Bay Club family!
From the Oasis Grille . . .
We have recently updated our Oasis Grille menu and hope that you can take the time to come and check out some of our new items such as our Wimbledon Sandwich, Club Quesadilla, and much more! We now offer wild caught salmon all the time!
Just a few reminders as summer approaches…
The club is busier, and we recently had to start enforcing the old rule that you need to be with your guests at the club. We can no longer hold guest passes for you at the front desk. We appreciate that you greet your guests at the front desk.
Let's be more careful in the parking lot. We encourage everyone to please drive slowly and safely. DO NOT GO THE WONG WAY IN THE ROUNDABOUT. We have seen some close calls, and remind you to go the proper direction around the circle out front. It would also be a great help if everyone would park in our large side parking lot, and to avoid the spots right in front of the Avila Village Inn, or the spots in the middle marked AV Inn. Those spots are meant for guests of the hotel and we don't want anyone to get towed!
Please remember that children under 14 must always be directly supervised by a parent. This especially includes the pools, even when there is a lifeguard on duty. We want to make sure everyone is staying safe and under control.
You may have noticed our new policy about towels. We ask that each member take only to one towel to help us conserve water during this drought. We appreciate your efforts to help us reach our conservation goal! With that said, we are beginning our Bring Your Own Beach Towel Weekly Drawing early this year, and are starting it now! Bring your own towel and be entered to win guest passes, logo gear, and Oasis Grille coupons! Plus..there is one Grand Prize drawing for one month of free dues!!
Congratulations to our March Member of the Month!
They have declined to be named, and are grateful for the honor.
March Employee of the Month
Congratulations Korey Kolb!
Congrats to Korey Kolb as our new Employee of the Month. Kory was born and raised in Morro Bay. He attended Cuesta College after high school, and then began his career as a tennis coach. Korey's dad taught him how to play tennis when he was 8 years old and he has been playing ever since. He especially likes competing. On his days off he enjoys biking and running hills for the challenge. He has been teaching tennis for 3.5 years and he looks forward to teaching for a long time. Korey likes his lessons to be productive but fun and loves seeing improvement in his students. He enjoys working with kids to seniors. Korey is a happy go lucky kind of guy that enjoys working with people. So if you need some tennis, lessons call the Tennis Tower and they can sign you up with Korey. He feels we are so lucky to have all this beautiful scenery around with such great weather, we feel we are lucky to have Korey on our team.
From The Fitness Department . . .
Team TRX is now on the schedule! Randy Hose and Danielle Lien are offering 3 sessions per week. All sessions are at 8:30, Tuesday, Thursday and Friday mornings! These sessions are included on the small group training brochure and may be combined with your Pilates or Functional Training punch card! During the month of March Randy and Danielle are offering a special 30 minute session for just $20.00! For information or scheduling please contact Jan Berdar
[email protected]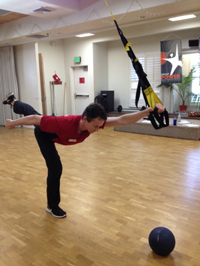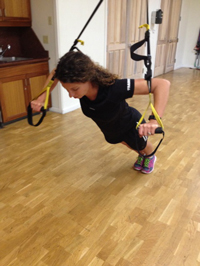 Avila Bay Athletic Club's Fitness and Aquatics departments would like to announce a partnership to bring a new Triathlon Readiness Clinic to its list of programs it will offer. Do you have a local triathlon on your new year's resolution? Have you been interested in participating in a triathlon but feel intimidated? This 8 week clinic will give you the information you need about the culture of triathlons, how to prepare for one, and the support needed in all three events. Specifically, it will prepare you for the annual SLO Triathlon at the end of July. An interest sheet is up on the schedule board. You may also sign up on our interest sheet or inquire for more information by emailing
[email protected]
. Just Tri it!!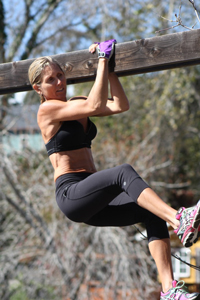 Obstacle Course Training! Are you thinking about or currently signed up for a Tough Mudder, Spartan or other Obstacle Course Race (OCR)?
8-12 week personalized, small group or individual training is being offered in house at ABAC. Learn how to leap, climb, drag and pull your body up and over walls. Lets get dirty....SAFELY. Weekly and bi-weekly sessions will teach and train your body what to expect, how to move and build strength and endurance before the big event. Contact Jan, 2x Tough Mudder and OC coach.
[email protected]
regarding questions, pricing and scheduling.
From the Aquatics Department…
The Avila Bay Athletic Club's Aquatics Department is pleased to announce that Jud Clark of Puma, who is also an ABAC member, will be taking over our Avila Bay Starfish swim team as of June. During the month of May Starfish families will be able to meet with him to ask questions, swimmers will be assessed for proper grouping, and he will be available to help with Puma registration. We will also be working with some of his coaches during May. Please welcome these new faces. This is exciting news because although team we are staying a recreational and will still have the ABAC's individualized focus on the kids, they will be able to compete with the Puma team if they would like to. It will be the best of both worlds. Here is a little about Jud and Puma:
Puma Aquatics is a year round swim club that has programming for novice through national level swimmers. Coach Jud Clark has been the head coach and owner of the swim club for the past 16 years and is excited to bring his philosophy and love for swimming to the Avila Bay Club. Coach Jud earned his Master's Degree in Kinesiology from Cal Poly in 2011 and was also awarded the Top 20 under 40 in San Luis Obispo County in 2010. The Puma program is based on goals that are derived directly from swimmers. Some swimmers have no intent on being a competitive swimmer and want to swim with our program to get stronger for Jr. Lifeguards, water polo, surfing, triathlons, or general health. Other swimmers find that they want to try an event at a meet and are then hooked and love competitive swimming. Whatever a swimmer's goals are, we have the programming to help them achieve their goals. In 2012, Puma sent 16 year old Zachary Stevens to the USA Swimming Olympic Trials held in Omaha, NE. He was one of only four 16 year old boys in the Nation who made the time standards to compete to be on the USA Olympic Team.
Swimming is truly a lifelong exercise and Puma has thoroughly enjoyed being a part of so many lives over the years. The Puma staff does a great job of teaching and giving corrective feedback during the entire practice. Puma coaches are hands on and fully engaged in every practice. Our saying is that we "walk and talk" giving feedback the entire practice. We don't just give out sets and sit behind a lane, we teach and inspire. Our job is to correct stroke mechanics to create a more efficient stroke and to give swimmers the tools to create goals. We strive to create a positive and safe environment that kids take pride in being a part of. Many people claim that swimming is an "individual sport" but Puma is one of the best "team" sports around. Puma looks forward to being a positive impact on your kids' lives here at the Avila Bay Club. Puma will work closely with the Avila Bay Club staff and management to ensure that the Puma program meets the needs of its membership and is in line with the Avila Bay Club's goals and standards.
Coach Jud Clark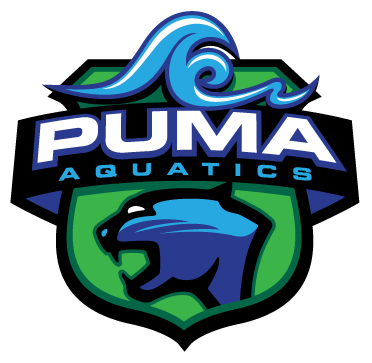 A flyer will be available soon to explain further how the transition will work and the programming of Puma, along with what changes can be expected. Also, I would like to announce that seasonal swim lesson sessions are currently available at select times and starting the week of May 11th will be available between 8-11am. Online booking will also be available starting in May for all swim programs. Members will start seeing lifeguards on deck during our Mother's Day Brunch and Memorial Day weekend. It's a good time to brush up on ABAC's safety rules so that everyone can enjoy the pools and be ready for our busy summer. Hope to see you in the water!
From the Spa…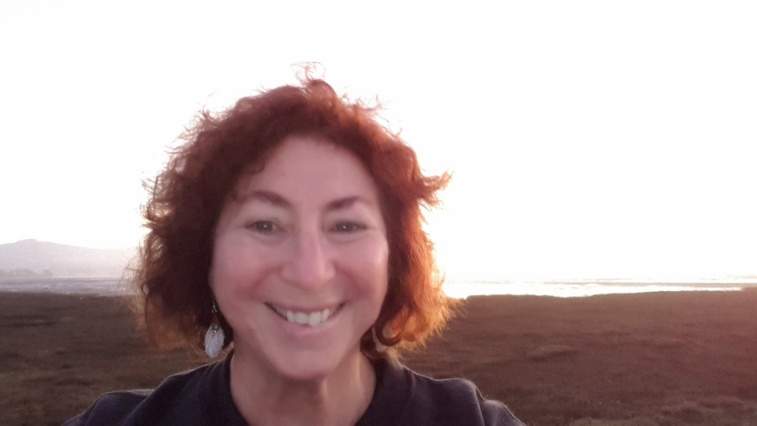 Our featured Spa Employee for May in masseuse Rose Paysnick!
Rose has a strong background in both holistic medicine and traditional western medicine. To date, she was responsible for creating the first alternative health center in SLO ,(The Stress Reduction Center). " I can't really take credit for creating the center, " says Rose,"it was truly an idea whose time had come. I just opened up an office on Toro Street in San Luis Obispo and other healers showed up. Before I knew it, we had acupuncturists, chiropractors, a nutritionist and several massage therapists. One of the body workers had taken her training in rolfing at Esalen Institute. She introduced me to a whole new world of possibilities in healing by taking me there."
Rose eventually sold the center and went back to school where she earned her BS in Kinesiology at HSU followed by studies in Physical Therapy Assistant at Whatcom College. After several years, Rose returned to the Central Coast and opened a successful spa in Cambria, CA.
She recently sold that spa and to our delight, has joined our team.