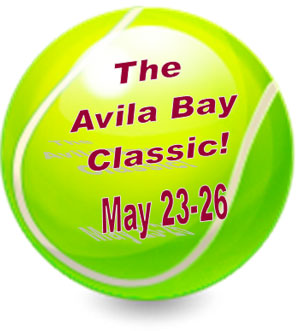 Don't forget to mark your calendars for the upcoming 24th annual Avila Bay Classic Tennis Tourney held on Memorial Day weekend, May 23-26 (also known as the Vince Dente Memorial). The tournament was named in honor of Vince Dente, a local tennis enthusiast who had a passion for tennis and loved to share his passion by supporting kids in their pursuit of the game. As a result, the Vince Dente Memorial Fund was created to financially aid kids whose aspirations included developing as a tennis player from recreational, to collegiate, to professional levels. The fund continues to assist local players in our area today. Please contact Mark Scribner for more information and to find out how you can help donate to this fund and keep our local youth in the great lifetime sport of tennis! Registration will be online, as well as through entry forms available in the Tennis Tower and the lobby. For more information on the tournament and/or how to donate to the Vince Dente Memorial Fund, call Mark Scribner at the Tennis Tower 595-7600 ext. 106. Or check out the link on our website homepage under upcoming events.
BIG THANKS to our Dente sponsors:
Tennis Warehouse♥
Wilson♥
Hal Sweasey♥
Straight Down♥
Pacific Beverage♥

More info here

TAKE HER TO BRUNCH AT THE CLUB
Sunday, May 11
10 to 1
Mom should not be cooking, doing dishes, or catering to anyone on this day. And we're pretty sure she doesn't want to go to one of those overcrowded, overpriced brunches, either. So let the Oasis Grille do the cooking. Let our staff clean up. Let mom relax with her family on our cabana, where there will be live music, an extraordinary array of edibles, and mimosas! Making your reservation and prepaying by Thursday, May 8 will save you $$.
595-7600 ext. 100

Read more here



2014 Friday Happy Hour
Band Schedule
May 23 - August 29 ● 6-8 p.m.
Please note – No Happy Hour July 4, Aug 8, or Aug 22
August 22 is BBQ & Bingo, tickets on sale in June
Let the party begin! Great music, featured wineries, food and beverages available for purchase. No guest fees (does NOT include use of the club by non-members). Don't miss the first Happy Hour with the great music of Big Daddy's Blues Band! Heck, don't miss any of these fabulous Friday nights!
click here to download a band schedule
March Members of the Month - The Clarke Family!
ABAC Loves The Clarke Family!
In Jud Clarke's Words…
Nara and I moved to SLO 18 years ago shortly after we were married. I am from Colorado and Nara is from the Bay area and we both knew that we wanted to live back in California after meeting in college at the University of Redlands. We took our chance in SLO with no jobs and decided there was no better time in life to try it out and if we weren't able to make it, we would go to where we could find jobs.
18 years and 3 kids later, we are so happy to still be living in such an incredible place! I am the head coach and owner of Puma Aquatics which operates both recreational and competitive swim programs out of 3 locations in San Luis Obispo County.
We have been extremely happy being members of the Avila Bay Club as we use it for a variety of purposes on a daily basis. Our kids thoroughly enjoy the youth tennis programs as well as the pool for recreational swimming. Nara has enjoyed many fitness classes and we both have recently taken part in learning yoga in a private and small class setting with Noel who is an awesome trainer.
I use the pool for lap swimming as well as the weight and cardio room for additional exercise. Kelton, our 4 year old, loves Kids' Club and sometimes asks to go in even if we haven't planned on him going. We've also utilized the Wednesday dinners to go and have taken part in many Friday Night Happy Hours at the club.
Overall, we are happy to be members of the Avila Bay Club as it offers us a fun and healthy environment that meets our family's needs.
March Employee of the Month – Kate Wels!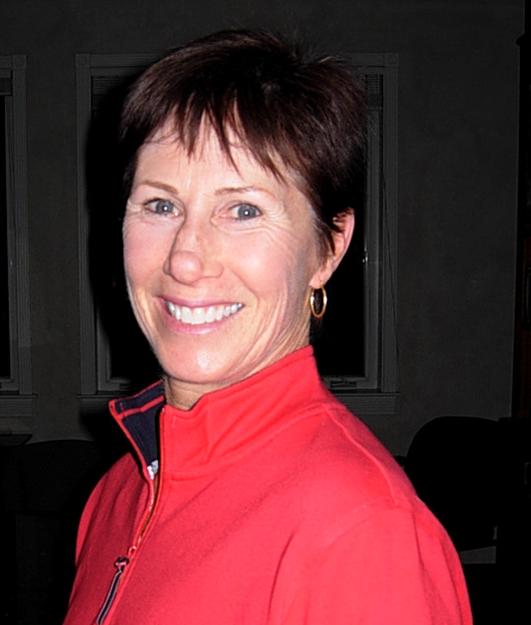 We are so fortunate to have Kate as part of our ABAC family! She has boundless energy and is such a great motivator. Kate has been with us since October 2009 and loves it here.
Kate says "This has been an interesting year to say the least." As many of you know in addition to classes and training she also works alongside Jan Secord with our Cancer Well-fit program. This past year Kate was diagnosed with cancer herself. She was overwhelmed with the support she received from our club and the members. It was like everyone came out of the woodwork to support her. She is so grateful. Nancy was fantastic!
She loves training and her favorite part is working with rehab clients in trying to figure out what each person needs. Kate's philosophy is," If you are going to train you want to get the most out of it and that means doing every little thing right". Good posture, core tight, and so on. If you don't, you'll hear Kate making corrections - not quietly! Kate knows she can be loud and moves fast. No, she hasn't had too much coffee, she is a force to be reckoned with. She said, "This place is more like family not a job…more like her ministry then it is work". Thank you Kate for being YOU!!!
Fitness Department
By Jan Berdar
30 day Set 4 Summer Special
Unlimited Functional Training sessions May 10- June 10.
Your trainer will take you through a variety of movement that is guaranteed to wake your body up to new moves, increase your cardiovascular fitness ability, lower fat and gain strength and endurance. If you need an opportunity to spice up your workouts and get results quickly then jump in to one of 7 Functional Training classes every week!! Receive fun prizes and discounts for attending more than 12 sessions in the 30 days and of course a discounted punch card to use over the summer!

Sign up in the lobby TODAY or contact Fitness Director - Jan Berdar
[email protected]
ABAC Success Story
Congratulations Deanna on your spectacular results of hard work!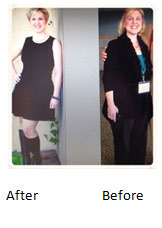 By Member Deanna Delore
I have lived my life on the stage. Looking, feeling and sounding great are basic
necessities to my success as a professional vocalist.

In March of 2013 I contacted Jan Berdar about personal training. It was a desperate cry for help.
I was at an all time low with my self esteem. I didn't want to be seen, and I certainly didn't want photos of myself. My self -confidence was so low I was beginning to believe I had no business on the stage and that was leaving me in a complete state of panic.
I struggle with Hashimoto's Disease (a thyroid disease that causes the thyroid to attack itself), Hypothyroidism (low functioning thyroid), and adrenal exhaustion, due to a previous decade of immense stress. I was never an over eater, I was actually an UNDER eater and had put my body into starvation mode so many times. This caused my weight to creep up despite the fact that I wasn't eating much.
I have always been a hard worker and an achiever. If I set my mind to something, there is no stopping me. I knew I could be successful if I just took my journey ONE DAY AT A TIME, ONE CHOICE AT A TIME. I adjusted my diet choosing a heavy protein, light carbs program. No breads, pasta, minimal fruit and very little dairy and/or gluten.

Since March 2013, I have lost approx 35 pounds, 30+ inches overall, and I have dropped more than 10% body fat.
My singing career has really peaked. In fact, during a live performance recently, someone complimented me on how comfortable I was in my own skin when I performed!
I know I have put in the time and DISCIPLINE to be the best I can be.
 

From The Tennis Tower. . .
DEMO DAY DYNAMOS
Thank you to all our members and friends who came out for the RACQUET DEMO DAY on Saturday, April 12th. We had over 20 participants take advantage of this FREE EVENT sponsored by TENNIS WAREHOUSE!!
We also had Representatives from Babolat (Allan Iverson), Head (Carrie Cimino) , and Wilson (Lauren Colalillo & Jeffery Adams) displaying new racquets with the latest and greatest technology and cutting edge designs. Our tennis professionals – Mark Scribner, Jenny Phelps, Korey Kolb, and guest instructor Scott Cleere ran drills on three courts so participants could try out different equipment. Don Hightower was present from Tennis Warehouse along with Mark Boone to help make the day run smoothly. Then to wrap up the day, there was a "Hit it and Get it" game in which participants hit a ball at over 200 targets and took home whatever prize they could hit with their best shot. Tennis Warehouse gave away 6 gift cards to players who were able to knock over a Tennis Warehouse water bottle as well! Don Hightower made sure nobody left empty handed! Thanks to the members that took time out to enjoy the day – John, Lauri, Riley, Barb, Gene, Chip, Brad, Larry, Pat, Mark, Sarah, Yvonne, Greer, Judy, Teri, Linda, Hans, Bonnie, Rex, Pam & Jim. Thanks also to any participants not mentioned!
It was a fantastic day full of tennis and fun and the Reps were fantastic about answering all of our questions about their racquets. Our participants walked away with not only better knowledge about different racquets, but also with prizes to take home. What a GREAT DAY!!!!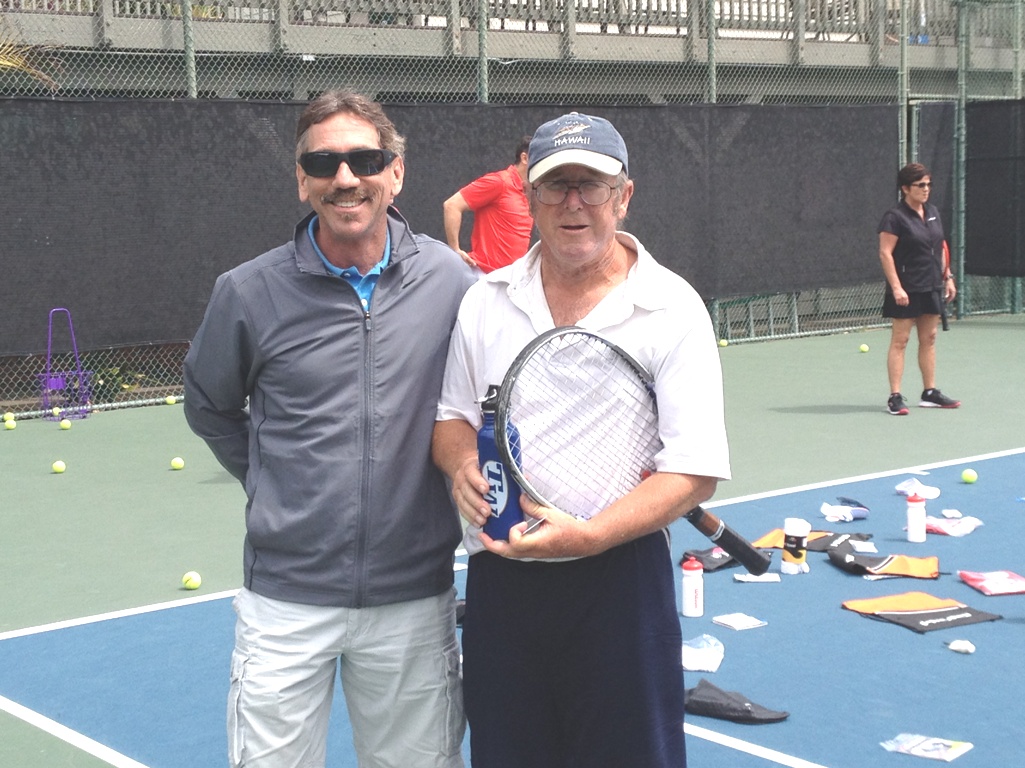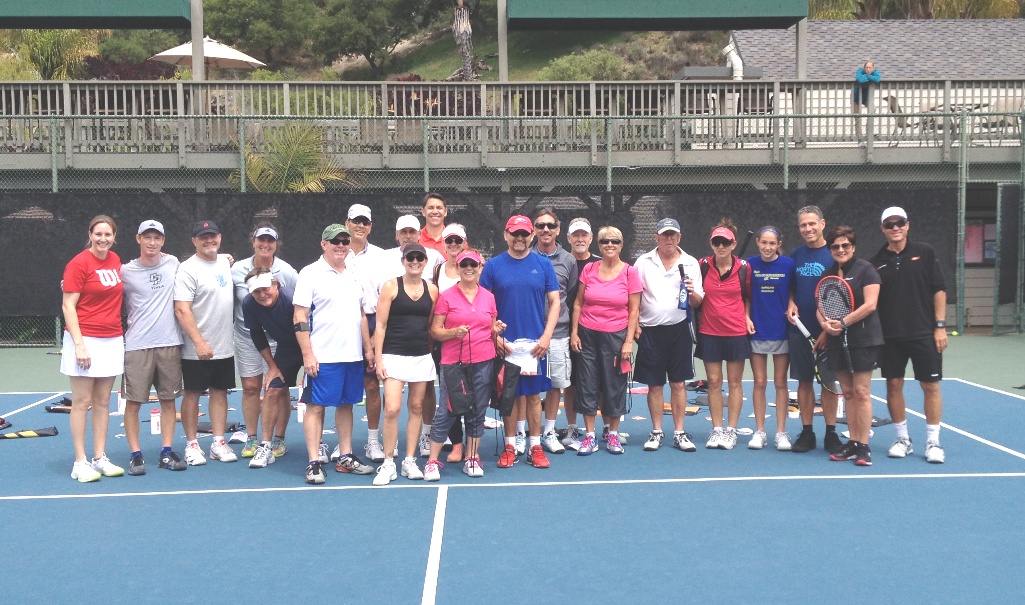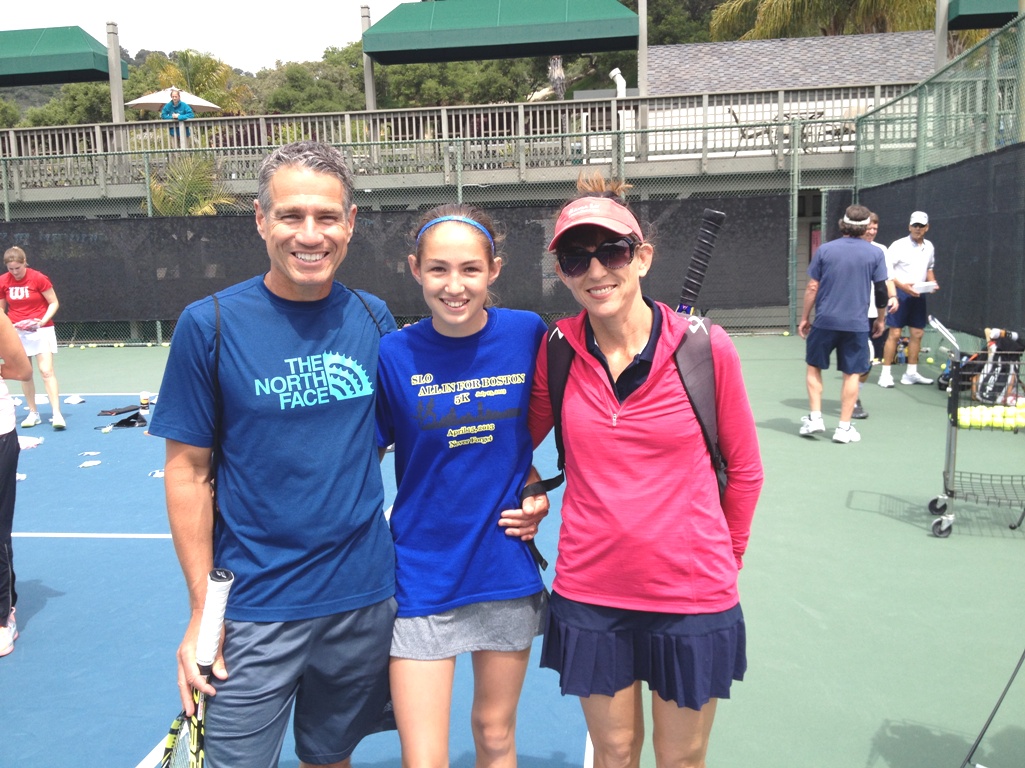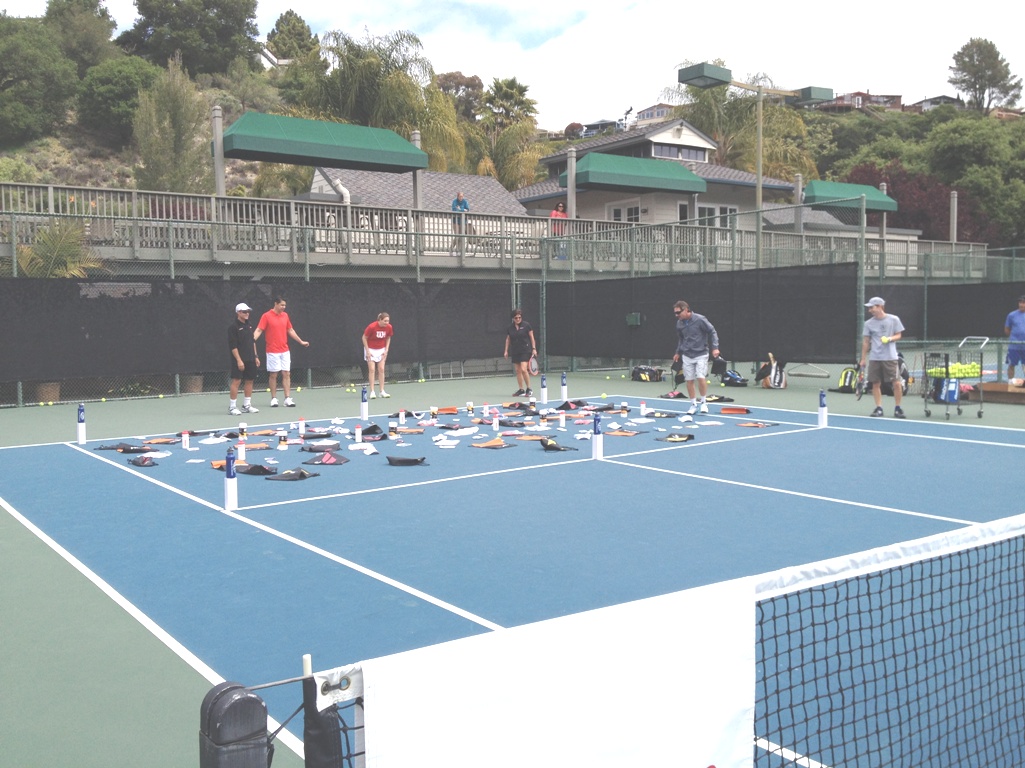 Aquatics
Click here for up to date Aquatics information

Swim Team News
Now offering a HUGELY discounted joint package, at a savings of over 20%, for those interested in both swim team practices AND private lessons. This is the perfect way to build endurance and focus on stroke technique!
The Avila Bay Starfish Package includes four swim team practices and four private lessons. Semi-private lessons (with one partner at similar ability) are also available. Packages expire two months after activation.

Avila Bay Starfish Package Prices—per child
(each package includes 4x team practices and 4x 30-minute lessons)
Private Lessons = $110 Green Group (worth $140)
$125 Orange & Blue Groups (worth $160)
Semi-Private = $70 Green Group (worth $90)
$85 Orange & Blue Groups (worth $110)
-Add 20% for non-members. Email [email protected] for more information or to sign up.
Kids' Club News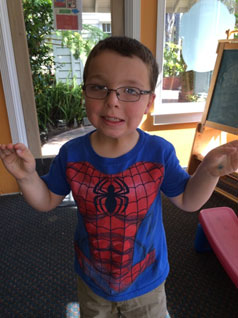 May is here and Summer is just around the corner. Last month's Easter Egg Hunt was so much fun! It was great to see friends and their families all dressed up and ready for the hunt. This month, we will be doing our annual book exchange. Kids' Club will have the entire library of books out May 23-25. How it works: Bring some books from home that are no longer as interesting to you and trade them with ours. It's a great opportunity to refresh your library while helping us do the same. Books are so important and we want to keep the kids excited to read so be sure to mark it on your calendar.

It is time to introduce the new Kid of the Month. A big congratulations to Ari Mogull. Ari comes in and keeps his friends interested in playing, with his creative imagination. His love for action heroes is obvious every time he comes to Kids' Club, from his clothing to his toys.

You may have noticed a new face around - welcome Faith Sierra! She is a great addition to our team of staff as Nick Coonrod has sadly left us to focus on his career. Faith loves kids as much as they love her and that is a lot! Please be sure to introduce yourself and get to know her.

Please send any questions, comments, and/or concerns to [email protected]. Have a great month of May here in Kids' Club!
Ari Mogull