What's Up At ABAC
Wednesday Night Deck Party w/ Dulcie Duo – June 21
Flamenco Dance Class – Thursday, June 22
Pickleball Round Robin – Sunday, June 25
Tennis Mixer & Beer Tasting – Sunday, June 25
Tennis Court Resurfacing – June 26 to July 1
Wednesday Night Deck Party w/ Local Vocals Trio – June 28
Friday Night Happy Hour (Our 4th of July party) – Friday, June 30
CASA Helpers Seminar – Saturday, July 1
Club Closes Early at 5 pm – Tuesday, July 4
Water Yoga Class – Wednesday, July 5
Club Updates
Some fun stuff first!
The tennis courts are being resurfaced! Monday-Saturday, June 26-July 1. We will do three courts at a time, so there will be a few available to use during the week. This might be a great time to try some group fitness classes or some strength training in the weight room.
Please note that we are doing the courts three years sooner than usual, due to the unusual shifting of the ground that caused cracks to develop quicker. We do sign off each time, no matter what company does the courts, that the cracks will reappear. They do their best with the patches.
The new sauna has been great! Please help us out by

not making any adjustments

on the screen. We have it set to 155 degrees and need it to be left alone. When people try to change it, the sauna does not stay on for the whole day (as we program it to do every morning) and then those after you end up with a cold sauna. And please, please, do not use the sauna when wet. Reminder that the new sauna is by reservation only, and the older sauna is for drop-ins.
Summer is here! As most of you know, it is quite a bit busier around here in the summer months. Please have patience when you check in to the club. There are some wonderful new staff members working at the front desk, and they really need your help by stopping to check in and telling them your first then last name. They are working hard to get to know everyone!
We have a few other reminders for everyone:
Guests will not be allowed into the club without a member. If you are not able to be at the front to check them in, please call us ahead of time on the same day, to let us know.
No pool parties are allowed at the club, and all other parties must be reserved through our special events director Ahna Bishop. She can be reached at

[email protected]

.
Please do not bring children under the age of 16 into the adult locker rooms (in the main clubhouse) or into the large pool hot tub. There is a large changing room right at the small pool, with an outdoor shower nearby plus a swimsuit spinner, in case you do not want to walk over to the family locker rooms.
Cell phone policy – No talking on phones in all workout areas and locker rooms. Absolutely NO SPEAKER phone usage is allowed in any area of the club.
Members have asked us to remind everyone not to come late to group fitness classes. It is disruptive to everyone else. You will not be allowed into a yoga class late.
No outside alcohol is allowed in the club. If you would like to bring a special bottle of wine and pay the corkage fee, please ask the manager on duty to help you.
Please apply all sunscreens at least 30 minutes prior to entering the pool. If you don't, it just washes off into the pool causing issues for our pool systems, and a lack of effectiveness for skin care. A good rule of thumb is to apply it at home before coming to the club.
We Care About You & Your Kids Safety!

Lifeguards Are Not A Substitute For Parental Supervision.
Pool weather is here, and we are excited! Use of the pools increase, and we want everyone to be safe.

Please make sure you are directly supervising your children under 14 when at the Club.

Even with lifeguards on duty, which there will be this summer, it is imperative that children in the pool never be left unattended or not directly supervised.

Drowning is fast and silent. It can happen in as little as 20-60 seconds. Drowning doesn't always look like we would expect.

Water watcher reminder cards will be passed out through the summer. Please read the card and help us stay safe. We look forward to a safe and fun summer!
Pool Rules Reminders

With summer approaching quickly, we would like to refresh our members on the pool rules. Following the pool rules allows for safety and fun for everyone.
Do not ever enter a reserved lane unless it is your reserved time. Members that arrive to swim and see someone in their lane, usually come back to the front desk for help. This causes a lot of problems.
The large pool lanes 3-6 are reservation only Monday-Friday.
Lane One is the Free Swim Lane. Anyone can be playing in that lane as well as swimming laps.
Children under age 14 must be directly supervised by their parents or guardian, even when a lifeguard is on duty.
Rules and requests made by staff must be complied with at all times.
Children who wear diapers must wear swim diapers.
No one under the age of 16 is allowed in the adult spa.
Remove and throw away band aids before entering the pools and spas.
Rinse off before entering the pools and spas.
For safety, the following are prohibited
Running, shoving, dunking, or hitting
Screaming or excessive noise
Diving in less than 8 feet of water
Glass containers
No food allowed in pool or spa
Flips, back dives, or spinning entries from the side of the pool
Throwing balls, with exception of sponge balls
No flotation devices larger than 24" by 24"
No water guns
Group Exercise Schedule Updates
TRX Update
More TRX classes are on the group fitness schedule for summer! This popular class taught by our certified TRX instructors is a form of suspension training that uses body weight exercises to develop strength, balance, flexibility and core stability. A beginner or advanced student can take the same class and all will receive a fun, challenging workout! Our club choose to offer this class free to members!

Classes are now being offered:
Monday: 8:15AM with Buddy and 5:30PM with Sara
Wednesday: 12:00PM with Suzanne
Thursday: 8:15AM with Danielle
Friday: 12:00PM with Buddy

This class requires advance sign-up, online or on the app. Sign-ups open up 4 days in advance starting at 7 am.

Click Here To Download The Complete Group Fitness Schedule
Thursday Night Dinners To-Go – What?!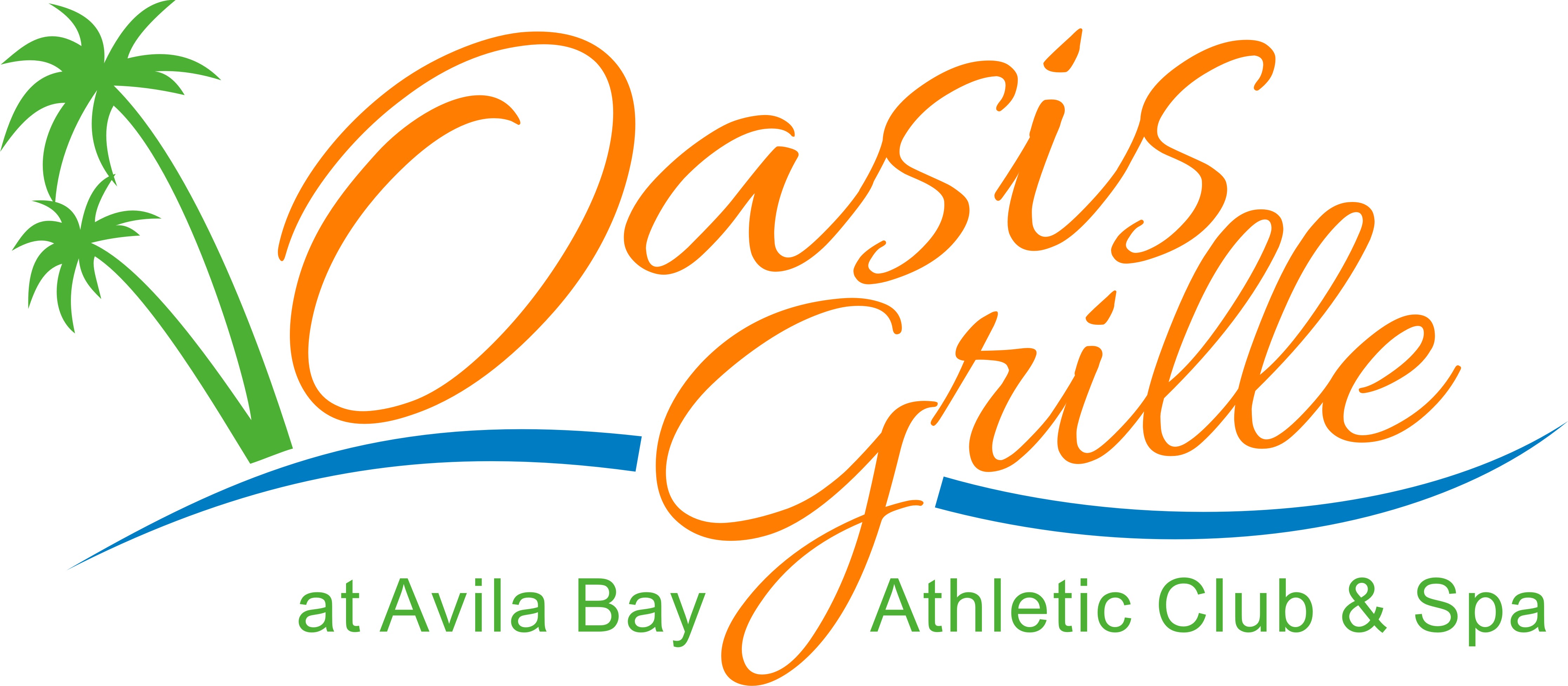 Every Thursday From 4-6 pm

Our special weekly dinner has been moved to Thursdays, since the deck parties have moved back to Wednesdays for the summer. So don't worry – we are still whipping up a fabulous special dinner each week.
Sign up in the lobby, or email [email protected], to reserve your lunch/dinner and pick-up time.
Fit Kids Is Back
Wednesdays
3:30-4:45 pm
Free for members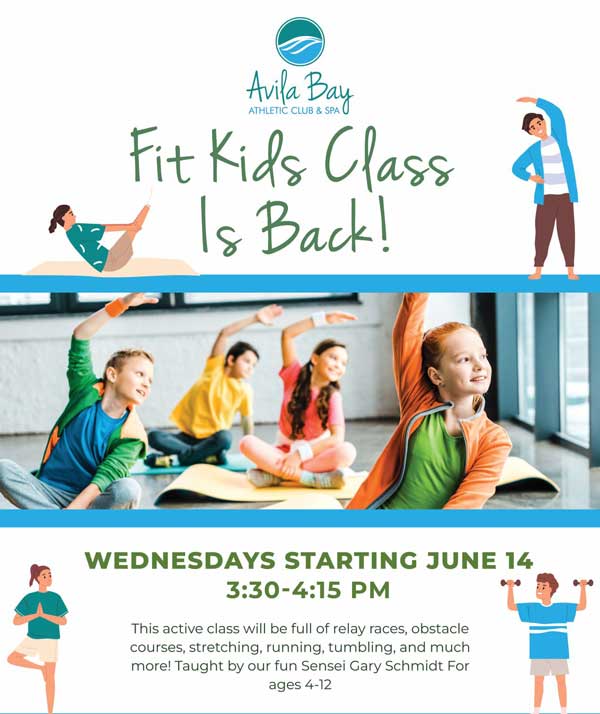 Flamenco Dance Class
Thursday, June 22
1-3 pm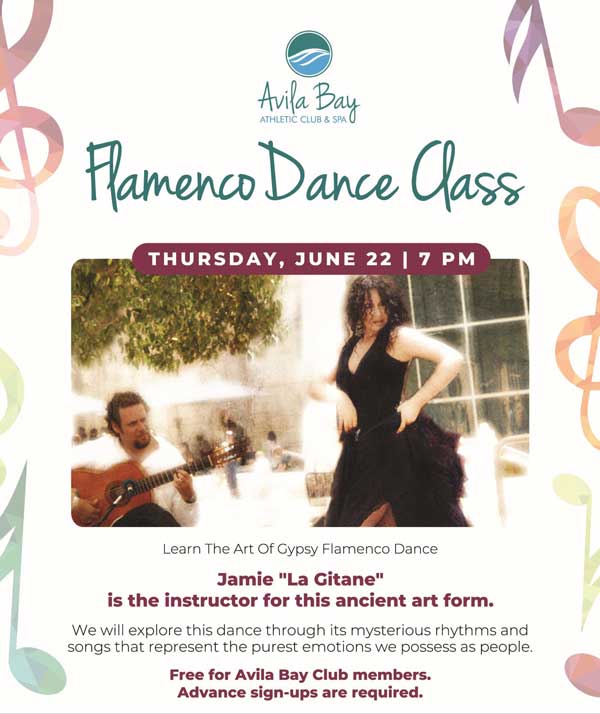 Tennis Mixer & Beer Tasting
Sunday, June 25
1:00 pm – 2:30 pm
Start with a 1.5-hour clinic from our fabulous pros, and end with a special craft beer tasting (with wine available)! $15 per person and members only please. Please sign-up online or through the app under Programs – Category "Tennis".
Pickleball Round Robin
Sunday, June 25
11 am - 1 pm
Free for Full Members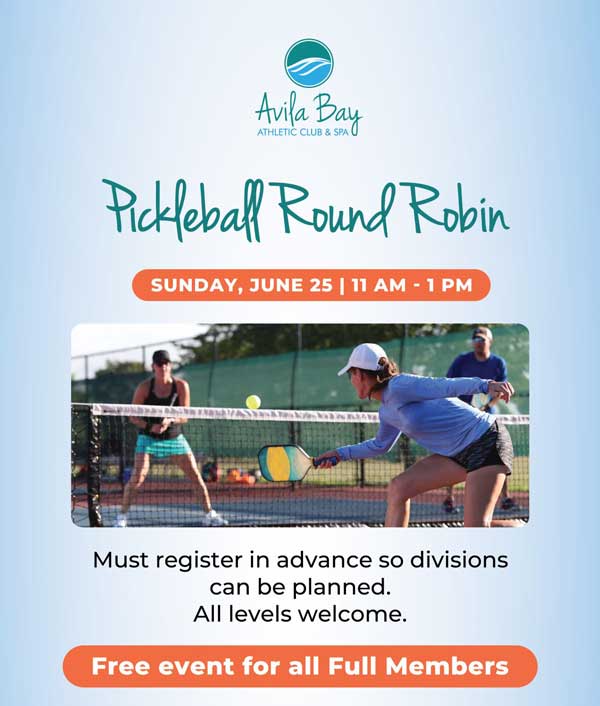 Friday Night Happy Hour Fourth Of July Party!
Friday, June 30
6-8 pm
Cake contest cakes due by 5:30 pm
Cake Walk at 6:30 pm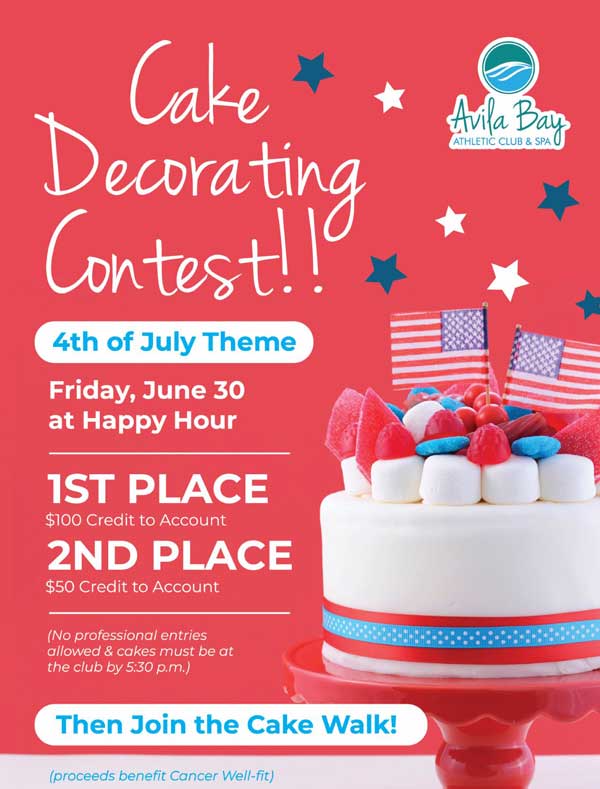 CASA Needs Your Help
Saturday, July 1
11:00 am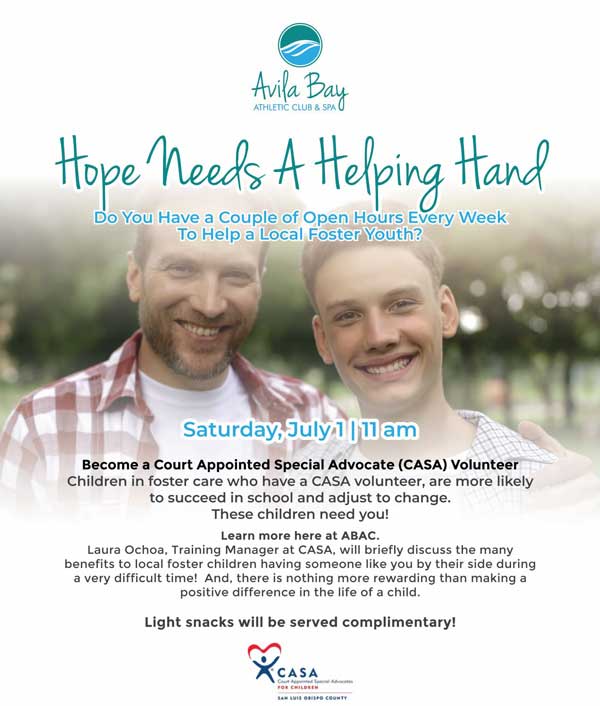 Water Yoga
Wednesday, July 5
8:30-9:30 am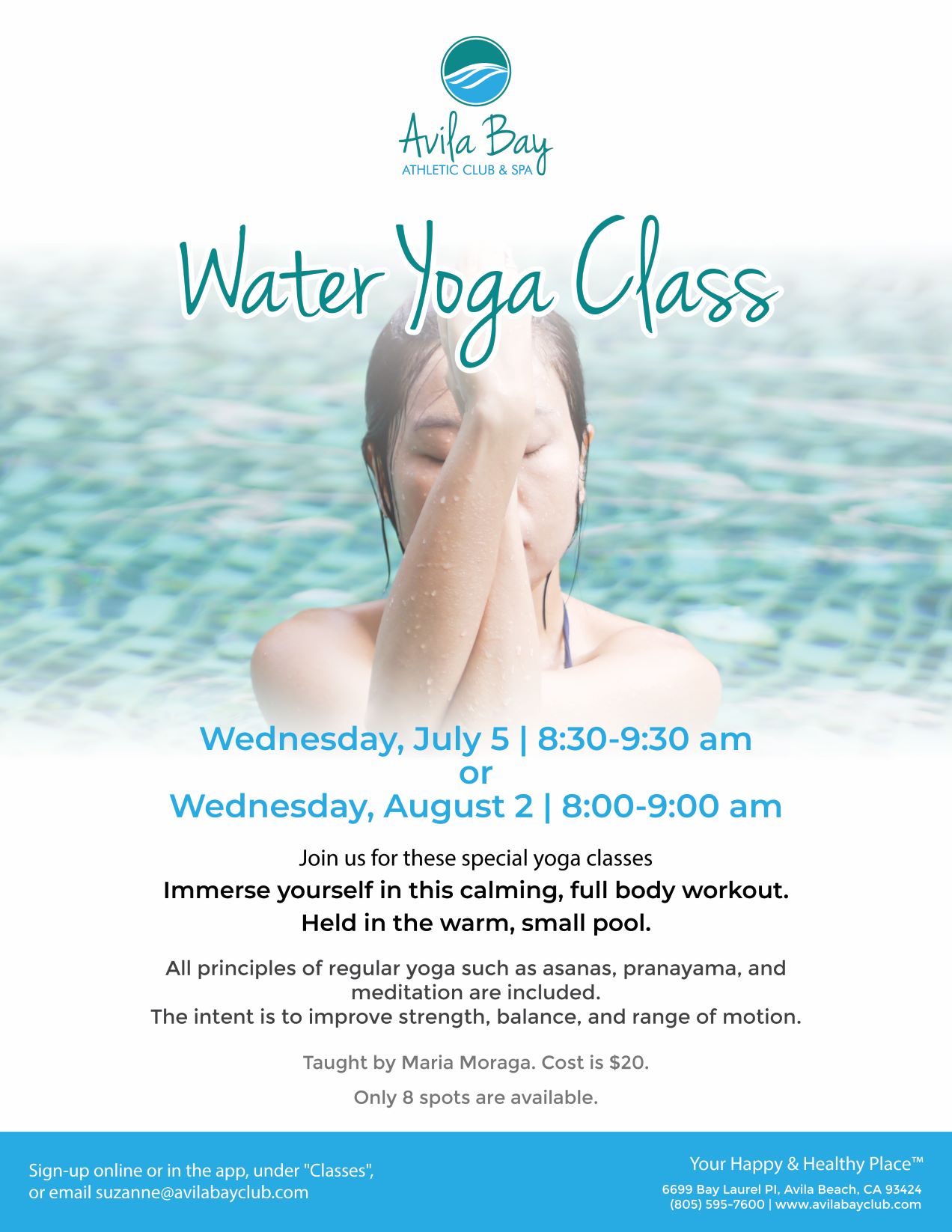 Friday Night Happy Hours
June 30, July 14, August 4, August 25, September 1
6-8 pm
Open to the public
Wednesday Night Deck Parties
Every Wednesday Night
6-8 pm
Open to the public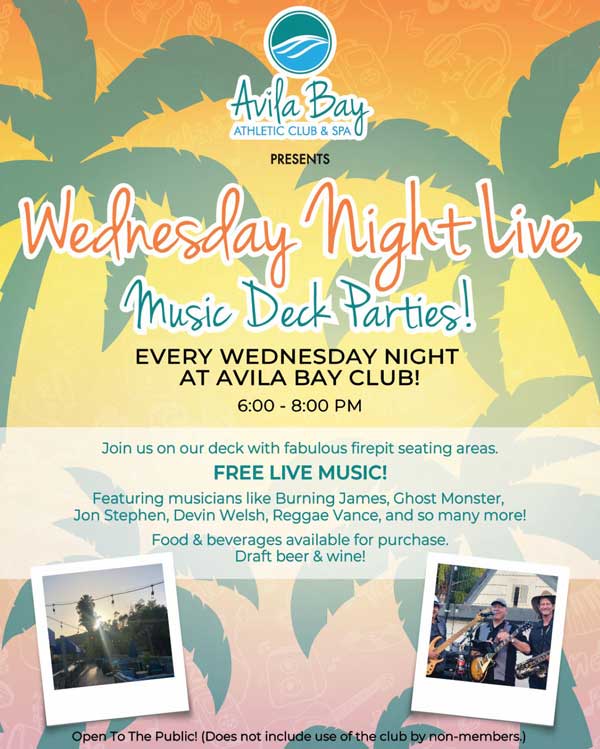 ABAC Summer Blast!
One Week Sessions
June 12 – Aug 4
Mon – Fri 9 am – 3 pm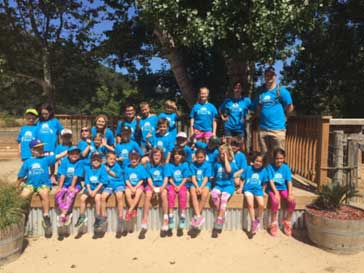 Looking for a fun and safe place for your kids to hang out this summer?
Register for the annual ABAC's Kid's Summer Blast! It's an activity based week that will keep your child moving and excited. Each week includes tennis & Pickleball instruction, swim time with games, science experiments, art projects, instructional hands on gardening, educational nature walks, soccer, kids' fitness, Kempo, obstacle courses, and a weekly walk to the Avila Barn. All counselors are background checked and CPR certified. Visit our website or front desk to receive a registration packet! Please contact Ahna Bishop at 805-595-7600 ex. 113, or [email protected] if you have any questions.
Summer Club Hours
Monday-Friday 5:30 am – 9:00 pm
Saturday 7:00 am – 9:00 pm
Sunday 8:00 am – 8:00 pm
Kids' Club Hours
(by reservation only)
Note - We do not allow kids that appear sick, with even a runny nose, in Kids' Club.
Please make a separate reservation for each child.
PLEASE TEXT 805-704-5061 IF YOU MAKE A RESERVATION FOR AN INFANT. We must plan ahead for infants.
Monday through Friday 8:30 am - 12:30 pm
Tuesday through Thursday 3:30 pm – 6:30 pm
Friday 3:30 pm – 6:00 pm
Saturday 9 am – 12:30 pm
Sunday 9 am – 12:00 pm