What's Up At ABAC
The Deck Lounge Hours
Wednesday-Friday 4:30 – 7:30 pm
Saturday & Sunday 12:00 – 5:00 pm
New – Live Music Every Wednesday 5:30 – 7:30 pm!
June Deck Parties
Wednesday, June 1 – Live Music w/ The Rondales
Wednesday, June 8 – Live Music w/ Jazz4
Wednesday, June 15 – Live Music w/ Brian Black
Wednesday, June 22 – Live Music w/ Jon Stephen
Wednesday, June 29 – Live Music w/ Ted Waterhouse
June Calendar Of Events
Friday, June 3 – Friday Night Happy Hour
Fridays Starting June 3 – Mixed Doubles Evening Mixers
Saturday, June 4 – Yoga Breathing Workshop
Saturdays, June to August – Summer Corn Hole League
Thursday, June 9 – Sycamore Crest Trail Hike & Secret Garden
Saturday, June 11 – Movie Night In The Park
Sundays, June 12 & 19 – Pickleball For Members
Wednesday, June 15 – Tennis Mixer & Beer Tasting
Friday, June 17 – Friday Night Happy Hour
Summer Cornhole League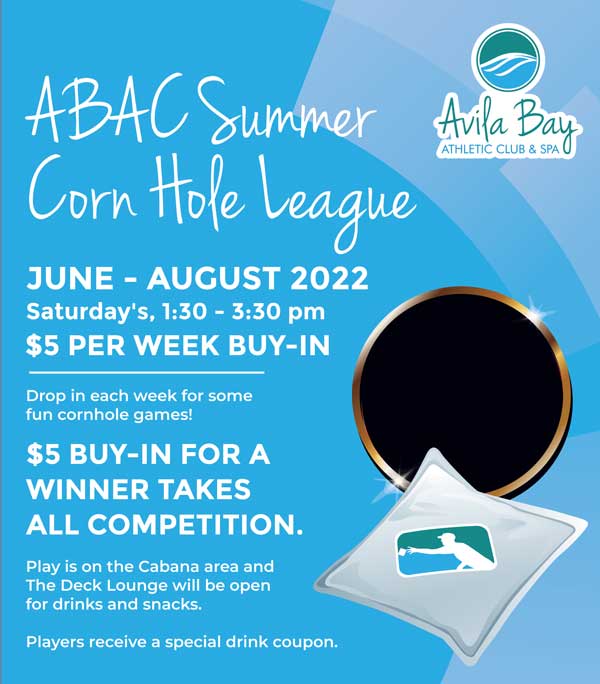 Friday Night Mixed Doubles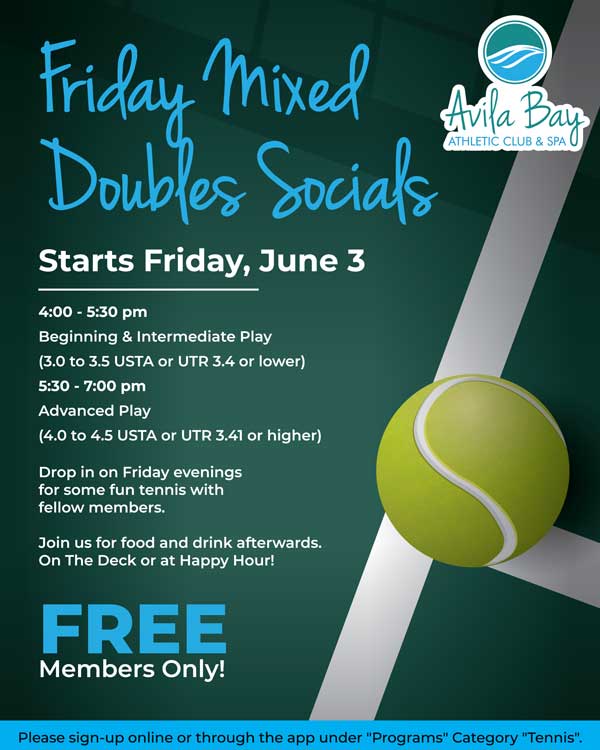 Yoga Breathing Workshop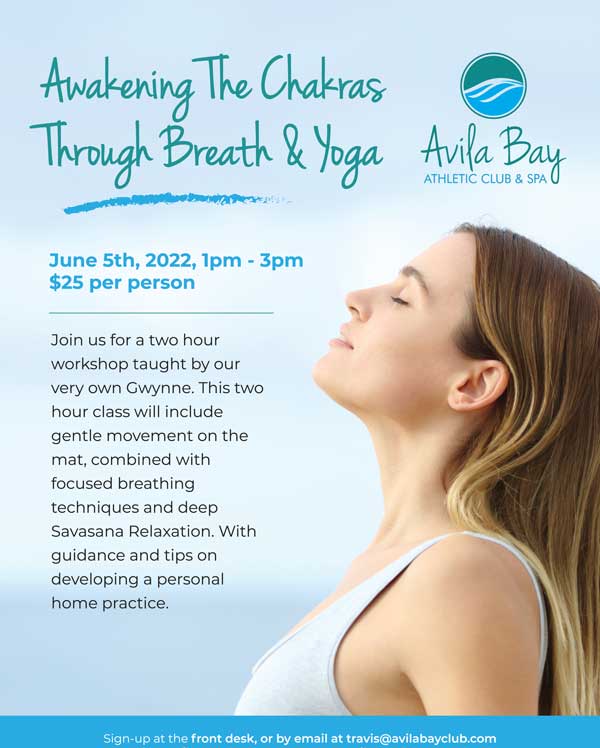 The Deck

The Deck Lounge has been a huge success! The Wednesday nights with live music have been a hit, so we decided to do it every week. It is now open Wednesday through Friday from 4:30 – 7:30 pm, and Saturday & Sunday 12:00-5:00 pm. The live music will be every Wednesday from 5:30-7:30 pm. We have even more beers on tap and some new great wines on tap as well! Stay tuned for lots of other fun events on The Deck as well.
Sycamore Crest Trail Hike & Secret Garden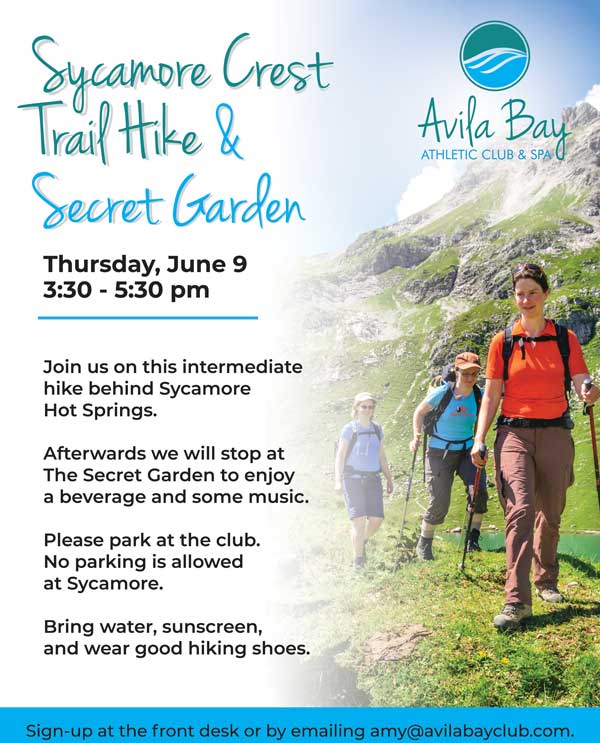 Movie Night In The Garden

Encanto
Saturday, June 11
8:00 pm

Grab your lawn chairs and blankets and join us out back for a free family movie night! We will be serving popcorn and hot chocolate. This is a perfect time to come relax at the club.



Pickleball Mixers – Twice The Fun In June!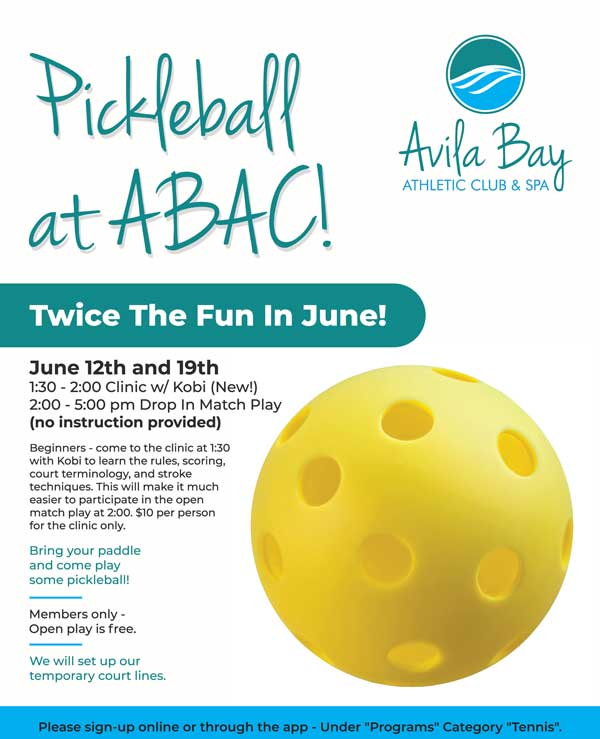 Tennis Mixer & Beer Tasting
Wednesday, June 15
5:30 pm – 7:30 pm
Start with a 1.5 hour clinic from our fabulous pros, and end with a special craft beer tasting (with wine available)! $30 per person and members only please. Please sign-up online or through the app under Programs – Category "Tennis".



Friday Night Happy Hours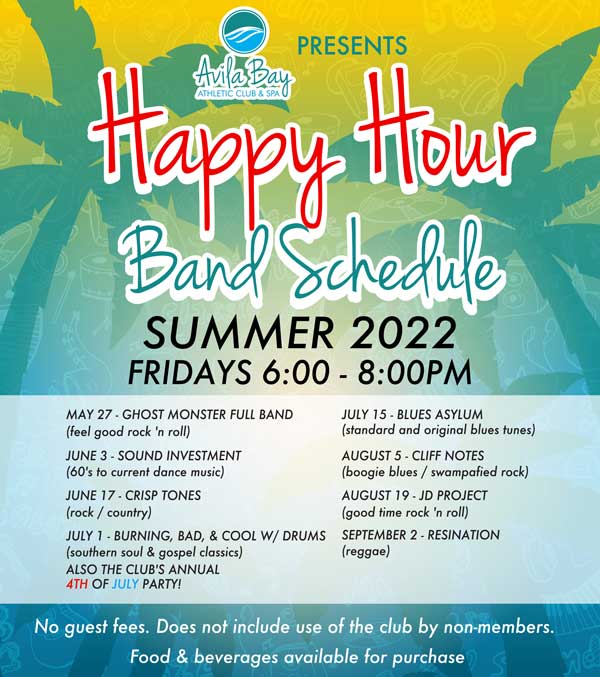 We Care About You & Your Kids Safety!

Lifeguards Are Not A Substitute For Parental Supervision.
Pool weather is here, and we are excited! Use of the pools increase, and we want everyone to be safe.

Please make sure you are directly supervising your children under 14 when at the Club.

Even with lifeguards on duty, which there will be this summer, it is imperative that children in the pool never be left unattended or not directly supervised.

Drowning is fast and silent. It can happen in as little as 20-60 seconds. Drowning doesn't always look like we would expect.

Water watcher reminder cards will be passed out through the summer. Please read the card and help us stay safe. We look forward to a safe and fun summer!
Pool Rules Reminders

With summer approaching quickly, we would like to refresh our members on the pool rules. Following the pool rules allows for safety and fun for everyone.
Do not ever enter a reserved lane unless it is your reserved time. Members that arrive to swim and see someone in their lane, usually come back to the front desk for help. This causes a lot of problems.
The large pool lanes 3-6 are reservation only Monday-Friday.
Lane One is the Free Swim Lane. Anyone can be playing in that lane as well as swimming laps.
Children under age 14 must be directly supervised by their parents or guardian, even when a lifeguard is on duty.
Rules and requests made by staff must be complied with at all times.
Children who wear diapers must wear swim diapers.
No one under the age of 16 is allowed in the adult spa.
Remove and throw away band aids before entering the pools and spas.
Rinse off before entering the pools and spas.
For safety, the following are prohibited
Running, shoving, dunking, or hitting
Screaming or excessive noise
Diving in less than 8 feet of water
Glass containers
No food allowed in pool or spa
Flips, back dives, or spinning entries from the side of the pool
Throwing balls, with exception of sponge balls
No flotation devices larger than 24" by 24"
No water guns
ABAC Summer Blast!

One Week Sessions
June 13 – Aug 5
Mon – Fri 9 am – 3 pm
Looking for a fun and safe place for your kids to hang out this summer?
Register for the annual ABAC's Kid's Summer Blast! It's an activity based week that will keep your child moving and excited. Each week includes tennis instruction, swim instruction and games, science experiments, art projects, instructional hands on gardening, educational nature walks, soccer, kids' fitness, Kempo, obstacle courses, and a weekly walk to the Avila Barn. All counselors will be trained in COVID-19 protocols. Visit our website or front desk to receive a registration packet! Please contact Travis Hawley at 805-595-7600 ex. 113, or [email protected] if you have any questions.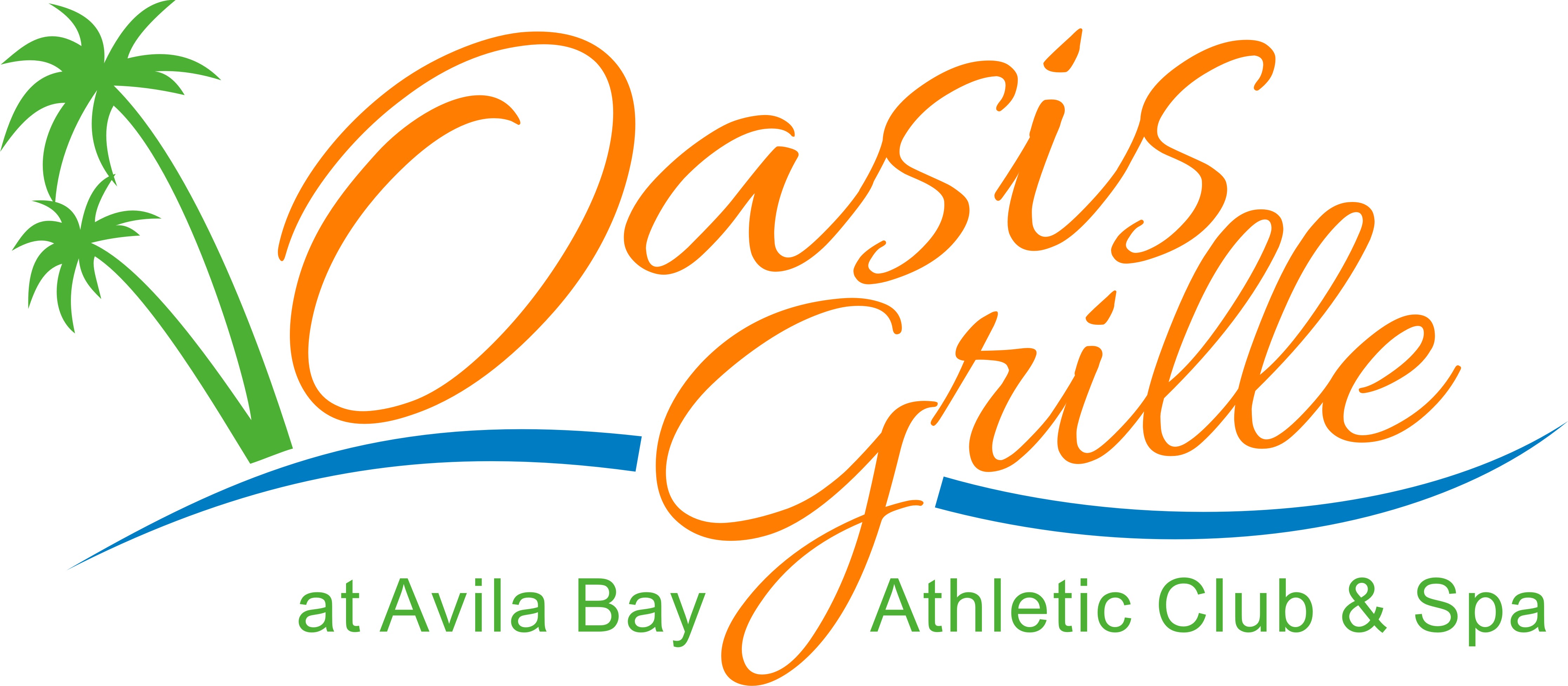 It has been fun to serve the special Deck Appetizer Menu upstairs! The feedback on the food has been great. We plan to add a couple more items to that special menu.
Look for a new café menu starting next week. We are excited to have a few changes in gearing up for summer.



Summer Club Hours
Monday-Friday 5:30 am – 9:00 pm
Saturday 7:00 am – 9:00 pm
Sunday 8:00 am – 8:00 pm
Please do not ask the staff to let you into the club early. We need to give everyone, including the pool company, time to get the club ready each morning. No one will be let in early.
Kids' Club Hours (by reservation only - on the ABAC app under Adventure Central)
Note - We do not allow kids that appear sick, with even a runny nose, in Kids' Club.
Please make a separate reservation for each child.
Monday through Friday 8:30 am - 12:30 pm
Tuesday through Thursday 3:30 pm – 6:30 pm
Friday 3:30 pm – 8:00 pm
Saturday 9 am – 12:30 pm
Sunday 9 am – 12:00 pm