2014 Friday Happy Hour
Band Schedule
May 23 - August 29 ● 6-8 p.m.
Please note Ė No Happy Hour July 4, Aug 8, or Aug 22
August 22 is BBQ & Bingo, tickets on sale in June
Let the party begin! Great music, featured wineries, food and beverages available for purchase. No guest fees (does NOT include use of the club by non-members). Donít miss the first Happy Hour with the great music of Big Daddyís Blues Band! Heck, donít miss any of these fabulous Friday nights!
Click Here To Download A Band Schedule

Summer Is Here!
It is a good time for us to remind parents that they are responsible for DIRECTLY watching their kids at all times. The lifeguard is not a substitute for your eyes. Lifeguards are a supplemental service we offer to your direct watch of the kids. It only takes seconds for a child to drown. We take this very seriously, so please help us in DIRECTLY watching your kids. Please donít be distracted by cell phones and conversations. No matter how good your child is at swimming, drowning can still happen to them. If you need to leave the pool area for any reason, your child must get out of the pool, unless you have another parent that is designated to watch your child instead of you.
Click Here To Read The Full Set Of Pool Rules.
April Members of the Month
Ė John Stechman and Bob Werner!
It is no surprise that these two "Boys of Summer" were picked for members of the month. It was decided that these best friends be considered as members of the month for many reasons. First of all, both of them have been members of the club for many years.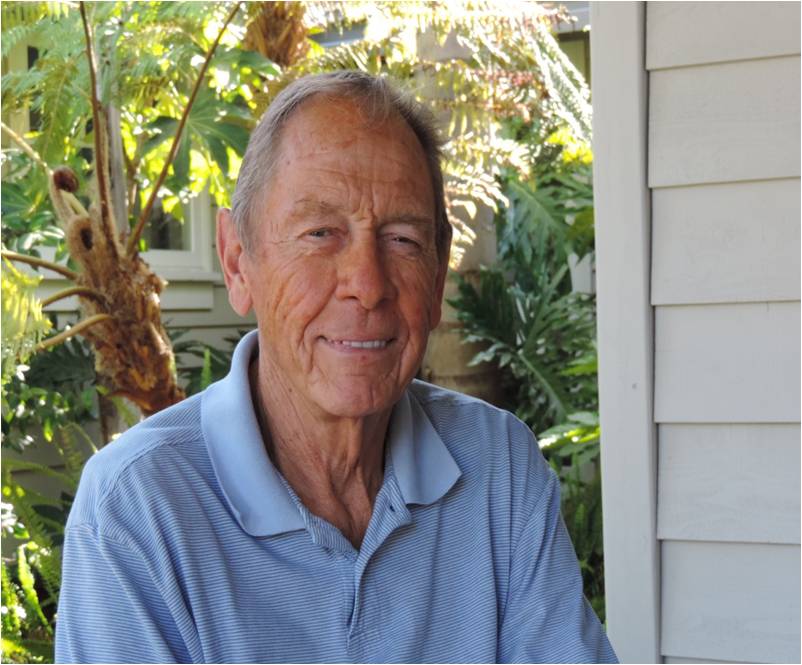 Bob has been a member for 24 years and John 23 years. You will find them coming to the club everyday in the later afternoon for a swim, and to chat with their friends and employees at the club. They have seen many changes in the club over the years. One thing that has been a constant is, "The friendliness and hard work of the employees." Bob lived back East working for Texico and Bristol Meyers, and then moved to sell real estate in Redondo Beach. When a friend told him about Avila Beach and the area it did not take him long to move to enjoy retirement in Avila Beach! Life took a turn about 6 months ago for Bob. He lost his wife and life was turned upside down. Bob said the club has been a life saver for him. "I'd do anything for them (friends at the club) and they would do the same for me. Everyone here is like family and I always feel welcome."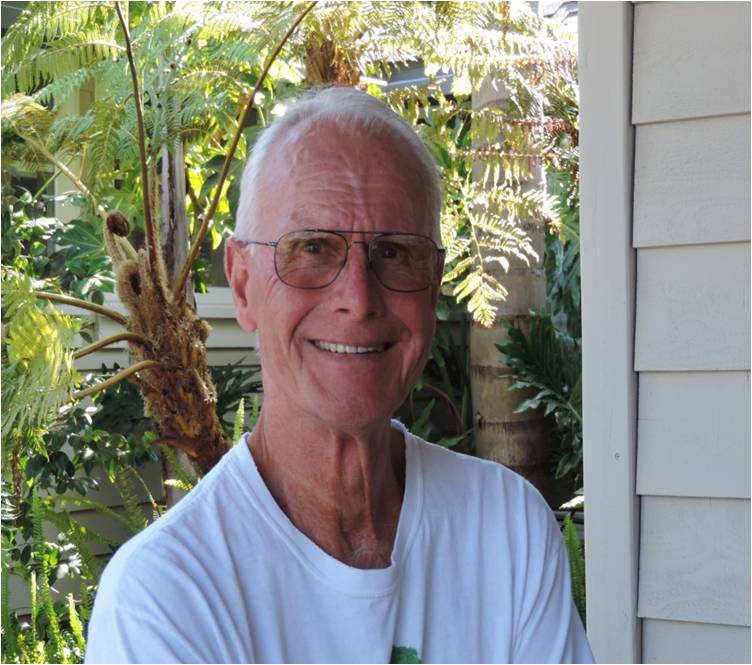 John has lived in the county for over 54 years. He was hired to teach for the School of Soil Science at Cal Poly University, and eventually taught in the School of Rangeland Management. In the 30 years with Cal Poly he taught over 12 courses. He also was a rancher, taking over and managing an 800 acre ranch with about 80 heads of cattle. At the same time, he had enough energy to do consultant-marketing for Statewide and National Society of Rangeland Management. "This club is really special, and always has been. This is our place. We are users of the club, but we care about it like we own it." You will always see John picking up the kickboards and other swim tools after his workout.
Thank you, Bob and John for being some of our most constant and caring members of the club. See you by the pool!




April Employee of the Month Ė Chris Brochtrup!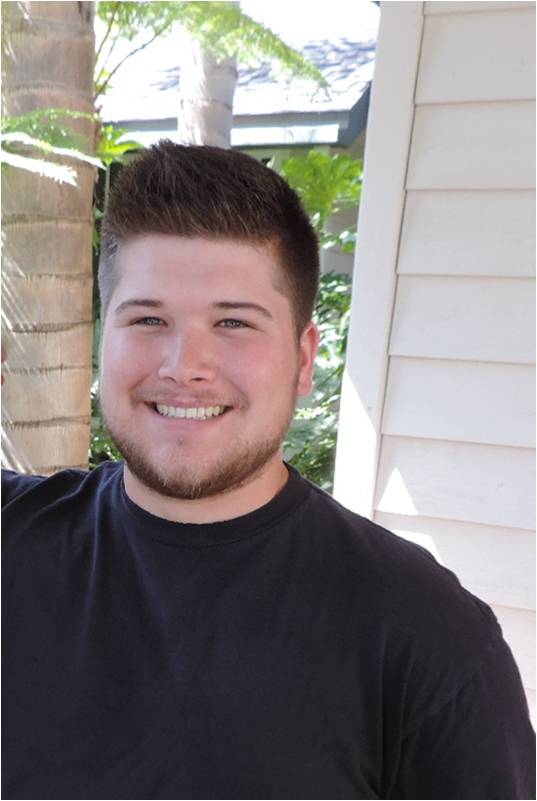 Way to go Chris! His motto is, ďI live life everyday with the philosophy of paying it forward.Ē Putting smiles on peopleís faces is his greatest joy. A few fun facts about Chris include him being a big L.O.T.R. enthusiast. He also thinks of himself as a billiards shark and enjoys playing darts. Chris loves beer, archery, and just being outside. (What is L.O.T.R. you may ask? We did. Itís short for Lord of the Rings.)
Chris is excited about discovering new adventures as they come into his life. His ultimate goal is to open a bar where he will brew his own beer and serve upscale food. Avila Bay Club is one of his favorite jobs and he feels grateful to meet and get to know our great members and staff. We feel the same about you Chris and wish you the very best!




Fitness Department
By Jan Berdar
ABAC Indoor/Outdoor Reformer Studio- DEMO DAYS!
We just added a 4th reformer! Our favorite studio is covered, climate controlled, in a serene setting surrounded by palm trees, plants and flowers to one side and our large pool to the other. Motorized panels can be raised or left in place creating an atmosphere usually experienced on vacation only. In our case it's every day in Paradise!


Pilates has multiple benefits:
A rejuvenating mind-body workout
Using proper breathing, correct spinal and pelvic alignment, and concentration on smooth, flowing movement, you become acutely in tune with your body. You actually learn how to control its movement.
Develop a strong core - flat abdominals and a strong back
Pilates exercises develop a strong "core," or center of the body.
Gain long, lean muscles and flexibility
Pilates elongates and strengthens, improving muscle elasticity and joint mobility. A body with balanced strength and flexibility is less likely to be injured.
Create an evenly conditioned body, improve sports performance, and prevent injuries
Doing the same exercises over and over can leave you with muscular imbalance - a primary cause of injury and chronic back pain.
Pilates conditions the whole body, even the ankles and feet. No muscle group is over trained or under trained. Your entire musculature is evenly balanced and conditioned, helping you enjoy daily activities.

From June 4-June 13 please try a 30 minute demonstration on one of our four reformers lead by a trained Pilates instructor. Sign up in the lobby today or contact Jan Berdar: [email protected].



CONGRATULATIONS TO OUR BELOVED JAN BERDAR!
She took 1st place in her age group, at the local Strawberry Stampede 5k! Thanks for being an inspiration to us all!
Jan Berdar Is A Champion!


From the Tennis Tower
Results for the 2014 Avila Bay Classic Ė
Vince Dente Memorial Tennis Tournament:
The Avila Bay Classic and Vince Dente Memorial Tennis Tournament, which drew over 300 entrants throughout the Western United States, concluded on Memorial Day with $4,500 in prize money going out to winners of Sanctioned Events. The tournament began on Friday with larger draws and offered a playerís party on Saturday night with Santa Maria Tri Tip and music from Richard Manuputy! Tennis Warehouse, the primary sponsor for the tournament provided players bags with shopping incentives and donated prize money for the purse. Other important sponsors included Straight Down, who also donated prize money and T-Shirts to every participant, and Hal Sweasey ReMax Del Oro who donated prize money. Wilson donated balls for the tournament and Pacific Beverage made sure we had plenty of water for all participants! Nancy Allison with Keller Williams also donated lip balm for the players bags.
In the Menís Open Singles, Kalman Boyd, a junior at Rancho Santa Fe High School, showed this weekend why he is a blue chip recruit ranked #8 nationally. His 7-6, 6-1 Menís Open win over former UCLA Bruin & 2013 Menís Champion Noah Newman showcased his explosive serve and forehand. The 17 year old has already verbally committed to 2014 NCAA Champion USC. On the womenís side, Arroyo Grande standout Sophie Whittle, also a high school junior and a club member, displayed an outstanding all-court game in sweeping the Womenís Open Singles and Womenís Open Doubles titles with Partner Kelsie Bryant from Santa Barbara. Whittle led AGHS to the 2014 CIF Team Championship this Fall.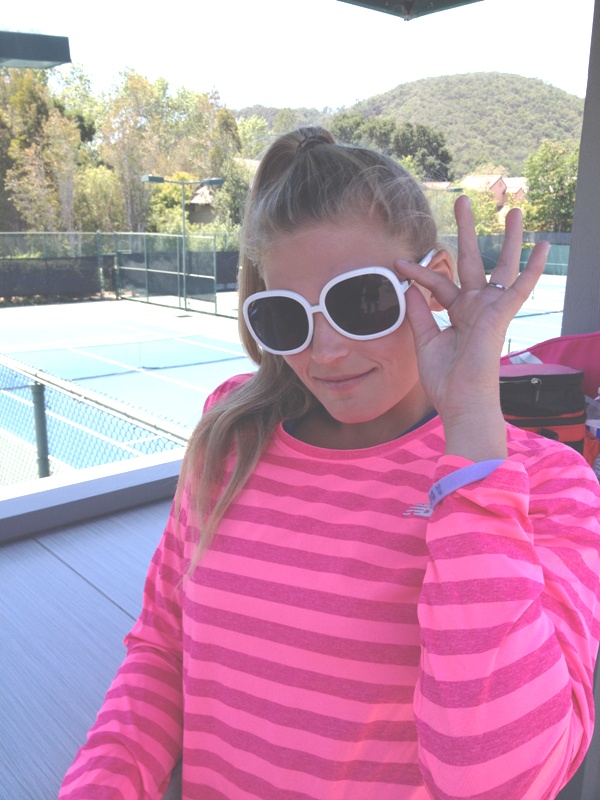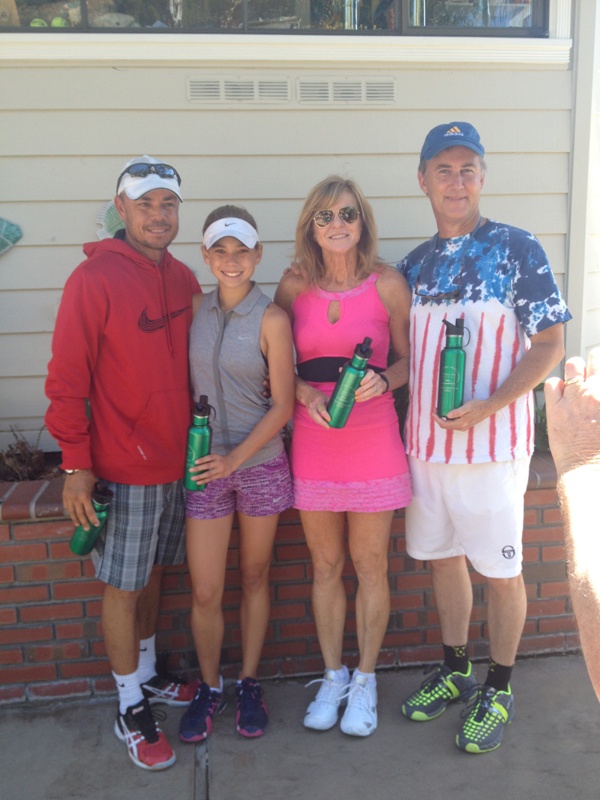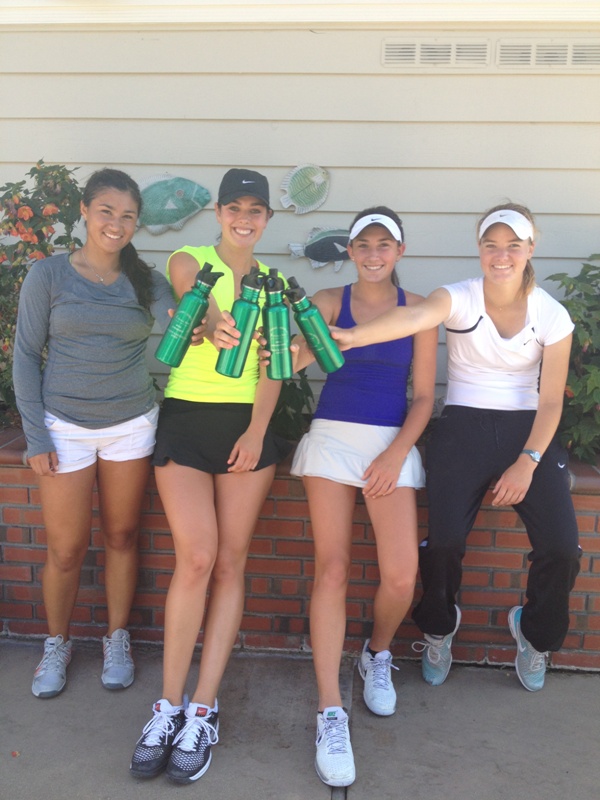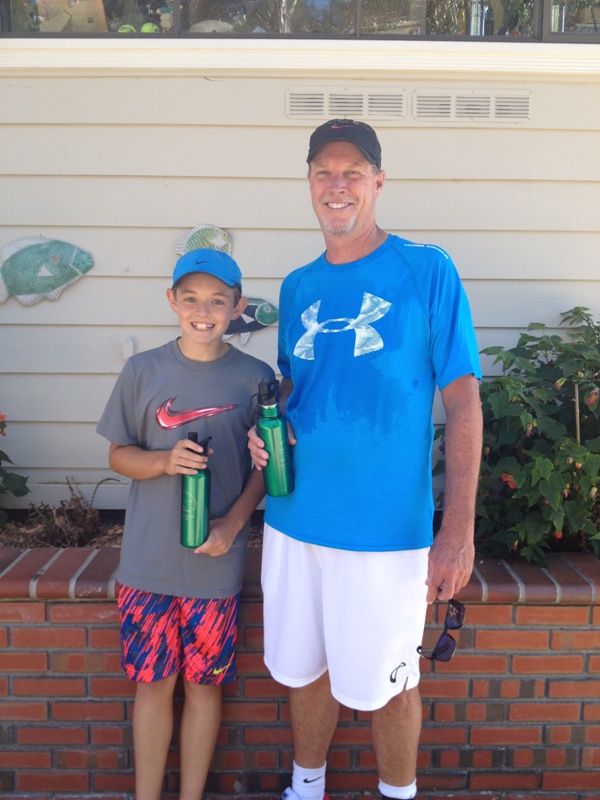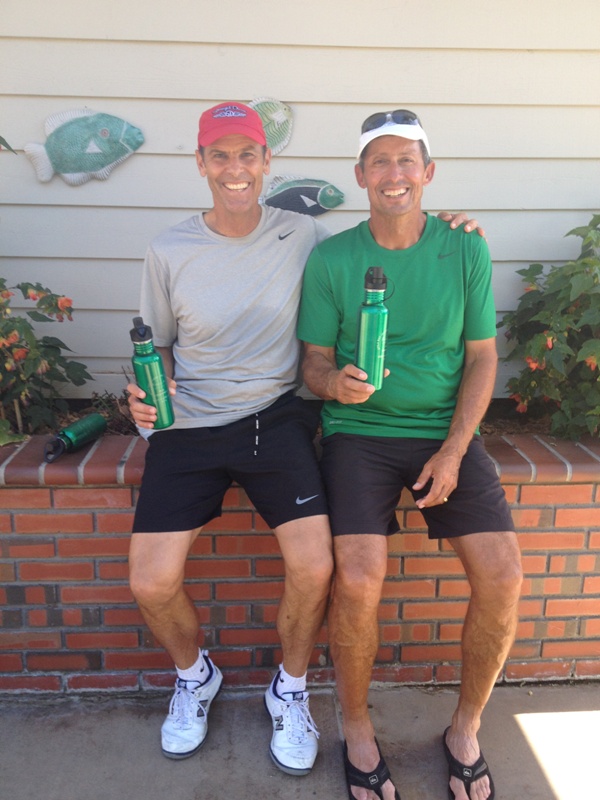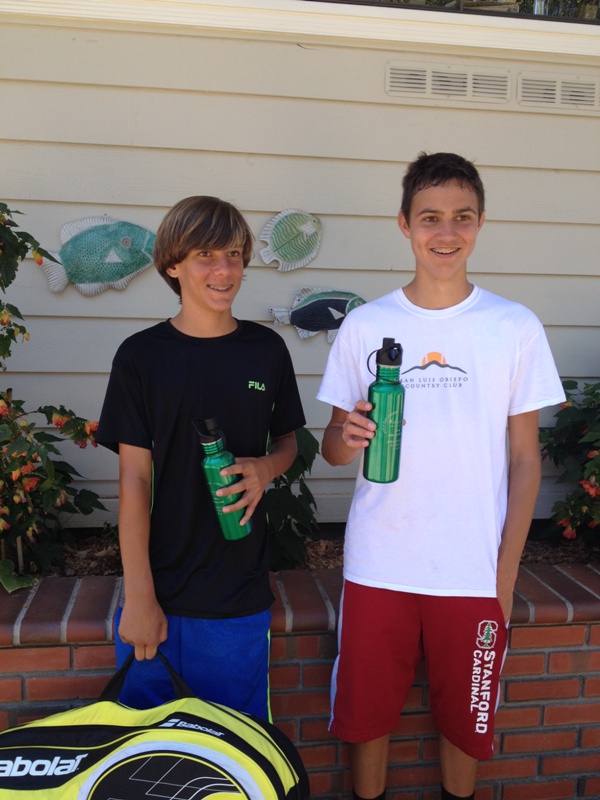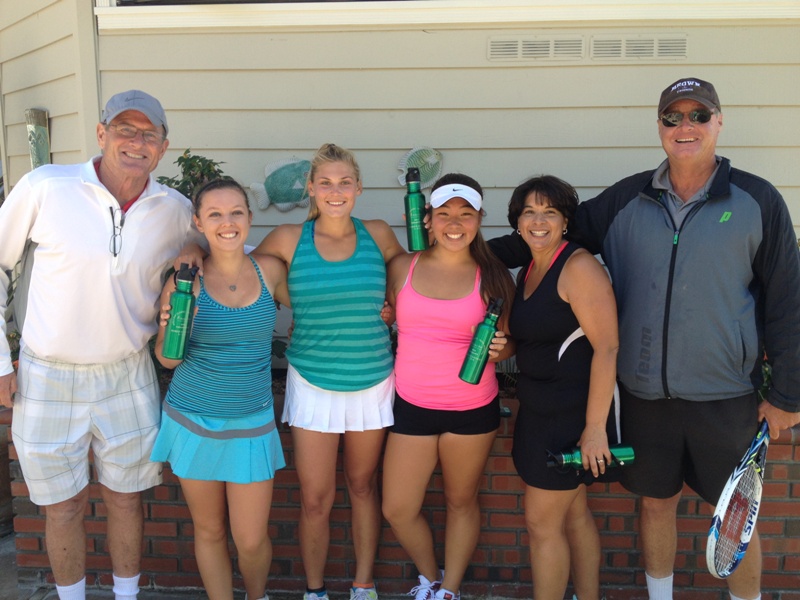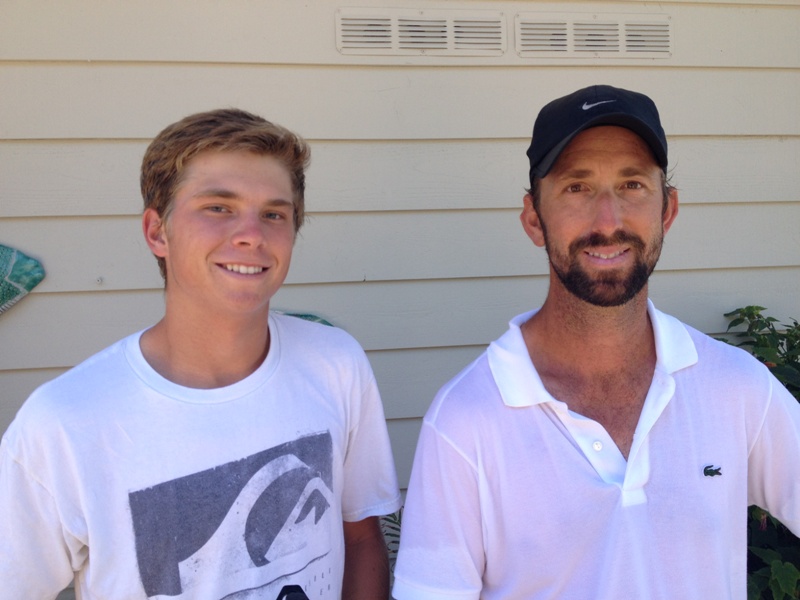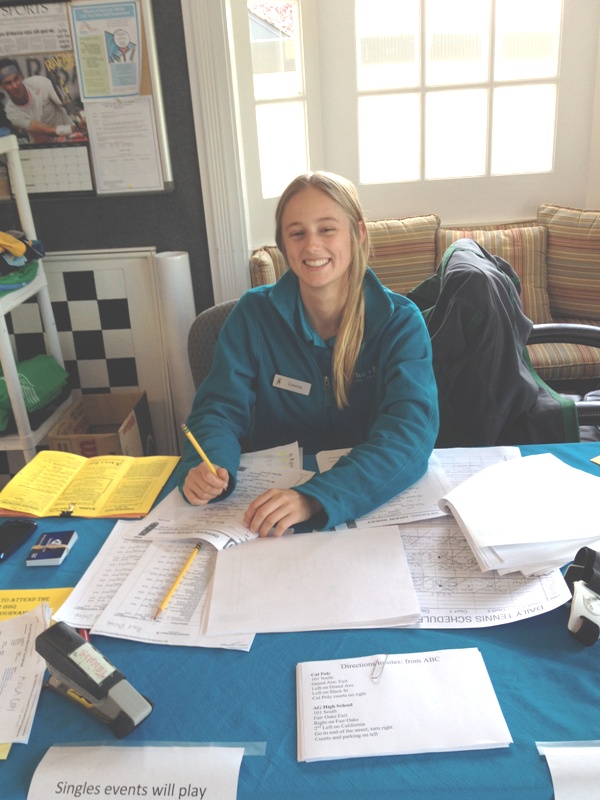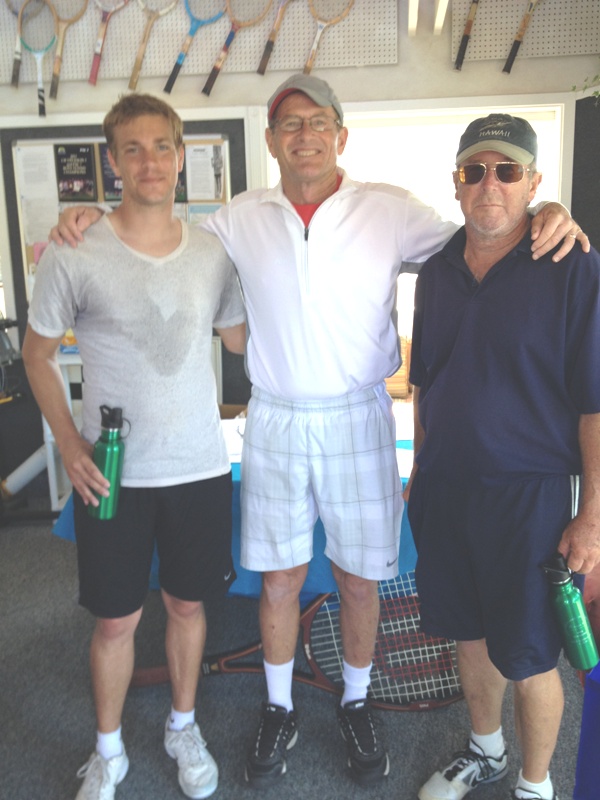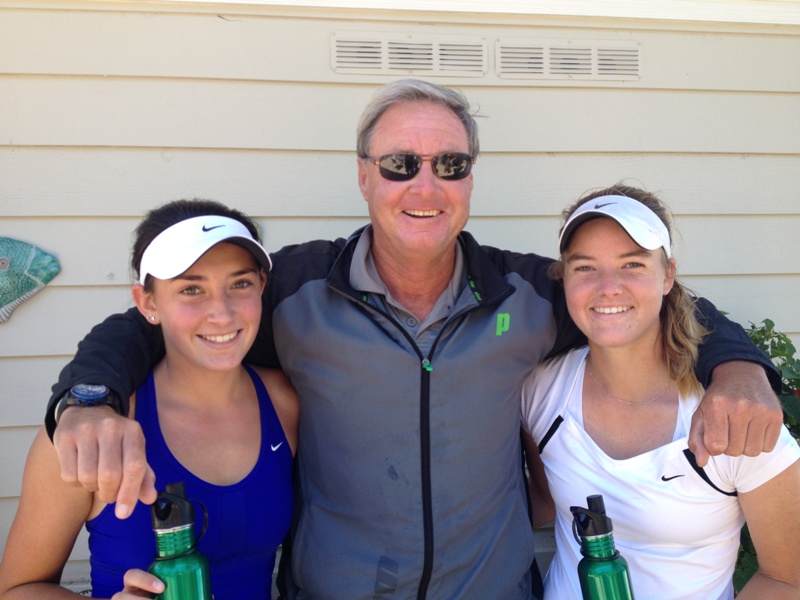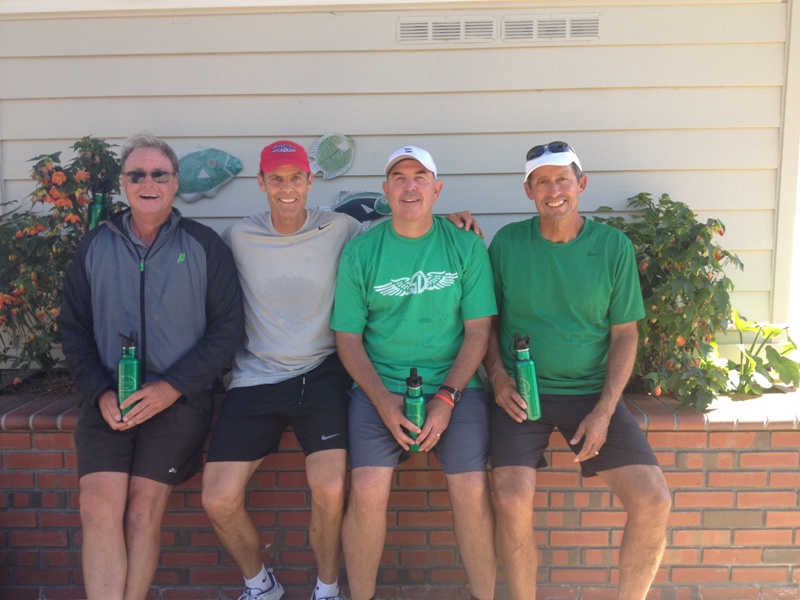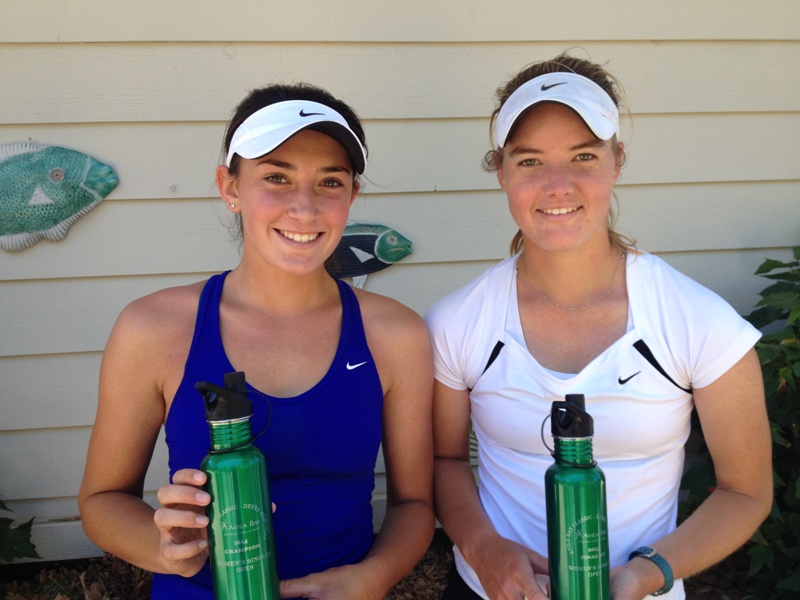 RESULTS: (Club Members highlighted in Red)
Menís Singles Open - Kalman Boyd def Noah Newman 7-6 (7-5), 6-1
Menís Singles A - Matthew Gaarder-Wang def Daryl Okada 6-0, 7-5
Menís Singles A - Brendan Adams def Jaime Garibay 6-3, 6-4
Menís Singles B - Hart Schulz def Trig Lodrup 7-6, 6-3
Menís Singles C - Tim Rapson def Hans Reithofer 6-1, 6-0
Menís Singles 50ís - Hal Sweasey def Miguel Phelps 6-4,2-6,6-3

Womenís Singles Open - Sophie Whittle def Kelsie Bryant 7-5, 6-2
Womenís Singles A - Peyton Morrison def Erin Lindvall 6-2, 6-4
Womenís Singles B/C - Jen Gaarder-Wang def Amanda Holmquist 6-2, 6-1

Menís Doubles Open - Miles Seemann/Andrew Riminton def Noah Newman/Sam Rodgers 6-1, 6-1
Menís Doubles A - Mark Scribner/Mike Rowley def Miguel Phelps/Hal Sweasey 6-3, 4-6, 14-12
Menís Doubles A - Bruce Freeberg/Colby Grey def Walt Seemann/Chris DeMuth 6-1, 7-6
Menís Doubles B - Trig Lodrup/Hart Schulz def Jeff Alwen/Sydney Alwen 6-1, 6-2

Womenís Doubles Open - Sophie Whittle/Kelsie Bryant def Chanel Scudiero/Ane McPike 6-3, 6-3
Womenís Doubles A - Olivia Madison/Angelica Gagliano def Olivia Bolanos/Chanel Yamaguchi 2-6, 7-6(7-3), 11-9
Womenís Doubles B - Valerie McKinney/Hana McKinney def Amanda Holmquist/Kari Loken 6-3, 6-0

Mixed Doubles Open - Granville Swope/Tracie Currie def Bill Dunkle/Delaney Dunkle 6-2, 2-6, 10-5
Mixed Doubles A - Hennie Breytenbach/Najore Breytenbach def Shelly Schlief/Connie Rutledge 6-2, 6-3
Mixed s Doubles A - Matt & Jen Gaarder-Wang def Frank Castro/Lori Harris 6-2, 6-1
Mixed s Doubles B - Rodney & Grace Cegelski def Mark & Lisa LaFaille 6-3, 6-2

Jr Boys Singles 18 & U - Sydney Alwen def Joey Kullman 6-7, 6-1, 6-1
Jr Girls Singles 18 & U - Peyton Dunkle def Maddie Ferreros 6-3, 6-0
Jr Girls Singles 14 & U - Grace Cegelski def Chloe Rohr 6-3, 6-1

Local winners include: Menís 50ís Singles Hal Sweasey (SLO); Menís 4.0 (A-) Singles Brendan Adams (Atas); Menís 3.0 (B) Singles Tim Rapson (Santa Maria); Womenís Open Singles Sophie Whittle (Nipomo); Menís 4.5 Doubles Mike Rowley (SLO) & Mark Scribner (AG); Menís 4.0 (A-) Doubles Bruce Freeberg (SLO) & Colby Grey (Temp); Womenís Open Doubles Sophie Whittle (Nipomo) & Kelsie Bryant (SB); Womenís 4.0 (A-) Doubles Angelica Gagliano (AG) & Olivia Madison (AG); Mixed Open Doubles Granville Swope (Nipomo) & Tracie Currie (SB); Mixed 4.5 (A) Doubles Hennie & Najore Breytenbach (PR); Mixed 3.5 (B) Doubles Rodney & Grace Cegelski (SLO); Boys Jr Singles 18 & U Sydney Alwen (SLO); Girls 18 & U Peyton Dunkle (AG); and Girls 14 & U Grace Cegelski (SLO).
A HUGE thanks goes to not only to all of our players in the tournament, but the key people who made it happen! Thanks to Ken & Kristi Whittle for running the Santa Maria style BBQ along with helpers Son Tran, Sophie Whittle, Cole Laughton, Chanel Yamaguchi, Angelica Gagliano, and Olivia Madison. Thanks to Richard Manuputy and crew for providing us with an enjoyable evening of music! Thanks to George and kitchen staff who helped with BBQ details, and the Manager Nancy Terrell and Travis Hawley for administrative support throughout the tournament. Thanks to the Johnny and the custodial staff who helped every step of the way. Thanks to staff members Ana Herbekian, Olivia Madison, Lauren Kueffler, and Norbert Mocan for all the administrative help, and member Dar Davis who was part of our Saturday staff. Thanks to all of our members who came out to support the tournament whether through participating or spectating! A big thanks to Mark Scribner, Hugh Bream, and Jenny Phelps for organizing the details to make this another successful event for the Avila Bay Athletic Club & Spa!!!

For any questions call Hugh Bream at 805-471-5035 or Jenny Phelps at 928-533-0362.
From the Spa
A Medi-spa special event is being offered by Dr. Wendy Weiss along with the spa department at Avila Bay Athletic Club & Spa. You will receive 15 units of botox, a 45 minute enzyme facial with a gift, a manicure & pedicure, along with lunch for $360.00! Spend the day being pampered! Spaces are limited so call Candice at 805-801-5964 to schedule!
From our Nutritionist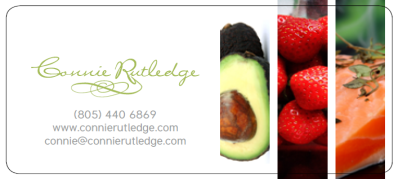 By Connie Rutledge
Connie Rutledge, Functional Nutritionist, says clean eating can be as simple as eating whole, nutrient dense foods. Forget about packaged or processed foods. Most importantly, check ingredient labels, if you cannot pronounce it, your body is not able to break it down or metabolize it. You will store these unrecognizable foods as toxins. These toxins are stored in your fat cells causing inflammation, weight issues, and countless other unhealthy symptoms.
It can be a bit challenging to know which direction to go to figure out a plan for you. Focus on eating grass-fed, pastured animals free of hormones and anti-biotics, and wild caught seafood. Choose organic produce as often as possible or at least try to buy organic apples, strawberries, grapes, celery, cucumbers, kale, potatoes, snap peas, cherry tomatoes, spinach, and peaches as these are foods most affected by pesticides and chemicals. If you eat grains, please eat whole, sprouted, organic grains as often as possible, raw nuts and seeds are perfect snacks and can be ground into delicious butters to enjoy. Eat legumes and beans. If you tolerate dairy switch to whole and organic. Avoid anything labeled non-fat or low-fat where they have processed the natural fats out.
Take it slowly. Pick one meal that you can easily make changes to clean up the food you consume. Plan ahead, learn to cook and cook in batches to freeze for later. Substitute things like real maple syrup, coconut sugar, or stevia for regular sugar in a recipe or reduce the amount of sweetener in half. Reduce soda consumption by infusing water with fruits and herbs for a refreshing treat! Think carefully before you snack after a meal. Do you need food because youíre hungry, or are you bored? Could you get by with a fresh glass of water? Check in with yourself. What is it that you need?
We are all unique and require different amounts of healthy fats, proteins, and carbohydrate to keep us balanced and maintain proper energy throughout the day. I would love to work with you to help you figure out what to EAT, DRINK, and THINK. Food is the foundation for everything we do. Hereís to your health!


BLOOD DRIVE
At the Club on July 16!
10 a.m. to 2 p.m.
Blood Drive- Every three seconds, someone needs blood. It could be an accident victim, a person undergoing surgery, or a child receiving cancer treatment. Your family and friends are counting on us, and weíre counting on you! Every day on the Central Coast we need at least 200 blood donors to care for those in our community who are in need. And there is only one source of blood. Volunteer blood donors. Think about it. A friend or family member, or perhaps even you will need a gift of blood. On July 16th from 10am-2pm the Avila Bay Athletic Club & Spa is excited to be hosting a blood drive with the help of United Blood Services. Please come out and support this great cause, and be someoneís HERO. Sign-ups are located in the lobby or contact Travis Hawley at [email protected] or 805-595-7600 ext 113.
Aquatic News
By Kaley Conrow
Lane Sharing
Swimmers at ABAC are very fortunate, because they can usually swim in a lane by themselves. However, with summer approaching, the six lanes will fill up quicker, and it is important that all members wanting to swim gain access to the pool! Many already know of the ABAC pool-sharing rules, but here is a reminder: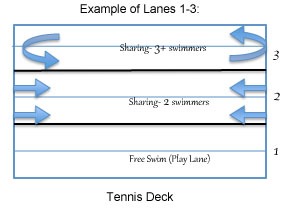 *Sharing a lane means 2 people can split the lane; one swims on the left side and the other swims on the right side of the blue line at the bottom of the pool (see Lane 2 in diagram). If there are more than 2 people in a lane, then circle swim to the right (see Lane 3).
I am very excited that so many members are utilizing the water! I also greatly appreciate your cooperation during peak pool hours
See you on the pool deck!
Kaley Conrow


The Wellness Kitchen Presents . . .
Bring Your Taste Buds Back To Life!
Wednesday, June 11
1:00 p.m.
Therapeutic Chef Nancy Walker, Founder of The Wellness Kitchen and Resource Center, will be here to demonstrate how to bring your taste buds back to life. Medications, treatments, and aging can challenge our taste buds making eating less desirable. Learn how to use fat, acid, salt & sweet to appeal to your palette.
Summer Camps Are Here!
Talk about BIG summer FUN! Our friendly and lively camp staff will keep your kids ACTIVE this summer. Choose from Fit-Tennis, Aqua Adventure/Activity, or SUPER CAMP. Sign up for one week or all six weeks! Six one-week sessions (Mon-Fri). Beginning June 16óending August 1 (no camp 4th of July week). Ages 6-13. Registration forms available at the front desk, online, or contact: [email protected]; 595-7600 ext.113.
Click Here For More Information.
Memberís Business Mixer- June 20th
Members will be showcasing their businesses free of charge to other members and guests. Theyíll have goods for sale, and prizes for attendees to win! The mixer takes place during happy hour, so there will also be music and merriment! Reserve your space on the sign-up sheet in the lobby or contact: [email protected] 805-595-7600 ext 113. (Participants must provide their own table and display setup.)


New Policy For Parties At The Club
All parties need to be scheduled ahead of time with event coordinator Travis Hawley. As we embark on another great summer, pool safety and club atmosphere are a big deal to us. If you do not reserve your space ahead of time, you may not be permitted to use the club facilities. All pool parties must have a private lifeguard and space reserved. If you have any questions or would like to plan a future event please contact Travis: [email protected] 805-595-7600 ext 113.
June Membership Special for our DADS!
Happy Fatherís Day to all of our dads at the Avila Bay Athletic Club & Spa! We want to thank you for all that you give and do for our clubís families! During the month of June we have some specials and gifts we want to give you!
Here are some ways member dads can enjoy Fatherís Day a little MORE:
1. Stop by the membership desk and pick up YOUR FREE DAY PASS!
2. Dads get 50% off upgrade fees in June
3. Dads get 20% off any logo wear items
4. Dads get a free soft drink or Ĺ off an entrťe, on Fatherís Day

And remember, when you refer a new member or family to join the club, we will reward you with $50 on your account or a $5 credit each month you and your friend remain active members. For more information, contact Amy or Travis at 805-595-7600 Ext: 105.