What's Up At ABAC
Wednesday Night Dinner To-Go – Wednesday, January 18
The Perfect Morning Routine Presentation – Thursday, January 19
Friday Night Deck Party w/ Vance Fahie – Friday, January 20
Stronger Me In 2023 – January 21 to March 3
Wednesday Night Dinner To-Go – Wednesday, January 25
Friday Night Deck Party w/ Jon Stephen – Friday, January 27
Parent / Child Tennis Doubles Tennis Mixer – Saturday, January 28
Round Robin Pickleball Mixer – Sunday, January 29
Reminder that we no longer send a weekly email with the CAC - Zoom Class Schedule. It resides on a webpage now and gets updated as needed. Please save this link to all the classes. You can also navigate to this webpage from the homepage of the ABAC website under "Schedules and Waivers" or from the link on the ABAC website's fitness page.
https://www.caclubs.com/about-cac/zoom
Happy New Year 2023!
Well, we didn't get a chance to wish you all a Happy New Year as we had planned for our first What's Up At ABAC email of the year. Our club world was "flooded" with water and mud, and we quickly started the new year with an adventure. I feel like I may have jinxed us all when my answer to the question about what our One Word for the year might be. My initial reaction to that question was "Upheaval", as the promotion of Travis to GM of our sister club Paso Robles Sports Club was still fresh as Patty & Amy retired from their full-time work lives on the last day of the year. Upheaval seemed appropriate. But then…. the water came flowing into the parking lot, the tennis courts, the salon, the offices, and the family locker rooms. This certainly was an exceptional upheaval of our normal routines. I am grateful to every member that sent uplifting emails, offered to helps us, and every staff member that came to shovel and clean mud while sorting through the debris. It was certainly a great time to do some bonding over pizza (and mud) with newer staff members, and we honestly all feel like family already! Thank you all for your patience while we continue to get the club put back together. We are sure grateful for the rain, but it was not easy getting it all at once!

I must take this chance to say thank you from the bottom of my heart to Travis, Amy, and Patty. I realize that some jobs need you to be all-in and being a leader at this awesome club really does require that of us, But these three humans embody that, more than is describable with words. Travis has a unique ability to do pretty much anything, and to do it with a smile and unique effort that makes it fun for everyone around him. I miss him every day, but surprisingly we may talk more than we did when working directly together. Amy - who we all know would jump out of her seat to help a total stranger, all day long, without even showing a hint of being tired, gave all of herself to the club for 15 years (thank you to her lovely husband Don for continually sharing her with us!). I love her so very much. And Patty, who I think took one payroll date off once in 17 years (and our payroll is twice monthly), is such a dedicated club cheerleader that we never thought could stop taking care of all of us. She is so dedicated that I may have felt just a little betrayed that she dare attempt to retire. We will be friends forever. I love you guys so very much and I know that I speak for everyone when I say how happy I am that we will get to see you all still as members, and as you continue to help us out with things here and there. Thank you all for everything you have given us, and for making the club a better place.
With love and gratitude,
Nancy Terrell
General Manager
Stronger Me In 2023!
Click Here For Questions Or To Sign-Up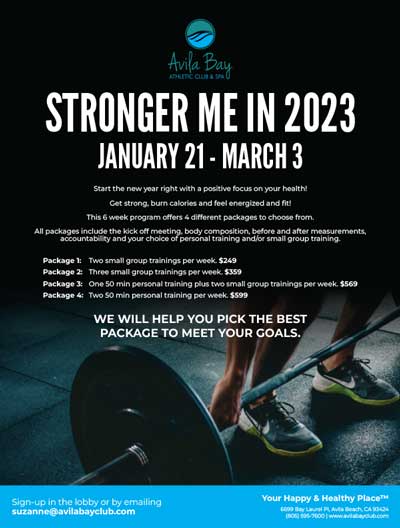 Wednesday Night Dinners To-Go Are Back!
Click Here To Sign-Up For This Week's Dinner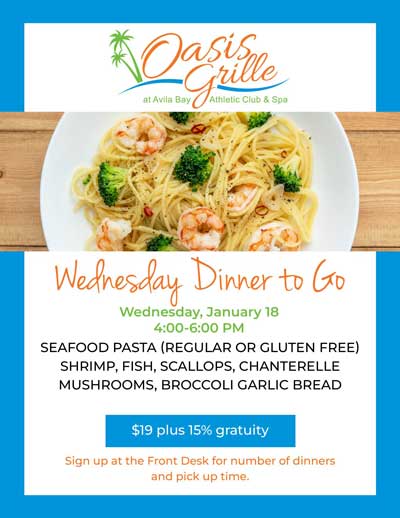 The Perfect Morning Routine Presentation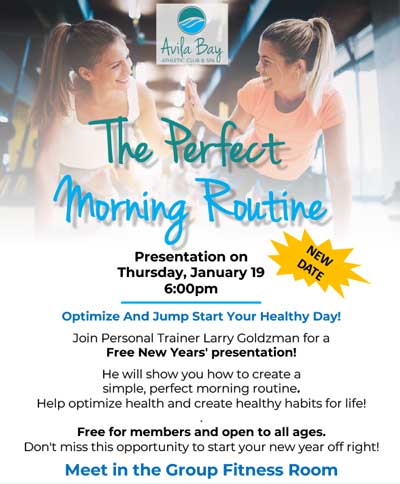 Friday Night Deck Parties

Friday, January 20
5-7 pm
Come groove to the awesome reggae music of Vance Fahie.

Friday, January 27
8-7 pm
We welcome back a club favorite, classical guitarist Jon Stephen!


Parent / Child Tennis Mixer

Saturday, January 28
3-6 pm

Come play some fun, family tennis! This free event is for members only. Please sign-up online under classes, or by emailing [email protected].
Click Here For The Weekly Tennis Ticket


Round Robin Pickleball Mixer
Sunday, January 29
11am-2pm

Come play some fun pickleball organized by Director Michael Marquez. All levels are welcome. This is a free event for all court members. You can also bring a guest for free to this mixer.
Click Here For The New Weekly Pickleball Planner
Fall / Winter / Spring Club Hours
Monday-Thursday 5:30 am – 9:00 pm
Friday 5:30 am – 8:00 pm
Saturday 7:00 am – 8:00 pm
Sunday 8:00 am – 8:00 pm
Please do not ask the staff to let you into the club early. We need to give everyone, including the pool company, time to get the club ready each morning. No one will be let in early.
Kids' Club Hours (by reservation only)
Note - We do not allow kids that appear sick, with even a runny nose, in Kids' Club.
Please make a separate reservation for each child.
PLEASE CALL THE FRONT DESK THE NIGHT BEFORE IF YOU PLAN TO BRING AN INFANT. We must plan ahead for infants.
Monday through Friday 8:30 am - 12:30 pm
Tuesday through Thursday 3:30 pm – 6:30 pm
Friday 3:30 pm – 6:00 pm
Saturday 9 am – 12:30 pm
Sunday 9 am – 12:00 pm