What's Up At ABAC
Wednesday Night Dinner To-Go Is Back! – Every Wednesday Evening
Friday Night Deck Party w/ Take Two Trio – Friday, February 3
Round Robin Pickleball Mixer – Saturday, February 4
Friday Night Deck Party w/ Burning James – Friday, February 10
Valentine's Sip & Candle Making – Sunday, February 11
Valentine's At The Spa! – February 10 to February 14
More Fun Events In Feb TBA
Reminder that we no longer send a weekly email with the CAC - Zoom Class Schedule. It resides on a webpage now and gets updated as needed. Please save this link to all the classes. You can also navigate to this webpage from the homepage of the ABAC website under "Schedules and Waivers" or from the link on the ABAC website's fitness page.
https://www.caclubs.com/about-cac/zoom
Each year we evaluate if, when, and how much a dues increase might be. With all the supply, utility, and payroll cost increases this year, we do find the need to increase each membership's dues by 5%. This increase will take effect on the March 1st billing. We have seen larger increases in other businesses and tried to keep this increase as low as possible. It is a high priority of ours to conserve and be creative (one of our five core values) in how we can save money. We plan to resurface the tennis courts this year, replace one or both saunas, finish up the flood recovery, introduce some new events, update some landscaping, remove some dead trees, repair the end staircase of the deck, add some new equipment, add some weekly happy hour times, and continue to spruce up some areas. The recent flooding did set us back from some of our goals, but we will keep working hard to make the club your Happy and Healthy Place!
Someone asked this week if we cover the pools. We do indeed, every night (unless it is storming rain and wind, due to staff safety concerns). We are proud to keep the Large Pool at 80-81, and the Small Pool at 87, year-round! Pool covering season usually goes from late October to early April. Thank you to our awesome staff who do this rigorous task for us every night and every morning!
Oh yeah – and about that One Word for this year. The team rejected my "Upheaval" unanimously. Just kidding – that word will never be spoken here again. Our word for this year is "Unite". What does that look like for us? We want to bring people together with social events, try new things from different departments, continue to increase morale, have even better communication, and train new staff while making them feel welcome and a part of this awesome ABAC family. We have already started on this path in bonding over mud clean-up. It was a great example of Unity.
-Nancy Terrell
General Manager
Wednesday Night Dinners To-Go Are Back!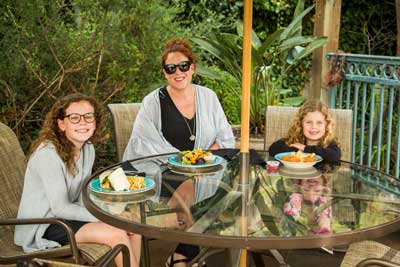 Every Wednesday From 4-6 pm.

Sign-up in the lobby, or email [email protected], to reserve your dinner and pick-up time.
Congrats To The USTA Men's 65+ 8.0 Team!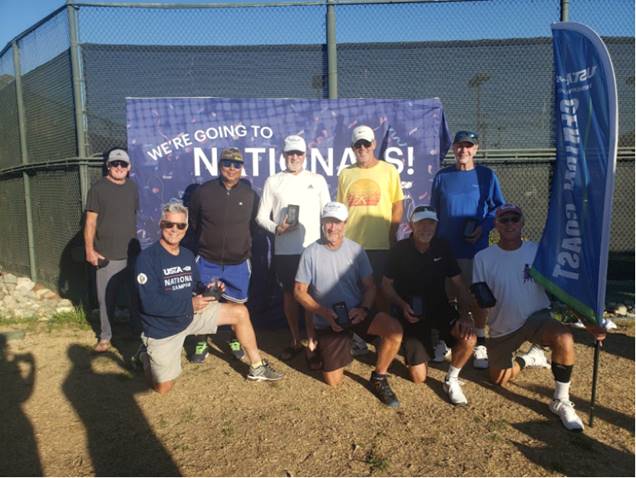 USTA Central Coast League's Men's 65+ 8.0 team recently won the SoCal Sectional Championship to advance to the USTA League National Invitationals - Adult 65 & Over 8.0, in Surprise, AZ February 17-19 where 15 quality teams from around the country will compete for the National Championship. Over half of the team's players are ABAC members.
Super congratulations to Mike Stanton, Steve Lakowske (Capt), Don Blessen, David Johns, Howard Nicholson, and Bruce Freeberg, We will be cheering for you on February 17!
Valentine's Sip & Candle Making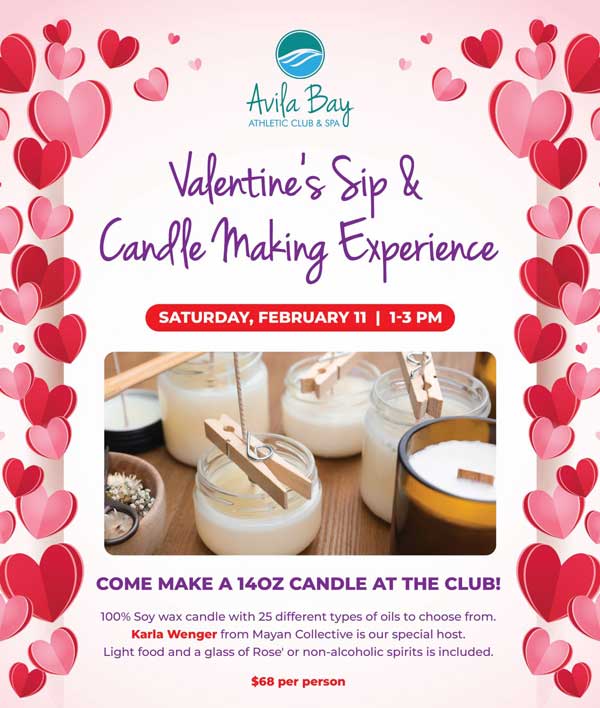 Valentine's At The Spa
Click Here To Schedule A Spa Service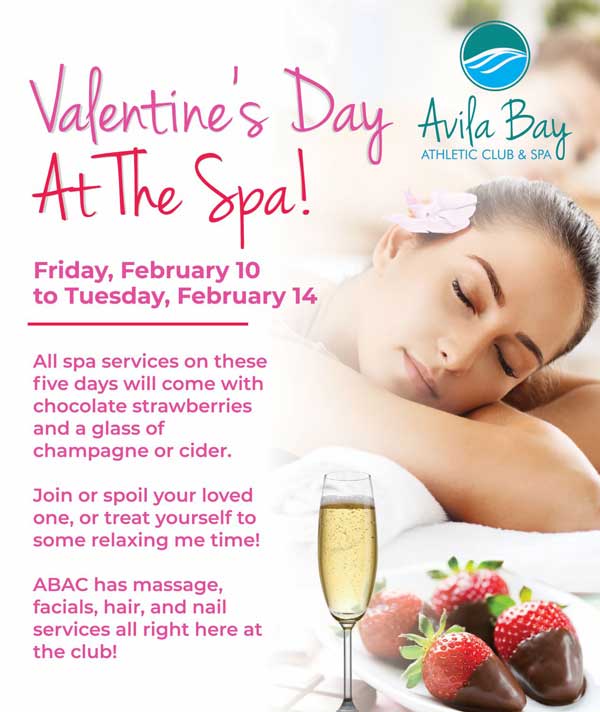 Round Robin Pickleball Mixer
Saturday, February 4
12-3 pm

Come play some fun pickleball organized by Director Michael Marquez. All levels are welcome. This is a free event for all court members. You can also bring a guest for free to this mixer. We were rained out last time, so let's try again!
Click Here For The New Weekly Pickleball Planner
Fall / Winter / Spring Club Hours
Monday-Thursday 5:30 am – 9:00 pm
Friday 5:30 am – 8:00 pm
Saturday 7:00 am – 8:00 pm
Sunday 8:00 am – 8:00 pm
Please do not ask the staff to let you into the club early. We need to give everyone, including the pool company, time to get the club ready each morning. No one will be let in early.
Kids' Club Hours (by reservation only)
Note - We do not allow kids that appear sick, with even a runny nose, in Kids' Club.
Please make a separate reservation for each child.
PLEASE CALL THE FRONT DESK THE NIGHT BEFORE IF YOU PLAN TO BRING AN INFANT. We must plan ahead for infants.
Monday through Friday 8:30 am - 12:30 pm
Tuesday through Thursday 3:30 pm – 6:30 pm
Friday 3:30 pm – 6:00 pm
Saturday 9 am – 12:30 pm
Sunday 9 am – 12:00 pm