Super Bowl Party at the club!
Come join us in watching the greatest show on turf this upcoming February 7th! We will be having a special menu, drink specials, and fun prizes to win in our football pool! The game will be televised on our projector in the group fitness room! The party starts at 2PM so come out and join us for the festivi- ties and be sure to wear your teams colors regard- less if they are playing or not!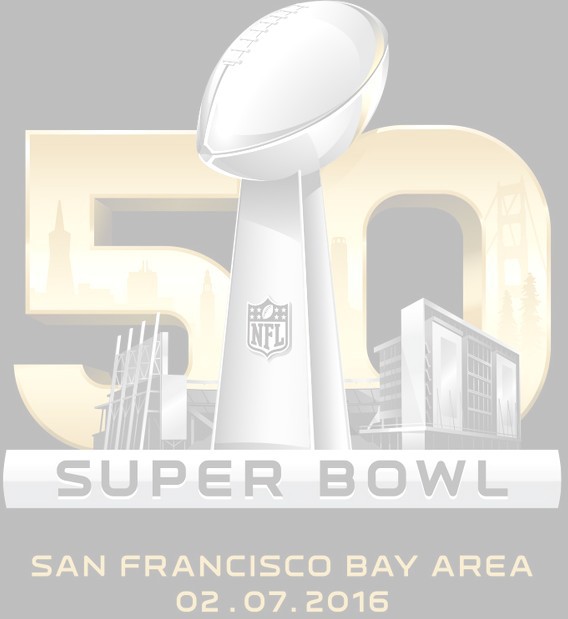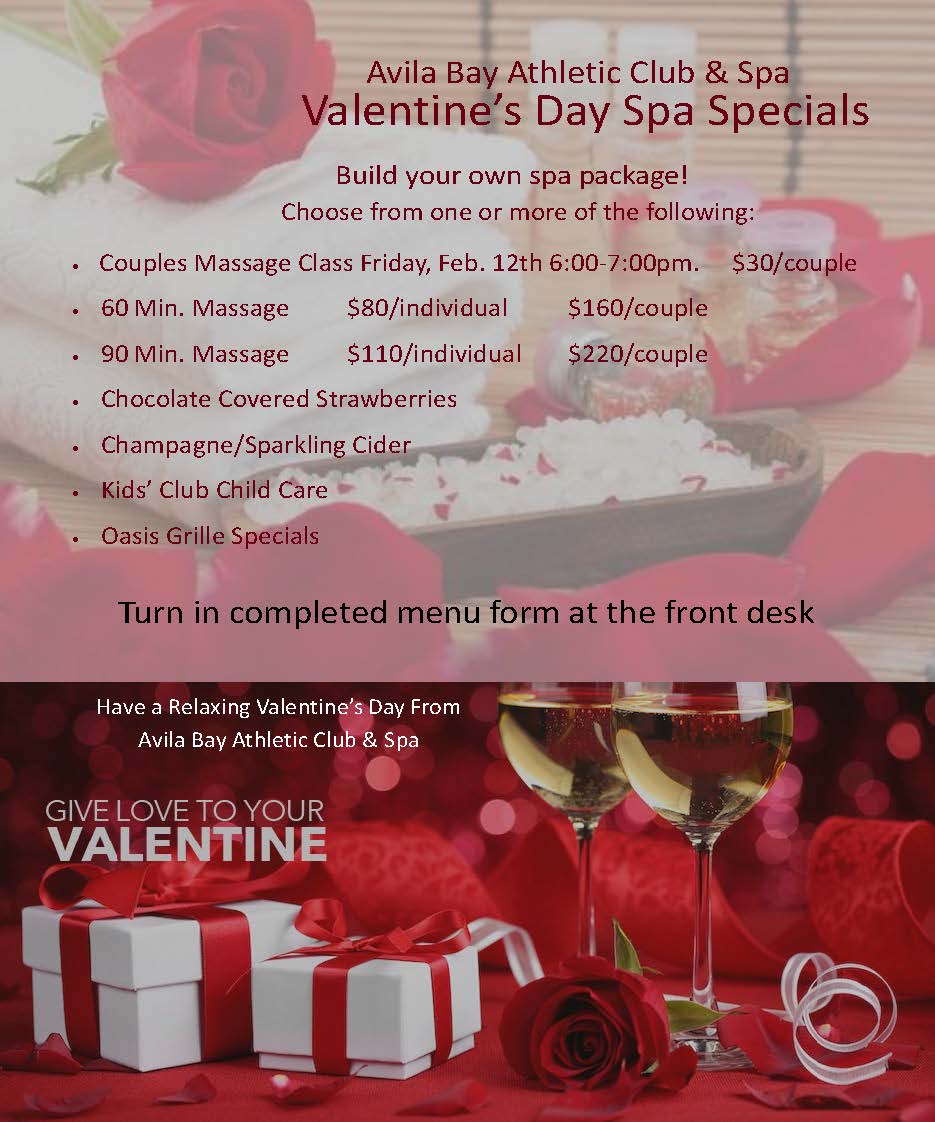 Congratulations to our new
Member of the Month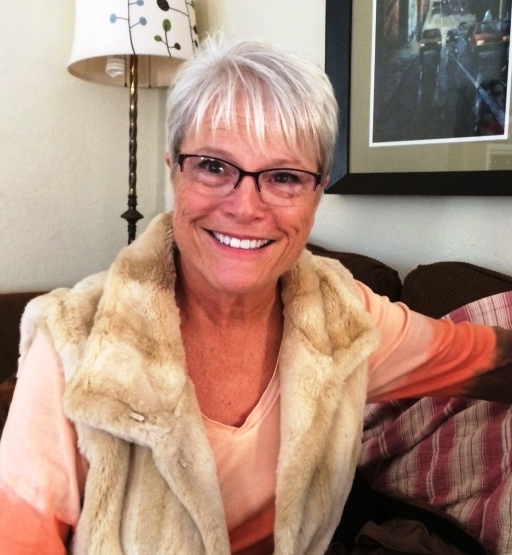 Michele Knapp

Michele feels so lucky to have found our club! She and her husband moved to Grover Beach in 1999. Michele lost her husband in 2007. It was devastating. She moved to Avila Bay Estates in 2012 and made her home there. Michele joined the club about a year later and absolutely loves it! She started with Kate being her personal trainer and then found the 11:15 aqua class and hasn't left it since! Since starting the aqua class Michele has noticed a big change in her strength. She says, "Marni is my hero, she is so motivating." Michele adores her co-swimmers and all the employees and members at the club. The club is a great place to be! Michele also enjoys strength classes sometimes, participates in our BBQ's and happy hours, and enjoys our Oasis Grille. She is active in the Civic Association in Avila and Concerned Citizens For Avila. Michele is also active in her homeowners association. She has worked at Meridian Design Center, Hop Skotch Kid's Store, and in the office for a Naturopath/Midwife and has enjoyed all of her work. Having both of her daughters and families right in SLO makes her very grateful. They are a huge part of her life. She refers to both of her son-in-laws as "Perfection" and her 5 grandchildren as the loves of her life! They all frequent the club from time to time. Michele is onto a new journey now and looking forward to what the future will bring.
What an amazing woman and an inspiration to all who are lucky enough to know her. Her positivity leaps from her smile. We are so glad you found the club!


Congratulations to our new
Employee of the Month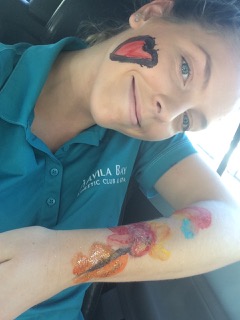 Charlotte Jackman

"Hi! My name is Charlotte Jackman.
I am a Bay Area native that came to the Central Coast last year to study at Cal Poly (where both my parents attended). I am now a second year Nutrition major hoping to become a Registered Dietitian after I graduate. I work in the Kids Club here at The Avila Bay Club, and I enjoy seeing all of the smiling faces when I come into work. I have been working at the Club since July and I am so grateful to be part of the Club family. My hobbies include painting, hiking, roller skating, and cooking. I am a Beatles fanatic, my favorite movie is The Princess Bride, and I am a Game of Thrones nerd." As you can see from Charlotte's photo, she brings a very happy and fun spirit to the Kids' Club. We feel very lucky to have her taking good care of our club's kids!


Share the LOVE OF THE CLUB this February
What is better than having a membership at the Avila Bay Athletic Club & Spa? Having a friend JOIN with you!
During the month of February – invite your favorite friend to join the club! When your friend joins the club in February, they will receive a free month, and YOU will receive $50 on your account (or gift card), or $5 each month as long as both of you are active members.
So, start the year off by bringing in your friends and share the LOVE! For more information and a free pass for your friend, see Amy or Travis in Membership. 805-595-7600 ext: 105.
Tennis Department
February 20th Mixer Potluck with the Paso Club 1:30-3:30
February 28th Free Clinic with Korey Kolb 10:00-11:00
With El Nino upon us, we will be updating messages early in the mornings. We will be rolling courts as soon as the rain lets up. Please check the phone message on extension 106 to get the current status.
JUNIOR TENNIS
New session dates are out for the Beginning and Intermediate Clinics, come pick up your copy in the Tower or visit the club online at the tennis page! Get your kids involved in these fun and lifetime sport activities!
Beginning clinics (ages 6-12) run Tuesday/Thursday from 3:30-4:30.
Intermediate Clinics (Ages 8-16) run Tuesday/Thursday from 4:30-5:30.
Call the Tennis Tower for more information. 805-595-7600 ext. 106
The Excellence Clinics are back to later times to accommodate school times.
They will be from 4:00-5:30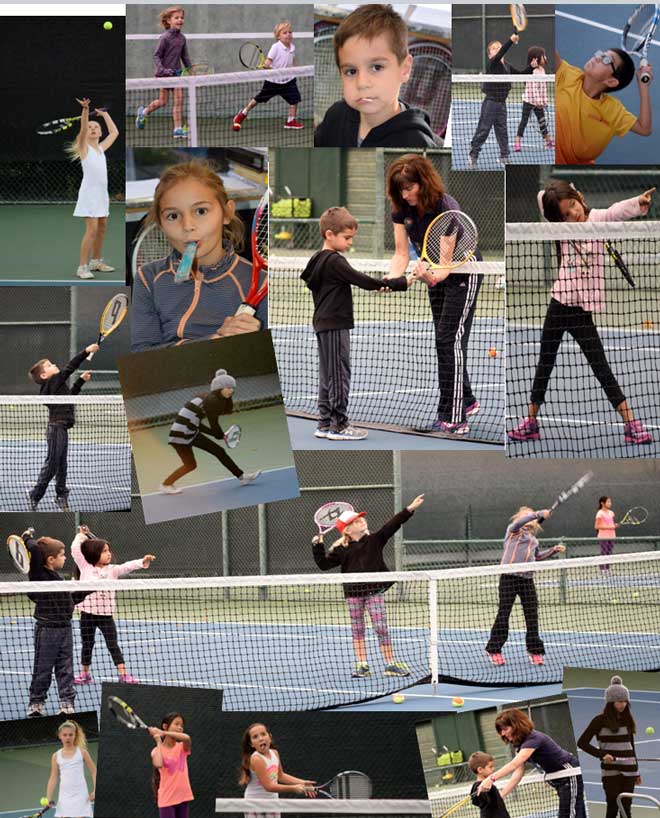 Fitness Department
Congratulations for a great January!

The club has been busy with new and regular members! Thank you for being early to classes and for helping others out when you see someone new.

February is short and sweet. Challenge yourself to trying 1 new class, 1 new piece of cardio equipment or by signing up for a free assessment with one of our trainers this month!
See membership and they will schedule this for you or email [email protected]

Also please keep in mind that we offer, every week, 45 classes at no extra charge.
12 Small Group Functional, Senior, TRX, Obstacle Course Training and Pilates EVERY WEEK! Be our guest at one of these any time.
Contact Jan Berdar directly at 595-7600 Ext 111

I have included snippets from recent articles that I thought may be of interest to you:

How to improve that 5k time!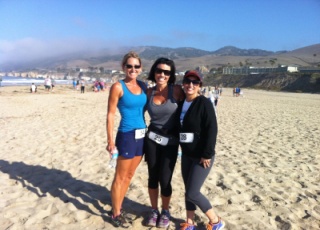 Published in The Journal of Strength and Conditioning Research (2015; 29 (8), 2137-41)
Studied the effects of sprint training on 5k performance on 30 untrained men 18-25yr olds. After meeting 3x per week for 4 weeks where the participant had to complete 3-8 maximal intensity sprints there were gains. 4.5% improved in 5k performance and 4.9% increased absolute oxygen uptake and relativer oxygen by 4.5%.
Bottom line looks like these young men improved their 5k run performance! I bet you would too!

Lighter weights may be the way to go!


Journal of Science and Medicine in Sport (2015; 18 (5), 596-600)
Looks like lighter weights improves strength in older adults. This study featured 55 and older participants over 26 weeks. They attended a class similar to our Group Power 2x per week. The participants performed a leg press and a Smith machine bench press (Both 1 rep) to determine strength, gait speed and balance tests, and health assessments. Leg and Bench press improved by 13 and 14% respectively, gait speed by 23% and single leg balance by 24%! (I believe it! One thing we offer quite a bit of at our club are light weight, sculpting/strength training classes)

Wearable trackers accuracy.....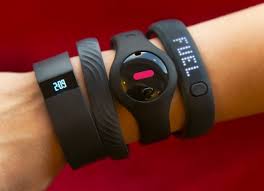 These have been getting a lot of press lately.

Medicine and Science in Sports and Exercise (doi; 10.1249/MSS.13zero's727) was to determine whether various activity tracking devices were correctly estimating caloric expenditure. 52 individuals ages 18-65 completed 20 minutes of sedentary activity and 25 minutes of cardio and resistance training. Each wore 5 wrist devices. Misfit Shine was the least accurate with an error rate of 30.4%, BodyMedia Core provided the greatest accuracy with a 15.3% error rate. Fitbit Flex, Jawbone UP24 and Nike+FuelBand SE also provided fairly accurate data. The greatest error was found during the restance training protocol. They were much more accurate during sedentary activity and cardiovascular.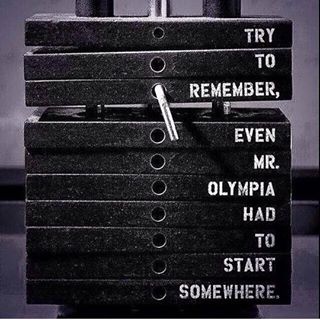 Aquatics Department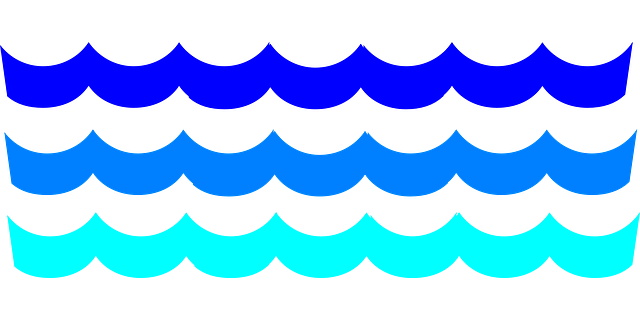 Greetings to all members!
During this cold and flu season the Aquatics department wishes all pool patrons good health. Here are some tips to staying healthy and reducing the risk of infection in the water:
• If you have a cut that has not scabbed over, please keep it out of the water. Although the water is treated, bacteria may still enter the open wound and infect it. Or if there is an infection in the wound, it can be spread through the water.
• Please rinse off before you enter the pool. This gets rid of contaminants in our hair and on our skin, therefore reducing foreign matter in the pool, keeping it cleaner.
• If you are unwell and possibly contagious, it would be best to stay out of the water altogether. This will reduce the risk of infection to others.
• If anyone is suffering from gastrointestinal issues, it's best to stay out of the water. This often applies to children and infants.
• Only swim diapers should be used in the pool because they better stop leakage into the water. If feces matter does get into the pool or spa it has to be shocked with chemicals and closed down for a period of time. The time it is closed varies on how much and what type of material got into the water. I'm sure no one wants to be responsible for shutting down the pool or spa for any length of time.
We are continually grateful to our friends at Del Ozone for taking good care of our ozone systems. This unique sanitizing process allows us to use less chlorine in our pools and Jacuzzis, which is better for everyone all around.
Thank you for being aware and courteous of other swimmers and helping us all stay free from infection during this winter season.


Kid of the Month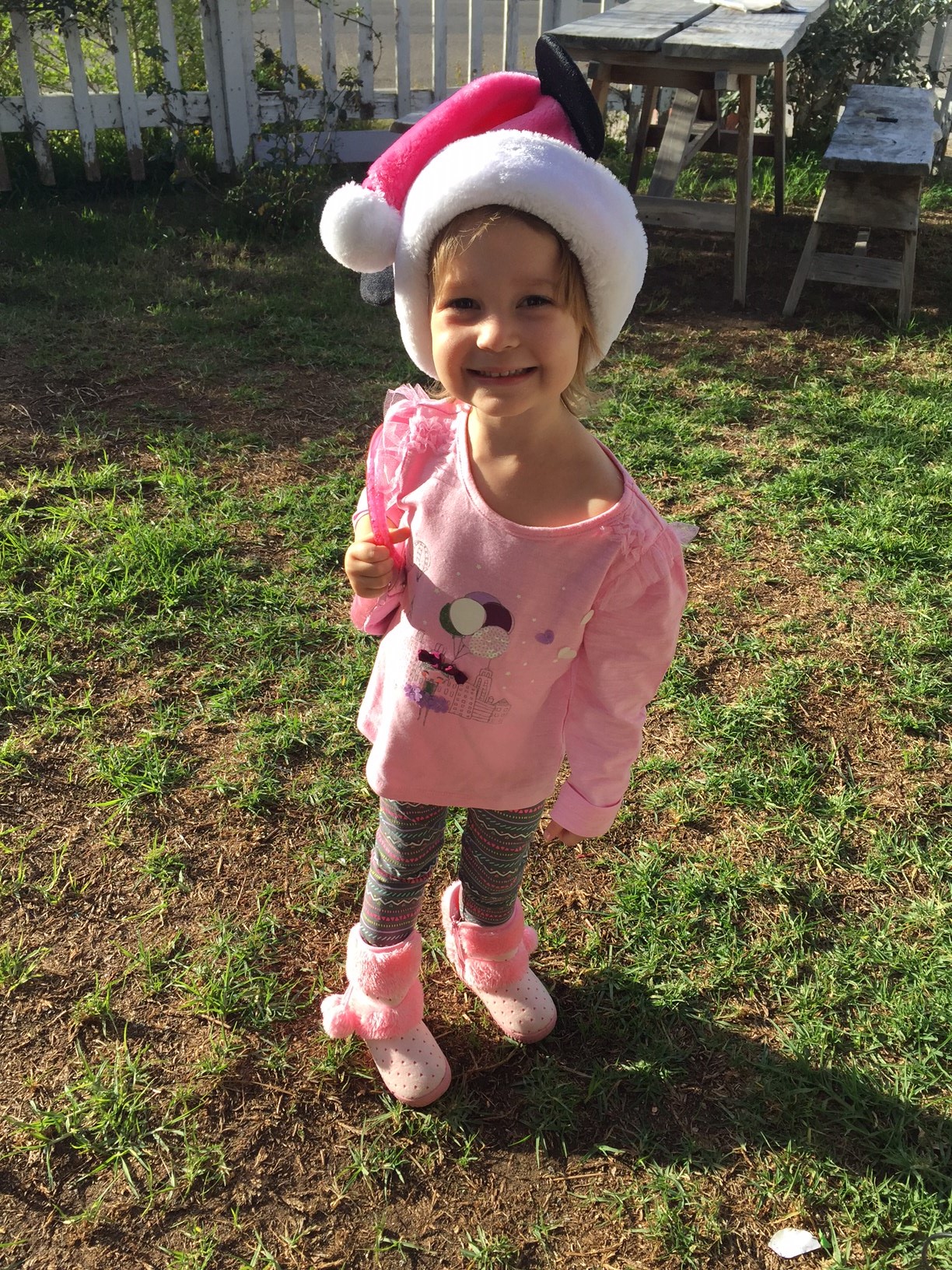 Congratulations to our New Kid of the Month

Hadley Terrell

With a new month comes a new Kid of the Month.
Let's say a big congratulations to Hadley Terrell! She has been coming to Kids' Club forever (ok, for her whole 3.5 years) and the staff have really noticed her positive attitude and interactions with friends. She is becoming quite the social butterfly who is getting so good at sharing. Awesome job Hadley!
Kids' Club
Hello February!
This year is already off to a great start. As a friendly reminder, please help us keep all the current information on your children by completing a new registration form for the 2016 year. Also, we want to be sure that parent's understand that going on the Bob Jones Trail to workout or walking over to Woodstone is not allowed if your kids are in Kids' Club. Thank you so much for your help and support on these policies.
As always, feel free to send any questions or concerns to my email at [email protected] and I will be happy to help you to the best of my ability.

Parent's Night Out just so happens to fall on Valentine's Day weekend...
Saturday - February 13th from 5:30pm to 8:30pm - it's your lucky night.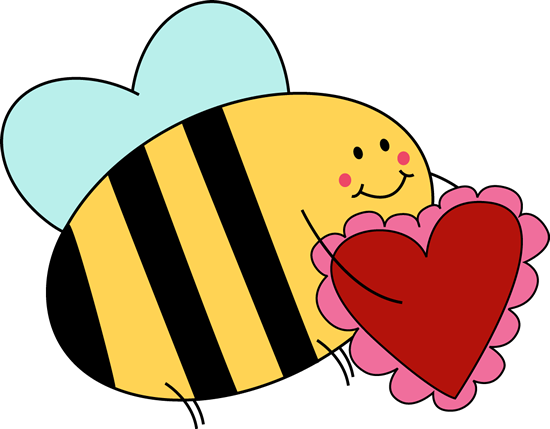 Come drop the kiddos off with us and go out to dinner with your loved one. We will be doing all kinds of fun activities like obstacle courses, high energy games, Valentines art, special treats, and even squeeze time for dinner in there somewhere.

Why not take this opportunity for everybody to enjoy the night? It's going to be a Valentine's Day party of epic proportions with almost all of the Kids' Club staff on hand to bring the ultimate fun - especially for the dance party that occurs in the group fitness room!

Please sign up in Kids' Club , at the front desk, or email [email protected] to reserve your spot today.
Space may be limited for this event so sign up soon to reserve your spot!
Special Events at the club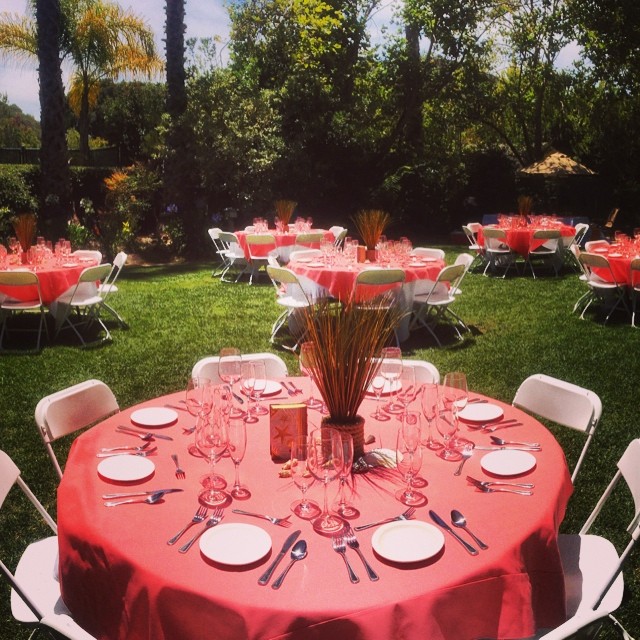 No better way than to start the year off than with a PARTY! The Avila Bay Athletic Club & Spa is the perfect venue for any special occasion! Our mission at the Avila Bay Club & Spa is to ensure your happiness and satisfaction with the planning and implementation of your event. We tailor each and every event to result in a day (or evening) that is enjoyable and stress-free, and one that creates a beautiful lasting memory for yourself, your family, and your friends. You will find our staff to be personable and experienced. Attention to detail and superb service are our specialties. Our skilled and accomplished Oasis Grille team is always eager to please, offering the convenience of on-site catering and a wide variety of delicious menu/banquet choices. The Avila Bay Club & Spa is the ideal site for a memorable celebration! Questions? Please contact Travis Hawley at 805-595-7600 ext 113 or [email protected]
No Wine Club in February
We apologize for the inconvenience, but this month there will be no third Friday wine down. Avila Bay Athletic Club & Spa is currently in the process of working out improvements to the wine club.