The Deck Lounge Hours
Varies depending on weather
Live Music Every Friday 5:00 – 7:00 pm! (The majority voted for Fridays for now)
Friday, December 9 – No Deck Party
Friday, December 16 – Holiday Potluck Party w/ DJ Buddy
Friday, December 23 – Jon Stephen – Classical Guitar w/ Holiday Favorites
Friday, December 30 – Reggae w/ Vance Fahie


Holiday Club Hours
Close Early at 4 pm for Staff Holiday Party – Sunday, December 11
Close Early at 2 pm – Saturday, December 24
Closed for Christmas Day – Sunday, December 25
Close Early at 5 pm – Saturday, December 30
Closed for New Year's Day – Sunday, January 1
Upcoming Events
San Simeon Hike – Thursday, December 15
Member Holiday Potluck & Deck Party w/ DJ Buddy – Friday, December 16
Dinks & Drinks - Saturday, December 17
Parent's Night Out (It's Back!) – Saturday, December 17
Pimso Preserve Hike – Saturday, December 17
Dink The Ball Mixer - Sunday, December 18
Ugly Sweater Tennis Mixer – Friday, December 23
Holiday Helpers Kids' Camp – December 26-30
Resolutioners Kids' Camp – January 2-6
A Note – And Lots Of Photos – From Travis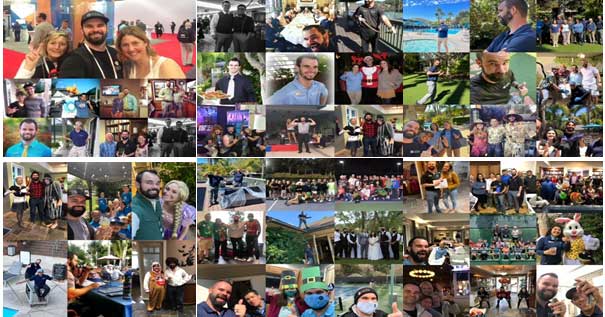 A dream come true… As one chapter ends another begins…
After 12 amazing years my time at the Avila Bay Athletic Club & Spa has come to an end. As some of you know, I recently accepted the role as General Manager at our sister location in Paso Robles. I've been overwhelmed with emotions as I transition to this new position. I want to thank all of our amazing club members for your dedication to the club and for welcoming me into the ABAC family. I was hired by Nancy in January of 2011 to work part time at the front desk. Through the years I was blessed with the opportunity to move into other departments and from part time to full time, and many of you were with me every step of the way. From Front Desk to Membership to Special Events Manager then Front Desk Manager to Assistant Manager, I have loved every minute. The club truly is such a special place and has always felt like home for me. I could never have imagined that part time job becoming such an important part of my life, and I'm so grateful for all the friendships and memories I've made along the way. It honestly hardly ever felt like "work." I got to spend my days with my best friends in a beautiful location with some of the kindest and funniest people. I can honestly say I don't think I ever had a bad day at work. I will miss seeing all of you so much and I am forever grateful for our time together. I also want to thank some of my closest employees starting with my other half Miguel Salcedo, Amy Kueffler, Patty Harmon, Mitch Emerson, Michael Marquez, Johnny Punches, Ni Duran, Suzanne Smith, Caesar Flores, Jan Berdar, Dede Lockmiller, Kristin Alexander, Cheyanne Heacock, Lili Bernard, Chase Crow, Raul Rojas, Breanna Favela, Gary Schmidt, Kobi Ikenoyama, Grace Mann, Ahna Bishop, Barbara Howard, Aaron Golab, Dana Lee, and sooo many more I could go on forever. You guys were and are the heart and soul of the club and I am forever grateful to you all and for all you taught me and for your unwavering support to make our club the absolute best place ever!
Lastly, I want to thank our General Manager at ABAC. To Nancy Terrell: Thank you thank you, thank you. Working for you has been one of the greatest experiences of my life. You took a chance on me, and I will never forget it. Your mentorship, guidance and friendship means the world to me and you will always be one of my best friends and biggest supporters. Without you the club would be nothing like it is today. Your kindness and work ethic are second to none and it's been a privilege to work under your leadership. Thank you for all that you do for me, our employees and our members. I will definitely be calling you all the time for help! You will always be my boss and I'm so thankful for you!
In the end I hope you all know how thankful I am for everyone at ABAC and I can't wait to visit as much as possible. You will see me from time to time and I can't wait to see what this next chapter has in store for me!
"You cannot discover new oceans unless you have the courage to lose sight of the shore"
-Travis Hawley
Retired Assistant Manager
Retired Front Desk Manager
Retired Special Event Manager
Retired Maintenance Manager
Retired Summer Camp Director
Retired Club Jokester
Fitness News

The holidays are here and with all the celebrating and fun comes an increase in our schedules which can leave us feeling completely stressed! And as our schedules become more hectic it's easy to become overwhelmed and miss out on the joy that this time of year can bring. One way to manage stress is exercise. However, it is easy to let this important part of our lives go when our schedules get overloaded. The American Council of Exercise reminds us that it's better to "exert yourself for 10 minutes if that's all you have. Your body responds to the challenge of exercise, not to the amount of time you spend doing it" I always tell my clients it's better to do a little bit than nothing at all! It is good for your mind and body!
In addition to our rigorous group exercise classes, ABAC offers a variety of yoga and stretch classes that are good for centering our minds and will leave you feeling calm and refreshed this season!
-Suzanne Smith
Fitness Director
Member Holiday Potluck Deck Party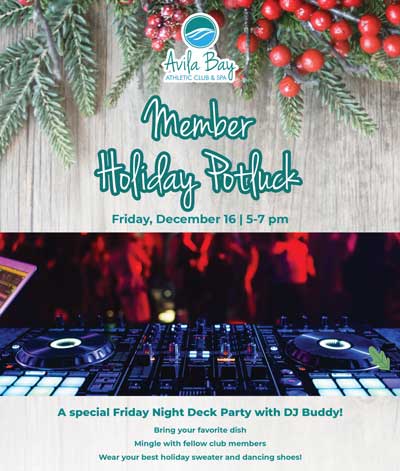 Ugly Sweater Tennis Mixer

Friday, December 23
4-6 pm Mixed Doubles with Michael Marquez
6-7 social time at the Deck Party
Join us for a free mixed doubles event! Play some fun tennis, mixed with holiday cheer! Don't forget to wear that ugly holiday sweater you have been storing, or your very best holiday gear (that allows you to still play tennis)! Best dressed winner gets a free drink and Lounge Menu appetizer!
Pickleball Events
Courts are available for use at any time until we finish up the permanent nets and fencing. There will be much more organized programming in the future, along with reservable court times.

Dinks & Drinks - First Pickleball Event!
Saturday, December 17
11am-2pm
Come play pickleball with fellow members! All levels are welcome. This is a free drop-in event for all members with a full membership. All participants will receive a coupon for a free drink from the Oasis Grille!

Dink The Ball Pickleball Mixer
Sunday, December 18
8am-11am
Come play pickleball with fellow members! This is a free drop-in event for all members with a full membership. All levels are welcome, and members may bring a guest to this event for free.


Holiday Helpers Kids' Camp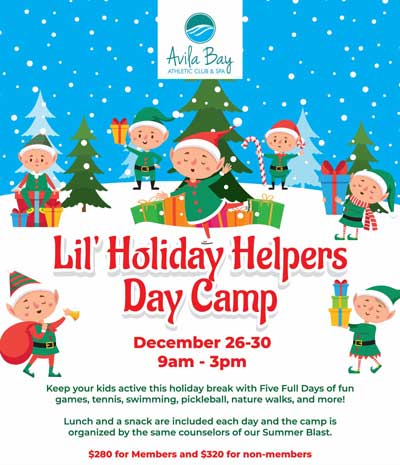 Resolutioners Kids' Camp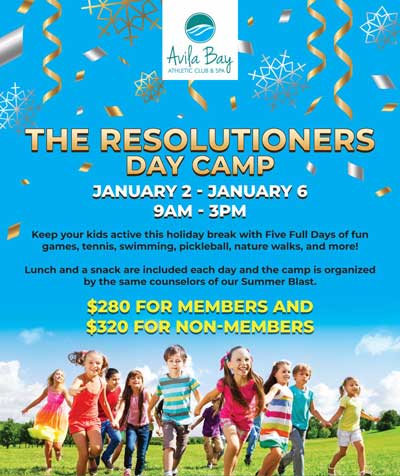 Parent's Night Out

San Simeon Hike

Pismo Preserve Hike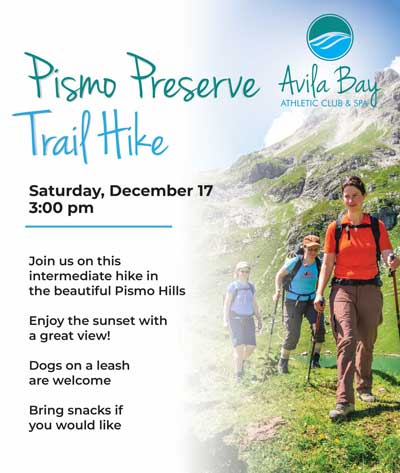 Member Referral & Upgrade Special

Refer Your Friends and Share the Fun!
Invite and refer your friends to the club and you will receive $100 on your account when they join the club in December! Our referral program is usually $50, but this month, you will have some extra cash on your account to enjoy at the club! If you have any questions or would like a day pass to give to a friend, please stop in to see our membership staff.

No Upgrade Fees In December!
Upgrade to add tennis and pickleball. Pay NO UPGRADE FEES in the month of December! Join now to have use of the 4 new pickleball courts and use of the tennis courts. This special is for current members only.

For more information about either special, contact our membership department staff in person, by email at [email protected], or call 805-595-7600 ex: 105
Give Hope: Support the Cancer Well-fit Program this Holiday Season

As the year ends, we hope that you will consider making a gift to support cancer patients in our community who participate in ABAC's Cancer Well-fit program. Cancer Well-fit is a 501c3 non-profit organization which ABAC has been hosting since 2008. For these past 14 years, we have provided social support and supervised personal training to strengthen patients during their cancer journey at no cost. This program has directly and positively helped so many of our neighbors.
During this season of giving, many people reflect on what they are most grateful for – the people, places and experiences that have made a difference in our lives. As the year draws to a close, people often choose to express their gratitude by making a gift to support organizations with causes near to their heart. Thanks to support from people like you, and from our generous neighbor the Avila Beach Community Foundation, this unique program is able to provide its important benefits to cancer patients and their families. This helps ensure that those most in need have access to the vital resources that the Cancer Well-fit program provides.
You can help make sure that the Cancer Well-fit program is always available by donating to the program
today. 100% of every gift goes directly to support the program, impacting the lives of patients and providing them with hope. The Avila Beach Community Foundation will match every dollar received with one of their dollars, doubling the effect of your gift! We are so grateful for this ongoing support! To make a gift, visit: www.cancerwell-fit.com, click on the donate button or mail your gift to Cancer Well-fit, c/o Avila Bay Athletic Club & Spa, P.O. Box , Avila Beach, CA 93422.
Thank you for your generous support of our program and services.
Click Here To Donate To Cancer Well-fit
Fall / Winter / Spring Club Hours
Monday-Thursday 5:30 am – 9:00 pmFriday 5:30 am – 8:00 pmSaturday 7:00 am – 8:00 pmSunday 8:00 am – 8:00 pm Please do not ask the staff to let you into the club early. We need to give everyone, including the pool company, time to get the club ready each morning. No one will be let in early.
Kids' Club Hours (by reservation only)
Note - We do not allow kids that appear sick, with even a runny nose, in Kids' Club.
Please make a separate reservation for each child.
PLEASE CALL THE FRONT DESK THE NIGHT BEFORE IF YOU PLAN TO BRING AN INFANT. We must plan ahead for infants.
Monday through Friday 8:30 am - 12:30 pm
Tuesday through Thursday 3:30 pm – 6:30 pm
Friday 3:30 pm – 6:00 pm
Saturday 9 am – 12:30 pm
Sunday 9 am – 12:00 pm