What's Up At ABAC
Holiday Club Hours
Sunday, December 12 - Close early at 5 pm for staff Zoom party
Friday, December 24 – Close early at 2 pm
Saturday, December 25 - Closed
Friday, December 31 – Close early at 5 pm
Saturday, January 1 – Closed

December Calendar Of Events
Saturday, December 11 – Movie Night In The Park The Grinch 6:30 pm
Sunday, December 12 – Pickleball 2:00-5:00 pm
Monday, December 13 to Friday, December 24 – 12 Days Of Christmas Member Specials
Monday, December 13 to Friday, December 24 – My Zone Challenges
Tuesday, December 14 – Free Night Club 2 Step Dance Party 5:30-7:00 pm
Wednesday, December 15 – Ugly Sweater Tennis Mixer & Beer Tasting 5:30-7:30 pm
Thursday, December 16 – Paint & Sip 5:00-7:00 pm
Saturday, December 18 – Parent & Child Tennis Doubles Round Robin 1:00-4:00 pm
Monday to Thursday, December 20-23 – Lil' Holiday Helpers Camp
Friday, December 24 – Christmas Eve Dinners To-Go 12:00-2:00 pm
Monday to Thursday, December 27-30 – Resolutioners Day Camp
Friday, December 31 – New Year's Eve Dinners To-Go 3:00-5:00 pm
Group Exercise Classes

You asked so we are trying it out! Many surveys have asked for later group fitness classes, so we are trying some new class times. Attendance has not been good so far, so if you are one of the folks that asked for later classes, can you please email [email protected] with feedback about why these times are not working for you, or if you are looking for different class formats.
Come check out these evening classes:
Cycle at 5:15 on Mondays
LIFT at 6:15 on Mondays
Core & Sculpt at 5:15 on Tuesdays
Yin Yoga at 5:30 on Wednesdays
Cycle Sculpt at 5:30 on Wednesdays
Groove at 5:00 on Thursdays
LIFT at 6:00 on Thursdays

Click Here To View A Complete Group Fitness Schedule
Movie Night In The Park

The Grinch
Saturday, December 11
6:30 pm
Join us for a fun evening out in the back garden watching The Grinch! Movie Night is free, and members can bring a guest. Bring your lawn chairs & blankets and we will provide the hot chocolate & popcorn! Email [email protected] if you have any questions.
Pickleball Mixer

Sunday, December 12
2:00 pm – 5:000 pm

Bring your paddle and come play some pickleball! It's great way to meet someone new, and possibly learn a new sport. We will set up our temporary court lines. Please sign-up online through the app under Programs – Category "Tennis".
12 Days Of Christmas Membership Specials

Monday, December 13 to Friday, December 24

We are so darn grateful for our members! This year we stepped up the giveaways! We will continue the tradition of a special each day, and additionally will have a daily drawing for really cool prizes. The awesome prize list includes:
1 Free Week Kids' Winter Camp, 1 Hour Swedish Massage, 1 Hour Facial, 5 Café Coupons, ½ Hour Tennis Lesson, 50 Min Private Training Session, Any One Pro-Shop Item, 1 Swim Lesson, $100 Cliffs Resort Gift Card, $100 Vespera Resort Gift Card, $100 ABAC Gift Card, and a 1 Hour Cupping Massage.
Each day you come to the club, enter your name into that day's drawing!
12 Days Of Christmas My Zone Challenges

Monday, December 13 to Friday, December 24

This fun group of challenges coincides with the daily member specials. Each item you get marked off gives you another entry into the daily prize drawing, and each 100 MEPS you earn gets you another entry as well! There are cards in the lobby showing the MyZone daily challenges, so grab one today as a great reminder of all the fun healthy things to try this month. If you are a registered ABAC user of your MyZone tracker, you should have received a separate email letting you know about the upcoming challenge. We have MyZone belts for sale in the lobby, offered at 30% off during the 12 Days of Christmas, for any member that wants to start getting in on using this motivational exercise tool.
Night Club 2 Step Dance Party

Tuesday, December 14
5:30 pm – 7:00 pm

Join instructor Alicia Portillo at our dance party! This event will start with a short happy hour from 5:30-6:00 pm, followed by a free dance lesson and dancing. Holiday attire is a must! This event is free for members and their guests.
Ugly Sweater Tennis Mixer & Beer Tasting

Wednesday, December 15
5:30 pm – 7:30 pm

Start with a clinic with Tennis Director Michael Marquez and end with a special craft beer tasting! Wear your favorite ugly sweater. $30 per person and members only please. Please sign-up online or through the app under Programs – Category "Tennis".
Paint & Sip

Thursday, December 16
5:00 pm – 7:000 pm

Come paint a gift to remember this December with our very own instructor Cindy Burnside! All art supplies and a glass of wine or beverage are included. The class is $45 per person and space is limited. Sign-up in the lobby or email [email protected].
Parent & Child Tennis Doubles Round Robin

Saturday, December 18
1:00 pm – 4:00 pm

Join fellow members in this fun holiday event. Tennis Director Michael Marquez is running this event. Please sign-up at https://app.universaltennis.com/events/74290
Christmas Eve Dinners To-Go by Oasis Grille

Friday, December 24 12:00 pm – 2:00 pm

Roasted Turkey w/ Pan Sauce or Maple Glazed Ham
Corn Cheddar Cheese Stuffing
Heirloom Baby Carrots and Green Beans
Brioche Roll
Apple or Pumpkin Pie
$23 each plus 15% gratuity
Sign-ups will start next week.
Lil' Holiday Helpers Day Camp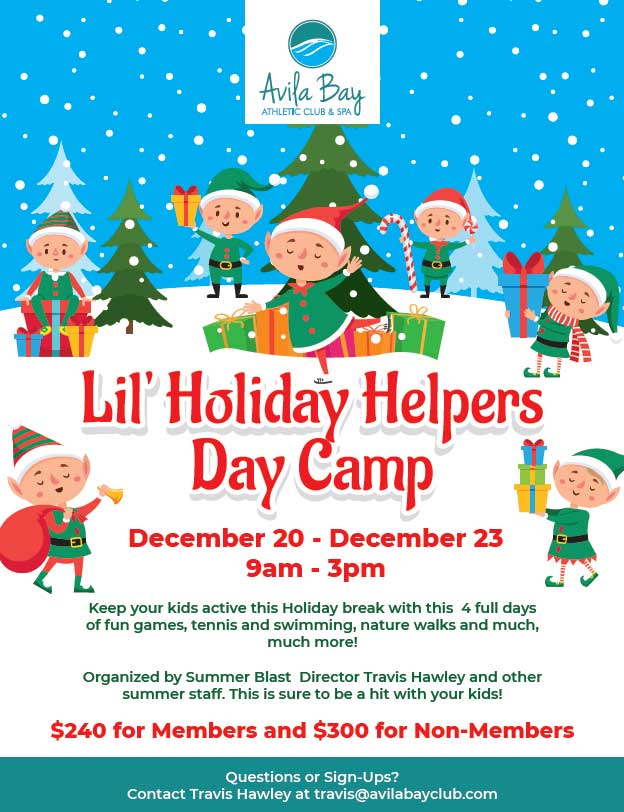 Resolutioners Day Camp