Wednesday Night Deck Party w/ Devin Welsh –August 9
Flamenco Dance Class – Thursday, August 10
Pickleball Round Robin – Sunday, August 13
Junior Showdown Tennis Tournament - August 12-13
Tennis Mixer & Beer Tasting - August 16
Wednesday Night Deck Party w/ Brian Black –August 16
Wednesday Night Deck Party w/ Jon Stephen –August 23
Happy Hour w/ Vintage Renegades - Friday August 25
Wednesday Night Deck Party w/ Reggae Vance Fahie –August 30
Wine-derful Last Thursdays - ABAC Wine Club - August 31
Happy Hour w/ Cuesta Ridge - Friday September 1
Club Updates
Please have patience when you check in to the club. There are some wonderful new staff members working at the front desk, and they really need your help by stopping to check in and telling them your first then last name. They are working hard to get to know everyone!
We have a few other reminders for everyone:
Guests will not be allowed into the club without a member. Please meet your guest at the front desk. If you are not able to be at the front to check them in, please call us ahead of time on the same day, to let us know.
Anyone caught with a reservation prior to 7 am four days ahead of time will have their reservation cancelled. Please do not take advantage of a front desk staff person that may not catch on to what you are asking them to do.
We want families to have a good time at the club too, but please keep in mind we do have some special rules for juniors:
o Kids under 16 are not allowed in the large hot tub or in the adult locker rooms.
o Kids under 12 are not allowed in the workout rooms. Those that are 12 & 13 that have met with a trainer first, can workout with the parents. Once kids are 14 they can workout and swim on their own.
o Kids 11-13 can take a group fitness class with a parent. They need to be 14 in order to participate in a Cycle Class.
Please wear non marking soled shoes on the tennis courts. Let's keep our new beautiful courts looking spiffy!
Athletic shoes are required in the Cardio & Weight Rooms. You may take them off if you are in the corner stretching or doing mat work.
We ask that you wear family-friendly pool clothing at the club. (No thong bikinis, etc.)
No pool parties are allowed at the club, and all other parties must be reserved through our special events director Ahna Bishop. She can be reached at

[email protected]

.
Cell phone policy – No talking on phones in all workout areas and locker rooms. Absolutely NO SPEAKER phone usage is allowed in any area of the club. This includes watching videos on the speaker.
No outside alcohol is allowed in the club. If you would like to bring a special bottle of wine and pay the corkage fee, please ask the manager on duty to help you.
Please apply all sunscreens at least 30 minutes prior to entering the pool. If you don't, it just washes off into the pool causing issues for our pool systems, and a lack of effectiveness for skin care. A good rule of thumb is to apply it at home before coming to the club.
Thanks for your help in keeping the club your healthy and happy place!
ABAC Fitness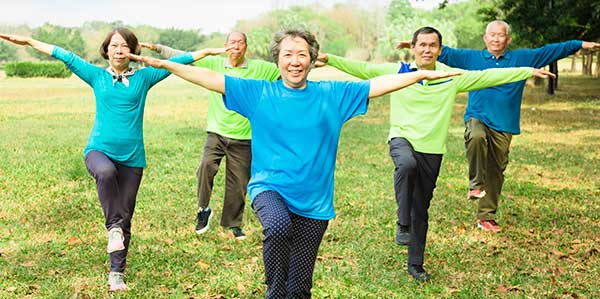 A little balance goes a long way!
Balance is an important part of our fitness and is something that we need on a daily basis! Having good balance isn't something we usually think about, however if we lose our normal level of strength often our ability to balance declines. With that so does our confidence to navigate without the worry of falling.
By adding an aspect of balance into your workouts it helps to prevent falls, increase agility, and helps improve your movement of everyday life. Everything we do from walking to getting out of a car requires balance.

As a personal trainer I incorporate an element of balance into almost every workout for my clients. We also work on leg and core strength as they all go hand in hand. It is so rewarding to see the positive improvement of balance and increased confidence in my clients!

Our club also has some great group exercise classes that focus on balance! Tai Chi, Qigong, Bo Stretch, and Body Balance are just a few! Give them a try and watch your confidence and strength grow!

Check out our group fitness schedule to see what times would work for you, also if you aren't sure which class is right for you let me know and I'll help direct you to the class or trainer that is right for you!
Suzanne Smith
Fitness Director
[email protected]
Fit For Fall Small Group Trainings!
Jump into a group or grab two or more of your friends and get ready to grow in your fitness in a fun and challenging way in small group training! We have some new times to offer you!

8 sessions/ four weeks
A 6:00am group will be offered on Friday mornings
8:45am on Monday and Wednesdays
5:00pm on Monday and Fridays

These times don't work for you? Let us know what will work for your group and we will do our best to accommodate you!
One On One Personal Training
ABAC has highly qualified certified trainers to help you achieve your best fitness level! No matter what shape you are in, we are here to help you in a safe one on one environment tailored to your needs. Email [email protected] to be set up with your trainer!
Awakening The Chakras Through Breath & Yoga Workshop
Join us for a two-hour workshop taught by our very own Gwynne. This two-hour class will include gentle movement on the mat, combined with focused breathing techniques and deep Savanna Relaxation. With guidance and tips on developing a personal home practice. Sunday, September 10th, 1pm - 3pm
$25 members / $35 non-members
All levels welcome
We Care About You & Your Kids Safety!

Lifeguards Are Not A Substitute For Parental Supervision.
Pool weather is here, and we are excited! Use of the pools increase, and we want everyone to be safe.

Please make sure you are directly supervising your children under 14 when at the Club.

Even with lifeguards on duty, which there will be this summer, it is imperative that children in the pool never be left unattended or not directly supervised.

Drowning is fast and silent. It can happen in as little as 20-60 seconds. Drowning doesn't always look like we would expect. Please help us stay safe at the club!
Thursday Night Dinners To-Go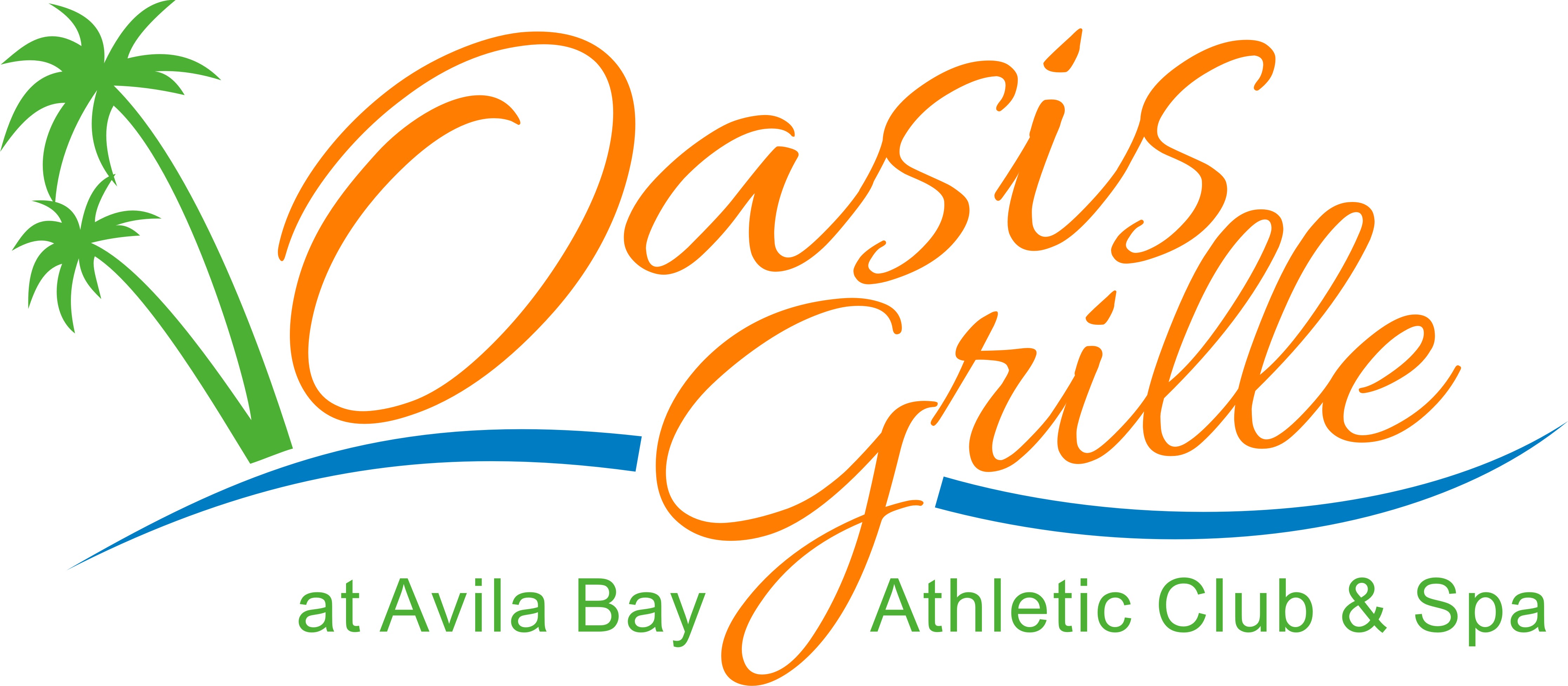 Every Thursday From 4-6 pm

Our special weekly dinner has been moved to Thursdays, since the deck parties have moved back to Wednesdays for the summer and fall. So don't worry – we are still whipping up a fabulous special dinner each week.
Sign up in the lobby, or email [email protected], to reserve your lunch/dinner and pick-up time.


Kempo For Kids
Thursdays, 3:45-4:45 pm
4-12 Years Old
Saturdays, 2:30-3:30 pm
13+ ages
$75 members/ $115 non-members per month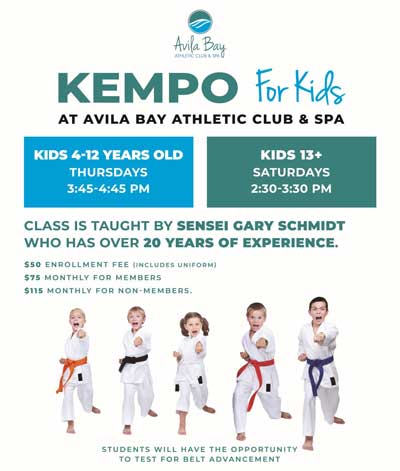 Flamenco Dance Class
Thursday, August 10
6pm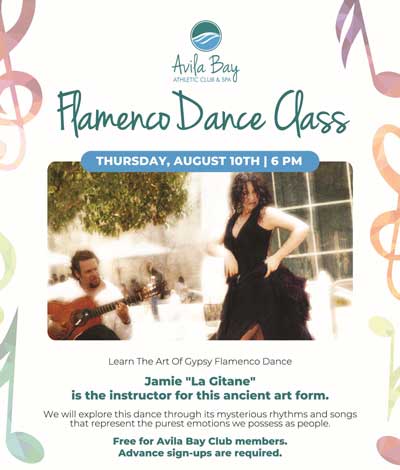 Junior Showdown Tennis Tournament
Saturday-Sunday, August 12-13
(please note that you will see limited court availability on these days until the draws are completed, and then open courts will be released.)
See the tennis tournament page on our website for more information.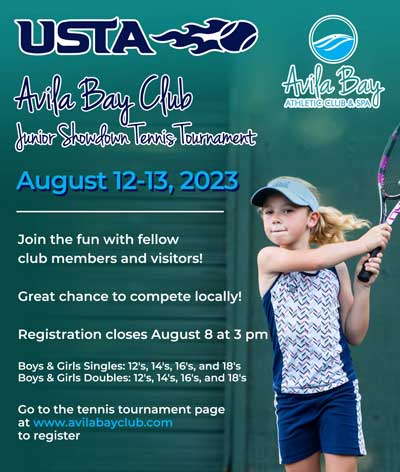 Pickleball Round Robin
Sunday, August 13
11am - 1pm
Free for Full Members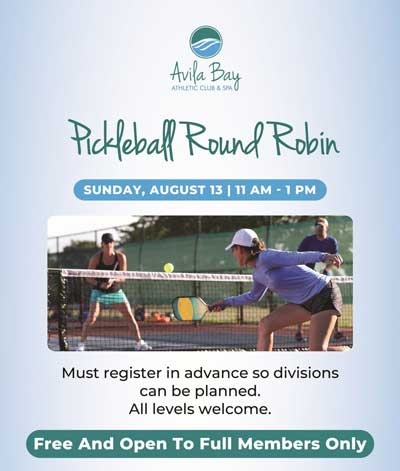 Tennis Mixer & Beer Tasting
Wednesday, August 16
5:30 - 7:00pm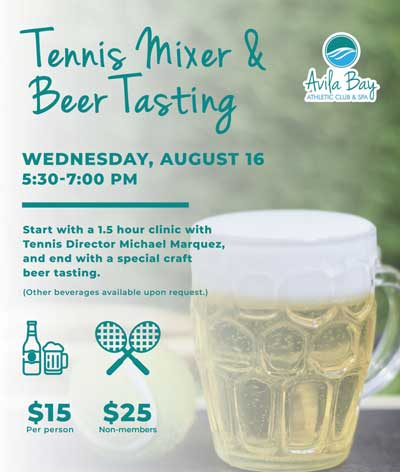 Wine-derful Last Thursdays!
ABAC Wine Club Is Back!
Thursday, August 31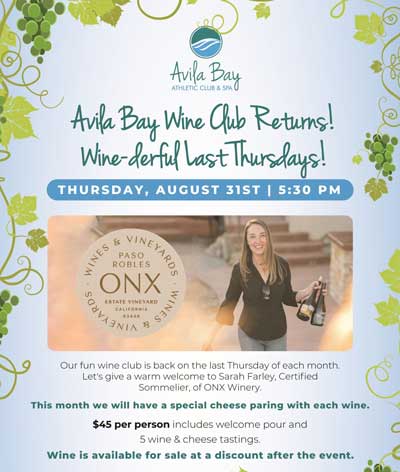 Friday Night Happy Hours
August 25, September 1
6-8 pm
Open to the public
Wednesday Night Deck Parties
Every Wednesday Night
6-8 pm
Open to the public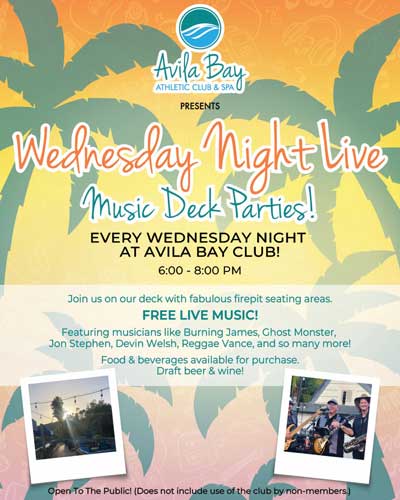 Summer Club Hours
Monday-Friday 5:30 am – 9:00 pm
Saturday 7:00 am – 9:00 pm
Sunday 8:00 am – 8:00 pm
Kids' Club Hours (by reservation only)
Note - We do not allow kids that appear sick, with even a runny nose, in Kids' Club.
Please make a separate reservation for each child.
PLEASE TEXT 805-704-5061 IF YOU MAKE A RESERVATION FOR AN INFANT. We must plan ahead for infants.
Monday through Friday 8:30 am - 12:30 pm
Tuesday through Thursday 3:30 pm – 6:30 pm
Friday 3:30 pm – 6:00 pm
Saturday 9 am – 12:30 pm
Sunday 9 am – 12:00 pm