What's Up At ABAC
The Deck Lounge Hours
Wednesday-Friday 4:30 – 7:30 pm
Saturday & Sunday 12:00 – 5:00 pm
Live Music Every Wednesday 5:30 – 7:30 pm!

Deck Parties
Wednesday, August 17 – Live Music w/ Jon Stephen
Wednesday, August 24 – Live Music w/ Robert Herrera
Wednesday, August 31 – Live Music w/ Lillian Dennis

Friday Night Happy Hours
Friday, August 19 – Live Music w/ JD Project
Friday, September 2 – Live Music w/ Resination


Dear ABAC Club Members,

Thank you for your patience this month as we transition to the new club software! We continue to work on improving the workflows and fixing conversion errors. If you notice an error on your account, or are having trouble logging in, please email [email protected] to let us know. This will allow us to handle all of your inquiries in an organized manner and be able to track the issues.

A few things to note:
-Members are required to check in to the club at every visit. You can now use your scan card to swipe and walk right in. Please make sure you hear the beep before continuing on. We can make a scan card for each person in your family as well.
-We continue to charge a $20 no-show fee for pool reservations. You no longer have to make sure we also check you into your pool lane with the new system. You just need to make sure to check in to the club and using your scan card is the easiest way.
-Café items charged to your account during the conversion process were imported with dates and not descriptions. We got the itemized descriptions to start working again on August 2. Yay!
-We have fixed the workflow so you can now add a tip again on a printed café ticket at the time of sale. The staff really appreciate this! Tips go to the front desk staff and to the cooks.
-When trying to recover your username, your phone number needs to be entered all as digits with no characters. Adding a – or () will cause an error to appear, without an explanation of why there is an error. (We agree, that is not nice, and have let the software company know.)
-Your member portal does not include a copy of your monthly statement. You can generate one by choosing the transaction dates of July 1-August 1. (In the future, the dates will be the first day of the month to the last day of the month.) Please email [email protected] if you need assistance with your transaction listings.
Thanks again for your patience while we work out the kinks. The staff has been working very hard to make your experience better.
-Nancy Terrell
General Manager
Online Access for Accounts
Go to: members.avilabayclub.com
Your login and password are your scan code (from the back of your scan card). If you need to know what your scan code number is, please email

[email protected]

.
We highly suggest that you change your login ID (username) to something you will remember.
There is no app at this time. We recommend saving the website as a tile on your homepage. It is mobile friendly, and easy to use on a phone. Please save (or bookmark it) on the screen prior to entering your password. It needs to be saved on this screen, not the one after actually logging in. Otherwise, you will get an error next time you try to login.
Fitness News
Saturday yoga classes have continued to increase in size, causing a need for a class size limit. Beginning this week, yoga class at 10:30 am on Saturdays requires sign-up. This can be done in your member portal. The class size limit is 25 members. Please cancel your reservation if you change your mind about attending. The new system allows for a waiting list, and the next person on the wait list will be notified when a cancellation occurs so that another person may register. The class is still free, but requires advance sign-up (as do the TRX classes).
Click Here To Download The Full Group Fitness Schedule
LONGEVITY
What does longevity really mean? Is it living a long time or is it living well for a long time? As we age, and we are all aging, it is important to remember having a well rounded, intentional approach to your own health will reap the best benefits. You may really enjoy your special class or sport and gravitate to repeating what you love but to mix in the many elements needed for whole health are important. It's like getting an oil change for your car. What am I talking about? Make sure you include a number of the following into your life.

Balance - Balance is one of those things that disappears quickly when you don't use on it. The good part is that you can usually improve it when practiced. Maybe stand on one foot while brushing your teeth or take a class that challenges your balance.

Flexibility - Often overlooked is the importance of being flexible. Tight muscles create tension on joints and are often a cause of joint pain. Lack of flexibility contributes to poor posture and hinders even the most basic of life's requirements such as getting dressed in the morning. Make sure to stretch at least 3 times a week if not every single day. A little goes a long way.

Strength training - Our muscles atrophy exponentially as we age so it actually becomes MORE important to incorporate a dedicated strength training program into your life as you age. Your muscles are the foundation for being able to move freely in life so make sure you spend time safely working on strength. I highly recommend hiring one of our dedicated trainers if you need help developing a program for yourself.

Sleep(rest) and Hydration - Both essential for your body (and mind) to work efficiently and effectively. Aim for 7-8 hours of sleep a night and a minimum of 80oz of water daily.

Meditation (quiet time) - Learning how to be still and relax your brain and body relieves stress and helps you handle life in a calm and clear way. It allows you to get in tune with the mind/body connection. If finding that dedicated time is difficult try taking one of the many yoga classes that incorporate meditation at the end of class.

Remembering to give attention to these crucial elements of your health will most definitely contribute to living a long, well lived, life!
-Kristin Alexander
Fitness Director
Wednesday Night Deck Party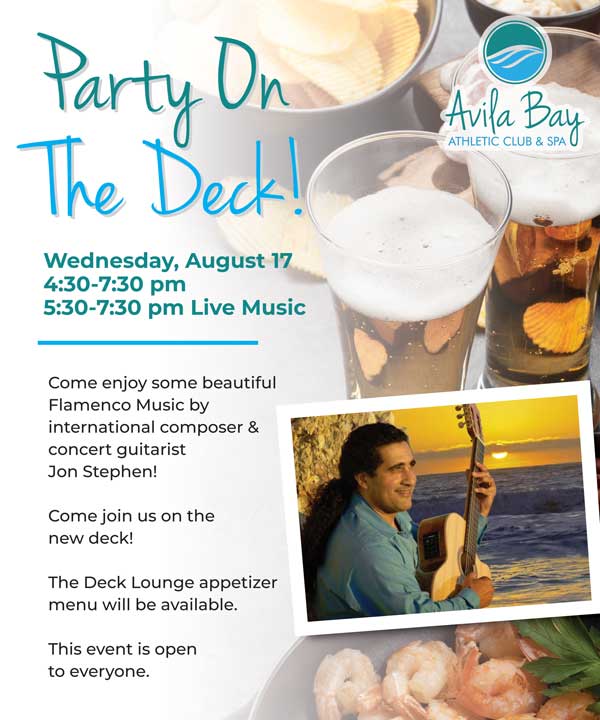 Friday Night Happy Hour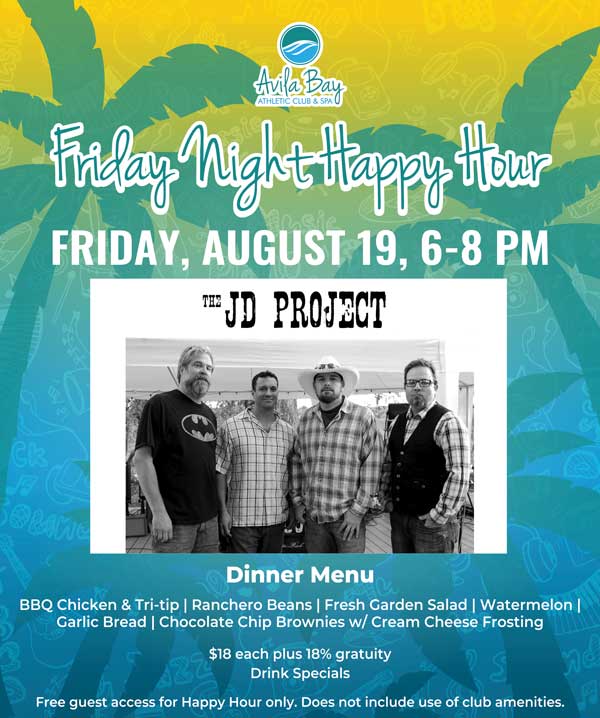 Summer Cornhole League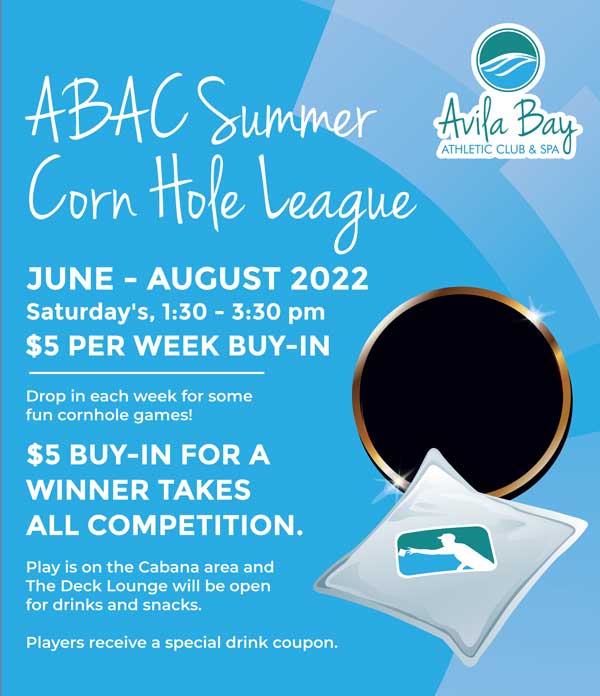 Pickleball Mixers – Twice The Fun In August!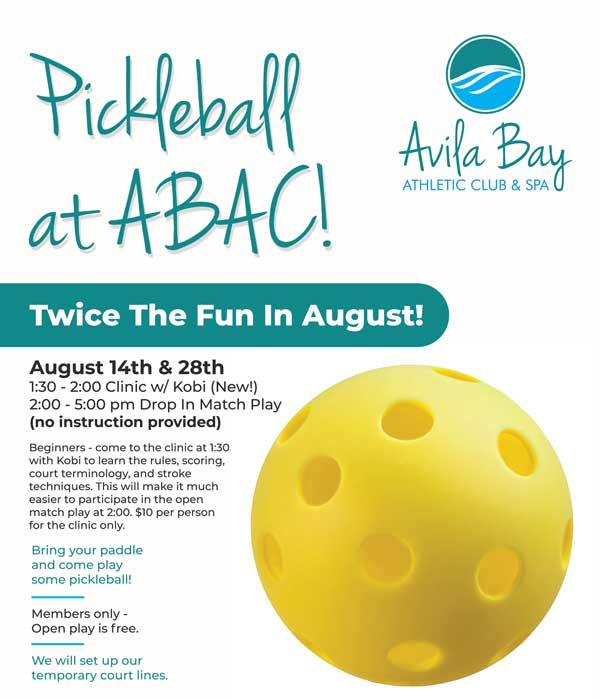 Aquatics News
The start time for kids' Wave Makers! after-school swim and water polo has changed slightly to accommodate the new later school schedules in some districts. Level 1 is now from 4:00-4:30 and Level 2 is from 4:30-5:30pm. It is still on Monday-Thursday each week. We have some openings for Level 1! Contact the aquatics department if you would like to sign up!

Don't forget--even though our summer group lesson program is over, we still offer private lessons year-round!
Meet Traci Granger
We are blessed to have this world champion as one of the club's coaches! Traci Serpa Granger has a BS in Kinesiology from Cal Poly SLO, and an MBA from Colorado State University at Fort Collins, Colorado. She swam AAU as a child and teen, and went on to Cal Poly SLO where she was an All American swimmer and team captain. Traci was the assistant women's head swimming coach at Colorado State Univ for two years and was then hired at Cal Poly SLO as the head men's and women's NCAA swim coach and professor of kinesiology. She then moved to Los Angeles and was an associate women's athletic director at UCLA for two years. Next, she was hired by El Camino College as the men's and women's swim coach and kinesiology professor for 32 years! She also taught A list celebrity private swim lessons in Beverly Hills, Bel Air, Brentwood, Malibu, and Santa Monica for several years.
Traci has been a United States Master's Swimmer for the past 22 years. She's broken and set several national records, currently holds a few Fina Master's world records, and has two Pan Am Games world records! She is happy to be back in the pool training early mornings at Cal Poly preparing for U.S. Master's Short Course National Championships in Irvine, Ca set for April 27-30th 2023, and Fina Master Swimming World Championships in Kyushu, Japan on Aug 2-11th 2023.
Traci looks forward to continuing to coach the Adult Swim Class at ABAC, along with teaching some private swim lessons. All ages and all stroke mechanics are her strengths. Thanks for being a part of our special team Traci! We appreciate your remarkable career!
We Care About You & Your Kids Safety!

Lifeguards Are Not A Substitute For Parental Supervision.
Please make sure you are directly supervising your children under 14 when at the Club. This applies to all areas of the club, and especially the pools. Never walk away from the pool area without your children being directly supervised.

Even with lifeguards on duty it is imperative that children in the pool never be left unattended or not directly supervised.

Drowning is fast and silent. It can happen in as little as 20-60 seconds. Drowning doesn't always look like we would expect.

Water watcher reminder cards will be passed out through the summer. Please read the card and help us stay safe.
Pool Rules Reminders

With summer approaching quickly, we would like to refresh our members on the pool rules. Following the pool rules allows for safety and fun for everyone.
Do not ever enter a reserved lane unless it is your reserved time. Members that arrive to swim and see someone in their lane, usually come back to the front desk for help. This causes a lot of problems.
The large pool lanes 3-6 are reservation only Monday-Friday.
Lane One is the Free Swim Lane. Anyone can be playing in that lane as well as swimming laps.
Children under age 14 must be directly supervised by their parents or guardian, even when a lifeguard is on duty.
Rules and requests made by staff must be complied with at all times.
Children who wear diapers must wear swim diapers.
No one under the age of 16 is allowed in the adult spa.
Remove and throw away band aids before entering the pools and spas.
Rinse off before entering the pools and spas.
For safety, the following are prohibited
Running, shoving, dunking, or hitting
Screaming or excessive noise
Diving in less than 8 feet of water
Glass containers
No food allowed in pool or spa
Flips, back dives, or spinning entries from the side of the pool
Throwing balls, with exception of sponge balls
No flotation devices larger than 24" by 24"
No water guns
Summer Club Hours
Monday-Friday 5:30 am – 9:00 pm
Saturday 7:00 am – 9:00 pm
Sunday 8:00 am – 8:00 pm
Please do not ask the staff to let you into the club early. We need to give everyone, including the pool company, time to get the club ready each morning. No one will be let in early.
Kids' Club Hours (by reservation only)
Note - We do not allow kids that appear sick, with even a runny nose, in Kids' Club.
Please make a separate reservation for each child.
Monday through Friday 8:30 am - 12:30 pm
Tuesday through Thursday 3:30 pm – 6:30 pm
Friday 3:30 pm – 8:00 pm
Saturday 9 am – 12:30 pm
Sunday 9 am – 12:00 pm