Summer Club Hours
Monday-Thursday 5:30 am - 8 pm (9 pm for Large Pool)
Friday 5:30 am - 8pm
Saturday 7 am - 8 pm
Sunday 8 am - 8 pm
Health Clubs Are Part Of The Solution!

We are very grateful for all that we can offer at the club right now. Our beautiful four acres have allowed us to spread out the indoor exercise equipment, so we can continue to boost our immunity by exercising! Check out these cool statistics since we opened on June 12:
Over 20,000 club visits since we opened, and we have had NO reported COVID-19 cases in our membership base! We are part of a national database of 2,877 clubs with over 49.4 million visits and a visit-to-virus ratio of .002%!

Here are some important reminders from nutrition.org.
During the Covid pandemic, many of us will be working out of our homes, homeschooling our kids, and feeling the stress of the unknown and possibly adhering to irregular schedules. Physical activity is one of the best forms of stress reduction and immune building you can do for yourself and your family.
Benefits of Exercise:
Physically active individuals usually live longer than those who are inactive or may have a risk of heart disease. Inactivity is an important risk factor similar to high blood pressure, smoking, or high cholesterol. These are some benefits of exercise:
Stress and anxiety relief: Stress and anxiety are rising with the current pandemic, and it can lower your immune response. Exercising releases chemicals in your brain, such as serotonin and endorphins which can help improve your mood, reduce the risk of depression and cognitive decline, and delay onset of dementia.
Immune support: Regular exercise helps your immune system function.
Weight management: It shouldn't come as a surprise that regular exercise paired with a balanced nutritious diet helps with weight management. Excess weight is associated with higher health risks.
Reduces health risks and prevents diseases: Regular exercise reduces blood pressure as well as risks of serious health issues such as type 2 diabetes, heart disease, and stroke when it's paired a balanced nutritious diet.
Bone, muscles, balance, and flexibility: Exercise also improves bone and muscle strength, and increases balance and flexibility. This is important for everyone, especially older adults because it can prevent falls and injuries. As for children, it aids with growth and development and sets healthy habits for the future.
For children, physical exercise can lessen behavioral issues such as ADHD and help with concentration during schoolwork which is important now that they're at home all the time.



Group Fitness Classes
We are thrilled to currently be offering 34 live classes at the club, and 66 Zoom classes from the combined CAC Clubs! This is more than twice as many classes as we offered before the club's closure. Once again we are grateful for all the outdoor space we have that can hold these classes. We added a few more this week. Please keep checking your club app for changes, as the group fitness schedule evolves as space allows us. All of the ABAC Zoom classes will be listed on the app as well, starting later this week!. The full CAC Zoom Class Schedule will continue to be emailed weekly.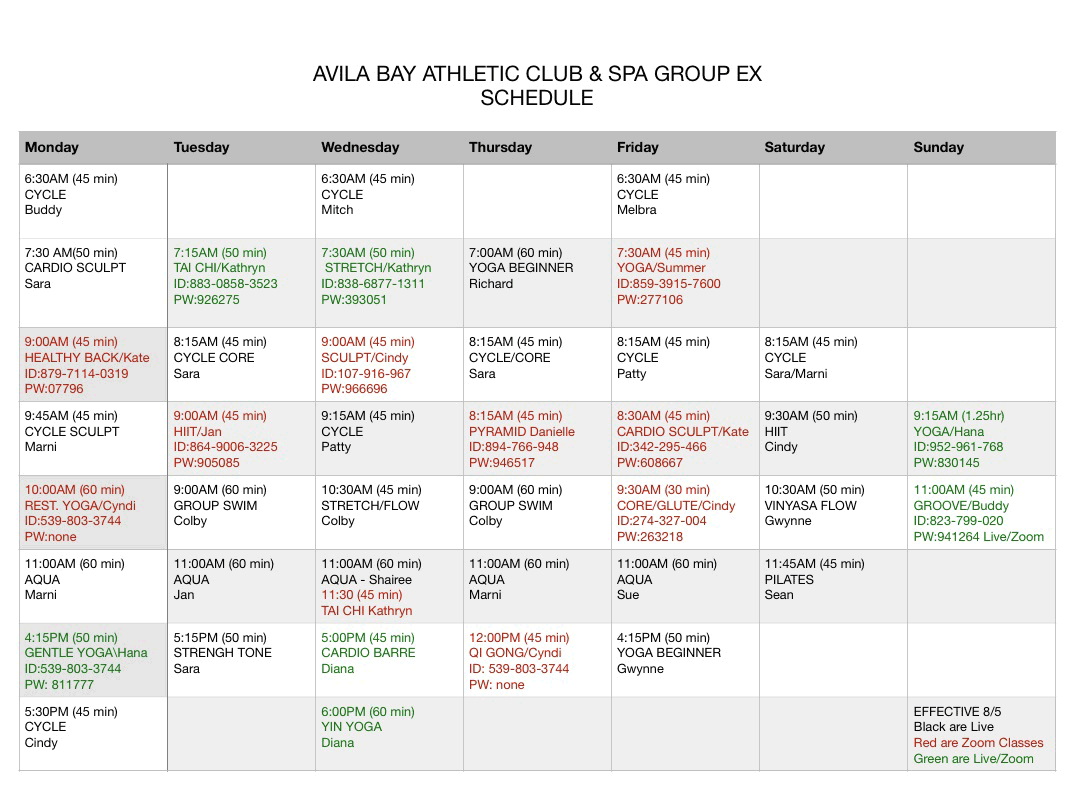 Click Here For The Updated Group Fitness Schedule
Reminders From The Staff

Thank you to so many members who have been considerate and understanding with us while we continue to adjust to changing systems. It has been so awesome to see familiar "eyes" coming to the club! Please respect the club rules, and have patience with us while we enforce state and local mandates during this time. It is not easy to offer the excellent club experience you love while still keeping everyone as safe as can be under these circumstances.
Face coverings are required in the lobby, tennis court walkway, and locker rooms for anyone over 2 years of age. Everyone will be asked to do this, every time they come to the club, so please do not give the staff a hard time about it. A towel or t-shirt does not count. You will be asked to go back to your car to get your mask if you don't have it on.
All equipment used must be thoroughly cleaned after each use by each member. Members have been doing a fantastic job so far - THANK YOU!! We are also cleaning all the equipment often throughout the day, and each locker room almost every hour.
Six feet of physical distancing is required through the whole club. Please stand six feet away from staff and other members.
Please be very careful about leaving belongings behind, as we are not able to store them for very long.
We are not providing towels at this time.
There is a $20 fee for pool reservation no shows, and for cancellations less than 12 hours before your reservation.
Reminder that the small pool has five household colored sections. You must reserve an area using the app or online, and each household can only reserve one small pool spot per day. Please do not move over to share someone else's household section when yours is over. We have the sections scheduled in order to keep the pool under a certain capacity. If you would like to stay longer than the 90 minutes, feel free to ask the front desk if there is any free time after your reservation. Please turn the tag on your table to the red side before you leave.
After School Kids' Program

6 Sessions - August 17 - 19 and 24-26
Mondays, Tuesdays, & Wednesdays
3:30 PM to 5:30 PM

Kids Circuit Training - Speed & Agility Training - Self-Defense Training - Tennis Instruction - Swimming Instruction

$165 Members / $225 Non-Members
There are only 12 spots available, so you must sign-up for the whole session.
Contact Travis by email at [email protected].
Tribe Team Training

You still have time to sign up for Season 5 of TRIBE! The price for the 5 weeks for members is $160 and non-member is $200 total. We have two offerings.

Tribe Core with Colby
Monday and Wednesday 9-10am

Tribe Life with Danielle
Monday and Wednesday 10:30-11:30am

If you are interested in joining, please email [email protected].
$$$$ Refer Your Friends to the Club! $$$$

Now is a great time to share the benefits of the healthy lifestyle we love at the club! When you refer a friend or family that joins the club in July, you will receive $50 on your account! For more information, please contact Amy: [email protected], or Travis: [email protected] in membership. 805-595-7600 ext: 105.
Fitness Department Updates

Our FREE drop 2 sizes is going really well and the commitment from many is exciting! I am looking to see some real results from this go around. We are in week four of a six week nutritional program. Email me if you are interested in getting in on the next round at [email protected]

In other news, hiring a personal trainer right now is a fantastic way to feel extra safe. We are here for you and make sure all of your equipment is safe and clean before you touch it. We design dedicated areas outside to work with plenty of space to move. If you are hesitant to come back to the club but are feeling the effects of staying home and being more sedentary please don't hesitate to reach out so I can get you set up. It has become abundantly clear our greatest asset is our health, and it is well worth the investment!
Aquatics Update

Our summer group lessons are over, but we still offer private lessons year-round! We are also starting small-group swim practices for kids who are swim-team ready. In order to limit the amount of exposure between kids and to keep as many pool hours as possible available for lap swim reservations, these classes will be limited to 4 kids per group. Each group will meet twice per week for four-week sessions (8 practices total per session). Due to our limited pool space, this program is only offered to club members at this time.

We have 3 different levels available:
· "A" Group ($190): 1-hour practice for kids 10+, about 1500 yards (60 lengths) per practice
· "B" Group ($165): 45-minute practice for kids 8-10, about 600 yards (24 lengths) per practice
· "C" Group ($140): 30-minute practice for kids 6-8, about 250 yards (10 lengths) per practice

Spaces are extremely limited. If you are interested in signing up, please email Mitch at [email protected].