Bingo

Friday August 16
6-8 pm
Buy your ticket before Wed, Aug 14 and save $!
$14 pre paid includes a ticket for each game and dinner.
Additional tickets will be avail for purchase.
All profits go to the Cancer Well-fit program.
Bring a friend and have a fun evening. Lots of great prizes too!
Tuna Poke in Wonton Cup, Braised Brisket Barbacoa Sliders, Chicken al Pastor Skewers w/ Onion & Pineapple, Taquitos w/ Cilantro Cream & Avocado Salsa, Summer Risotto, Churros
Free Family Fitness Night

All Ages Welcome
September 13th 6-7:30pm
Obstacle course – Team games – Minute To Win It style games.
Music and healthy food options!
No guest fees. Sign-up required at the front desk please.



Congratulations to Employee of the Month Chris Borgard!

Chris has been a San Luis Obispo resident for almost 12 years now and is an accomplished trainer who specifically works with tennis players over the summer months. He loves the people and the vibe that he gets each summer working at ABAC. For over three years now, he has especially enjoyed getting to work with Hugh Bream, Mike Marquez, Stefan Hardy, Korey Kolb, and the rest of the hardworking tennis tower staff starting each May at the Dente tournament and advanced junior clinics! Chris spends much of his time is split between hiking & camping with camera in tow, or performing music in local venues on the Central Coast. In 2016 he recorded a full-length debut album playing percussion and singing with his [former] local band Highline. Way to go Chris! He is an inspiration to all that are touched by his work.
 


Spa News

Take a moment to consider some of the top reasons that people choose to get a massage.
• Relieve stress and anxiety
• Relieve lower back pain
• Reduce pain in other areas of the body
• Reduce muscle tension
• Improve flexibility
• Relieve tension headaches
• Reduce depression
• Boost your immunity



MYZONE Newsletter

Thank you to everyone who participated in our Members vs. MyZone fitness challenge in July!
There were a lot of calories burned! Congratulations to Debra J. and Margy M., both of whom won a $50 club credit to their account in our raffle drawings. Also, a huge congratulations to Cindy B.—the staff member with the most MEPS, and Cindy L.—the member with the most MEPS. They will each get two free meal vouchers for the Oasis Grille to refuel themselves after all those workouts! The final score for the MyZone was Members 4671 to Staff 2765.

Keep an eye out for more challenges and prizes in the future!




CCWTL News

The new season is gearing up!
A Division - 9 teams
A- Division - 8 teams
B+ Division - 8 teams
B Division - 6 teams
Blank Liability forms may be found on the CCWTL website under "Forms".
During the Roster Meeting the captains attended this week, they were asked to vote on changes to the league's rules. Please see you captain for any updates.


Pickleball Event!

Sunday, Aug 18
3 – 7 pm

Avila Bay Athletic Club & Spa had a phenomenal turnout of approximately seventy participants on our last Pickleball Event.

Expect some great music, competitive and recreational play, along with lots of laughs and good times with fellow ABAC members. Tennis Director Michael Marquez will be hosting event and sign-ups will be taken in the tennis tower.
Bryan Brothers Tennis Fest

Spanish Hills Country Club in Camarillo
September 22
3 – 7 pm

Come watch world class tennis with Bob and Mike Bryan and other top professionals. Enjoy tasting the offerings of Ventura County's best restaurants, as well as sipping fine wines and brews. The day will finish with a concert from the Bryan Bros Band. Tickets offer you seating in the east side of the tennis stadium. Please email [email protected] if you plan on attending, because we need to let Wayne Bryan know how many players will represent Avila Bay Club in the clinic. We will compete against Ventura County Junior Tennis Association, Santa Barbara Tennis Patrons, Las Vegas, Southern California Team. Other past pros that have played in the pro-am tournament have included John Isner, Sam Querrey, Steve Johnson, Mardy Fish, Sloane Stephens, Victoria Azarenka, Mark Knowles, Rick Leach and other former top touring pros.
Purchase tickets at https://www.bryanbrostennisfest.com/

Child Day Pass - $50.00
Adult Day Pass - $125.00


Notes From Tony Nadal
Below are notes to share with aspiring junior tennis players and their parents and adult tennis player trying to reach the next level.

The notes are from a lecture given by Tony Nadal. The lines are almost verbatim from a Spanish to English translation. Rafa's uncle is truly a character coach. Their story is one of the best in all of sports.

* Accepting reality is one complicated thing to do nowadays.
* It seems messages always have to be positive.
* I think it is not a good principle to always be positive.
* Knowing you are not good - that's the first step, the starting point to reach your goals.
* Play every point as if it were your last.
* Play like your life depends on it.
* Be more competitive than your opponent.
* Always believe you have a chance to win.
* Obtaining goals is all about character.
* Shaping character is more important than technical development.
* What the teacher teaches is not always what the student learns.
* It is very hard to progress, to improve without a good sense of self-criticism.
* I always made sure that there were no excuses.
* I encourage the ability to endure.
* The ability to endure is decisive in life.
* Practice with the worst balls, the worst courts.
* My main intention was to strengthen my nephew's character.
* Character builds up based on things being difficult.
* Nowadays a great mistake is children having everything.
* Making the life of young ones so easy, doesn't help at all.
* Perseverance is the ability to endure.
* Always respect your opponent.
* Achieving goals is all about effort, sacrifice and discipline.
* Technologies are not essential.
* To make things happen you have to be responsible.
* Be ready to fight to the end.
* Success is never about a special talent, it's always about work.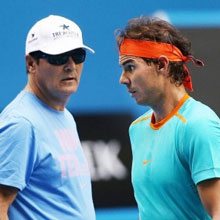 Toni's messages are a type of medicine that is being given less and less to junior players and adult players who really need it more and more with each passing day.
Cancer Well-fit

What a success! Our happy hour fundraiser last month raised approximately $16,000 thanks to so many of you who purchased raffle tickets, donated products/services or provided direct donations to help this non-profit program to continue. We are so very grateful!
These funds will continue to pay for friends and neighbors in our community with cancer to participate in their recovery through this strengthening and wellness program. On their behalf, we THANK YOU!!
The Cancer Well-fit Team



Refer A Friend
...to join the club in July and earn a $50 gift card to The Cliffs Hotel and Spa!

Perched on an oceanfront bluff overlooking a beautiful beach, The Cliffs Hotel and Spa features inviting spaces, premier spa and delicious coastal cuisine with thoughtful touches and details that create a unique seaside visit!
For more more information, contact membership staff: 805-595-7600 ext: 105




Free Small Group Training With Our New Trainer Carly!

Sign up soon for these FREE sessions! Carly will work on posture and building the muscles in the body that support good posture. This is open to all fitness levels and ages.

August 12th and 13th
5:30PM
Sign up at the front desk!
Aquatics Update

Can you believe that summer is already nearly over? Soon the kids will be back in school, the days will be getting shorter and our pools will be getting lonelier without the excitement and thrills of people escaping the heat. That doesn't mean the fun is ending, though! The water is always warm in our pools, and the lounge chairs are always inviting.

We have a couple of Aquatics programs coming up:
August 26th at 10:15 – 11:15: Come join us for a backstroke workshop taught by Coach Colby. Learn the stroke for the first time or get tips and drills on how to improve your technique. $10 for members, $15 for non-members. Contact Mitch to sign up.
Dates TBD: Splashy Feet! Swim Seminar. This parent-and-me style class is great for getting your babies and toddlers ages 6 months to 2 ½ years ready for swim lessons. Watch our website, Facebook page, and Instagram page for dates and times!
If you missed our summer group lessons, remember that we offer private lessons year-round at any time the club is open, and they can be done at whenever best fits your schedule!