Easter Egg Hunt!
Saturday, April 19 ● 10 a.m.
Kids love it! Parents love it! It's one of our most popular annual events. Meet in the cabana area for the crafting and game fun. Our special guest, Mr. E. Bunny will be in the house! And there will be carrots for all! This event requires the parents to remain with their children. Separate egg hunts for younger and older children.
For more information:
[email protected]
Events & Celebrations Made Easy @ the Club!
It's that time of the year. Reserve your date for that wedding, anniversary party, birthday bash, company barbeque, bar mitzvah, you name it! With our park, cabana area, tennis deck, and other areas available, we can make any occasion perfect, special, and memorable!
Oasis Grille catering
Personal attention to detail
Lots of options
Up to 200 people
Contact Travis to save your date!
595-7600 ext.113
[email protected]
FOURTH-FRIDAY WINE DOWN!
FEATURING ADELAIDA CELLARS
Friday, April 25 ● 6:00-7:30

We're excited to have Adelaida Cellars in the house for our April 25th Fourth-Friday Wine Down! We are looking forward to having them and learning about wine from their expertise.
Please join me for a night to remember, with great wines, elegant appetizers, and company beyond compare. Hope to see you and your friends there! -Travis
(signing up early is strongly recommended, as space is limited, and these evenings are popular!)
Only $15 per person. Non-members are welcome.
Free child care available by reservation.
Questions? Contact Travis at 595-7600 ext.113 or [email protected]
Parents' Night Out
Friday, April 11 ● 5:30-8:30
Here's something to look forward to! Drop off your kiddos with us on Friday, April 11, from 5:30 to 8:30 p.m. Take advantage of this one opportunity a month to leave the club premises after you drop off the kids. Plan a date night, run errands, or just plan to relax with NO interruptions. Or you could stay at the club, swim, workout, or play some tennis. The kids will eat dinner, play games, get creative with a craft, and settle down at the end with a movie. Non-members are invited too, so tell all your friends.
Space is limited, so sign up at the front desk, or email
[email protected]
.
ABAC Weight Watchers Down 171.4 Pounds!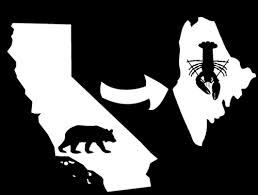 California to Maine
2,630 miles less 678
We're really ramping up our exercise with "Make Your Move" month. Maine is our destination. We are walking to Main (and hoping there is lobster). Of course we're not literally walking, but we're recording our exercise: actual miles or 20 minutes of exercise equaling one mile. The first two weeks our group logged 678 miles. We ROCK!
Be a Weight Watcher at the club—it's fun, it's healthy, it provides the kind of support you need, and . . . it works! Non-members welcome! -Barbara
Every Wednesday
12:15 pm ● Weigh-Ins Start @ 11:45 am
(Regular Weight Watchers' fees apply.)
Questions? Contact
[email protected]
, or 595-7600 ext.109.
FEBRUARY MEMBER OF THE MONTH—GINNY DRESHER!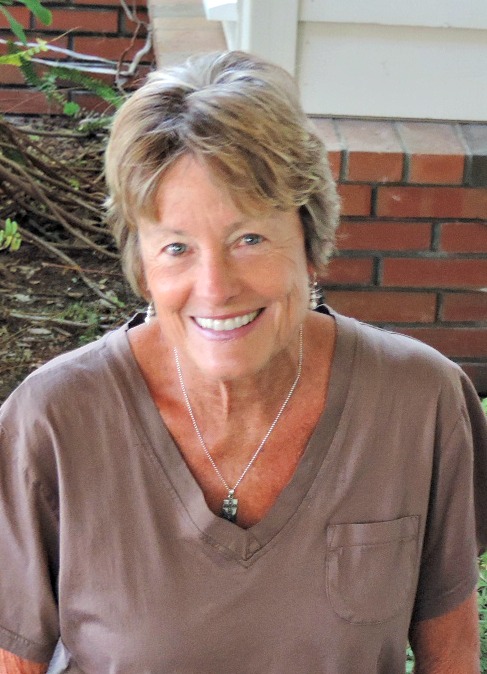 Ginny was born in New York and moved to California when she was ten. She's been a wonderful member of the club since 2008, and she currently lives in Arroyo Grande.
Very recently retired from a 48-year career as a veterinary technician, she had most recently worked many years at AG Veterinary Hospital. Most of her career was spent, though, working for a large animal vet in Thousand Oaks (next to Jungle Land), where she had the joy of working with tigers, seals, monkeys, and mountain lions, just to name a few. One of the very first x-rays she took was of a camel's foot!
Ginny loves the outdoors and would rather be outside than anywhere. She rode and showed horses as a teen and still, of course, is quite the animal lover. She currently has four cats, two dogs, two parakeets, a horse, and pretty soon a cockatiel!
Ginny also loves to read (by our large pool, especially). She has two stepchildren with whom she is very close, and a smart, funny boyfriend named Frank.
Mostly Ginny swims and socializes at the club. She's done some personal training with our trainers in the past and she plans to start doing yoga and Pilates in the near future. She says, "I love the club. It's a little slice of heaven every day, and I've met so many GREAT people here." One is TC, who wants everyone to know she thinks "Ginny is swell."
We agree one hundred percent with TC. Thank you Ginny for your love of the club, your sunny disposition, and your lovely smile. It is a joy to have you here.
FEBRUARY EMPLOYEE OF THE MONTH—BARBARA MOYNIER!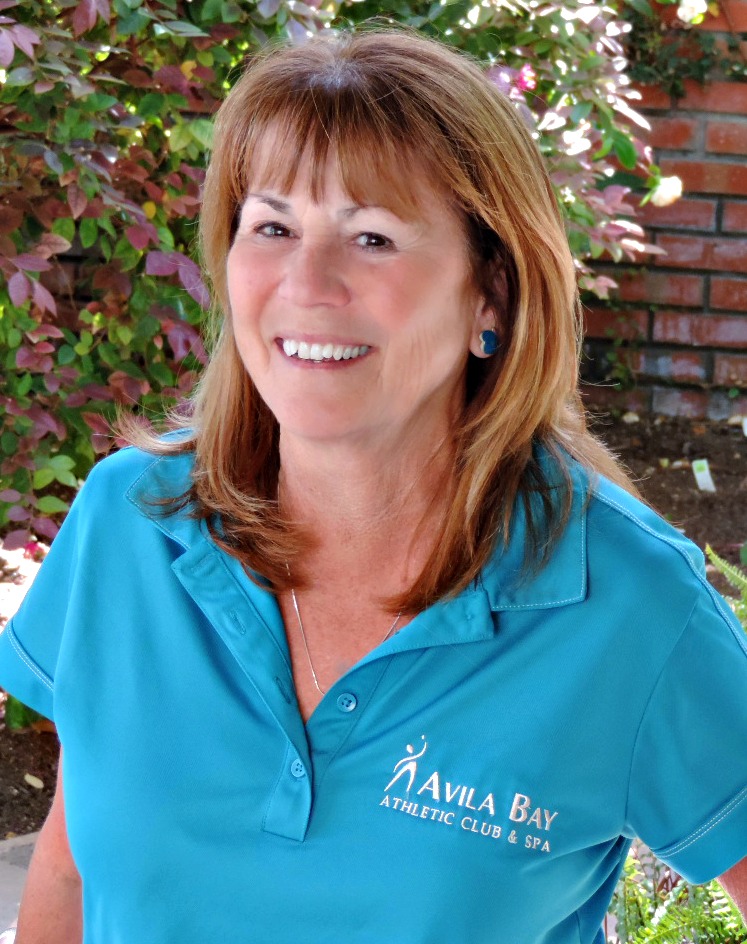 We're so glad Barbara chose to make her "retirement job" working in our Kids' Club. She's been with us for about a year and a half and does such a fine job with your children. She has a grown son herself, Jeremy, who is a brew master for Stone Brewery in San Diego.
Barbara loves to play tennis and is on our women's league B Team. She says, "I've met so many nice ladies through tennis at the club." She also enjoys her cardio workouts and reformer Pilates with LeAnna.
Barbara is an animal lover, especially dogs, and especially her dog, 9-year-old Cinnamon, a mixed terrier rescue and cancer survivor. Traveling is another of Barbara's passions. She's been to Africa on safari twice, and she's going to Italy in September.
Not having had grandchildren, Barbara says our Kids' Club kids are like her surrogate grandchildren. "I get the grandchildren I never had, and they are just so much fun!"
We don't get to say it often enough, but we thank you Barbara for your big heart, high energy, ability to roll with the punches, and the wonderful way you have with the kids!
April Membership News by Amy Kueffler
Hop on over to see the membership staff for a free pass for a friend or family member! We are celebrating Easter this year by inviting you to bring a buddy with you to the club. So do it! Hop on over (like a bunny) to our membership staff and get your free pass for a friend! After all, YOU were probably referred by a friend. It's like paying it forward. Sort of. Contact Amy or Travis, and they will hook you up!
Amy or Travis
595-7600 ext. 105
[email protected]
FROM THE TENNIS TOWER
Racquet Demo Day April 12
Is there something missing in your game? Does that 12-year-old racquet just not feel the same anymore? Well, prepare yourself to feel the difference a racquet can make! Attend the FREE Racquet Demo Day sponsored by Tennis Warehouse on Saturday, April 12, at the club. This is a great way to try all those racquets you've been wondering about in a fun and low-key environment. Various pros and racquet representatives will be present to run you through drills and fun point games to give you the opportunity to use the various demo racquets in game-like situations. More information is available in the Tennis Tower. You may also sign up for the DEMO DAY by calling the Tennis Tower at 595-7600 ext.106. Come on out and experience something new and exciting!
Upcoming Avila Bay Classic/Vince Dente Memorial Tennis Tournament
Don't forget to mark your calendars for the upcoming 33rd annual Avila Bay Classic Tennis Tourney held on Memorial Day weekend, May 23-26 (also known as the Vince Dente Memorial). The tournament was named in honor of Vince Dente, a local tennis enthusiast who had a passion for tennis and loved to share his passion by supporting kids in their pursuit of the game. As a result, the Vince Dente Memorial Fund was created to financially aid kids whose aspirations included developing as a tennis player from recreational, to collegiate, to professional levels. The fund continues to assist local players in our area today. Please contact Mark Scribner for more information and to find out how you can help donate to this fund and keep our local youth in the great lifetime sport of tennis! Registration will be online, as well as through entry forms available in the Tennis Tower and the lobby. For more information on the tournament and/or how to donate to the Vince Dente Memorial Fund, call Mark Scribner at the Tennis Tower 595-7600 ext. 106.
ABAC Spring Fling Tennis Tournament Results!
We had a fantastic turnout for the Spring Fling on March 15 & 16. This was an ALL DOUBLES tournament with members, and non-members, and local juniors as well. Prizes were given to main draw winners, including a $25 gift card for Tennis Warehouse. Runners-up received a $10 gift card for the club. Prizes were also given to consolation winners. Results are as follows:
Men's A Doubles; Mark Scribner/Colby Grey def Steve Hilty/Zachary Hilty 6-3, 6-3
Men's A– Doubles; Bruce Trubo/Mark Hickenbottom def Skylar Zirpolo/Andrew Arcangle 6-2, 6-3
Men's B Doubles; Dave Chambers/Joe Lazzer def Gary Maier/Mike Ginn 6-2, 6-4
Mens B– Doubles; Patrick Angle/parker Turner def Chif Stickerod/Shane Rostermundt 6-4,4-6,7-5
Women's A Doubles; Olivia Madison/Claire Bouquet def Connie Rutledge/Teri Sullivan 6-4, 6-1
Women's A– Doubles; Leslie Kaplan/Carrie Lee def Coward/Rostermundt by default
Mixed B Doubles; Dave Chambers/Sharon Fox def Gene Gooding/Sue Barker 3-6, 6-3, 6-3
Mixed B– Doubles; Gary Maier/Deb Cherry def Shane & Christina Rostermundt by default
Thank you all for participating in this fun doubles event! (Tourney photos below)

Colby Grey

Olivia Madison

l-r: Mark Scribner, Colby Grey,
Zach Hilty, Steve Hilty
On The Junior Tennis Front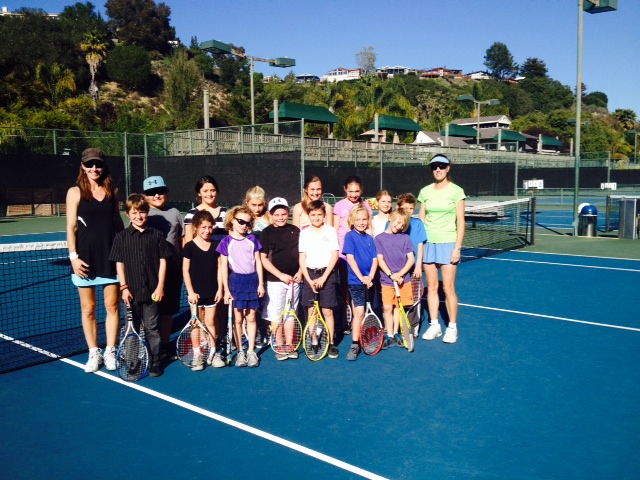 It has been an amazing year here at the club for our entire junior tennis program. The exponential growth has proven to be a testimonial to all the great tennis pros, staff and, of course, our terrific junior tennis enthusiasts.
New this year to the junior program are the "Avila Aces," a novice and satellite junior tennis team, as well as a junior tennis ladder. Both additions allow our players to practice what they have learned in a clinic setting and put it to work in match/point play. The Avila Aces play eight matches in a season against other local club and private teams. The kids have absolutely welcomed the addition of this competitive environment and are playing great.
The challenge ladder is meant to encourage our young players to initiate match play with fellow junior players. We offer various age divisions and an open division allowing kids to challenge outside of their age group.
If you have questions about these programs, please contact Leah Minnery, 408-768-1216.

(l-r): Dave Chambers,
Sharon Fox, Sue Barker,
& Gene Gooding

(l-r): Connie Rutledge,
Teri Sullivan,Claire Bouquet,
& Olivia Madison
Women's Central Coast Tennis League 2014
APRIL HOME MATCHES (@ABAC)
Tues April 1 B Team SMCC@ABAC
Wed April 2 A+ Team TTR@ABAC
Wed April 9 A– Team SLOCC@ABAC
Wed April 30 A+ Team TTR@ABAC
Wed April 16 A-Red ABC@ABC-R
Wed April 23 A-Red SLOCC@ABAC
ABAC 2014 Tournament Schedule
(Remaining)
May 23-26
AVILA BAY CLASSIC/VINCE DENTE MEMORIAL
Annual tourney. Prize money in Open levels, sanctioned & non-sanctioned events. All levels of play.
July 11-13
AVILA BAY JUNIOR OPEN
Sanctioned junior tournament. All levels of play for juniors, including novice through advanced. Singles and doubles events.
September 19-21
AVILA BAY OPEN & SR CHAMPIONSHIPS
Sanctioned events in age groups and open levels, non-sanctioned events include A,B,C levels of play. Singles and doubles events.
November 1-2
AVILA BAY CLUB CHAMPIONSHIPS
End of the year tourney for club members only.
Non-sanctioned events. All levels of play.
FITNESS STUFF BY JAN BERDAR
A Word About STRETCH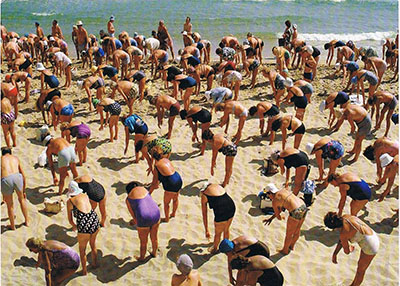 In the physical sense, as in being able to touch your toes (unlike the bathing beauties in this photo), our club is now offering TWO NEW ways to increase your flexibility, work on your core and balance. Fresh for this spring—"Pilates in the Park" is held on Tuesday mornings at 10:30 and is a short and sweet version of Balanced Stretch, also in the park, Fridays 8:30-9:00 a.m. Dress for the great outdoors. Props provided.
Stretch in the sense of trying new things or doing the same thing differently:
1. Move to a different spot in the class and you may meet a new member
2. Ask someone you don't know well to play pool, tennis, ping pong, chess, to work out together, share a cup of coffee or split a sandwich, join Weight Watchers, to be your guest and then get to know this person just a little better
3. Say "YES" to an invite to go climbing, ride bikes, travel, go out to a meal, join a book club, to work out together, to volunteer, and the list goes on—just say "yes, okay, I will"— the requests will stop coming if you always say no.
The word STRETCH in these cases is to extend past what is comfortable. It is not over-the-top unpleasant but it lies outside your comfort zone. When was the last time your stomach churned, you were slightly nervous, or you challenged yourself to an event or task that scared you. The fear that you may get hurt, the fear that you may fail, the fear that you may be rejected. TRUE or FALSE. Is it made up fear?
If we continue to stretch on a regular basis, we build our confidence. Side effects of stretching your body and mind can lead to an overall better feeling of oneself, a better feeling towards others, more desire to give and to be compassionate, to live a more enriched and VIBRANT life.
I try to live this. And as I turn the page to the next chapter of my life—turning 50 in May, I ask the same questions of myself daily. Remember there is nothing too small or too BIG. If you choose to make it happen, it will. I encourage all of us to keep one another accountable in the STRETCHING department!
Get Lean and Go Glean Challenge Winners

Member Winner Leonard with
his cool new Fitbit!

Member Winner Margy!
These two members know
how to take on a challenge!

Employee Winner
Our lovely, fit LeAnna!;

Employee Winner Chris is lookin' strong!
Way to go,
Leonard Milstein
, who lost 7.2 pounds during our contest for most fat loss. Besides the weight drop, here are his stats:
Lean weight gained 1.43 pounds
Fat weight lost 9.62 pounds
Fat percent lost 4.2 percent!
Leonard said he accomplished his first-place win by watching his carbs and upping his exercise. He alternated weight training and cardio (treadmill), consulted with trainer Larry Goldzman about stepping it up, and got advice from just about everyone. He says a big part of sticking to it was having to be accountable—with the measuring and weighing.
Member second place went to
Margy Moynihan
, who lost 3.3% body fat. Yea, Margy!
Employee first place went to Chris Brochtrup, who lost four pounds and:
Lean weight gained 7.85 pounds
Fat pounds lost 11.85 pounds
Fat percent lost 4.60 percent
Employee second place went to
LeAnna Gresse
r, fat percent lost 3.72!
Kids' Club News by Bre Boswell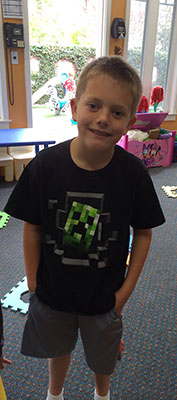 As we dive headfirst into April, the excitement of spring fills the air. We have so many exciting things to look forward to. One of those special events is the annual Easter Egg Hunt we love to put on. As you saw by the first page of the newsletter, it will be held on Saturday, April 19. The festivities will begin at 10 a.m. Mr. E. Bunny will be walking around, handing out carrots and there will be games and arts and crafts to participate in before the big hunt. Don't miss out—mark your calendars now!
And now for our Kid of the Month. A big congratulations to Ethan Erickson for a job well done! Ethan has been coming into Kids' Club and putting down his ipad to play more with the younger kids. All of our friends in Kids' Club love him, as well as all the staff members. He is an absolute sweetheart and we are thrilled to see him every week.

Please help welcome new staff member
Faith Sierra
to Kids' Club, as we say goodbye to Jocelyn, who is leaving for a new career venture. So Faith is stepping in to play with us. Please take a moment to introduce yourselves and say hello to her.
NO NUTS (OF ANY KIND)
Thank you all so much for helping out and remaining aware of the no peanut rule in Kids' Club. It is a very serious issue that can be very detrimental to some friends. We have recently been informed that we now need to extend the rule to include ALL nuts. Please be aware that there are nuts in some granola, trail mix, sandwiches, and/or granola bars. If you accidentally pack any nuts, we will send them out of the room to be held for you until you are done in Kids' Club. We truly appreciate your help in this matter.
Upcoming Dates to Note
April 11 Parents' Night Out, 5:30-8:30
April 12 Free Racquet Demo Day, 10-1
April 18 Swim Competition & Game Day, 3:45-5:30
April 19 Easter Egg Hunt & Fun! 10:00
April 20 HAPPY EASTER!
Club Hours 10-4, Grille 11-3(unless rain), No Kids' Club or Classes
April 25 4th-Friday Wine Down, 6-7:30
WEIGHT WATCHERS
Every Wednesday! 12:15 (weigh-ins start @11:45)
Happy Easter From The Spa Department!

by Sherri Buvick
Look for the colorful eggs that are hidden around the club. Inside you will find discounts, offers, and spa information. One coupon per service, please!
A Couple Housekeeping Notes
We all use the restrooms and locker rooms, and lately we've had several comments from concerned members regarding people forgetting to tidy up after themselves. Things like wiping your hair out of the sink and off the counter after you brush it, and making sure your paper towels end up in the trash and not on the floor can make such a difference. As a courtesy to all, please keep others in mind.
Also suggested was that we ask members to mute their phones and refrain from talking on them in the locker rooms (as a common courtesy).
Your compliance is very much appreciated—THANK YOU!
From the General Manager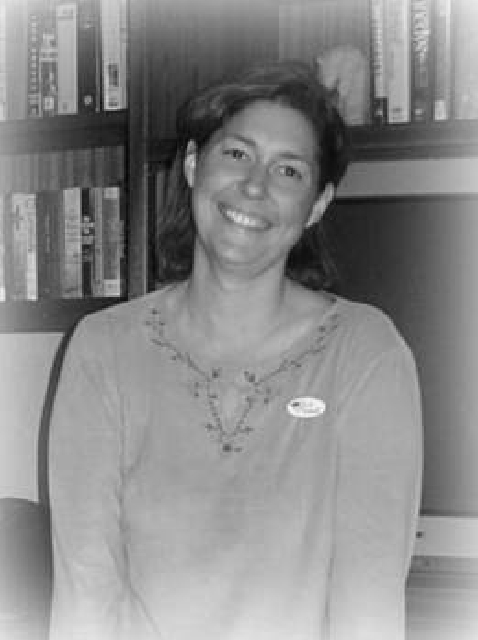 Our safety week has been great practice for staff and members. Thank you to everyone that participated in one of our drills. We encountered good reminders and hope to be better prepared in case of an emergency at the club.
Several members have asked where we keep our famous "Red Bag". We keep it under the front desk. If anyone ever asks you to run and get it you now know where it is. It contains the club's AED (automated external defibrillator) and emergency oxygen tank. I certainly hope no one ever has to use it, but we are ready in case the need arrives. Lydia will be offering a CPR class for members in the near future as well.
Have a wonderful Easter season, and don't forget to check out our new menu at the Oasis Grille!