Congratulations Michael and Natalie!
Tennis Director Michael Marquez and Natalie Van Belleghem welcomed their baby girl early in the morning on Tuesday of last week. We cannot wait to meet beautiful Iris Jade. And we sure do love that name! She has already blessed many lives, and we know she is going to be one sweet and talented tennis player someday.
Adult Men's Locker Room Is Open!

All the guys sharing the one remaining locker room are sure relieved that we finished the project a few weeks ahead of schedule. We had so much fun opening this beautiful new space. Taking out the middle wall made a huge difference in the amount of space there is to move around the locker room now. One question that has come up is what happened to the mirrors in the showers? We were compelled to not replace them due to the ongoing drought and goal of using less water. The feedback has been great so far, and we really hope all the men enjoy this serene new space.
Theraguns At ABAC!

We purchased a set of Six Theraguns and Four Wave Rollers! They are located in the Cardio Room and free for members to use. We ask that you please keep them in the Cardio Room.
Theraguns, provide targeted deep muscle treatment to increase blood flow, reduce tension, improve movement, maximize recovery, and optimize sleep. We are thrilled to offer this amenity for recovery! Our staff is becoming more trained with this equipment now and will be able to help you utilize them in the best way. Look for our spa staff to share in using them along with your table or chair massage appointment as well.
The Deck Party

Wednesday, April 27
5:30 pm – 8:30 pm
6:00 pm – 8:00 pm Live Music
Come join us in breaking in our new deck firepits and couches! This is going to be a new designated hang out spot, with the upstairs lounge having special weekly hours soon to be announced.
Celebrate this new awesome space with live music by Ghost Monster Duo (w/ Nataly Iola & Jaxon Camaero). Fun drinks and the new deck appetizer menu will be available. There will be free popcorn and some fun giveaways. This event is open to members and their guests. Kids' Club will stay open until 8 pm (reservations only please).
Welcome Colleen Our New Nail Technician!
We are so excited to have Collen join the ABAC Salon staff. She brings 18 years of experience in the nail industry to our newly remodeled salon. Colleen keeps current on all styles of nails and nail art so she'll always be able to give you fantastic looking nails! She specializes in gels, but can do everything from simple manicures and pedicures to full set acrylics. Stop in to our salon and say hi, or book and appointment with her at our front desk. She looks forward to meeting as many members as possible!
Karaoke Night

Thursday, April 28
6:00 pm – 7:30 pm
Come show off your singing talents at this popular monthly event! Meet outside in the Cabana area. Free for members and their guests.
Group Fitness News

Jana has decided to step down from her management position at the club. We are grateful to her for jumping in and helping us navigate indoor and outdoor fitness during difficult Covid times. It is a big job and we thank Jana for all that she has done!
We are blessed to have Kristin Alexander once again fill the position as fitness director. She will manage both group fitness and the personal training departments. Kristin was a great part of the management team prior to Jana, and will be able to jump right back in and keep our fitness departments in great shape.
Due to member requests, we have made some changes to the group fitness schedule. We are adding a few new classes! The changes are:

Zumba with Lauren 5:30 pm Mondays
Express pump with Cindy 4:15 pm Tuesdays
Zumba 9:15 am Fridays with Danya
Pickleball Mixers – Twice The Fun In May!

Sunday, May 15th and 22nd (Note – two weeks in a row)
1:30 pm – 2:00 pm Clinic w/ Kobi
2:00 pm – 5:00 pm Drop-in Match Play (No instruction provided)

This event is for members only.
Beginners – Come to the clinic at 1:30 with Kobi to learn the rules, scoring, court terminology, and stroke techniques. This will make it much easier to participate in the open match play at 2:00. $10 per person for the clinic only.
Open Match Play - Bring your paddle and come play some pickleball! It's great way to meet someone new. We will set up our temporary court lines. Please sign-up online through the app under Programs – Category "Tennis".
Club Rules Reminders

We are happy to help you host all types of parties. We do not allow any pool parties though. If you ever want to have more than four guests at a time, or want to book a party at the club, please email Travis Hawley at

[email protected]

.
Please wipe down all equipment after using it. Other members notice this and really appreciate it when it is done.
Please throw away all trash / food when leaving an area of the club. Please put used towels in the locker room towel bins, or in the drop spot at the front desk.
Shower off before entering the pools or spas. This helps us keep them looking great!
No outside alcohol is allowed at the club. Please ask for a manager to assist in paying a corkage fee if you would like to bring in a special bottle of your own.
We ask that members stay with their guests at the club. If someone is meeting you here, please greet them at the front door and get them checked in. If you absolutely cannot be here with them, please call us ahead of time to grant them access to the club and let us know how you want to take care of the guest fee.
Do not leave your valuables in your car. Please lock them securely in a locker. DO NOT LEAVE ANY ITEMS unattended at the club. Even while taking a shower. Please keep all your belongings locked up.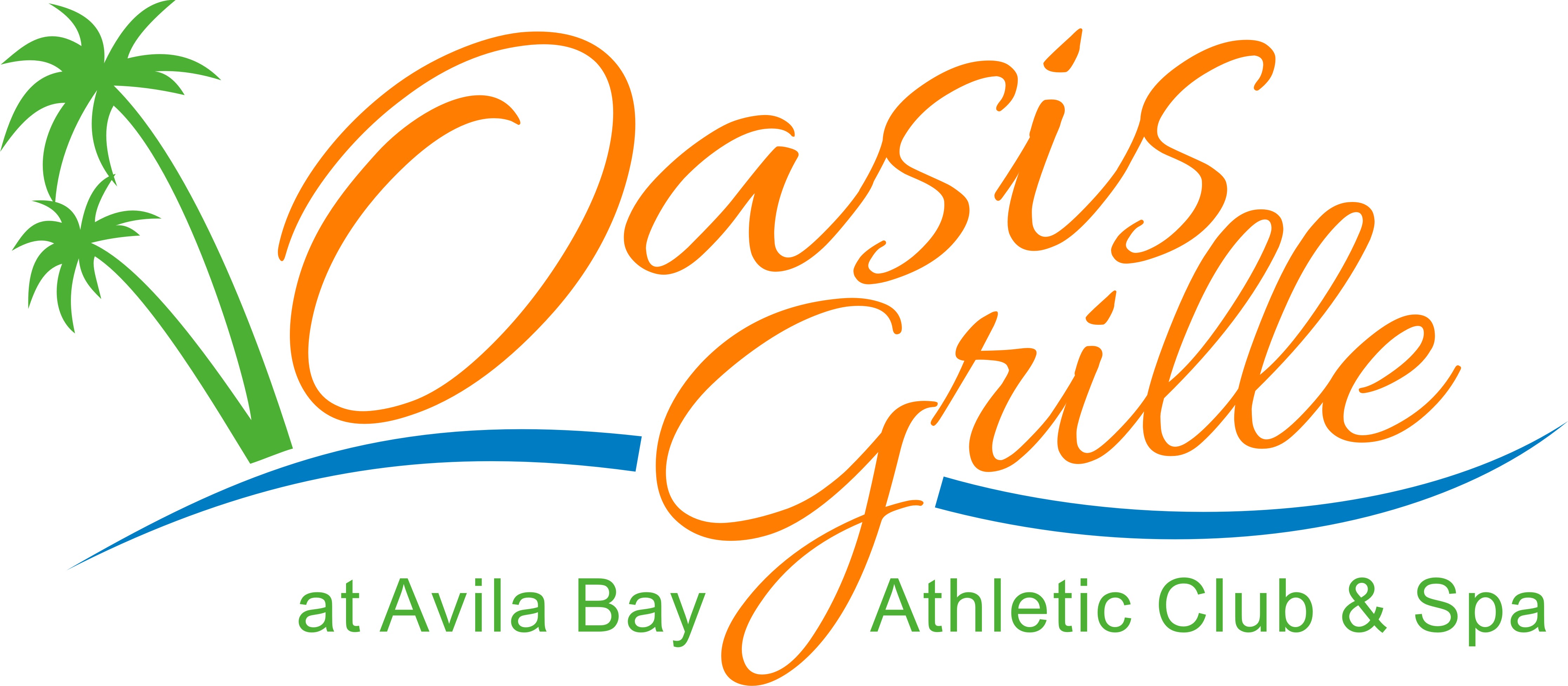 Mother's Day Brunch
Click Here To Sign Up For Mother's Day Brunch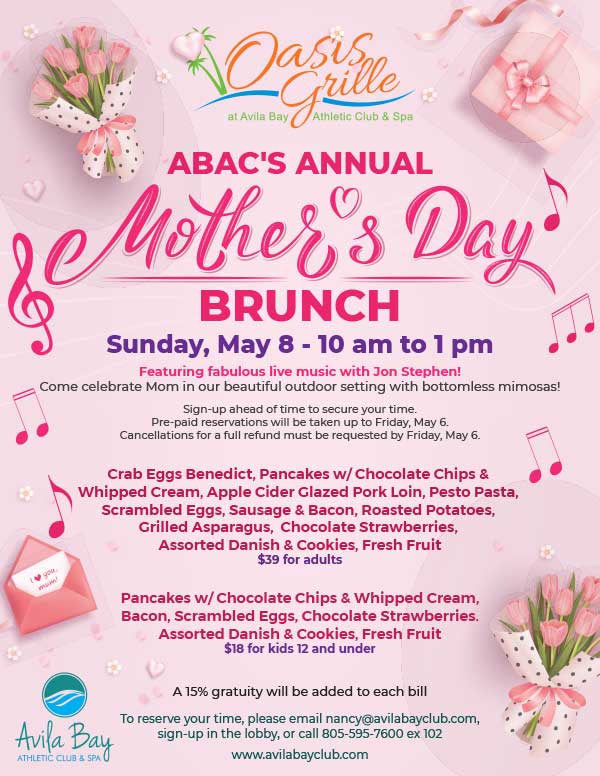 Fall/Winter/Spring Club Hours (Summer Hours Start May, 27)
Monday – Thursday 5:30 am – 9 pm
Friday 5:30 am – 8 pm
Saturday 7 am – 8 pm
Sunday 8 am – 8 pm
Kids' Club Hours (by reservation only - on the ABAC app under Adventure Central)
Note - We do not allow kids that appear sick, with even a runny nose, in Kids' Club.
Please make a separate reservation for each child.
Monday through Friday 8:30 am - 12:30 pm
Tuesday through Thursday 3:30 pm – 6:30 pm
Friday 3:30 pm – 6:00 pm
Saturday 9 am – 12:30 pm
Sunday 9 am – 12:00 pm