September Newsletter 2018
Notes From The General Manager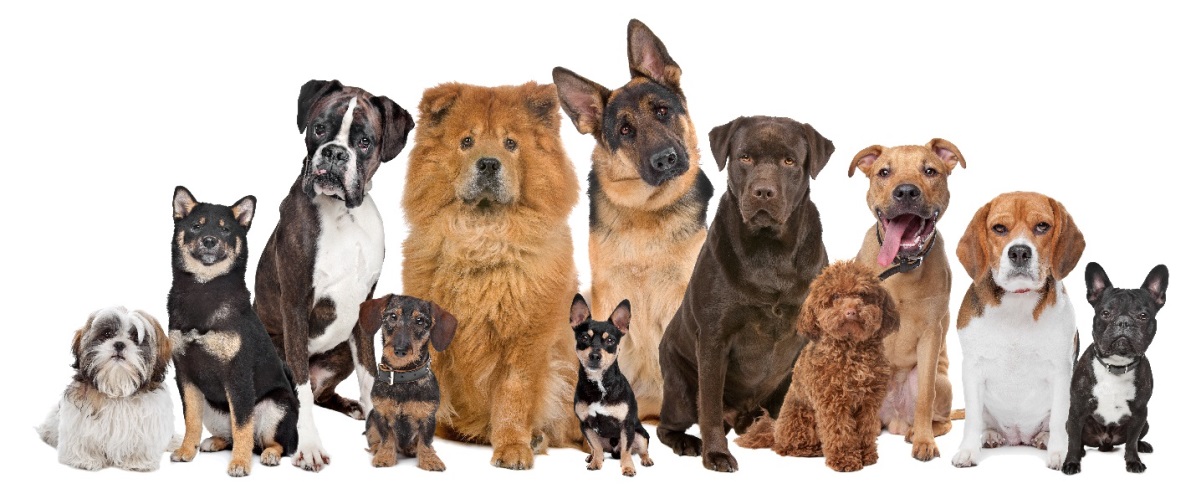 Please note the Fall Club Hours
M-Thurs 5:30 am – 9 pm
Friday 5:30 am – 8 pm
Saturday 7 am – 8 pm
Sunday 8 am – 8 pm


The club is closing early on Sunday, September 16, at 4 pm
We would like to have an end of the summer party for the staff. Thanks for your support!


We love our furry friends
but we have decided that they are a safety issue when left right out in front of the club. They are often in the path of kids coming and going from Kids' Club. This is something we have thought about for a long time, and believe it is the right thing to do, in asking that they are no longer left alone in front of the club. We are looking into creating a space outside the group fitness room where they can be left instead. This is a shady spot that has a security camera as well. This new policy will start on October 1st. Thank you for your understanding.
-Nancy Terrell



Hike with us!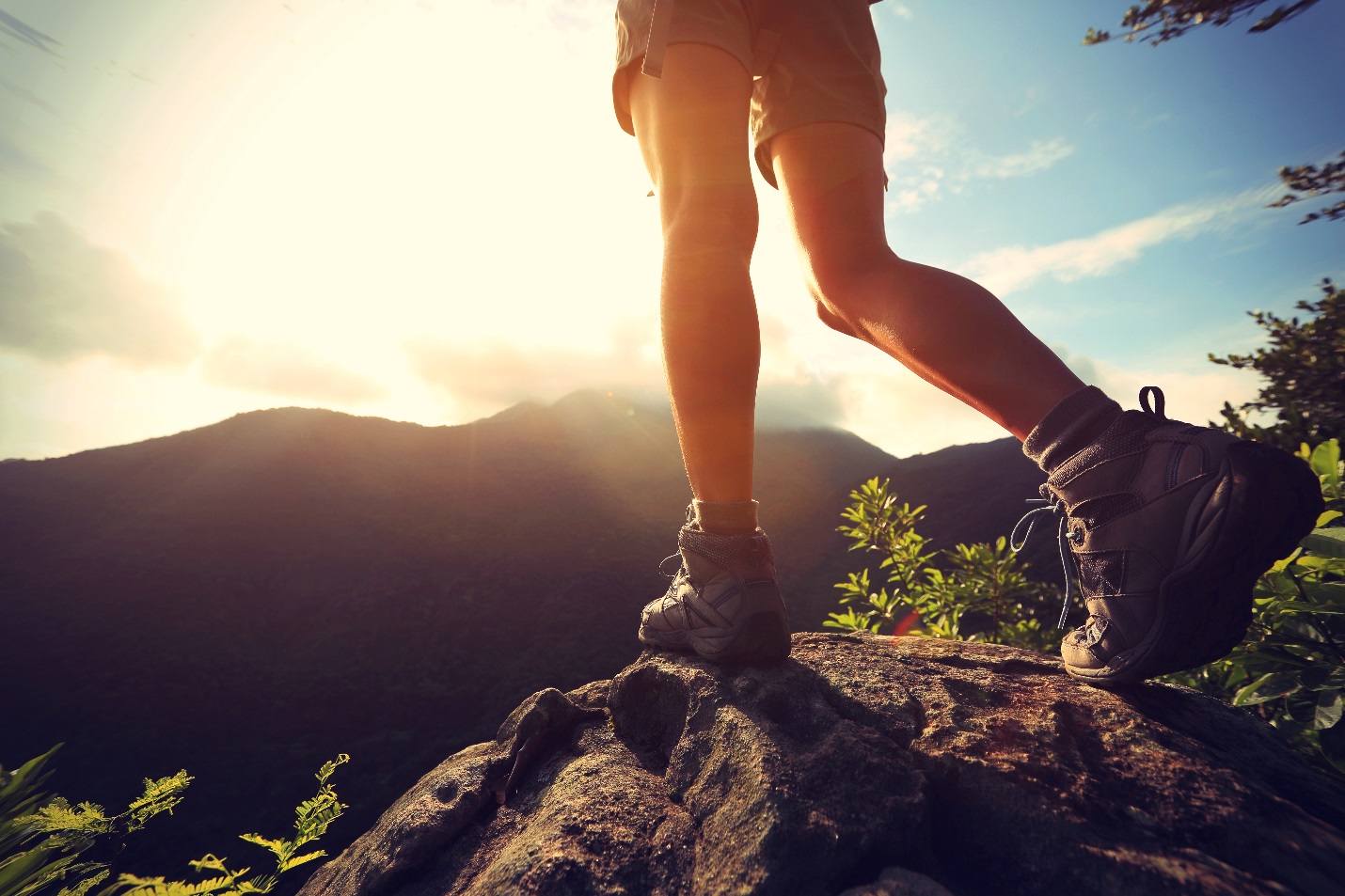 Valencia Peak
Saturday, September 22
4 p.m. - 6 p.m.

Valencia Peak is a 4.5 mile loop of coastal mountain located within Montana De Oro State Park. This trail offers gorgeous views of the Central Coast, great views of Morro Bay, Cayucos and you can see Cambria and beyond on clear days. It has some steep hills, and with a little over a 1000+ feet of elevation gain is best for more experienced hikers.
Please sign up at the front desk area, or contact Amy in membership for more details. 805-595-7600 ext: 105



New My Zone Challenge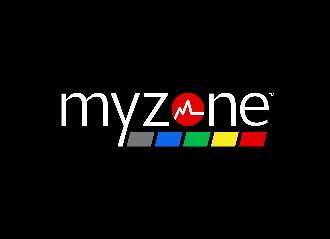 This month we have a MyZone Challenge AND a promotion!

Our MyZone Challenge will run from September 17 – September 30. This one is called "Monsters vs. Minions" and we have over $130 worth of prizes up for grabs! There will be two teams you can sign up for:
Workout Monsters: This is your team if you typically work out 4 or more times per week
Exercise Minions: This is the team for you if your weekly routine is usually 3 days or less of rigorous exercise
Everyone who participates will receive a free guest pass and 1 raffle ticket for each 100 MEPS earned. The raffle winner will receive a $100 gift card, and the top Minion and top Monster will each receive a $15 account credit. The team with the highest average MEPS per workout will win bragging rights, which perhaps is the most valuable prize of all!

Sign up on the sheet in the lobby, or contact Mitch and let him know which team you'd like to be on.


MyZone Promotion
If you don't have a MyZone belt, now is a great time to get one as well. Not only will you get to participate in the challenges, win prizes, and be motivated, but we also have a promotion for you. From September 1 – February 28th you'll earn a $10 account credit for each month you earn at least 1300 MEPS. This promotion is available for anyone who was not part of our earlier $10/month credit promotion from March – August of this year.



WANT TO PLAY BRIDGE?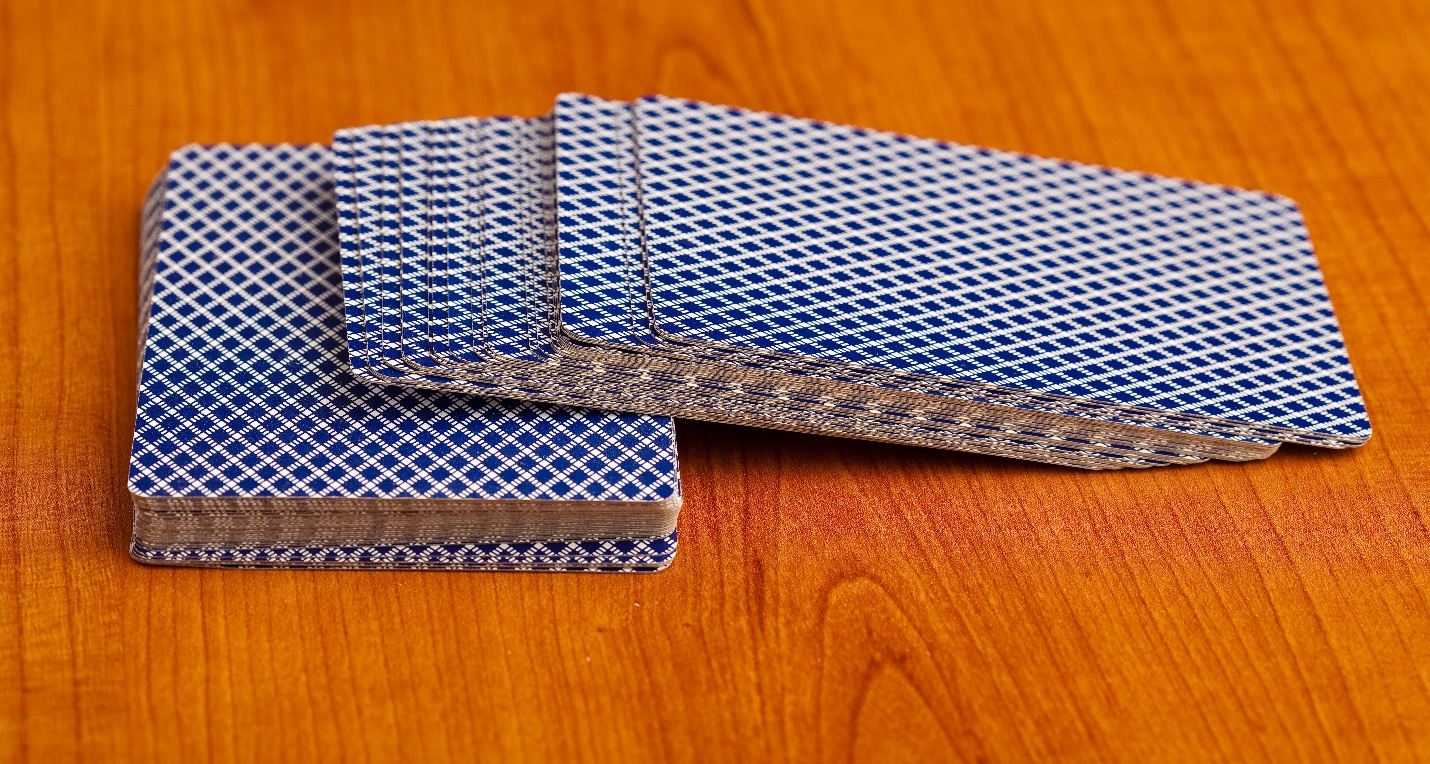 Calling all card playing members! There has been a request to form a Bridge Card Playing group at the club. Before we announce the start of it, we are looking to see if there is an interest in this at the club.
Please let us know if you are interested and what time/day is best for you. There is a sign-up sheet at the front desk lobby area. Or, contact Amy in membership for more information: 805-595-7600 ext: 105.



MEMBER OF THE MONTH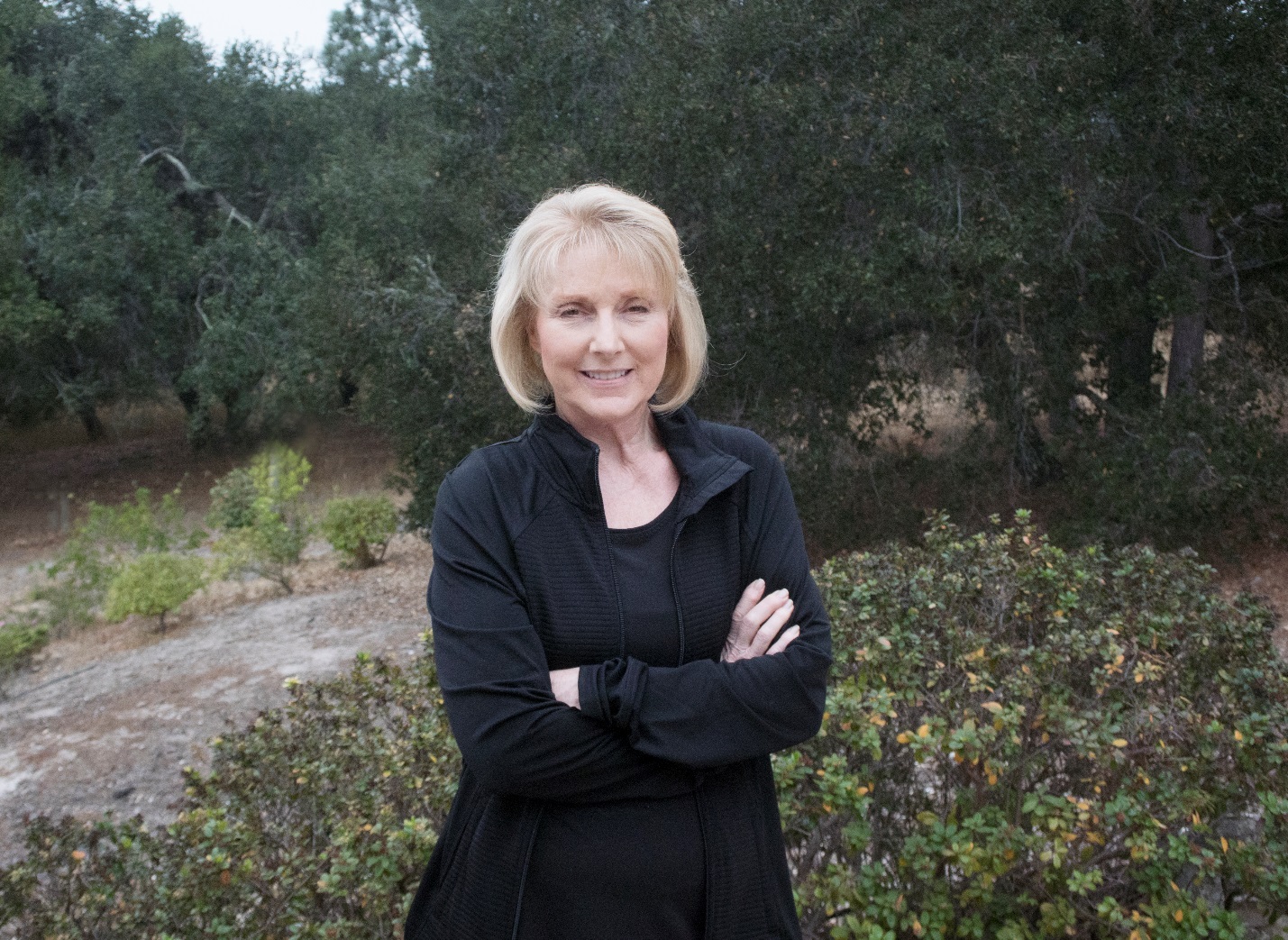 Congratulations to Michele Norwood!

Michele went to school at CSU Northridge, earning a bachelor's degree in fine art and holds another degree in dental hygiene from West L.A./UCLA, and worked in L.A. for 19 years. She relocated from Manhattan Beach to Arroyo Grande in 1999, where she worked for fellow club member Peter Nelson, D.D.S. Michele finally retired in 2017.
She has been a member since 2000 and belongs to ABAC because it is an investment in her health, both physically and mentally. The trainers, staff, and members provide unique emotional support and keep her motivated to come, even if she is having a bad day. The variety of classes help keep the endorphins moving in what she calls her aging body, but we think you look great Michele!! It is a great place to start her day and catch up with friends.
In her spare time she loves to read, make custom jewelry and greeting cards for local charities to sell, check in on her 27 year old son in Oregon, and travel with her husband of 38 years.



EMPLOYEE OF THE MONTH
Congratulations Bonnie Espinoza!

Bonnie has always worked out. When she was 18 she worked for Jack LaLanne in Torrance, California. He taught her incredible work ethic. She also worked for World for Women in Tarzana, California and taught prenatal classes. Working out is such a passion for Bonnie, that she gets grumpy if she doesn't do some kind of exercise every day. Bonnie is 61, with four grown kids and a supportive loving husband. She says, "Coming to work as a membership representative and at the front desk, in our zen atmosphere, is a piece of cake that I enjoy!" Bonnie loves seeing people transform their lives and their bodies with exercise, knowing that is an important part of getting older.

Her view from her desk!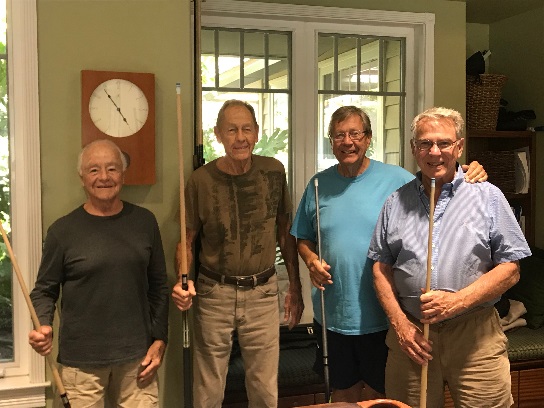 Special Events At The Club
ABAC is a great venue for your event!

The Avila Bay Athletic Club & Spa is the perfect venue for any special occasion! Our mission at the Avila Bay Club & Spa is to ensure your happiness and satisfaction with the planning and implementation of your event. We tailor each and every event to result in a day (or evening) that is enjoyable and stress-free, and one that creates a beautiful lasting memory for yourself, your family, and your friends. You will find our staff to be personable and experienced. Attention to detail and superb service are our specialties. Our skilled and accomplished Oasis Grille team is always eager to please, offering the convenience of on-site catering and a wide variety of delicious menu/banquet choices. The Avila Bay Club & Spa is the ideal site for a memorable celebration. Questions? Please contact Travis Hawley at 805-595-7600 ext 113 or [email protected]



Spa Department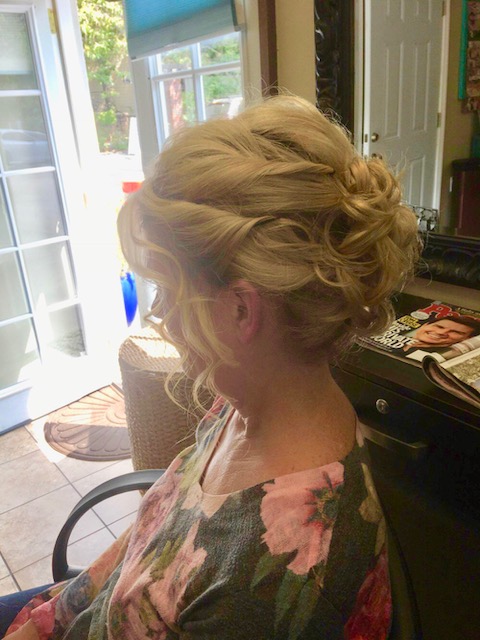 After receiving an amazing new hairstyle, beautiful nails, relaxing facial, or fabulous skin care! Who do you tell?

Sharing your experience with friends, family and co-workers will remind them to take care of themselves.

Now is a PERFECT time to schedule your spa treatments. Kids are back in school and you can get back to a routine, so don't forget to take care of yourself! It's a wonderful feeling to look ahead at your calendar and see that you will soon be having a HAIR, NAIL, FACIAL OR MASSAGE appointment!

The Salon and the Spa are open seven days a week! We would love to hear from you.

Please contact Diane with any questions [email protected] or call the front desk to book your appointment at 805-595-7600 ex 0.
FITNESS DEPARTMENT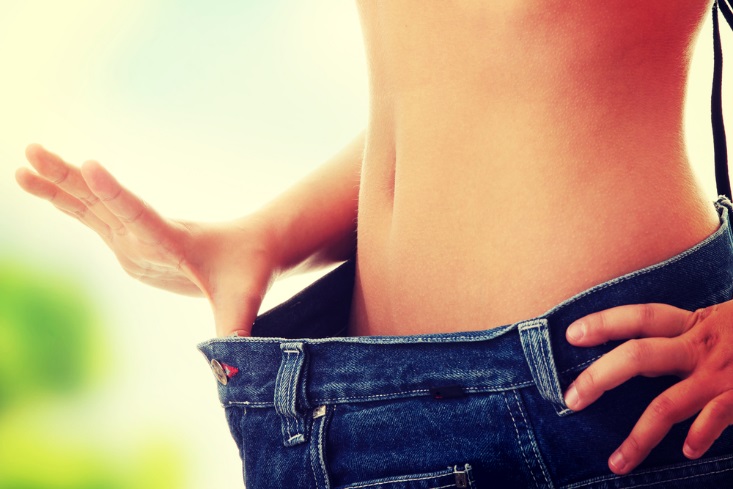 Drop 2 Sizes Is Back!
With a twist! This time we will be really focusing on incorporating fitness into your daily routine as well as helping you through your nutrition challenges!
SMALL GROUP 8 PEOPLE MAX
6 WEEKs
Begins September 24th
1 on 1 initial session to address personal goals and challenges
Twice a week small group training
$299 total
Our last group had amazing success so don't miss out! Only 8 people!


FIT TENNIS!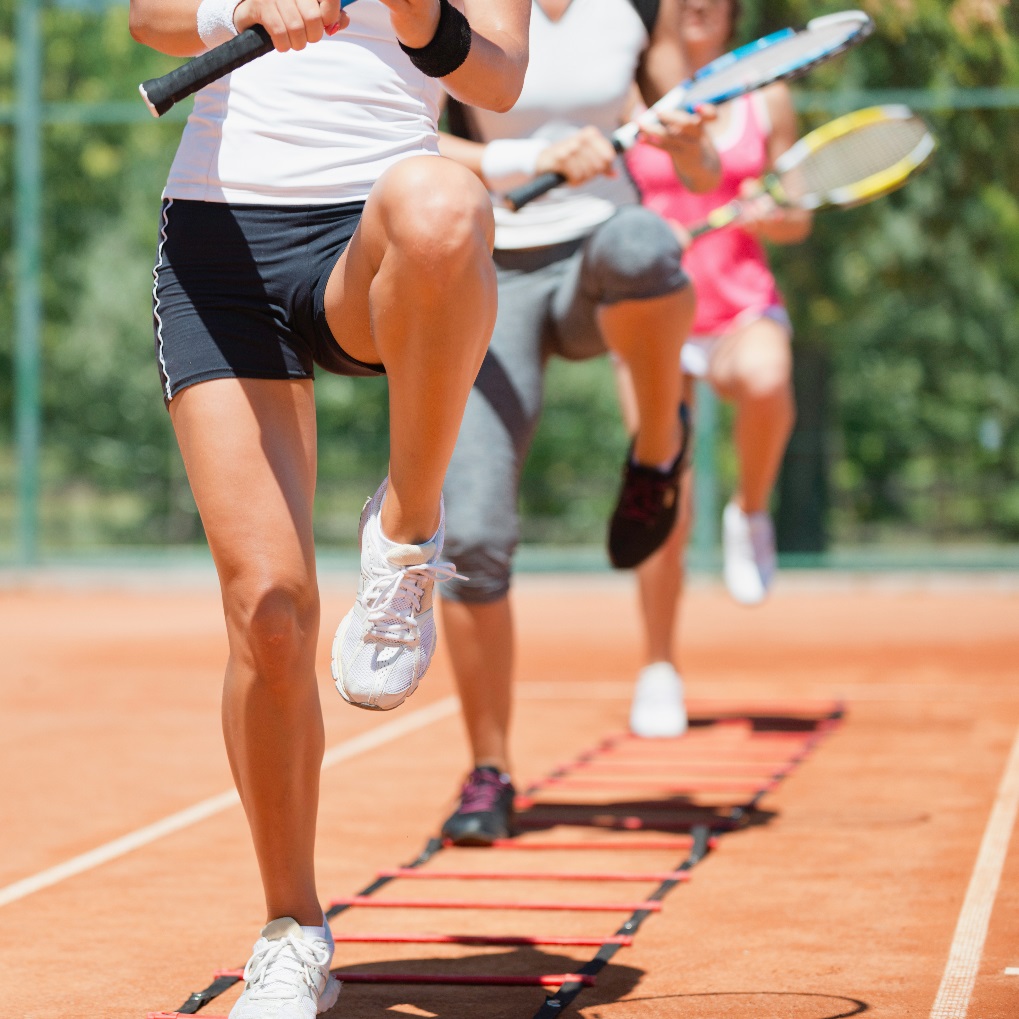 Hop in on a cross training event geared specifically to our tennis players.
Improve your strength, agility and speed through dynamic and functional exercises.

Avoid injury by learning how to train all sides of your body!

September 15th
8am – 9am
Sign up in the lobby and we will meet in the park, behind the Pavilion.
$20 per person
TENNIS NEWS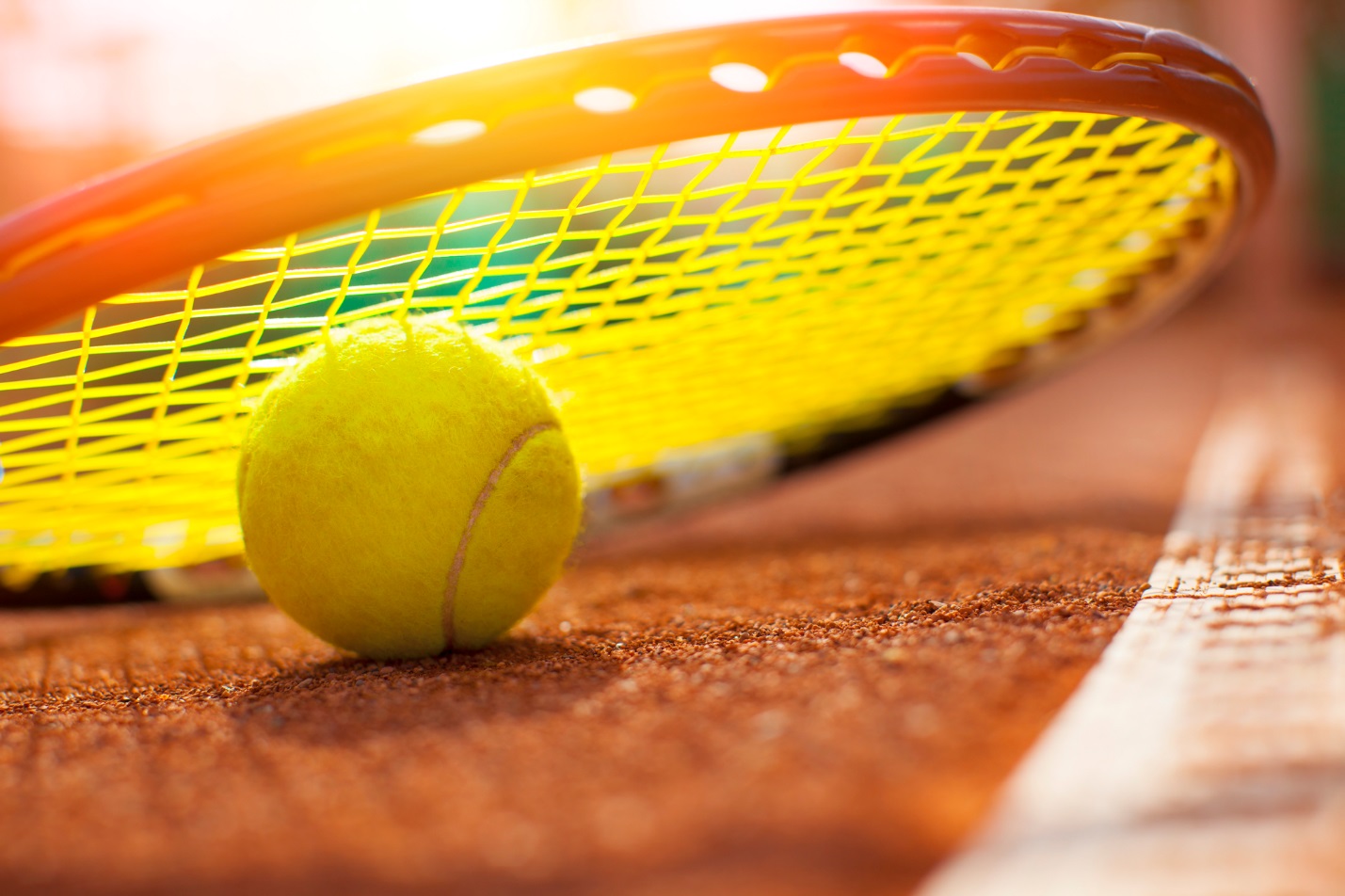 October 21, 2018 : 2 P.M. - 4 P.M.

Avila Bay tennis staff (Hugh, Korey and Michael) and local junior tennis players are excited to partner up with Avila Bay Club adult members for an amazing afternoon of tennis, drills and match play. This will be a combined clinic with adults and junior players.

The event is to assist former Cal Poly All-American Bob Zoller in raising money for Truthful Gospel Ministries Society Kallur. Zoller has been to India 10 times in the last 17 years helping children living, learning and thriving at the India orphanage.


---
September Schedule Changes
09/08/18: Beginning, Intermediate and Advanced Adult Clinics will be instructed by Cal Poly women's assistant coach Ellie Edles.
09/09/18: Beginning, Intermediate and Advanced Adult Clinics will be instructed by Cal Poly women's assistant coach Ellie Edles.
09/11/18: Beginning Junior Clinic, Intermediate/Advanced Junior Clinic, and Live Ball Clinic are Cancelled
09/13/18: All Level Drop In Clinic and Beginning Junior Clinic are Cancelled
09/14/18: High Five Junior Clinic and Intermediate/Advanced Junior Clinic Cancelled


---
The 2018-19 Central Coast Women's Tennis League begins competition on September 4 at 9:30 A.M. with the Killer Bees and Gems taking the court. Good luck to all seven Avila Bay Club teams this season. We have the most participants and teams out of any of our local clubs in the area. It's also the most new participants we've had representing Avila Bay Club in the league in over a decade.
Please welcome our new participants to the Central Coast Women's Tennis League Andreana Burbank, Hua Maloney, Maren Taylor Linkguel, Beatrice Vine, Nikki Caldwell, Jayne Engle Allen, Diane Farley, Dawn Goonetilleke, Jennifer Hayner, Whitney Hrdlicka, Laureen Killenburger, Anne May, Katie Silva, Sasha Szytel, Heather Carmichael, Janice Scott, Sandy Smith, Christina Sugarman, Kim Dickerson, Karen Gordon, Debbie Vandenburg and Anne Stegall.
---
Our long time junior tennis member Zachary Hilty will be leaving in mid September to attend Middlebury College in Vermont. The Panthers captured the 2018 Men's National Championship team title in Division III. Best of luck to Zachary in his academic and athletic adventures on the east coast.
Sophie Whittle is set to begin her senior year as a division 1 athlete at Gonzaga University. Whittle was a nationally ranked singles and doubles player for her 2017-18 season.
Congratulations to some of our other outstanding, college bound tennis players:
Angelica Gaglaino - American River College
Brendan Adams - Lewis & Clark University
Austin Bricker- University of Northwestern St. Paul
Mili Proft - Westmont College
Good luck in your new endeavors!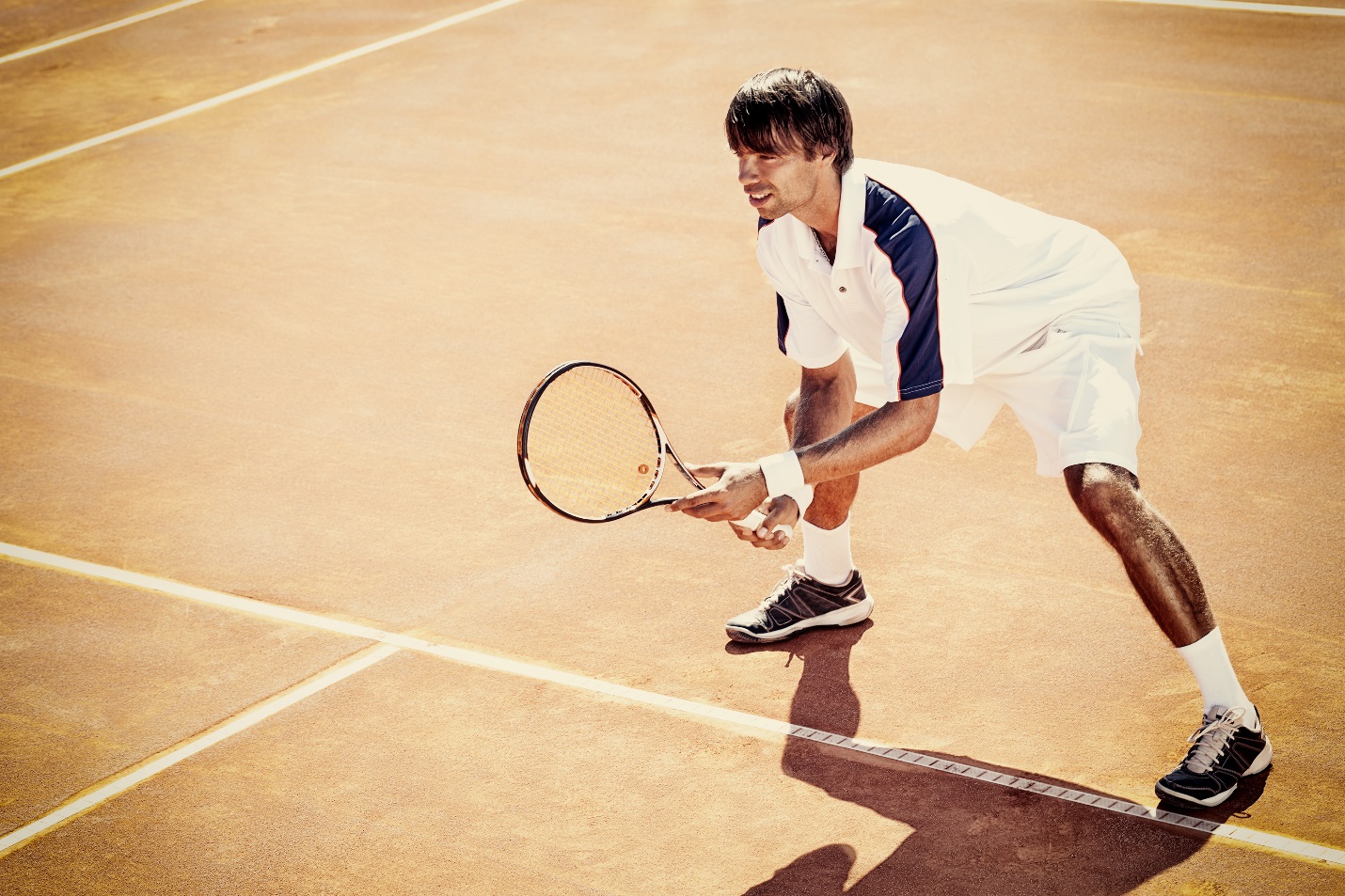 GOOD LUCK MEN'S TEAM
Good luck to our Avila Bay Club Men's 8.0 Level team competing at Southern California Sectionals September 21-23 at Sunset Hills Country Club, Westlake Athletic Club and Braemar Country Club. Team members include Steve Lakowske, Rick Cohen, Stephen Wagner, Gary Maier, John Lyle, Tai Martin, Ken Johnston, Fred Kelley, Bruce Trubo, David Rodgers, Howard Nicholson. We will be cheering you on all the way.

Avila Bay Club vs. Inland Empire : September 22 at 10:30 AM
Avila bay Club vs. Orange County : September 22 at 5:15 PM

Semifinals : September 23 at 10:30 AM

Finals : September 23 at 3:45 PM


Central Coast Pro Tennis Open
September 23rd - 30th, 2018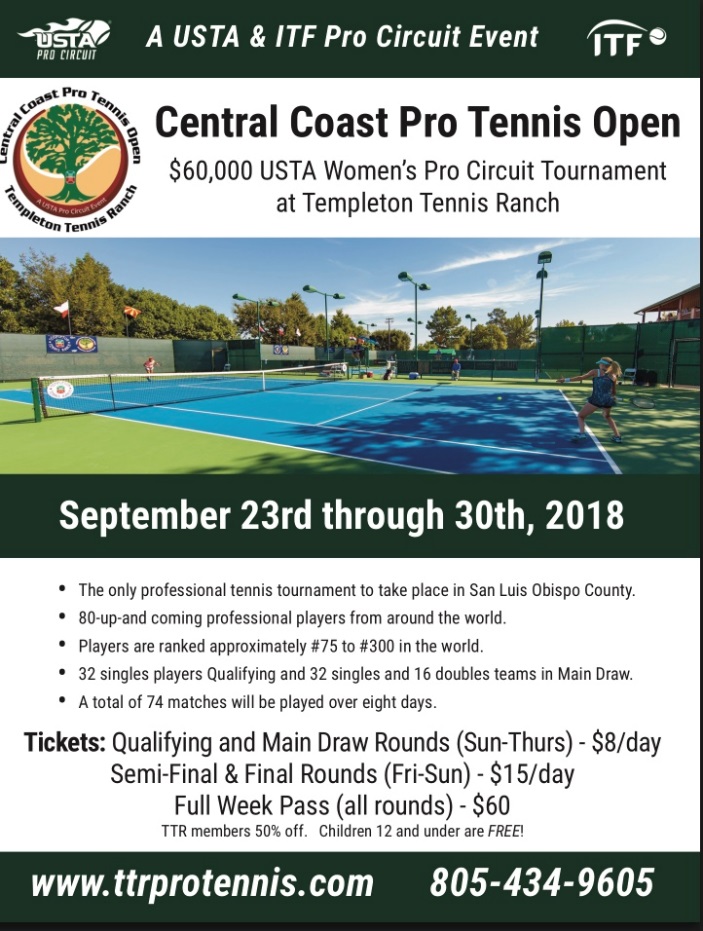 $60,000 USTA Women's Pro Circuit Tournament at Templeton Tennis Ranch

Highlights
* The only professional tennis tournament to take place in San Luis Obispo County.
* 80-up-and coming professional players from around the world.
* Players are ranked approximately #75 to #300 in the world.
* 32 singles players Qualifying and 32 singles and 16 doubles teams in Main Draw.
* A total of 74 matches will be played over eight days.
Tickets: Qualifying and Main Draw Rounds (Sun-Thurs) - $8/day

Semi-Final & Final Rounds (Fri-Sun) - $15/day

Full Week Pass (all rounds) - $60

Children 12 and under are FREE!

* Look for professional tennis player Maria Sanchez at Avila Bay Club prior and during the tournament practicing for Central Coast Pro Tennis Open. Sanchez attended the University of Southern California where she was a three-time All-American in singles and doubles. She was the no. 1 collegiate player throughout the 2011–2012 season and was named the ITA Senior Player of the Year. Currently ranked #136 in the world in doubles and #265 in singles.


Tennis Ticket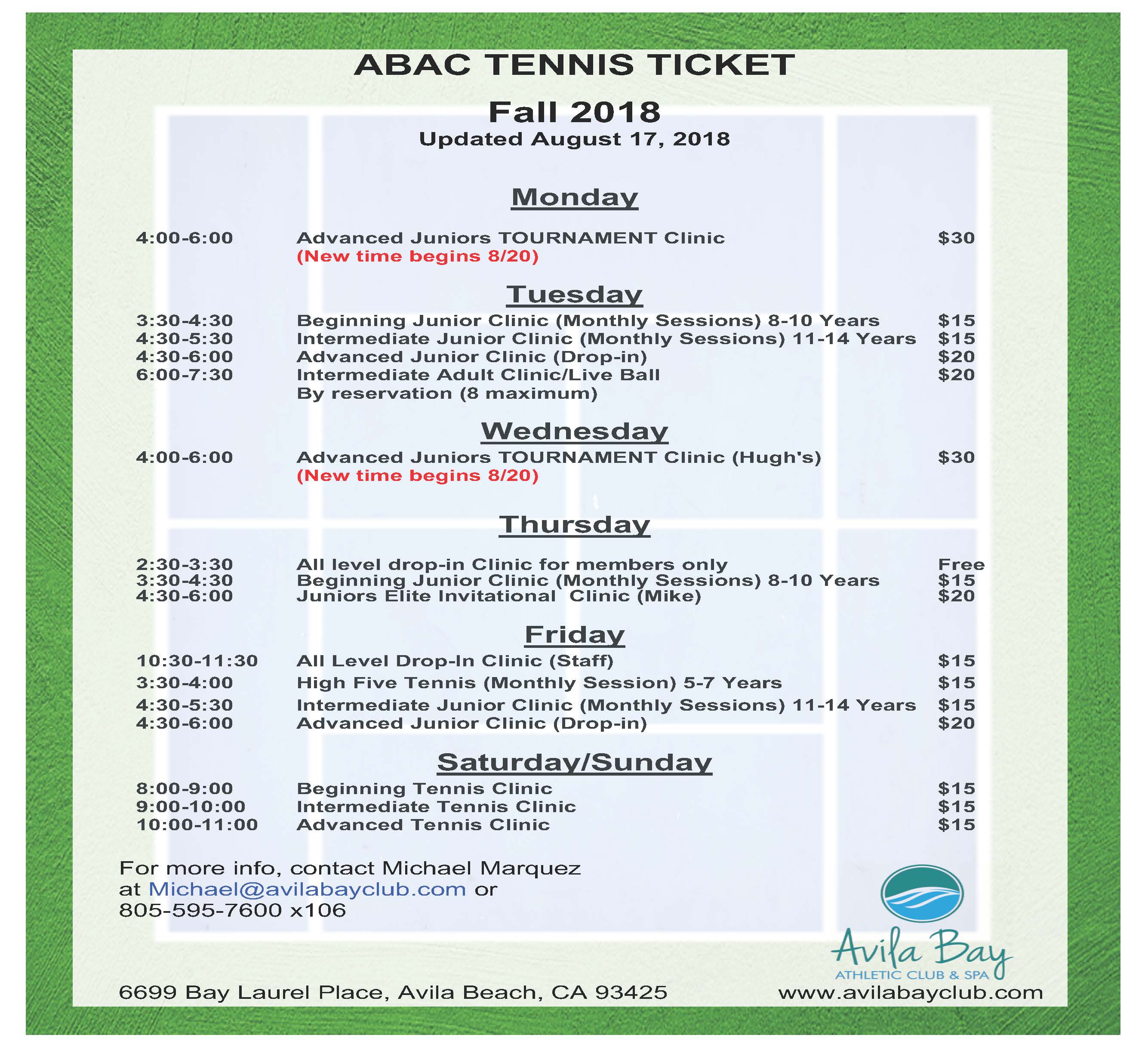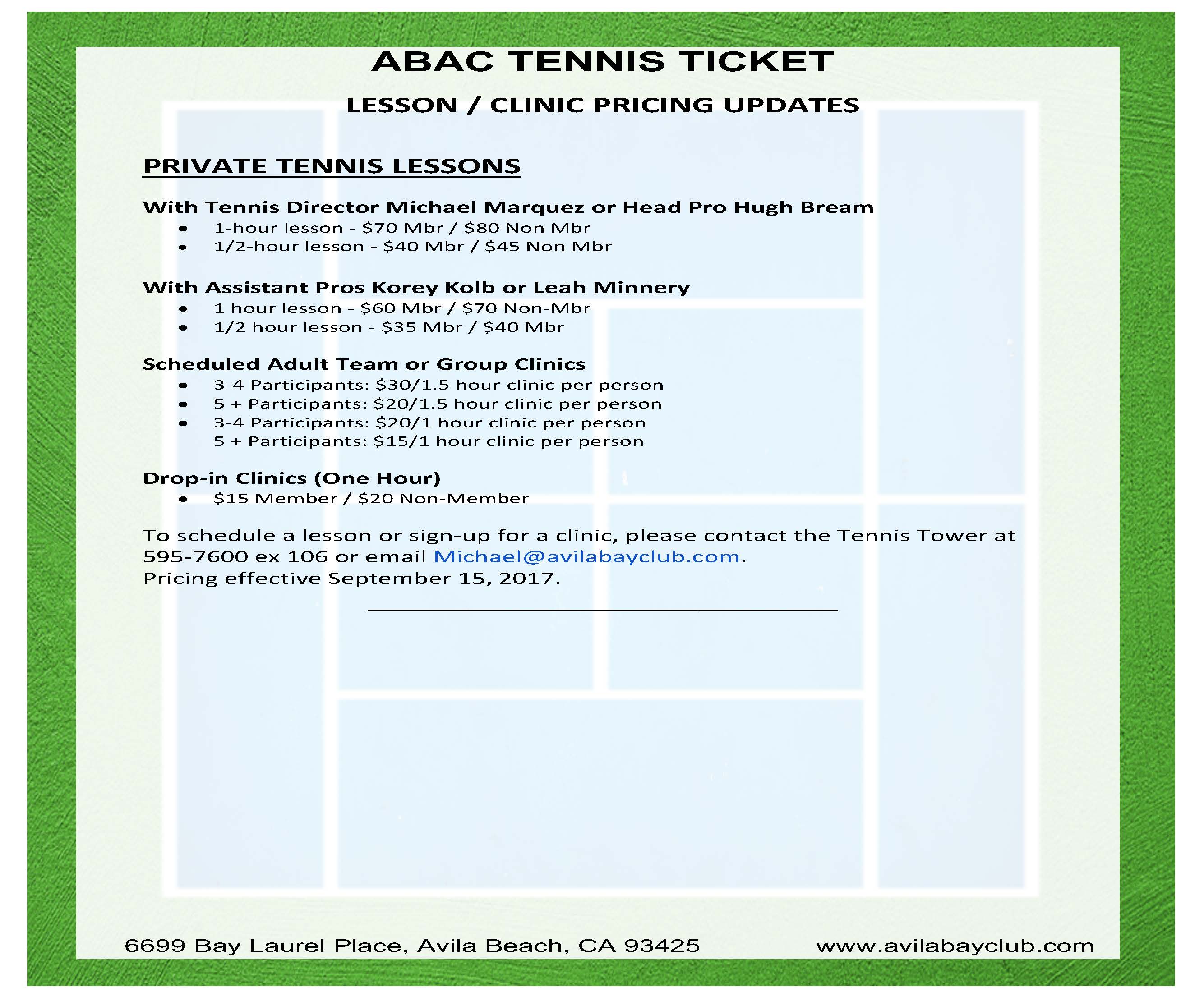 Aquatics Update

We're in back-to-school mode at our pools! The afternoons now are a little quieter and have just the distant echoes of happy summer laughs and sounds of kids playing in the water. The lifeguard chairs are put away, but you'll still see some of your favorite swim instructors teaching private lessons.

There are a few Aquatics programs coming up in the next few months to watch out for:
Parent-and-Me Swim Class: Help prepare your child for swim lessons! When kids are more comfortable and confident in the water, swim lessons are much less traumatic. You and your child will learn how to make being in the water a fun and safe. The class is on Tuesdays and Thursdays at 11:30 – Noon from September 4 – September 13.
After-School Swim Academy: Don't let those swimming skills fade! After-School group lessons will be available in October on Tuesdays and Thursdays from 4:30pm – 6:30pm. Session 1 is October 2 – 11; Session 2 is October 16 – 25. Contact Mitch to sign up!
I'm also making a few small changes to our Group Swim schedule. Starting September 4th, Group Swim will be available only on Tuesdays and Thursdays at 9:00am. If you can't make the schedule to come swim, I'd still like to encourage and motivate everyone to get a good workout in the pool. I know that sometimes the hardest part is coming up with sets to do. To help you out with this, we now have laminated workouts at the front desk that you can check out. Take one out to the pool with you, have a workout, and return it at the end.
Now you have one less excuse for burning some calories in the pool!