No Deck Party Due To Rain – Wednesday, November 15
Special Thanksgiving Thursday Night Dinner To Go – Thursday, November 16
Paint & Sip w/ Cindy B – Friday, November 17
Holiday Market – Sunday, November 19 (No yoga class this day)
No Deck Party Due To Holiday – Wednesday, November 22
Turkey Express Special Cardio Class – Friday, November 24 (No yoga with Summer this day)
Pickleball Round Robin – Sunday, November 26
Flamenco Dance Class – Thursday, November 30
Wednesday Night Deck Party w/ Jane's Gang Duo –November 29
Club Championships Tennis Tournament – December 8-10
Annual Member Holiday Potluck w/ DJ Buddy – Wednesday, December 13
Pickleball Round Robin – Sunday, December 17
Sound Healing Workshop – Sunday, December 17
New Year's Resolutioners Junior Camp – January 2-5
Holiday Hours
Wednesday, November 22 – Club closes early at 5 pm
Thursday, November 23 – Closed for Thanksgiving
Sunday, December 10 – Club closes early at 4 pm for staff holiday party
Club Updates
It's the most wonderful time of the year! (Yes, Nancy Terrell, the club's GM, is writing this, and I may or may not have Christmas lights up in my office already…). We still have many days of nice weather, the club is quieter with almost back to normal parking (remember, our lot is the one to the left of the club), we have some fun Wednesday Night Deck Parties ahead of us, Gwynne will grace us with more sound healing workshops, the fun Holiday Market is almost here, and don't forget some fun competitive tennis at the annual club championships!
Super congrats to Michael Marquez and Natalie on their new beautiful baby girl Ivy Rae! We are thrilled for you and send you all big hugs.
Here are some other updates and requests from fellow members and staff:
We are still waiting for some of the new fitness equipment, lobby furniture, and the new traditional sauna. Supply issues still directly affect us in many areas, so thanks for your patience.
Members have asked in surveys to convey that it is really disturbing for folks to come in late to group fitness classes. So please, just don't do it. Choose another activity at the club if you are running late. And PLEASE do not come to class if you are sick. We get complaints if someone in class is coughing, etc.
PLEASE wear a swim cap if you have longer hair and remove all band aids before getting into the pool. It is very frustrating for everyone to find used band-aids in the pool area.
We want families to have a good time at the club too, but keep in mind we do have some special rules for juniors:
o Kids under 16 are not allowed in the large hot tub or in the adult locker rooms.
o Kids under 12 are not allowed in the workout rooms. Those that are 12 & 13 that have met with a trainer first, can workout with the parents. Once kids are 14 they can workout and swim on their own.
o Kids 11-13 can take a group fitness class with a parent. They need to be 14 in order to participate in a Cycle Class.
Cell phone policy – No talking on phones in all workout areas and locker rooms (this includes the small changing rooms in the adult women's locker room). Absolutely NO SPEAKER phone usage is allowed in any area of the club. This includes watching videos on the speaker.
No outside alcohol is allowed in the club. If you would like to bring a special bottle of wine and pay the corkage fee, please ask the manager on duty to help you.
Thanks for your help in keeping the club your happy and healthy place!
Hello from the Aquatics Department

My name is Jeanette Eckert, and I came on board as the Aquatics Director at the beginning of the year. You will find me most days poolside either teaching swim lessons in the small pool, helping coach group practices, or swimming laps in the big pool. If you haven't met me yet, please say hello on deck!

Fall is in full swing and the weather is still beautiful, so come and join us in the water! There are many opportunities to enjoy the pool:

Adult Group Swim meets on Tuesdays & Thursdays 9:00am-10:00am. If you like swimming laps and want a challenge, come and check it out.
Aqua Exercise is held on Tuesdays & Fridays 11:00am-12:00pm. Enjoy the group dynamic and get a great cardiovascular workout.
Deep H20 Exercise is held Mondays, Wednesdays, and Thursdays 11:00am-12:00pm. Develop strength and endurance while in the water.
Swim Lessons are still going strong! We offer private swim lessons yearound for all ages:
6 months to adults. These lessons can be scheduled directly with the instructor to fit your scheduling needs.
Wavemakers is our youth swim and water polo program. We meet Monday-Thursday 4:30pm-5:30pm. Practices focus on stroke technique, strength development, and interval training.

Please contact me with any questions, or to get signed up for any of our aquatic programs.
[email protected]
(805) 595-7600, ext. 111
A Goodbye And Hello From The Fitness Department

I wanted to take a moment to express our heartfelt farewell to Suzanne. Suzanne has not only been a remarkable fitness director and instructor but also a cherished friend. Her passion for fitness and dedication to helping others lead healthier lives has been an inspiration to all of us. She has left a permanent mark on our club community. Farewell Suzanne. Your presence will be greatly missed. May this new adventure be filled with joy, success, and new friendships!
My name is Danielle Lien and you've possibly seen me training in the weight room, teaching a TRX class, or working with Cancer Well-Fit. I've been with the club for almost nine years, and I am so excited to step into the Fitness Director position. My journey in the fitness industry has been driven by a desire to empower others to lead healthier and happier lives. I believe in the transformative power of exercise, all the while finding fun and friendships in fitness. I'm excited to get to know you and help make your fitness journey more enjoyable and successful!
Come and meet me at the special Turkey Express cardio class I will be teaching on Friday, November 24 from 8:15 – 9:00 am!
I can be reached by email at [email protected].
Tennis Updates And Revised Ball Machine Rules

We have some strong requests from management and fellow members. Please follow these guidelines closely going forward:
The ball machines have very limited availability, which is why we have historically not charged an extra fee for their usage like most clubs do. Some people have been booking a one and a half hour court and then adding ball machine later when they are within the 24 hour rule. We will no longer honor this situation. The ball machine can only be booked within 24 hours ahead, by calling the front desk, and it can only be for one hour on courts 6 or 7.
All court reservations prior to noon, must have at least two members listed on the reservation or it will be canceled by a staff person. We have found a few people booking a court with one name, at the same time as one of their playing partners, which is preventing someone else from getting a reservation.
If you want to remain on your court past your reservation time ending, you must call or go to the front desk to rebook the court if it is available. This can only be done within ½ hour of the end of your reservation. You are also able to book a different court, again only if it is if within ½ hour of the end of your first reservation. Any group found to have booked a second court prior to ½ hour of their first reservation ending, will automatically have their 2nd reservation canceled.
PLEASE pick up all of the tennis balls from your court when you are finished. If you do not want to keep them, please put them in the tennis ball collection containers. Members get very frustrated when other members do not clean up after themselves.
PLEASE exit your court when your reservation time is over. You can finish up the current game but that is all. We have had many complaints lately about people not leaving the court when their reservation is over. The only exception is if you followed the guideline above requesting that you make a new reservation. Please exit the court in a timely manner and do not ask the arriving players to move to an empty court. We should all honor each other's reservations. Arriving members do not want to ask you to leave, just like the swimmers that are not comfortable asking someone to exit a pool lane. No one is ever allowed to be on a court that they have not reserved.
A Thanksgiving Themed Thursday Night Dinner To-Go
Thursday, November 16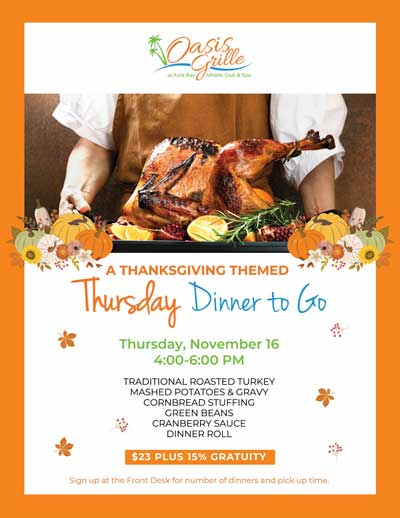 Paint & Sip
Friday, November 17
11am - 1pm
Free for Full Members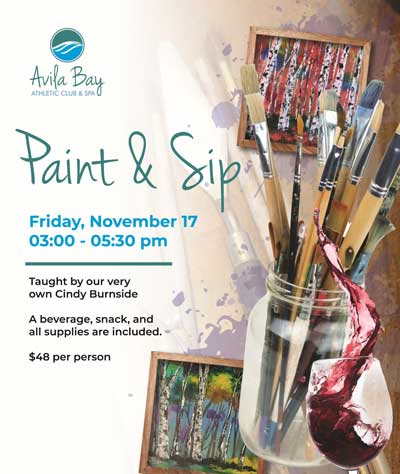 Holiday Market
Sunday, November 19
10am - 2pm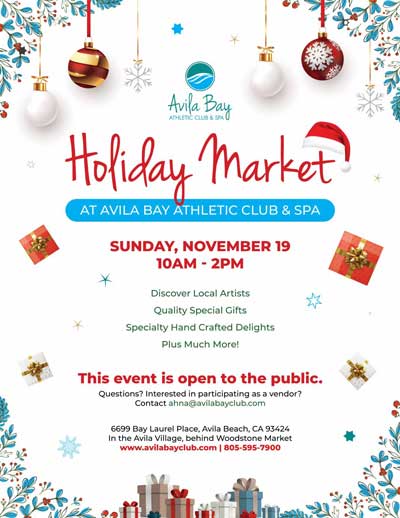 Pickleball Round Robin
Sunday, November 26
11am - 1pm
Free for Full Members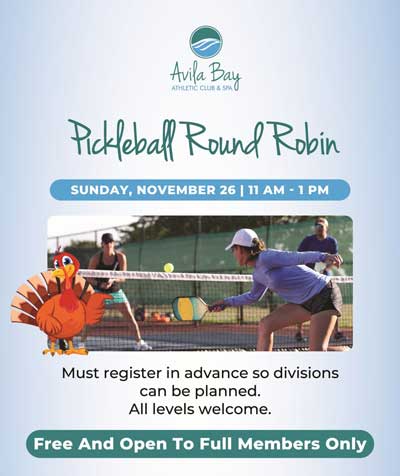 Flamenco Dance Class
Thursday, November 30
6pm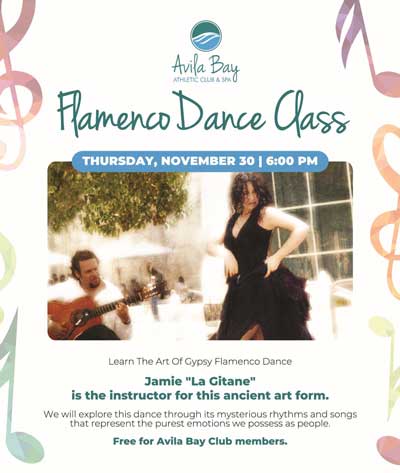 Tennis Club Championships
December 8-10
Sign-Up Online From The Links On This Page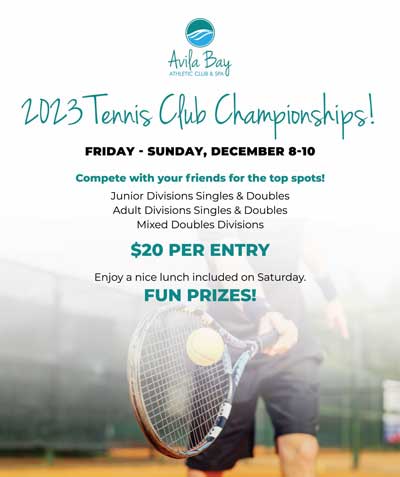 Annual Members Holiday Potluck w/ DJ Buddy
Wednesday, December 13
5:30pm – 7:30pm

A special Wednesday Night Deck Party with DJ Buddy! Bring your favorite dish and mingle with fellow club members. Wear your best holiday sweater and dancing shoes!
Sound Healing Workshop
Sunday, December 17
4pm - 5pm
$40 Members / $55 Non-Members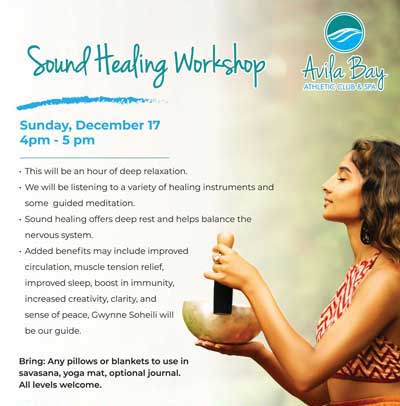 New Year's Resolutioners Junior Camp
Tuesday-Friday, January 2-5
Click Here To Sign-Up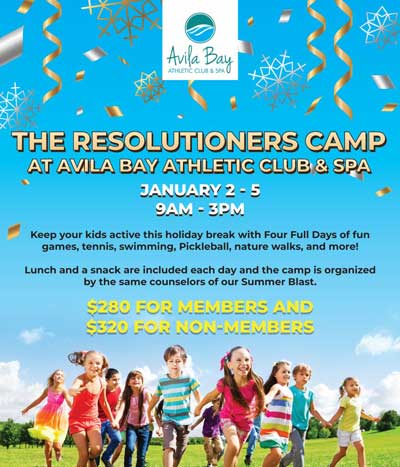 Fall / Winter / Spring Club Hours
Monday-Thursday 5:30 am – 9:00 pm
Friday 5:30 am – 8:00 pm
Saturday 7:00 am – 8:00 pm
Sunday 8:00 am – 8:00 pm
Kids' Club Hours (by reservation only)
Note - We do not allow kids that appear sick, with even a runny nose, in Kids' Club.
Please make a separate reservation for each child.
PLEASE TEXT 805-704-5061 IF YOU MAKE A RESERVATION FOR AN INFANT. We must plan ahead for infants.
Monday through Friday 8:30 am - 12:30 pm
Tuesday through Thursday 3:30 pm – 6:30 pm
Friday 3:30 pm – 6:00 pm
Saturday 9 am – 12:30 pm
Sunday 9 am – 12:00 pm