Club Reminders & Announcements

We ask that all members lock up all their belongings at all times. This includes while you are in the shower.
Due to many member requests, we hope to install a self-serve ice and water filling station. We have started working on this project.
Here are few reminders as requested by fellow club members:
-Please obey the round-a-bout directions in the parking lot. Even if someone is being dropped off in front of the club, please be patient.
-Cover your mouth when you sneeze or cough. Cold season has begun and fellow members want to avoid shared germs.
-Leave the electric vehicle parking spots for electric vehicles.
-Leave the club newspapers at the front desk when finished
Holiday Hours
Wednesday , Nov 27 close early at 5 pm
Thursday, Nov 28 closed for Thanksgiving
Tuesday, Dec 24, close early at 2 pm
Wednesday, Dec 25 closed for Christmas
Tuesday, December 31 close early at 5 pm
Wednesday, January 1 closed for New Year's Day
Holiday Arts & Crafts Fair

Sunday, November 24
10am – 2 pm

Come get your holiday shopping done early with over 30 local artists and vendors displaying their work. We have something for everyone so it's sure to be a great time! Please contact Travis Hawley with any questions at [email protected].
Kids' Paint And Snack
Saturday, November 9
2pm - 4pm
$35 includes supplies and snacks!

The kids will each paint their own canvas, under the direction of our very own staff member Cindy Burnside. The adult class last month was so successful that people asked for a kids' version! Sign-up by emailing [email protected], or with the sheet at the front desk.
Adult Paint And Sip

Saturday, November 16
2pm - 4pm
$45 Includes supplies appetizers and one beverage
Last month's class with Cindy Burnside was such a hit that everyone asked for another class! Even the most beginning artist will come away with their own special canvas creation. Sign-up by emailing [email protected], or with the sheet at the front desk.
Cornhole League

We are trying to arrange a cornhole league to take place Saturday or Sunday afternoons at the club. We can play either indoors or outdoors. If you are interested, please email [email protected], or sign-up in the lobby.
Congratulations To Employee Of The Month Sue Lavagnino!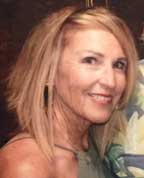 Sue has worked at ABAC for 12 years and has lived in the area since 1989. She believes the club is truly a slice of heaven. Caring and beautiful friendships have grown and she loves every moment of teaching aqua. There are not enough words to express how she feels about Avila Bay Club. In her spare time she enjoys spending time with her kids and grandkids, doing anything outside, and simply enjoying life with friends. Her secret dream would be to sing in a band. Congratulations Sue!






Avila Bay Club Spa News

With the changing of the weather, we invite you to experience a high performing yet relaxing facial Youth Renew Hydra Glow Peel from Pevonia. This awesome product solves some of winter's beauty dilemmas. Treat your skin to a smoother texture, minimized wrinkles, and a brightened complexion. Using pure, natural lactic acid, this gentle peel unveils wonderfully hydrated and plump skin with a radiant and healthy glow. Perfect peel for special events!
For Optimum Results, Purchase a Peel Series: 3-6 Peel Services
No matter what you choose or who you gift an experience to, we wish you a Happy Healthy November.

Book Your Spa Appointment Today with the Friendly Front Desk Staff
Central Coast Women's Tennis League

Our Tennis Director, Michael Marquez, is still looking for novice tennis players to join the nine ladies that are ready to practice for next year's season. If you are interested in a new sport and an opportunity to make new friends, this is it! Contact Michael at [email protected].
ABAC Exchange With Pierpont Racquet Club In Ventura

Saturday, November 8 – Sunday, November 9
A group of 12 avid tennis players are participating in an exchange with Pierpont Racquet Club and then joining fellow members the next day for a hike on Santa Cruz Island. This trip is now sold out. Look for other getaways in the near future.


December Tennis Social

Saturday, December 7
12 pm – 3 pm
Free Event For Members Only
Come join your fellow tennis members and our tennis director for our first team tennis social! Wear your Christmas tennis outfits! 12 participants needed. 3 rounds played with a different partner each round. Rounds consist of 8 pro sets. 5 out of 8 wins.
Pot luck following team tennis! Prizes awarded to winning team! Sign up online with the Avila Bay Club app, or email [email protected].


Singles & Doubles Tactic And Point Play Clinic & Fundraiser

In Memory Of Michael Kullman – A Young Man That Loved To Help Others
Sunday, December 8
12:30 pm -2:30 pm
$40.00/pp
Please join Hugh Bream, Korey Kolb, Michael Marquez, and local junior tennis players, as they partner up with Avila Bay Club adult members. This will be an amazing afternoon of tennis drills and match play. There will be a combined clinic with adults and junior players.
This event is to assist former Cal Poly All-American Bob Zoller in raising money for Truthful Gospel Ministries Society in Kallur. Zoller has been to India 11 times in the last 18 years helping children living, learning, and thriving at the India orphanage.
Sign up online with the Avila Bay Club app, or email [email protected].


Cal Poly Tennis Pro-Am

Sunday, January 12, 2020
11am-1pm
Open to any and all levels of play. $200.00 donation required.
Register online with the Avila Bay Athletic Club app. There are 13 people already signed up, and 20 spots are available, so get your reservation in soon.
For any tennis/pickleball event, you may sign-up at the tower or email us at [email protected].
44th Annual Club Championships

PLEASE READ – AS LOW SIGN-UPS MAY CAUSE EVENT TO BE CANCELLED
Saturday, November 16 – Saturday, November 17
New Format This Year!
Please sign-up by Friday, November 8, or we will re-evaluate what kind of event, or day of the week, you want to attend instead. We are also open to feedback on the type of event you would like to see, so please voice your opinion with [email protected].
NO PARTNER NEEDED. This year the Tennis Director invites you to participate in our first ever, Doubles Surprise-Random Pairing Tournament. All players will be paired through a public draw, by division, enter as an individual. No pressure, and lots of fun! Entry deadline is Tuesday, November 12. There will be a consolation round with a "new partner pick". Sign up in the tower, or email us at [email protected].
Pickleball & Stuffing Contest

Sunday, November 24
3pm - 7pm
Come join our Tennis Director and fellow pickleballers for our monthly pickleball open play. It's a fun filled evening with comraderie, exercise, and lots of laughs. This month we are having a stuffing contest. Bring your home made stuffing and then sit down for a taste of the best stuffing in town!
Pismo Hike

Saturday, November 30
9 am - 12:30 pm

Come and work off the Thanksgiving Day calories on this advanced hike in the Pismo area.
We will hike and enjoy a light snack up on the ridge over looking the Pismo and Shell Beach area.
For more information and to sign-up, contact Amy at 805-459-9786.
Bootcamp!

Super proud of these amazing athletes! We are 2 weeks in on our 8 week bootcamp and already they are seeing results! Muscle gains and weight loss! I am so inspired by their dedication and desire to be healthier and feel better. They are embracing my philosophy that small changes equal big results and it's the little changes that end up lasting a long time. Choosing to be healthy is something you do every day and these folks are doing it! Don't miss out on our next one! As you can see by their faces it's a great time and you make great friends in the process! - Kristin
9 Reasons To Stop Drinking Diet Soda

1) Confuses The Body - Artificial Sweeteners have more intense flavor than real sugar, so over time products like diet soda dull our senses to naturally sweet foods like fruit.
2) Causes Weight Gain - Diet soda drinkers have a 70% greater increase in waist circumference compared with non-drinkers.
3) Increased Risk Of Type II Diabetes - Drinking one diet soda a day was associated with a 36% increased risk of metabolic syndrome and diabetes in a University of Minnesota study.
4) No Nutritional Value
5) Artificial Sweetner Linked To Headaches
6) Weakens And Destroys Tooth Enamel Over Time
7) It's Associated With Depression
8) May Contribute To Osteoporosis
9) Increased Risk Of Stroke Or Heart Attack
Aquatics Update

Cold weather is upon us! Our pools and hot tubs are still toasty warm and inviting though. If you are looking for a great way to start your morning, check out our Adult Group Swim on Tuesdays and Thursdays from 9:00 – 10:00! We also have one more session of our After-School Swim Academy for kids starting on November 12th.

As always, we appreciate everyone being friendly and sharing lanes when necessary. Remember that if you are waiting for a lane, there may be someone else already sitting by the pool waiting for a spot, so double check before you jump in.

Enjoy the water!