WinterFest Boutique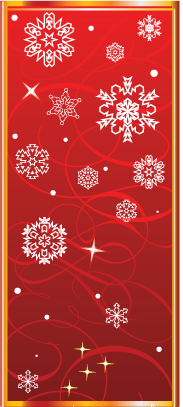 Sunday, November 24
10:00—2:00

Wouldn't it be great to get your holiday shopping done early?
There will be something for everyone at our annual WinterFest Boutique! Unique and quality items from local artists: clothing, lotions, jewelry, artwork, children's items, and so much more!
Free & open to the public.
Contact Travis with questions or for more information 805-595-7600 ext.113 or [email protected].


THIRD-THURSDAY WINE DOWN!
FEATURING CHAMISAL VINEYARDS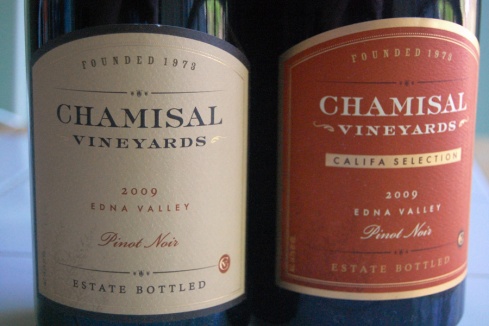 Thursday, November 21
6:30-8:00

Chamisal was the very first vineyard planted in the Edna Valley appellation in 1973 by the Goss family, who named the estate for the fragrant Chamise, a native white-flowered shrub that thrived on the property. After going dormant several years later, the vineyard was purchased in the early 90s by a visionary who recognized its great potential. With this development came a new name, Domaine Alfred, and the replanting of the vineyard to a wide range of clones across five grape varieties — mainly variations of Pinot Noir and Chardonnay, as well as some of Grenache, Syrah, and Pinot Gris. Under new ownership in 2008, the original Chamisal Vineyards name was brought back. 2013 marks the fortieth year of production for this historic vineyard, and we at the Avila Bay Athletic Club & Spa are excited to be bringing the tradition and history of Chamisal to our November "Wine Down." Please join us for an evening of fun, tasty hors d'oeuvres, and, of course, some terrific wine!

Only $15 per person. Non-members are welcome, so bring your friends.
Free child care available by request.
Questions? Contact Travis at 595-7600 ext.113 or [email protected].


FROM THE SPA
BY SHERRI BUVICK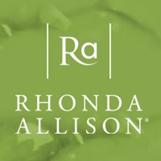 Make sure your skin is looking its best for the upcoming holidays! Esthetician Candice Holloway has just added the Rhonda Allison skin care line to her facials. Effective professional products that make a real change in the skin, made only with the highest grade ingredients, no dyes or fragrances, prepared and packaged to insure freshness and stability, you are going to LOVE Rhonda Allison! Book your appointment at the front desk, ask for Candice, and experience amazing results.


Welcome Donna Wilkinson to ABAC's Spa Staff!
Donna is our new hair and nails gal, and we are delighted to have her working her magic in the Salon. Donna is a native Californian, with many years experience doing hair for shows, fashion models, and magazine work. She has studied advanced styling at Vidal Sasson's mother salon in Kondon, England and with Jon Peters in San Fernando Valley. Donna is certified with Peter Hantz, Paul Mitchel, and Clairol. Her goal is to reach out to the ABAC community with love, and beauty artistry for all who visit the Salon. Make your appointment now; Donna's clients have been so pleased with her hair genius! Just ask Amy!
Jamina Shares The Benefits of Facial Massage
Facial massage is underrated! The benefits are numerous:
• helps stimulate blow flow, which in turn helps move toxins out of your body
• exercises facial muscles, which gives your face an instant "lift"
• gives your skin a beautiful glow
• stimulates the lymphatic system, reducing eye puffiness and dark circles.
You can give yourself a facial massage at home during your cleansing routine, while you apply moisturizer or while applying a treatment serum. If you perform a facial massage every night, or at least two to three times a week, you are guaranteed to see visible results in your skin. You will notice less sagging, less puffiness, less dullness, a softening of fine lines and wrinkles, and overall glowing skin! Challenge yourself—take a photo every two weeks to really see the difference.
I am now holding free classes at the club, where I give lessons on at-home facial massage and facial exercise techniques to help combat aging! Watch for the next one.
Call Jamina for more information (818) 314-8118


HALLOWEEN BASH WAS A BLAST!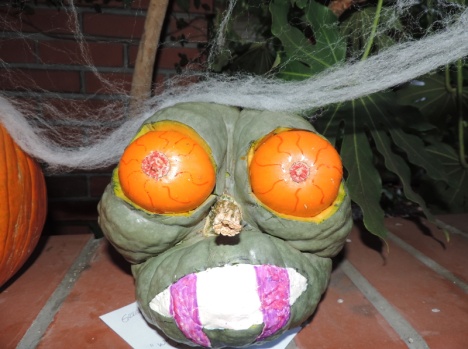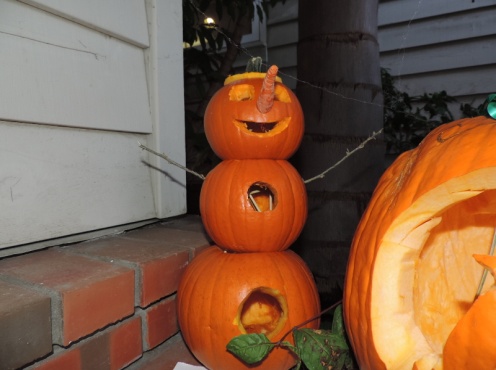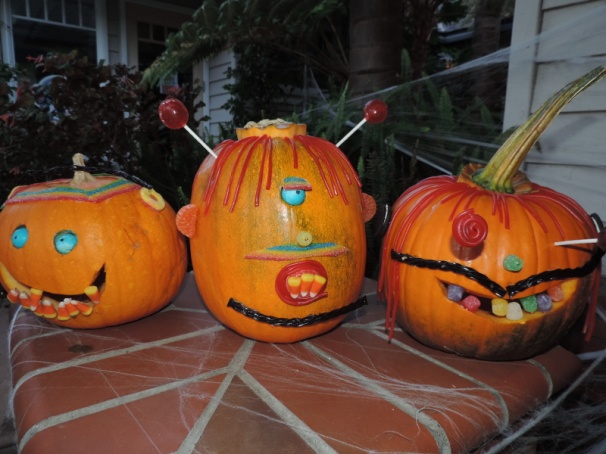 | | |
| --- | --- |
| | 1st place employee – Created by Cindy Burnside |
| | 2nd Place employee – Bre Boswell |
Wow! Talk about some great spooky fun. We had a great turnout for the haunted house and all the fun games and activities. So many GREAT costumes, and lots of zombie pirates to go along with our 2013 theme. Thank you, everyone, for making it the best bash EVER!
Congratulations to our member pumpkin carving winners:
1st Prize, $50 Club Gift Card for "Who Knows What This Is!"
- Greg, Alma & Gigi Gormley
2nd Prize, $25 Club Gift Card for "Pungi the Pumpkin Man"
- James Tregenza
3rd Prize, $25 Club Gift Card for "Candy Pumpkin Trio"
- Noa, Ethan & Phoebe Johnson
And our employee winners!
1st Prize, for "A Pumpkin Named Carlos" - Cindy Burnside
2nd Prize, for "Penguin Mama & Baby" - Bre Boswell


HAVE YOUR HOLIDAY PARTY RIGHT HERE AT THE CLUB!
COMPANY PARTIES
FAMILY PARTIES
Save your date now! We do all the work! Ten to 200 people. Contact [email protected] or 595-7600 ext.113.


AMAZING WORKOUT APPAREL SALE!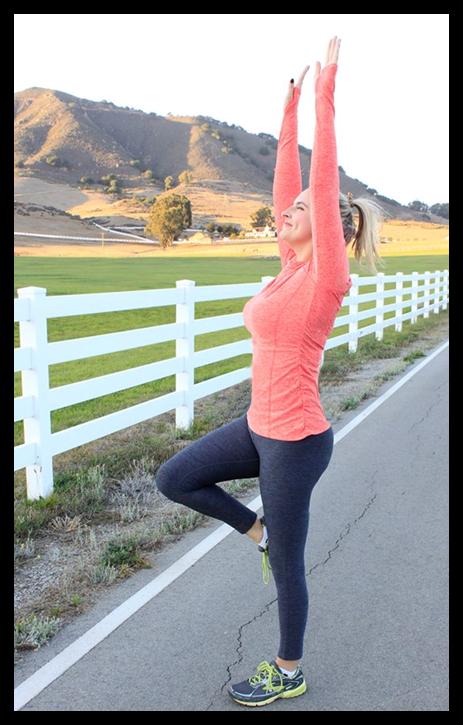 THURSDAY, NOVEMBER 7 ● 10:00 A.M. TO NOON
SATURDAY, NOVEMBER 9 ● 9:00 A.M. TO 2:00 P.M.
Alexandra Sutton
Presents a Special Event for the Avila Bay Athletic Club & Spa.

Come get the brands you love, like Soybu, Athena, & Tommy Bahama!
Amazing workout apparel that can take you from the gym, to the office, and out on the town in style.

SAVE up to 50% off on beautiful and comfortable leggings, crops, pants, swimwear, and sundresses.

Alexandra will be in the conference room November 7 & 9 (see times above). Make sure to stop by and say hi!


AQUATICS!
BY KALEY CONROW
Avila Bay Starfish News!
I cannot wait to take our Starfish swimmers to their first USA Swimming meet! The SLO Gobbler Classic, hosted by the San Luis Obispo Swim Club (also the "Seahawks"), has a novice session Saturday, November 23. this is the perfect way for swimmers to have that "first meet experience" and obtain official times, without feeling overwhelmed. If interested in participating, email [email protected], or let me know at practice.
The SLO Gobbler Classic Swim Meet is at the San Luis Obispo Swim Center, warm-ups begin at 8:45 a.m., and the meet will end by noon. To be eligible, participants must be USA Swimming registered.
Green Group: 3:45-4:00 (ages 4+)
• Great workout for those beyond swim lessons but not ready for swim team
• Make friends
• 100-300 yards

Orange Group:
4:00-4:30 (ages 5-8)
• Focus on technique for all four strokes, counting yards, building endurance, and having fun
• 300-1,000 yards

Blue Group: 4:30-5:30 (ages 9+)
• For older children and teenagers who are ready for a disciplined workout, want to gain endurance for Jr. Lifeguards, and/or are ready for competition
• 1,200-2,500 yards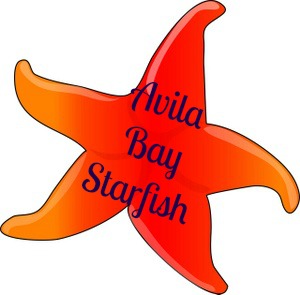 Mondays/Wednesdays/Fridays
Youth Swim Team practices are year-round! (Except for the following vacation days: 11/25-11/29 & 12/23-1/3—enjoy the holidays!)
Swim Team Prices:
Green = $5 drop-in or pay monthly: 2x/wk=$28; 3x/wk=$36
Orange & Blue = $10 drop-in or pay monthly: 2x/wk=$56; 3x/wk=$72
*Prices are 20% more for non-members


Avila Bay Club Masters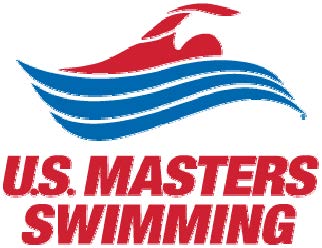 Fantastic and fun workout for adults! Let Liz Mills and Kaley Conrow help you take your swimming to the next level. Come try it out twice for free!

Mondays & Wednesdays: 5:30-6:30 p.m.
Thursdays: 6:00-7:00 a.m.


News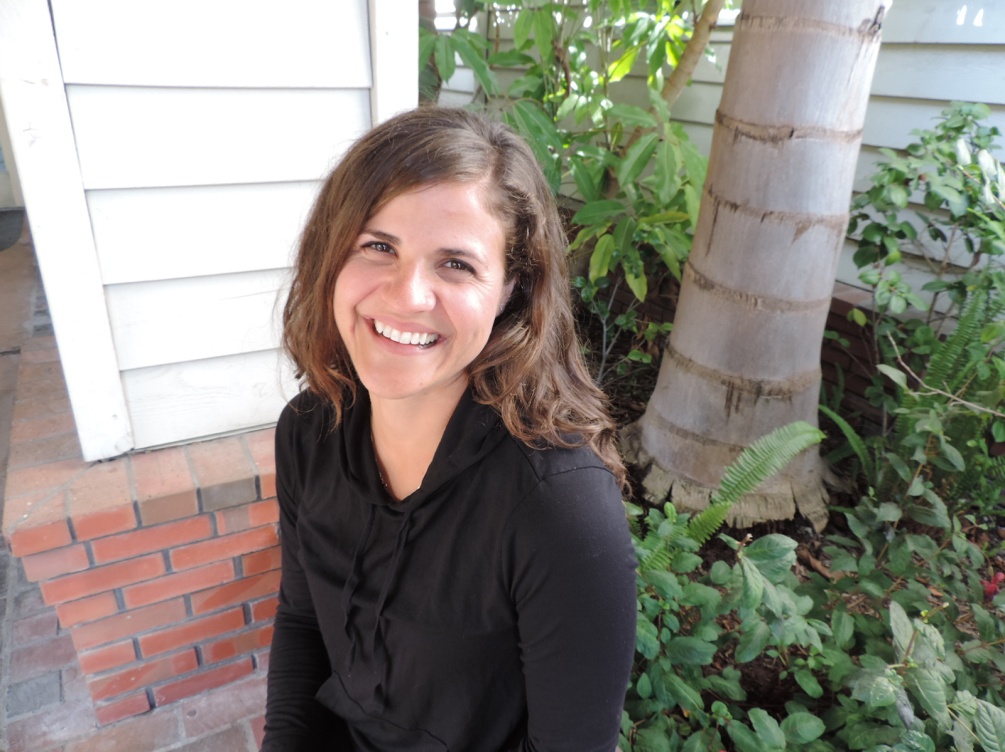 We are so pleased to introduce Clara Vanherweg as our latest addition to our Cancer Well-fit training staff. Clara has worked in the health and wellness field for almost ten years, starting as a physical therapy aide while in college and then transitioning to personal training when she got her NASM certification, and after earning her BS in 2007. She has been a trainer for more than six years, specializing in post-rehab, prenatal, and elderly clientele. Clara studied the psychosocial effects of exercise on cancer survivors for her Master's thesis, so she is very excited to be a part of Cancer Well-fit!
Clara also teaches Health as a part-time lecturer at Cal Poly. When she's not at one of her three jobs, she loves to hike and run with her friends and her dog Luly. She is also an amateur photographer and sings in Canzona Women's Ensemble and Mission San Luis Obispo choir. Her alternate career path would have been culinary school, as she loves to cook.
We are thrilled to add yet another skilled, vibrant, caring trainer to our Cancer Well-fit team. Welcome, Clara!


FITNESS STUFF!
BY JAN BERDAR

Sometimes the best thing you can do is be alone. As a group fitness trainer and instructor, there is no shortage of social interaction in my life—and the energy we feed off each other is a powerful and essential thing. However . . .
Recently I took two days to be by myself, in the mountains near Yosemite. As I settled into my cabin, I made the decision to not watch television, surf the internet, or drink alcohol. My intention was to be an observer, to listen, to see what crossed my mind.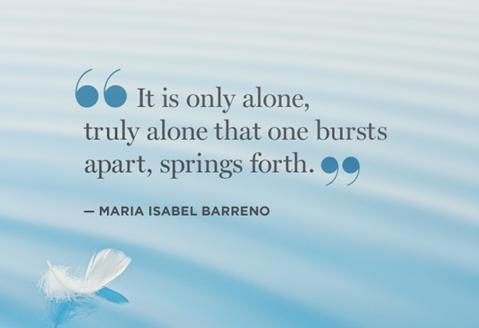 I was a happy camper, circling Bass Lake on my bike, with a lovely evening breeze cooling me, healthy food for dinner, and peace and quiet in nature. I made notes in my journal when ideas and thoughts came to me. I noticed how uneasy I was. Not a bad thing; I was simply not used to being alone.
The next day I had planned a hike in Yosemite. I had been hearing about the bears and big cats. Fear was creeping in, and I SO wanted to change my plans. But deep down, I did not really want to (hopefully that makes sense). Bottom line, I wanted to face my fear. So I started off on a trail that nobody (of course) was on in the early a.m. Initially, I scanned my surroundings like a lifeguard scans the pool. Every sound made me startle and look around for "something." I finally turned my music on and decided that if I was going to die, well . . . then I was going to die.
So why am I sharing this with you? It's because fear is fear. My fear of bears may seem silly to some of you, but it is a reality to me. Maybe your fear is of participating in a cycling class, a tennis clinic, putting on a bathing suit and taking aqua aerobics, paddle boarding, meeting people, clowns. The truth is that the confidence gained from confronting fear, from facing it, from whittling down the size of it, enables us to push ourselves further. Courage begets courage.
We can help each other in big and small ways. Invite someone to a class, or keep them accountable for something they've expressed an interest in trying or, perhaps, overcoming.
How are you challenging yourself? When are you being still enough and alone enough to notice what is going on with you? As important as family, exercise, and careers are, knowing yourself and listening is just as important.
I will leave you with a few things I do at the club for under thirty minutes to be quiet:
• Swim, face-down (well, do make sure to breathe occasionally)
• Yoga/meditation
• Walk on the Bob Jones' Trail
• Find a corner of the property and "hide"
• Get a massage and tell the therapist I am not going to talk
• Hit tennis balls with the ball machine
• Sit in the sauna alone.

No matter how you choose to do it, try to make an extra effort to get that "quiet time" for yourself—especially with the holidays upon us.
-Jan
Way to Go!
Member Michael Brinks trained with Liz Mills, and between her expertise and his tenacity, he completed the City to the Sea half marathon on October 13. Michael's pleased and feeling great; Liz is proud; and we are quite impressed. BTW: That's 13.1 miles. Great job, Michael!


NUTRITION NOOK
BY CONNIE RUTLEDGE
805-440-6869 ● [email protected]

Mexican Chicken Chowder
Try this satisfying creamy soup—full of flavor! What better way to warm up a chilly fall evening and really support your immune system! Enjoy without ANY guilt!
2 lbs. organic chicken thighs, bone-in for extra nutrients
2 cups roasted tomatillo salsa—homemade (see recipe below) or store bought
4 cups chicken stock, use homemade for extra nutrients
3 cups peeled & cubed sweet potatoes
2 cups peeled and sliced carrots
2 t. fresh lime juice
1 t. garlic
1/2 t. sea salt
2 cups organic spinach
1/4 cup chopped cilantro
Avocado for garnish

Place the chicken, salsa, broth, sweet potatoes, carrots, lime juice, garlic, and salt in stock pot over medium high heat. Bring to a boil, then cover and simmer for one hour over medium low heat.
Removed the chicken from the pot, using 2 forks, pull the meat away from the bones & shred it. Set aside.
Scoop two cups of vegetables and 1/2 cup broth and puree for 15 seconds in a blender. Incorporate back into the soup.
Add chicken and spinach to the pot and simmer for 10 minutes until spinach is wilted. Serve hot with avocado and cilantro.

Roasted Tomatillo Salsa. 1/2 lb. tomatillos hulled & washed, 1 to 2 Serrano chilies, 1 clove garlic, 1/4 chopped cilantro, 1/4 cup diced onion, 2 t. fresh lime juice, 1/4 t. sea salt, 1/4 t. cumin.
Place tomatillos, chilies, garlic on a rimmed baking sheet and roast in 425° oven until black spots bubble up and vegetables soften, about 5 minutes. Flip them over and roast 5 more minutes. Transfer to blender, adding the remaining ingredients, and blend smooth.


FROM THE TENNIS TOWER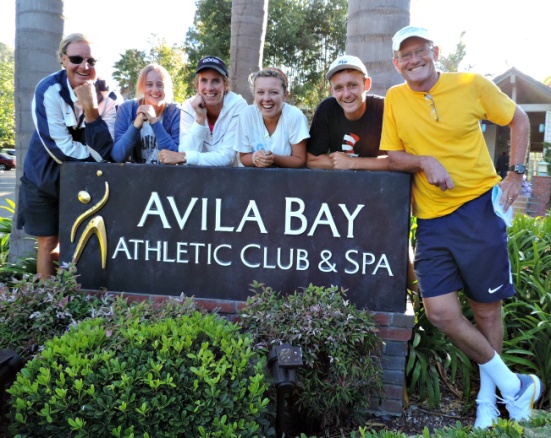 ABAC's Tower of Power Peeps
l-r: Mark, Lauren, Jenny, Olivia, Norbert, Hugh
(not pictured: Leah, Hilary, Stefan)
From October through April, there are two things you might want to remember. The first is that the sun is a lot lower, which means the light is less consistent. Which means you need to really watch the ball and track it all the way to the racquet. The second major change is the advent of cooler temperatures and the fact that the ball is not going to bounce as high. Make sure you get a little closer to the ball, so you are able to drop the racquet head to get under it. –Mark
P.S. Little housekeeping reminder: A lot of you love to swim after playing tennis, which is a great way to stretch out your muscles and relax. Please, though, make sure to shower off before entering the pools or Jacuzzis. For health and sanitary reasons, we require this of everyone. Thank you!
Look for results and photos from the November 1-3
Club Championships Tennis Tournament in December's newsletter!


Junior Tennis Fall Schedule
TYKES, BEGINNING, AND INTERMEDIATE TENNIS WEEKLY SESSIONS WILL CONTINUE THROUGH THE FALL. No more drop-ins; you must call to register your child.

TYKES – Ages 4-6 Tues/Thurs 1:15-1:45 pm $10/member $15/non-member (per day)
BEGINNING – Ages 7-12 Tues/Thurs 3:30-4:30 $10/member $15/non-member (per day)
INTERMEDIATE – Ages 13+ Tues/Thurs 4:30-5:30 $10/member $15/non-member (per days)
**(The intermediate class will only be a one hour session in the fall.)

**PAYMENT DUE at time of registration. SIGN UP YOUR CHILDREN TODAY!

Registration forms with new session dates & times available in the Tennis Tower and the Front Desk area.
Contact Tennis Tower for more information or about the Junior Excellence Program. 805-595-7600 X106.
For private lessons or other junior tennis information, contact Jenny Phelps 928-533-0362.


SEPTEMBER MEMBER OF THE MONTH—DARRYL FERRIERA!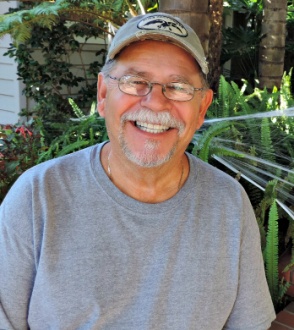 All the aqua aerobics ladies will be thrilled with our Member of the Month. Why? Because Darryl is a regular in those classes (three or four days a week). And he always has a big smile on his face and something funny to say. He's just SO pleasant! Darryl also makes use of the weight room several days a week and he is planning to start doing yoga.
Darryl and his wife Francien live in San Luis Bay Estates, and love spending time with family. Daughter Julie is also a member, along with her husband Chris and their little boy Gavin (3). Darryl and Francien also have a son and second grandson named Dylan (6). After moving here from Merced about three years ago, Darryl "wrecked" his shoulders, did physical therapy at the club, and joined after seeing all we had to offer. Yea!
Retired from UPS, Darryl still has a part-time business repairing dental hand pieces (read: drills), which comes in handy for son-in-law Chris Stelpflug the dentist. A baseball enthusiast, Darryl favors the Dodgers. He loves to go to car shows and once owned a '32 Ford. And he lights up when he talks about seeing Gavin baptized and how he himself will be baptized at the Mission on Easter Sunday this year.
Thank you, Darryl, for being what we call "real people:" Real Nice, Real Sweet, Real Good to Have Around!
SEPTEMBER EMPLOYEE OF THE MONTH—NORBERT MOCAN!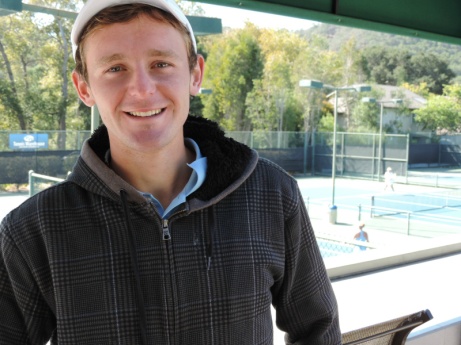 Norbert has been working in The Tower of Power for about three years. He loves talking to the members, chatting, and "being a ham." That's our Norbert! Oh, he also strings racquets and is very helpful during tournaments and with everyday scheduling and all things tennis.
Born in Minnesota, his parents came to the U.S from Romania. Norbert attends Cuesta and hopes to transfer to Texas Tech and major in mechanical engineering in about a year.
Norbert has only been playing tennis for four years, but he enjoys the game immensely. When he's not working, going to school, or hitting, Norbert enjoys hunting (squirrels), paint balling, air-softing, and road biking. He lives in Arroyo Grande and says he's "a pretty basic guy."
Here's what his coworkers think:
"Norbert is always quick with a great big smile and a helpful hand." -Amy Kueffler
"He's extremely hard-working, knows a ton about tennis, constantly demonstrates caring, and is a great listener. We're lucky to have him at the club!" -Kaley Conrow
"Norbert has a heart of gold and is always cordial and polite to members and coworkers. If he can help you out of a difficult spot, he will do it, he is totally a team player! I have enjoyed working with Norbert since the first day I met him; he is a quality human being, and I am so happy that he works with us in the Tower AND that he was chosen as Employee of the Month because he really deserves it!" -Jenny Phelps
NOVEMBER MEMBERSHIP NEWS
BY AMY KUEFFLER
Thankful for the Club? Refer Your Friends!
There's gratefulness all around when you refer a friend to the club. They'll be thanking you for letting them know about the best club on the central coast. We'll be thanking you by giving you a referral credit of $75 on your account, or a five dollar reduction in your monthly dues for as long as you and your friend remain members. Oh, and you'll be thankful about having another workout, or hangout, buddy at the club.
Dual Memberships Now Available!
(Avila Bay Athletic Club & Spa + Paso Robles Sports Club)
If you've been thinking about utilizing the two local California Athletic Clubs, now you can! For just a hundred dollars, you can join the Paso Robles Sports Club and receive a 25% reduction in both club's monthly dues.
For more information, contact Amy 595-7600 ext.105 or Sara 239-7397.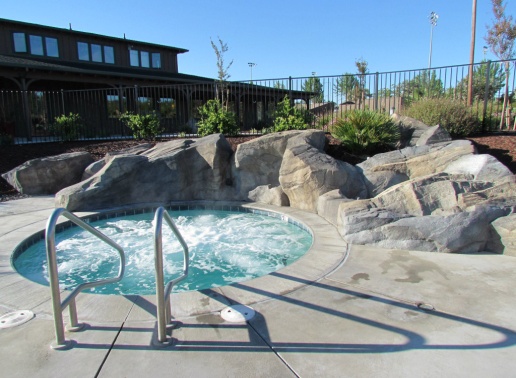 Paso Robles Sports Club
2975 Union Road
(across the street from Barney Schwartz Park)
PARENTS' NIGHT OUT!
FRIDAY, NOVEMBER 8 ● 5:30-8:30 P.M.

We'd love to have your kids join us, and their ABAC buddies, for our November Parents' Night Out! Bre and Megan have some special activities planned and will even feed them dinner! You parents could get a good jump-start on your holiday shopping, have a date night, or do anything you want for THREE HOURS. You all deserve a little break!
Sign up in Kids' Club, at the front desk, or email [email protected].


Kids' Club News
by Bre Boswell
| | | |
| --- | --- | --- |
| | | |
| Anais Talieh | Hudson Parker | Keegan Toole |
Congratulations, Keegan Toole, Kid of the Month! Keegan is a good friend to all and always happy to be in Kids' Club. Thanks for being GREAT, Keegan!
Sometimes our kids are a little elusive in the photo-shoot department, so the last two Kids of the Month are shown here also, a little bit belatedly.
Anais Talieh! A long-time Kids' Club girl. Anais is a great helper, she remembers her manners, and has made great strides in her teamwork skills. Good job, Anais!
Hudson Parker! A proud big brother with a great sense of humor and a knack for helping others have a good time in Kids' Club. Yea, Hudson!
PLEASE remember peanuts and/or peanut butter are NOT allowed anywhere inside of Kids' Club. We have children with peanuts allergies, and they CANNOT be in the same room as a nut or nut product. It's crucial that everyone complies with this rule.
One more important reminder! We MUST have 24-hour notice when you are bringing an infant to Kids' Club. This is so we are able to staff properly and keep everyone safe.
NOTE: Friday, November 29, Kids' Club open only for morning hours, 8:30-12:30.


FROM THE GENERAL MANAGER

Happy Thanksgiving to all our wonderful members and employees! As I approach a milestone birthday that happens to fall in November, I am overwhelmed by how thankful I am. I watched a group fitness class this morning full of people working hard to make their lives better by staying healthy. I saw smiles on every face, and everyone was having such a good time. The environment at the club is, quite simply, fabulous. We are well blessed in having the opportunity to help one another be better, healthier, happier. So I am thankful to work where all that happens . . . every day. (Editor's remark: Forty. She's turning 40. Finally.)
Upcoming Dates to Note
Nov. 1-3 Club Championships Tennis Tournament
Nov. 7 Amazing Workout Apparel Sale, 10-12
Nov. 8 Parents' Night Out, 5:30-8:30
Nov. 9 Amazing Workout Apparel Sale, 9-2
Nov. 15 Swim Competition & Game Day, 4:00-5:30
Nov. 21 Third-Thursday Wine Down! 6:30-8:00
Nov. 24 WinterFest Boutique, 10-2
Nov. 23 SLO Gobbler Swim Meet @ SLO Swim Center, 8:45-Noon
Nov 27 Club Closes Early at 5 pm
Nov. 28 Closed. Happy Thanksgiving!
1-8-14 Weight Watchers Return To The Club