MyZone Update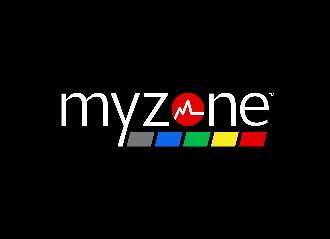 We've noticed more MyZone users on the screens lately—that is great! We hope you are having fun and staying motivated with it! As of the time of this newsletter, we are almost near the end of our June Member Challenge. The goal was to encourage you to interact with each other through the app to build teams and to motivate and challenge each other. One of the best benefits of the MyZone belt is not just that it shows your heart rate and enables you to see how hard you are working, but it also helps keep you on track by getting your friends involved. Exercising is hard enough to do on your own; when you know you have a partner (or an opponent!) that is there to keep you motivated and to encourage you to do that little extra even on the days you feel tired, it prevents you from losing your exercise momentum. Consistency is one of the key factors to getting the most out of your workout routines. You can go hard, or you can go easy, but the most important thing is to just go. Watch for more fun challenges in the future!
July Membership Referral Special!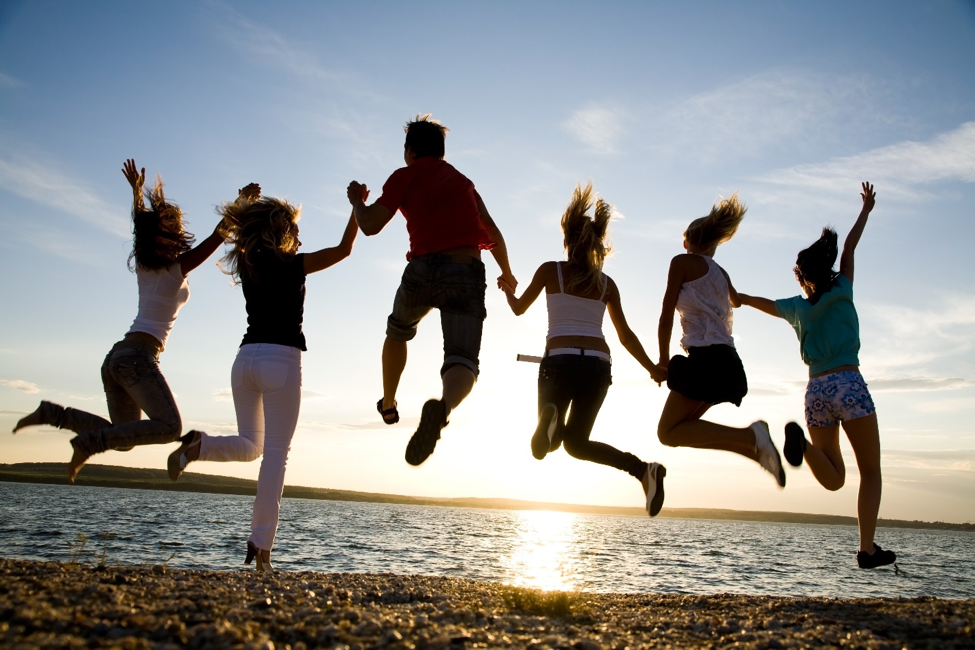 Bring in your friends to try the club!
This is the best time to recruit your "besties" to come and enjoy a great time in the sun and to keep in shape over the summer!
This month we will give you a $50 credit on your account for each friend you refer.
Invite them out to "Friday Night Happy Hour" or a "Manic Monday" class so they can have fun with you!
For more information contact Amy, Bonnie, or Travis in membership! 805-595-7600 ext: 105.
ABAC Summer Blast!
One Week Sessions
June 11 - August 10
Looking for a fun and safe place for your kids to hang out this summer?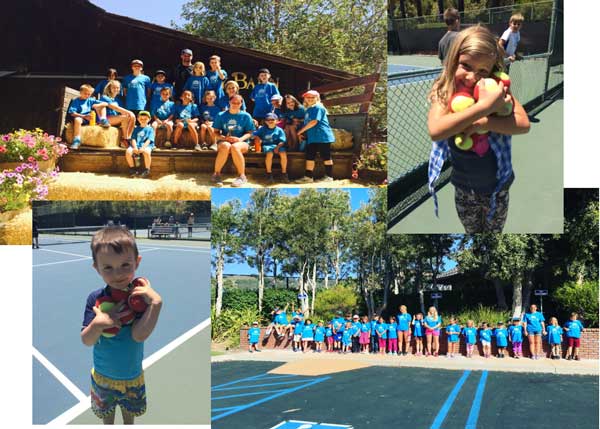 Register for ABAC's Kid's Summer Blast! Last summer was the best we've ever had, with a great turnout of enthusiastic and fun-loving kids. ABAC Kids' Summer Blast is an activity based week that will keep your child moving and excited! Each week includes tennis instruction, swim instruction and games, specific art projects, instructional hands on gardening and cooking, educational nature walks, soccer, kids' fitness, Kempo, obstacle courses, and a weekly walk to the Avila Barn. One week sessions run from June 11th until August 6th. The program takes place Monday through Friday from 9 am to 3 pm. Visit our website or front desk to receive a registration packet! Questions? Contact Travis Hawley at 805-595-7600 ex. 113
Special Events At The Club
Summer is here and that means it's PARTY TIME!
The Avila Bay Athletic Club & Spa is the perfect venue for any special occasion! Our mission at the Avila Bay Club & Spa is to ensure your happiness and satisfaction with the planning and implementation of your event. We tailor each and every event to result in a day (or evening) that is enjoyable and stress-free, and one that creates a beautiful lasting memory for yourself, your family, and your friends. You will find our staff to be personable and experienced. Attention to detail and superb service are our specialties. Our skilled and accomplished Oasis Grille team is always eager to please, offering the convenience of on-site catering and a wide variety of delicious menu/banquet choices. The Avila Bay Club & Spa is the ideal site for a memorable celebration. Questions? Please contact Travis Hawley at 805-595-7600 ext 113 or
[email protected]
Spa Department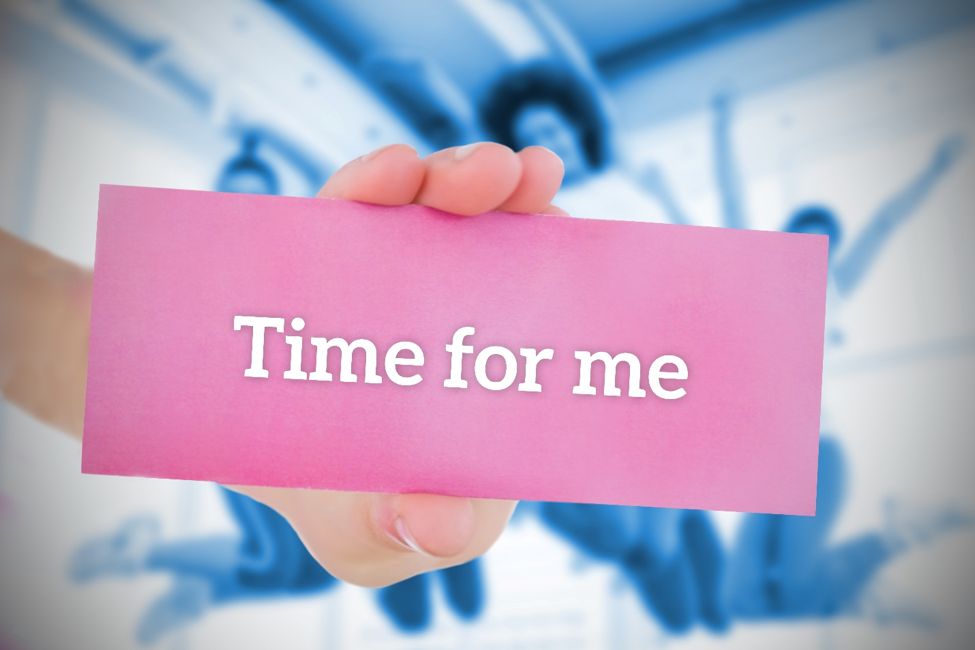 When is the last time you received a massage? Do you schedule time for yourself monthly? Do you have questions on which type of massage to schedule?
The Salon and Spa has the most talented staff. Whether you need special occasion hair, beautiful nails, pretty skin, deep tissue massage or pampered feet. We are available for all your beauty needs.
Meet Diane, our Spa Director, she's available giving chair massage in the lobby on Monday from 9:30-12:30. Meet Diane and receive a free day pass at your next massage session. She's always available if you have any questions.
[email protected]
FITNESS DEPARTMENT
No Classes on the 4th of July! Enjoy the day!
MANIC MONDAYS!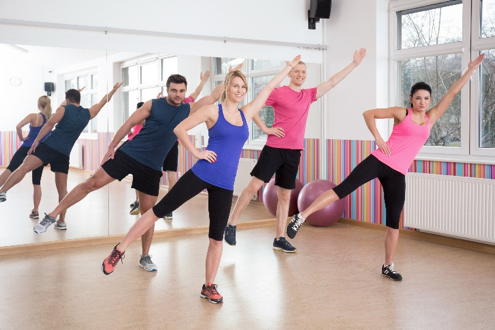 Come check out some sample classes every Monday this summer at 5:30pm!
New formats and a ton of fun! Mix up your routine for better results!
July
2nd – Step& Sculpt with Cindy
9th – Centergy with Jacqui
16th – YoLaChi with Cyndi
23rd – Step and Sculpt with Cindy
30th – Yoga Dance with Diana
August
6th – Centergy with Jacqui
13th – HIIT with Danielle



TENNIS UPDATES
-Tennis Quote For July
-Junior Tournamnet
-Tennis Ticket
-Mixed Doubles
-Take a "Journey" with ABAC
-"When The Angels Sing" with ABAC
Tennis quote for July
I enjoyed the position I was in as a tennis player. I was to blame when I lost. I was to blame when I won. And I really like that, because I played soccer a lot too, and I couldn't stand it when I had to blame it on the goalkeeper.

Courts will be reserved from 8 A.M. till 8 P.M. on July 8 & 9, 2018
37th Annual Avila Bay Junior Open Tournament (Level 4)

Dates:
July 7-9, 2018

Tournament ID:
650007218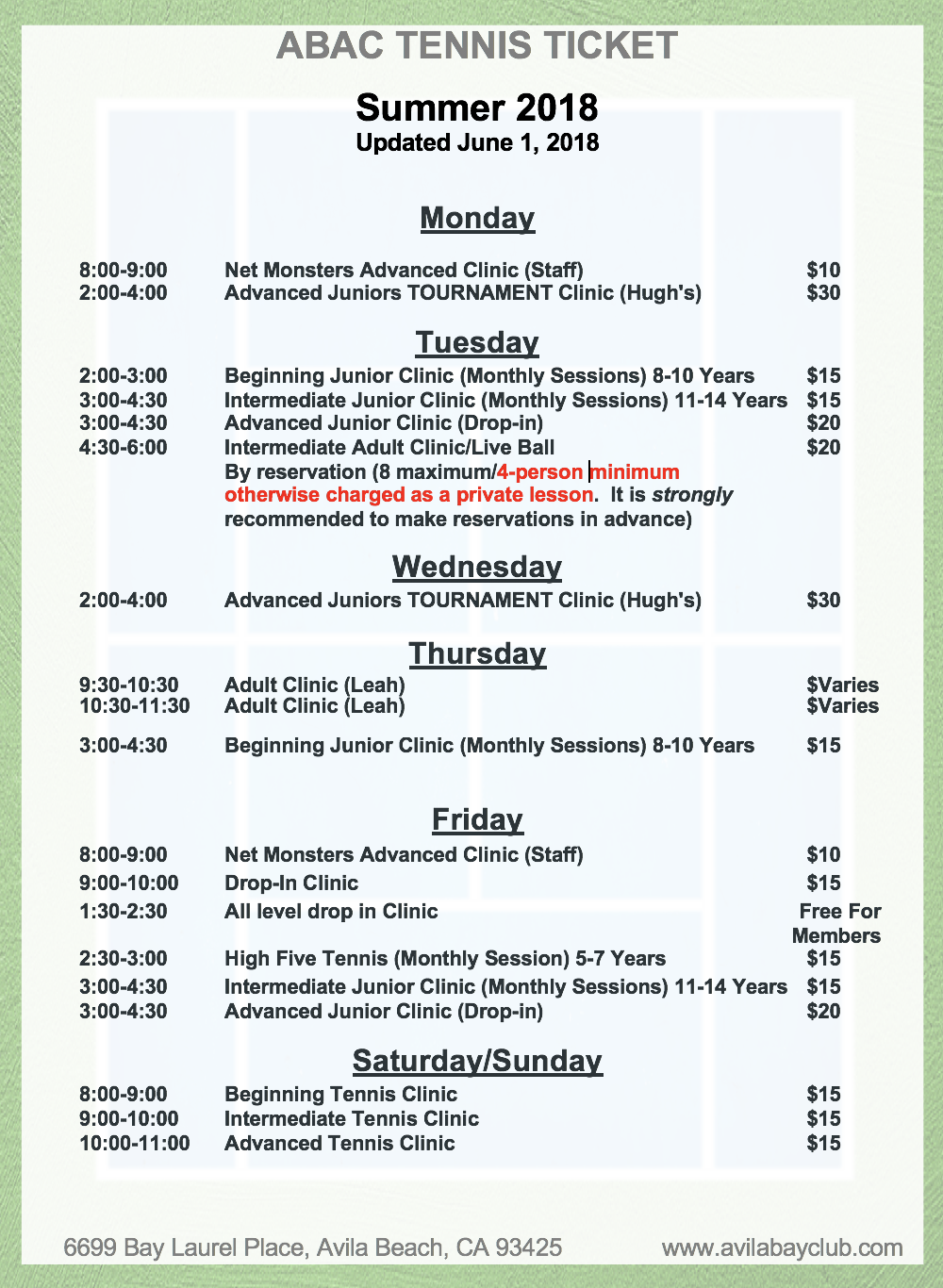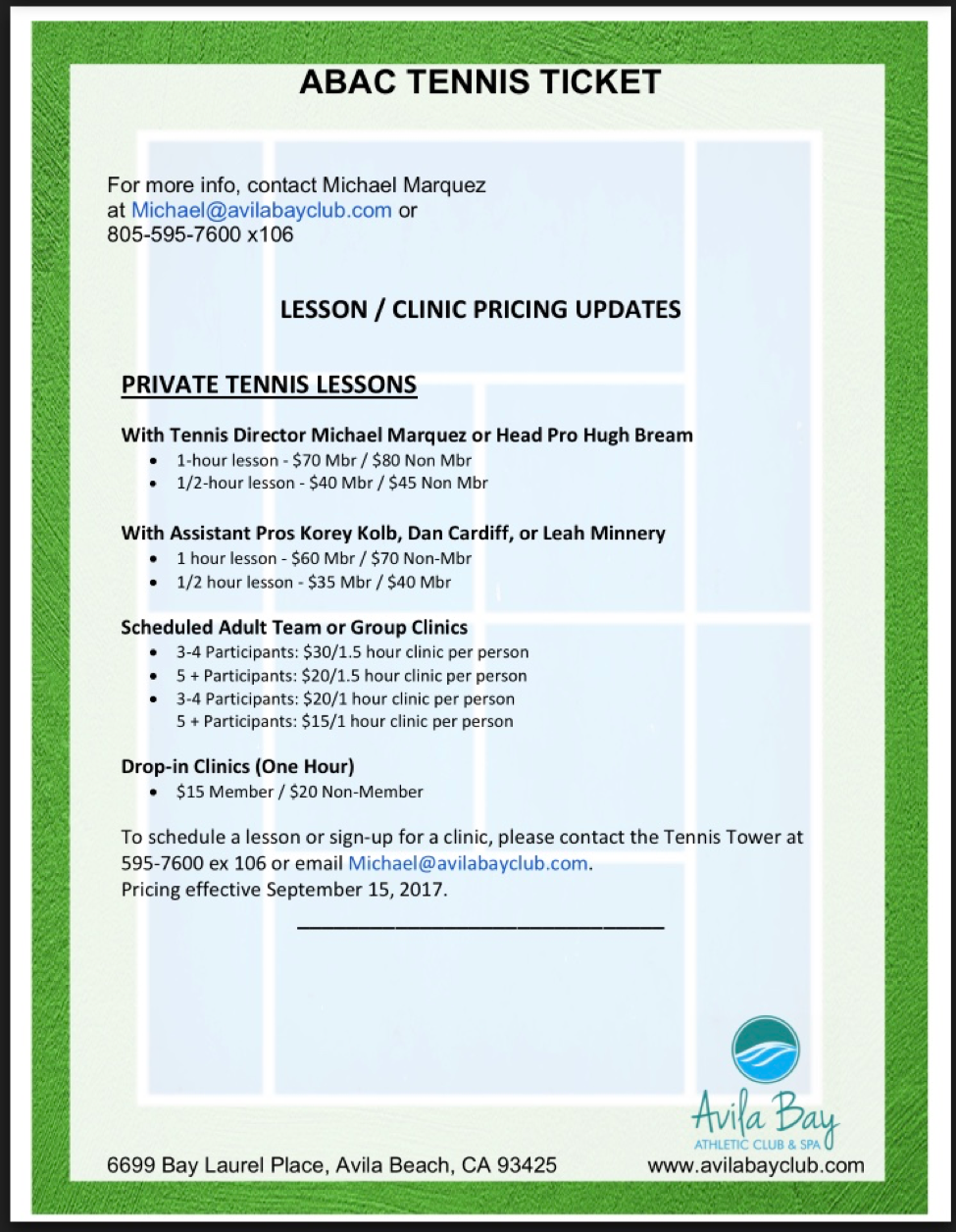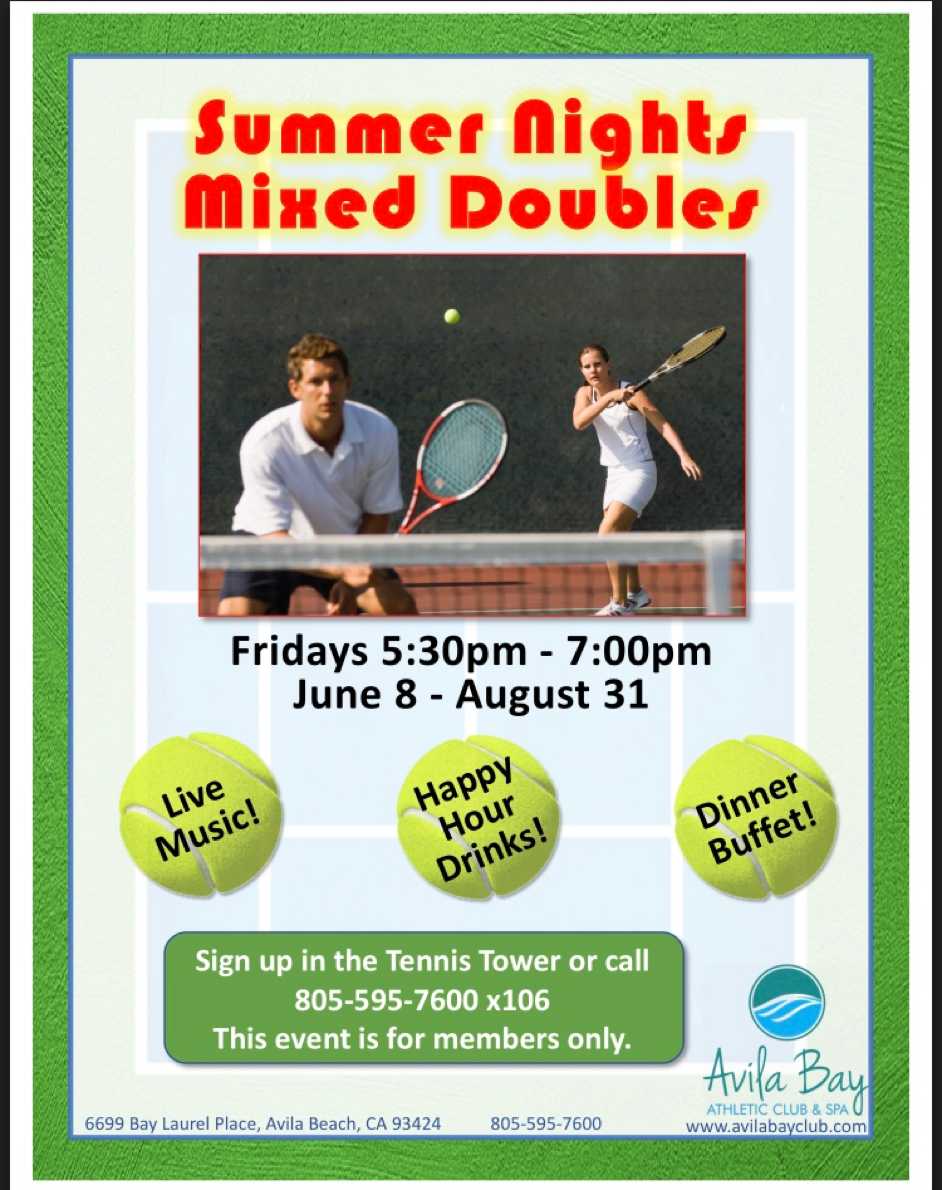 Take a Journey with Avila Bay Athletic Club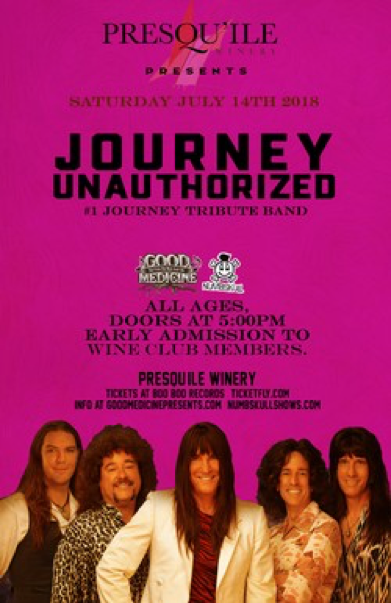 Saturday, July 14, 2018
$27.30 person person

Tennis Clinic with Michael Marquez at 11 A.M. - 12 P.M.

Meet at Presqui'le Winery for Journey Unauthorized - The #1 Journey Tribute Band - 5:30 P.M.

Food and wine available for purchase



When The Angels Sing with Avila Bay Athletic Club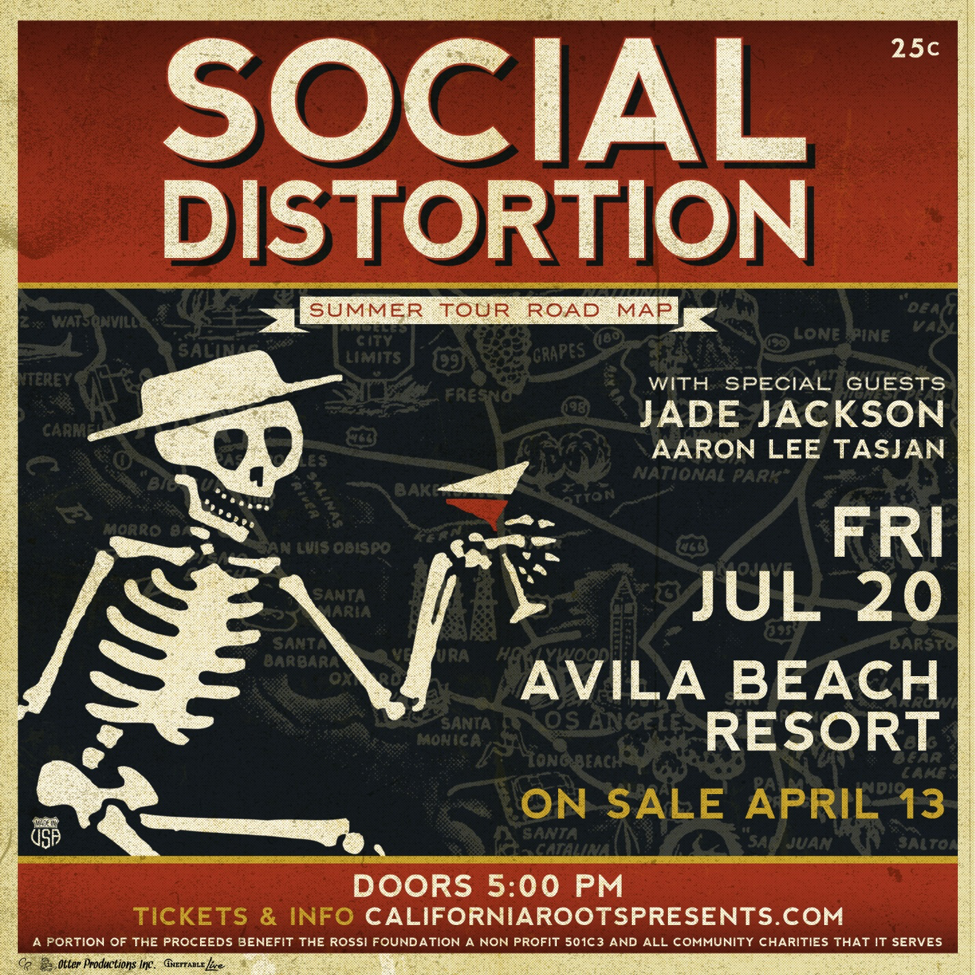 Friday, July 20, 2018
$48.37per person
Tennis Clinic with Michael Marquez at 11 A.M. - 12 P.M.
Meet at Avila Bay Athletic Club & Spa for Social Distortion Concert at 5:00 P.M.
We will walk from ABAC to Avila Beach Golf Resort for Concert.
Aquatics Update
June 21st has come and gone, so we are officially in the full swing of summer! You've likely noticed that our pools have become the hot place…er...the cool place to be lately! Everyone likes to come and enjoy a refreshing dip in the water, sitting in the sun on the deck, or getting a workout by swimming some laps. Please remember that our pool is a shared resource, and especially during these busy months, splitting lanes is required when necessary. Don't be shy about asking someone to share a lane with you, but please do be polite. Let your lane mate know that you are getting in the water and agree which side to stay on.
Also, it seems that we are back in the peak of band-aid season as well! Trust me—no matter what the package says, there are no such thing as band-aids that stay on in the pool. Please remove your band-aids and dispose of them in the trash before getting in the water. It will reduce the "ick" factor for other members who want to enjoy the pool areas.
If your kids haven't gotten signed up for swim lessons yet, we still do have some spots left in our summer program! If the summer schedule does not work out for you, we have enough instructors to accommodate even the most demanding schedule with private lessons. Just contact me at extension 111 to find out what we have available!
SWIM TIP:
You've seen the pull buoys out there to use when swimming, but have you ever tried to pull without using a buoy? It's a great exercise to work on core strength and balance in the water. Try squeezing your legs together without a buoy and see if you can swim without kicking. The challenge is to use your core muscles to hold your legs up behind you. The more rotation you get in the stroke, the easier it is to hold your legs up. Make sure your toes are pointed straight behind you as well so that your legs and feet are as streamlined as possible. If you need some help with it or other challenges for your swim workouts, try a group swim workout on Monday, Thursday, or Friday mornings. They are fun and encouraging, and you'll likely swim farther than you normally would on your own!