What's Up At ABAC
Friday Night Deck Party w/ Robert Herrera – Friday, April 14
Jewelry Making Workshop – Saturday, April 15
Yoga Detox Workshop – Sunday, April 16
Sunday Afternoon Deck Party w/ Ghost Monsters Duo – Sunday, April 16
Junior Lifeguard Camp – April 19-29 and May 10-20
No Deck Party April 21
Clamshell Mountain, Hike in Nipomo – April 22
Pretzels, Precision, and Shot Placement Clinic – Wednesday, April 26
Friday Night Deck Party w/ Summer Barnett Duo – Friday, April 28
Lifeguard Certification Classes – April 28-30 or May 12-14
Water Yoga Class – May 4
Mother's Day Brunch – May 14
Avila Bay Classic & Vince Dente Tennis Tournament – May 26-29
Staff vs Members Pickleball Round Robin
Sunday, April 2, was our first ever Pickleball competition with Staff vs Members! Everyone who came out was a winner! We all had a great time learning more about the game and enjoying the sunshine. Hopefully everyone got to meet our new Pickleball Ambassador, Depeche Salcedo! Besides running the fun, she helped lead the staff to VICTORY! We hope to continue to grow our Pickleball community by having more fun events!

Staff – 1
Members – 0
New Small Group Training Programs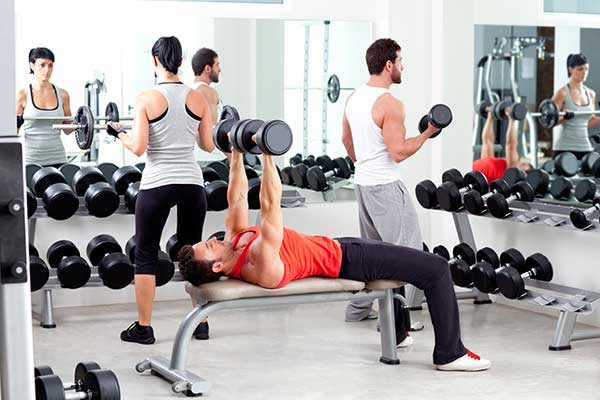 Want the benefits and accountability of working with a personal trainer, but enjoy working out in a small group? If so, join us in May for a 4 week Small Group Training Full Body Strength intensive or Small Group Training Tennis Performance Training.

These sessions are led by one of Avila Bay Club's certified personal trainers and are designed to take your fitness up a notch in a fun, challenging, and safe for your body workout!

You will sign up for one group and be committed to that time and instructor for the month. Sign up to join a group or grab your friends and sign up together! Space is limited so reserve your spot today! Cost is $225. For more information email: [email protected]

Times offered are:
SGT Strength Monday/Wednesday 8:15 am with Jaclyn
SGT Strength Tuesday/Thursdays 5:00 pm with Suzanne and Barb
SGT Tennis Performance Training Tuesday/Thursdays 9:00 pm with Lonnie
Group Exercise Schedule Updates!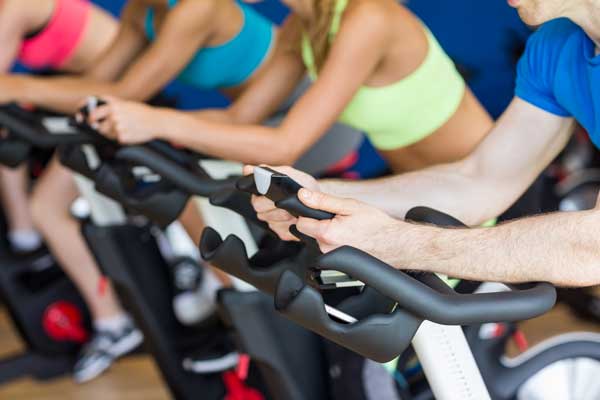 We have new classes on the schedule!! There is now a Cycle Class on Sundays at 9 am with Jana! This class will get your heart pumping and leave you feeling energetic for the day. Beginners to advanced riders are welcome.
There is also a new BODY PUMP class on Thursday nights at 5:30 pm. You can now take this great group strength training class Tuesday and Thursday evenings at 5:30 pm. Check the schedule for our morning options.

Click Here To Download The Complete Group Fitness Schedule
Wednesday Night Dinners To-Go Are Back!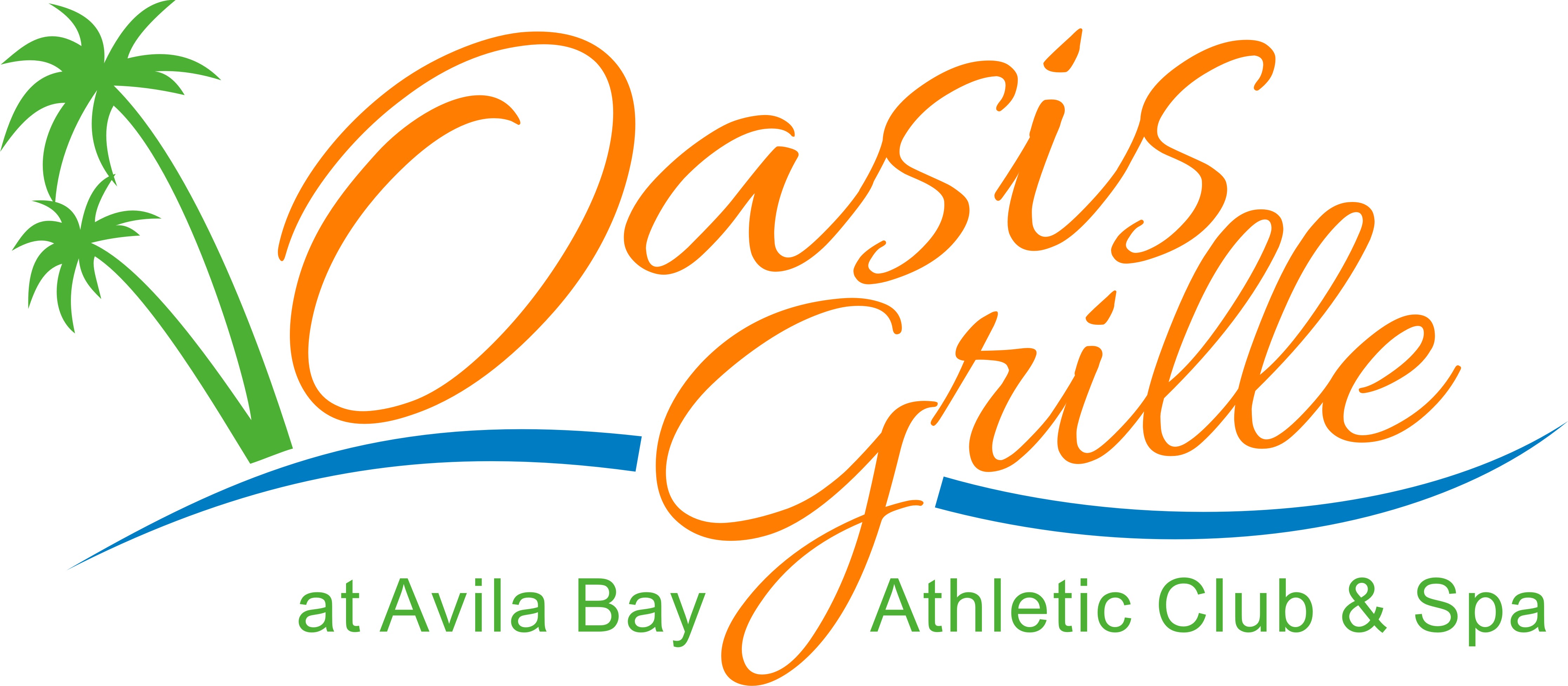 Every Wednesday From 4-6 pm
New! From 12-1 pm As Well

Sign-up in the lobby, or email [email protected], to reserve your lunch/dinner and pick-up time.
Jewelry Making Workshop
Saturday, April 15
1-3 pm
Click Here To Sign-Up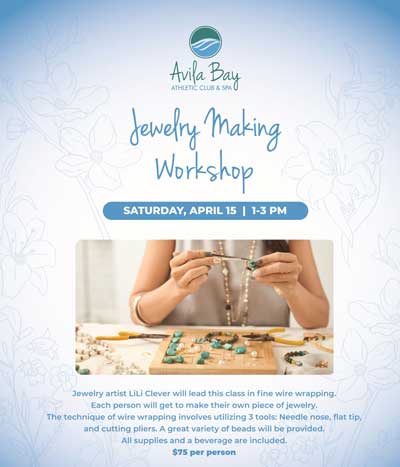 Yoga Detox Workshop
Sunday, April 16
1-3 pm
Click Here To Sign-Up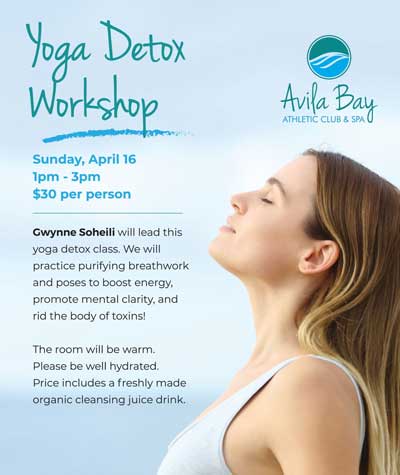 Special Sunday Afternoon Deck Party!
Sunday, April 16
2-4 pm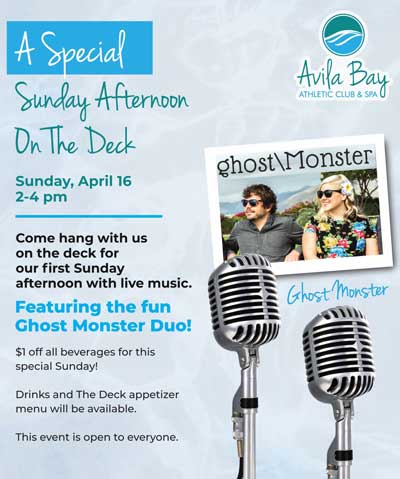 Junior Lifeguard Camp
Session 1: April 19-29
Session 2: May 10-20
Click Here To Sign-Up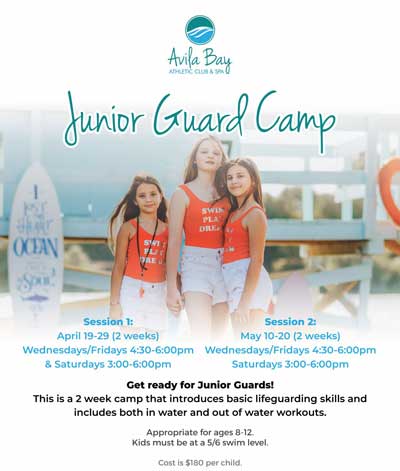 Clamshell Mountain, Hike in Nipomo
Saturday, April 22
10am – 1 pm
Click Here To Sign-Up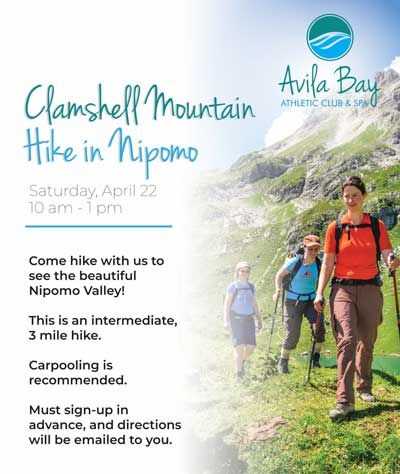 Pretzels, Precision, and Shot Placement Clinic
Wednesday, April 26 6-7 pm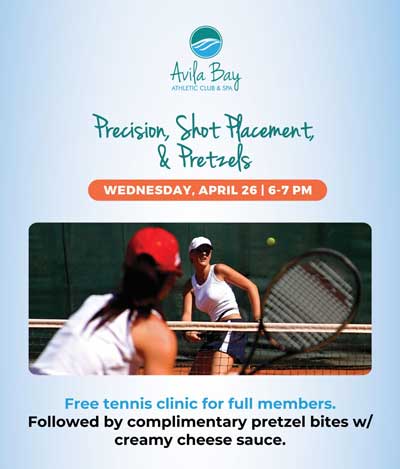 Splashy Feet Swim Class
Session 1: April 17, 19, 24, 26 from 10:30- 11am
Session 2: May 2, 4, 9, 11 from 9:30- 10am
Click Here To Sign-Up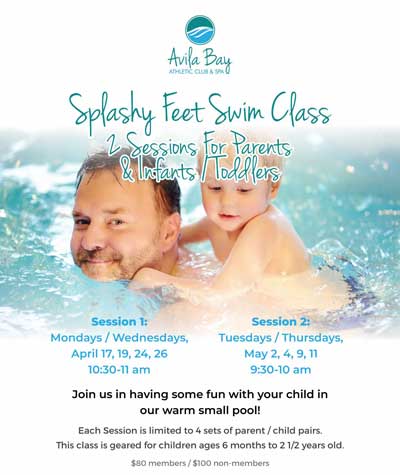 Lifeguard Certification Classes
April 28-30 or May 12-14
Click Here To Sign-Up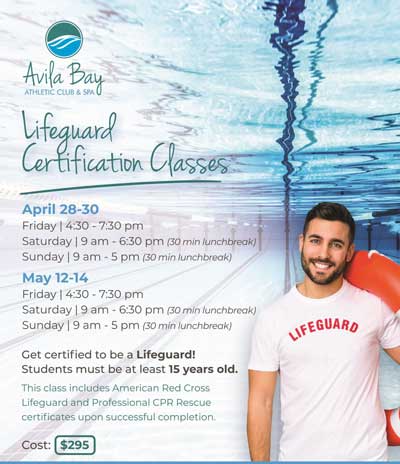 Mother's Day Brunch Buffet
Sunday, May 14
10 am - 1 pm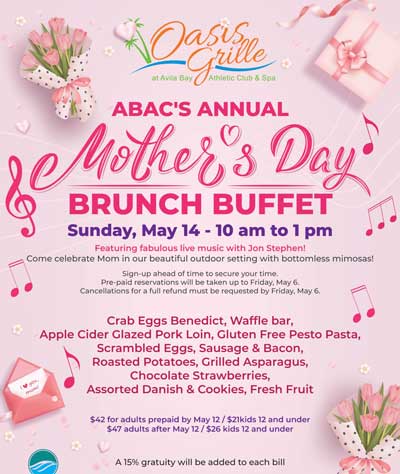 30th Annual Avila Bay Classic & Vince Dente Tennis Tournament
May 26-29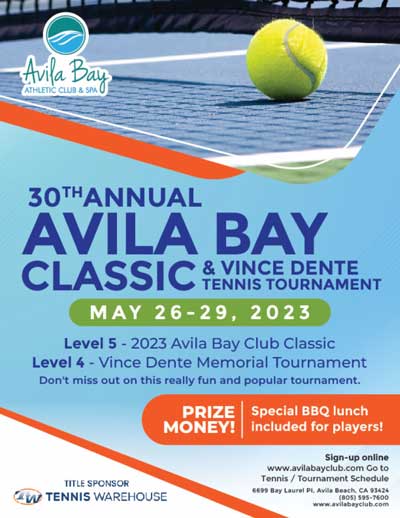 Water Yoga Class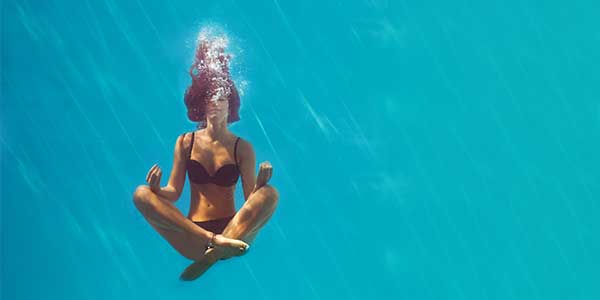 Thursday, May 4
6 pm
Water Yoga comes to Avila Bay Club!
Join us for a Water Yoga Class in the warm, small pool with Yoga Instructor Maria Moraga. Cost for this class is $20 and you can sign up on the app or at the front desk. The class size will be limited to eight people.
Aqua yoga, or water yoga as the name implies, involves practicing yoga in the water. This includes all the principles of a regular yoga class such as asanas (poses), pranayama (yoga breath) and meditation. The asanas may be modified to accommodate people of all fitness levels in the water element. The class is designed to get a full body workout that helps to improve strength, balance, and range of motions, calming the body and mind in a safe environment.

Water Yoga can be a great way to move your body and enjoy the benefits of yoga while reducing joint impact and providing a healthy resistance for your muscles.
Fall / Winter / Spring Club Hours
Monday-Thursday 5:30 am – 9:00 pm
Friday 5:30 am – 8:00 pm
Saturday 7:00 am – 8:00 pm
Sunday 8:00 am – 8:00 pm
Please do not ask the staff to let you into the club early. We need to give everyone, including the pool company, time to get the club ready each morning. No one will be let in early.
Kids' Club Hours
(by reservation only)
Note - We do not allow kids that appear sick, with even a runny nose, in Kids' Club.
Please make a separate reservation for each child.
PLEASE TEXT 805-704-5061 IF YOU MAKE A RESERVATION FOR AN INFANT. We must plan ahead for infants.
Monday through Friday 8:30 am - 12:30 pm
Tuesday through Thursday 3:30 pm – 6:30 pm
Friday 3:30 pm – 6:00 pm
Saturday 9 am – 12:30 pm
Sunday 9 am – 12:00 pm