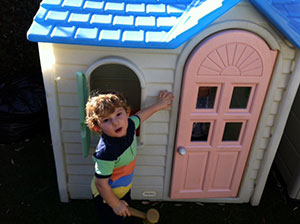 Kids' Club is a fun-filled place for children ages 6 weeks to 12 years old. Your children will enjoy a variety of activities, including board games, puzzles, coloring, toys for imaginary play, dress up clothes, and Wii Sports. More fun and games are offered in our safe outdoor play area, especially on those warm sunny days. Our kid friendly environment will have your children begging to return, which is a "win-win" situation for all. Please meet our qualified and CPR-certified childcare staff. We will be very happy to answer any of your questions and we look forward to meeting your family.
All parents must remain in the Club while their child is being cared for.
Please make a reservation for an infant by calling 805-595-7600 ex 101.
Kids' Club is open to non-members as well as members.