DON'T MISS ANY OF THE GREAT BANDS PLAYING AT THE CLUB ON FRIDAY NIGHTS!
MAY 24—AUGUST 30 ● 6-8 P.M.

Come on, get HAPPY, HAPPY, HAPPY! These Friday night parties are happening all summer long at the club, and they are the perfect way to kick off your weekend! Great music, featured wineries, food and beverages available for purchase. No guest fees (does NOT include use of the club by non-members).
2013 Friday Happy Hour Band Schedule
May 24 Rough House | Country, Rock, Blues
May 31 Big Daddy's Blues Band | Blues, Light Rock
June 7 Shival Experience | Reggae
June 14 Mudskippers | Dixieland Jazz, Polkas, Latin
June 21 Zongo All-Stars (Luau Themed) | Tropical, Caribbean Dance
June 28 Usual Suspects | Classic Rock, 80's
July 5 Cadillac Angels | Rockabilly
July 12 Cuesta Ridge | Americana, Bluegrass
July 19 Local Vocals | Light Rock
July 26 Burning James & The Funky Flames | R&B, Funk & Soul
August 2 Viper Six | Swing, Jazz
August 9 Jerome Washington Express | Classic Rock, Blues
August 16 The Swingin' Doors | Honky-tonk, Western Swing
August 23 The Kicks | Reggae
August 30 Resination | Reggae
KIDS' SUMMER ATHLETIC CAMPS ARE HERE AGAIN!

Talk about BIG summer FUN! Our friendly and lively camp staff will keep your kids ACTIVE this summer. Choose from Fit-Tennis, Aqua Adventure/Activity, or SUPER CAMP. Sign up for one week or all six weeks! Six one-week sessions (Mon-Fri). Beginning June 17—ending August 2 (no camp 4th of July week). Ages 6-13. Registration forms available at the front desk, or contact: Travis@avilabayclub.com; 595-7600 ext.113.
SAVE GAS, HAVE FUN, & REAP REWARDS!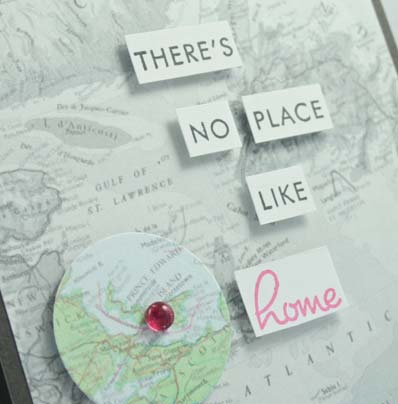 Yes, that means we are STAYCATIONING this summer! Many of us are saving money by not traveling as far or as often—but we are still enjoying sun and fun at the club! It just stands to reason that this is also a GREAT
TIME to refer your friends and family to join. The more the merrier! Just tell your friends what we've heard from members (mostly moms) who say staycationing is actually cheaper, less stressful, and MORE fun than family getaways. AND, you can be at the club EVERY DAY, swimming, playing tennis, taking classes, working on your tan, RELAXING—yes, every day— not just a week or two of the summer. It's a beautiful thing.
Refer someone to the club, and if they join in June, you reap a fifty dollar credit to your account. Or choose a $5 reduction in your monthly dues for as long as you and your friend remain members. Yowsa! For more information, just check in with one of our smiling membership reps: Amy, Barbara, Susan, or Travis. 595-7600 ext. 105
PARENTS' NIGHT OUT!
SATURDAY, JUNE 15 ● 5:30-8:30 P.M.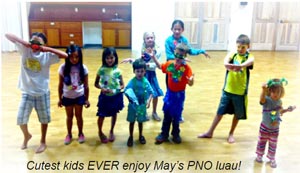 The May Parents' Night Out luau was a success! It was so much fun making leis and wearing them to the dance party. The kids were also mighty impressive at the limbo and hula hooping part of the evening. In June, we are going with a sports theme. Wear your favorite sports jersey and be prepared to participate in a few different types of Avila Bay Club-created sports games. Since school is out, invite some school friends to join— non-members are welcome. Parents' Night Out moves from Fridays to Saturdays during the summer months. Dinner, games, crafts, treats, and BIG FUN once a month, and a chance for parents to enjoy three footloose and fancy-free hours! Sign up at the front desk, or email breane@avilabayclub.com.
BRING YOUR OWN BEACH TOWEL CONTEST STARTS THE FIRST WEEK OF JUNE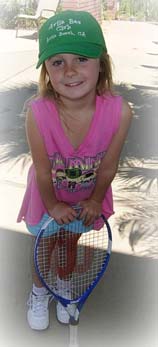 Oh, we do so hate to run out of towels during the summer. It's so helpful if members try to bring their own beach towels (let's face it, your beach towel is bigger and prettier, anyway). So to shamelessly encourage you with a big bribe (YOU CAN WIN A FREE MONTH'S DUES!), we are once again having weekly drawings for guest passes, logo gear, and café coupons, with a grand prize winner at the end of the summer. Last year little Reese Poole won; maybe this year it will be YOU! So get an entry ticket at the front desk every time you BYOT (one entry per family, per visit, please).
At left, Reese models the ABAC hat she won during our summer 2012 BYOT contest. She's smiling because she also won a free month of dues!
Paul J. McCloskey
Presents: Art Exhibition/Sale at the Club
June 2013
Paul creates beautiful images, and we are delighted to have his art gracing our lobby. "A New Vision of the Central Coast," selected work from an ongoing collection of work from the California Central Coast landscape, including fine art photography, pigment prints, and photopaintings (mixed media: pigment prints w/acrylic) by Paul J. McCloskey can be viewed in our lobby throughout the month of June.
REMINDING ALL MEMBERS OF OUR BASIC RULES
-MAKE SURE YOU ARE "IN THE KNOW"-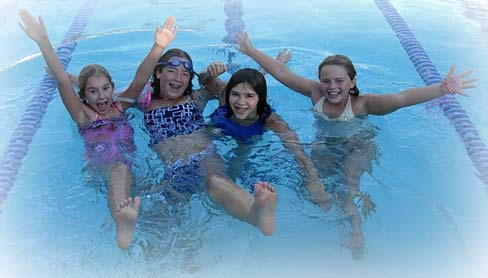 Summer is here! As the weather gets warmer and the pools get busier, please help ABAC provide a safe and harmonious environment for you by following these rules and sharing them with your guests. Staff appreciate your adherence and we all look forward to a great summer!
1) EVERY person must check in at the front desk upon arrival at the club—even if you're only picking up your child from a class. Guests must attend with a member (unless member has notified the front desk), sign a current waiver, and have a guest pass or pay guest fees.
2) Swim Rules:
Rules and requests made by lifeguards and staff must be complied with at all times
Pool rules and policies are posted by both pools. Familiarize yourself, family members, and guests with these rules before using the pools
Children under age 14 must be directly supervised by an adult, even when a lifeguard is on duty
Children under 43 inches tall must wear US Coast Guard approved life vests or have a parent within arms reach in the pool—ABAC provides loaner vests
Only proper-fitting U.S. Coast Guard approved personal flotation devices may be used. No floaties, water wings, tubes, mattresses, boogie boards, or inflatable toys
All children who wear diapers must wear swim diapers (may be purchased in the lobby)
Appropriate swimwear must be worn by the pools and spas
Except for the Free Swim Lane, the lap pool is for lap swimming only
For safety, the following are prohibited:

Horseplay, running, splashing, shoving, dunking, or hitting
Chewing gum, eating, or consumption of alcohol (in the water)
Glass containers
Diving in water less than six feet deep
Flips, back dives, or spinning entries from the side of the pool
Throwing balls (with the exception of sponge balls)
Squirt/water guns
3) Shirts and shoes must be worn in the lobby.
ABAC provides towels; please use them to completely dry off before entering the lobby or Tennis Tower (always keep in mind—a shirt is not a towel☺)
FITNESS NEWS!
by Jan Berdar, Fitness Director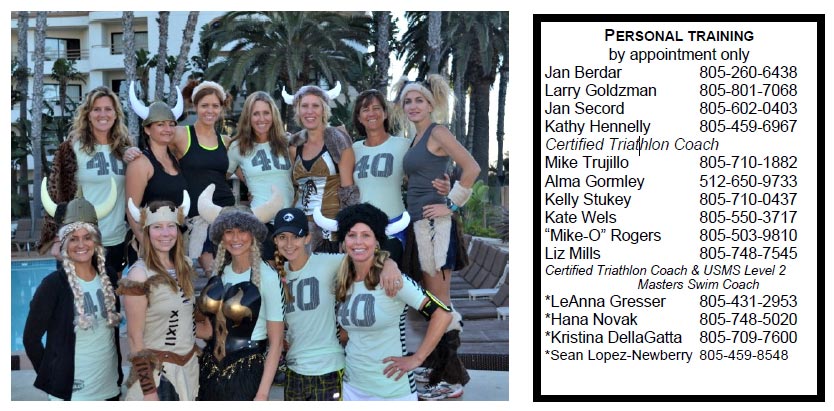 One of my favorite parts of life is jumping into some crazy yet challenging fitness events! In honor of ABAC member Ane May turning 40, a team of 12 women was put together to run in a relay race called the Ragnar Series. The race start began on Huntington Beach on April 19, and finished in San Diego. Yes, just under 200 miles! The "Hairy Britches," King Ragner's nick name, was comprised of women from our community, Las Vegas, and our very own Avila Bay Athletic Club & Spa members: Carrie Oetman, Amy Gardner, Kathleen Kalpakoff, Ane May, and moi. The photo below is before we ran. See if you can tell who is who. The race took over 30 hours, with 90 degree temperatures during the day and running through the night.
Running, soccer, and taking part in ABAC's group fitness classes, small group training, swimming in our pool was how these women trained for this race. Whether your sites are set on a 5k run/walk at Talley Farm in June, the San Luis Triathlon in late July, a Tough Mudder down the road in October, or the City to Sea half marathon, we will be there with you and for you. These events are great ways to make friends, laugh, and push yourself physically. Check out our updated Summer Schedules and try something new!
It's Sunscreen Season!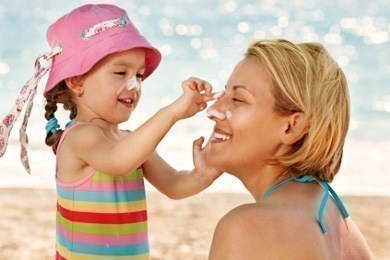 by Candice Holloway, ABAC Esthetician
As a professional who sees sun damaged skin on a regular basis, I always like to remind people of the importance of using sunscreen, and not just during the summer but all year around!
Exposure to ultraviolet light, UVA or UVB from sunlight can cause you to age prematurely and result in wrinkles and skin cancers. The use of sunscreen is imperative to preventing wrinkles and cancer.
Make sure to check your sunscreen's ingredients. A good broad-spectrum sunscreen should have an SPF of at least 15 and contain avobenzone titanium dioxide or zinc oxide. Use sunscreen correctly! Most people don't. Sunscreen should be applied liberally to all sun-exposed areas and should leave a film on the skin. It takes at least 30 minutes for the skin to completely absorb the sunscreen, so wait a half hour before exposing yourself to the sun. Reapply every 2 to 4 hours while in the sun, and after swimming, excessive sweating, or using a towel. I suggest this process even with waterproof sunscreen.
So this summer, don't forget your sunscreen. And don't forget to book an appointment with me—because keeping your skin healthy is just as important as exercising and eating right! -Candice
FROM THE TENNIS TOWER
Avila Bay Classic/Vince Dente Memorial Tennis Tournament Results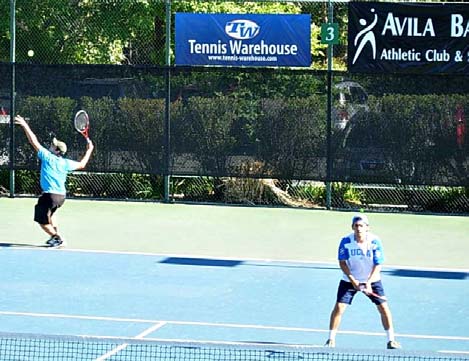 The 2013 Avila Bay Classic, also known as the Vince Dente Memorial Tennis Tournament, was a booming success! Finals play ended on Memorial Day Monday with Open Categories not only winning the tournament prizes but prize money as well! We had three MAJOR SPONSORS this year, TENNIS WAREHOUSE who supplied prize money for Open Divisions, $25 gift cards for every other division winner, and player bags for each participant; STRAIGHT DOWN who supplied prize money for Open Divisions and hats for every participant; and HAL SWEASEY-REMAX DEL ORO who supplied prize money for Open Divisions. Over $4000 was awarded to Open Division winners with the help of our generous sponsors! With over 180 players this year, it was a happening place at the club! Matches were held at Avila Bay Club, Arroyo Grande High School, and Cuesta with finals ending Monday at Avila Bay Club. The tennis was fabulous and we had quite a few members out playing as well as watching all of the action! The results from the tournament are posted up on the tennis deck and listed below:
Men's Open Singles Noah Newman ($800) def. Eric Roberson ($400) 7-6,6-4
Women's Open Singles Yasmin Schnack ($800) def. Katsiaryna Zheltova ($400) 6-0,3-6,6-4
Men's A Singles Edward Rodriguez def. Daryl Okada 6-2, 6-4
Men's A- Singles Shelly Schleif def. Brad Schafer 6-3,6-2
Men's B Singles Gerald Redmond def. Trig Lodrup 6-4, 6-2
Men's 50 Singles Hal Sweasey def Miguel Phelps 6-4, 6-4
Men's 65 Singles George Godde winner by default
Boys' 18 Singles Zach Hilty def Jared Hall 6-4,4-6,6-2
Boys' 14 Singles Sydney Alwen def. Joey Kullman 6-1,6-4
Girls' Singles Madelyn Ferreros def Maddie Seeds 6-3,6-1
Men's Open Doubles Comuzzo/Thompson def Barber/Gaynes 7-6,6-1
Men's A Doubles Sweasey/Rowley def Munster/ Sczbecki 6-1, 6-0
Men's A Doubles Cox/Tao def Cleere/Lakowski 6-7(5), 6-1,10-3
Men's B Doubles Andell/Castro def Chipman/Dickey 4-6,6-2 ,10-8
Women's Open Doubles Schnack/Zheltova def Currie/Davis 6-0,6-1
Women's A Doubles Phelps/Allison def Derringer/Downey 6-3, 7-5
Women's A- Doubles Ryan/Williams def Dornan/Jarvis 7-6, 6-1
Mixed Open Doubles Roberson/Schnack def Seeman/Zheltova 6-3,6-4
Mixed A Doubles Phelps/Phelps def Budd/Redman 6-2, 6-2
Mixed B Doubles Lopez/McCabe def Jones/Daly 6-2,1-6,10-5
Proceeds from the tournament will be donated to the Vince Dente Memorial fund to continue helping our local youth succeed with their tennis training, goals and aspirations!
A HUGE THANKS to all the members who supported the tennis staff by participating in the tournament or helping with the tournament! A SPECIAL THANKS to Ken & Christy Whittle, Shari Wallace, Jordan Hayashi, Jan Berdar, Jamison & Mackenzie Phelps, Olivia and Xenia Madison, Norbert Mocan, Lauren Kueffler, Darlene Davis, Kip & Randy Dettmer, Paul Fiala, Mark Sczbecki, Drew Munster, Mike Rowley, Hal Sweasey, and Don Hightower. We appreciated all of your help and couldn't have done it without you!
And a HUGE CONGRATS to AGHS Boys Tennis for winning the CIF Championships, and SLO HS Tigers, the runners up in CIF, WAY TO GO BOYS! Also, to ANDRE DOME, Cal Poly phenom, NCAA Division I ALL AMERICAN, CONGATULATIONS!!! Andre trained at the Avila Bay Club courts. CONGRATS TO ALL OF OUR LOCAL KIDS!!!
-Gratefully, Mark Scribner, Hugh Bream, Jenny Phelps
ADULT & JUNIOR TENNIS
Adult Programs
Friday 9-10am Drop-In All Level Clinic
Men's Day Doubles Twice a Week
Men's and Women's Singles Ladders
Central Coast Women's Tennis League (more than 100 women participating)
5 Tournaments per year, including sanctioned, non-sanctioned, and club championships
Ongoing Socials and Mixers
Junior Programs-TYKES, BEGINNING, INTERMEDIATE-MUST SIGN UP IN ADVANCE FOR SUMMER SESSIONS!
IMPORTANT! Summer Junior clinics are by pre-registration ONLY.
There will be NO JUNIOR DROP-IN CLINICS DURING THE SUMMER MONTHS!
Classes by Weekly Sessions Beginning Week of June 17
Tues/Thurs 2:00-2:30pm TYKES (4-6 yrs) 12 kids max $10 members/$15 non-members
Tues/Thurs 2:30-3:30pm BEGINNING JUNIORS (7-12yrs) 16 kids max $10 members/$15 non-members
Tues/Thurs 3:30-5:00pm INTERMED JUNIORS (13+yrs) 16 kids max $15 members/$20 non-members
Mon/Wed 2:00-3:30pm Junior Excellence Program: Participation by approval from Mark Scribner or Hugh Bream
The schedule and registration forms for summer sessions are available in the Tennis Tower and in the lobby. If you have any questions, please contact Jenny Phelps at 805-595-7600ext106 or 928-533-0362. Thank you!
Call the club in advance for private lessons, other special junior events, or for special holiday schedules (595-7600ext.106)
AQUATICS NEWS!
BY KALEY CONROW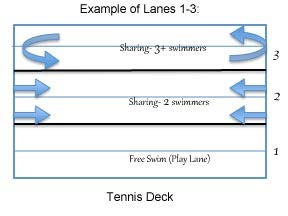 Big Pool Etiquette
Lane 1 = Free Swim (Play Lane)
Lanes 2-6 = Sharing* Lap Swimming
With summer upon us, more swimmers will be using the pool. Please work together and share lanes if others are waiting to swim. Circle-swimming is not difficult to do, it just takes some getting used to. In high school, I used to swim thousands of yards with up to ten other teenagers in one lane! ABAC staff appreciate your cooperation.
*Sharing a lane means two people can split the lane; one swims on the left side and the other swims on the right side of the blue line at the bottom of the pool (see Lane 2 in diagram). If there are more than two people in a lane, then circle swim to the right (see Lane 3).
ABAC Masters
Practices:
Mon & Wed 5:30-6:30PM
Thurs 6:00-7:00AM
Fantastic & fun workout for adults!
Let Liz Mills & Kaley Conrow help you take your swimming to the next level. Try it out twice for free!
Sign Up Now For Synchronized Swimming!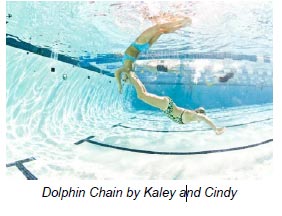 This is the third summer I will be teaching the basics of synchronized swimming to all ages* (open to girls and their moms!). If you and/or your daughter love to dance and be in the water, this is the perfect class for you! It's an incredible workout, and it's so much fun that you do not realize how hard you are working. I will teach eggbeater, sculling, basic figures, and breath control. The goal for the end of the summer is to demonstrate a mini-routine during an August Happy Hour.
*participants must be able to swim 100 yards unassisted
Dates: June 18—August 15
Days: Tuesdays & Thursdays
Time: 12:30-1:30 p.m.
Price: $15 drop-in or $200 upfront (save $70)
10% discount for relatives; add 20% for non-members
Contact: Coach Kaley at kaley@avilabayclub.com
Avila Bay Starfish & Gnarly Narwhal
2013 Swim Meet Schedule
Come cheer on the Starfish and Narwhals! These mellow swim meets are the perfect way for swimmers to get their times and track personal progress!
Time Trials: Monday, July 1, 3:45-5:30 p.m. (only Starfish swimmers)
Dual Meet @ Cuesta: Wednesday, July 10, 4:00-6:30 p.m.
Dual Meet @ ABAC: Wednesday, July 17, 4:00-6:30 p.m.*
Champs @ Cuesta: Saturday, August 3, 9:00 a.m.-1:00 p.m.
*up to 5 lanes will be used at the meet versus Cuesta; please plan lap swimmingly accordingly on 7/17
Adult Beginner Swim Class Coming Soon!
Add LAP SWIMMING to your fitness routine! Kathy Hennelly will teach tips to help you breathe properly, hold the correct body position, relax while kicking, and learn stroke technique for freestyle, backstroke,
and breaststroke! Sign up today to reserve a spot! Child care available by appointment.
Dates: July 17-August 21
Day: Wednesdays (six classes)
Time: 10-11 a.m.
Price: $119/members; $139/non-members
Equipment needed: swim suit, goggles, and swim cap (optional, but recommended)
Contact: Kathy Hennelly at hennelly@charter.net or 459-6967
Next Swim Competition & Game Day
Friday, June 21 ● 3:45-5:30 PM
MARCH MEMBERS OF THE MONTH—LARRY & VELMA GREEN!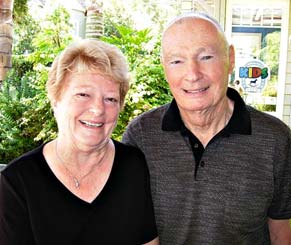 Long-time members, Larry and Velma live in San Luis Bay Estates and are at the club almost every morning. Larry does about 40 minutes of cardio and 40 minutes of weight training. Velma spends 30 minutes on the elliptical, does back-related floor exercises, and talks, because, as she says "There's a lot of nice people here."
The couple were both widowed when they became square dance partners almost eight years ago, which led to love and marriage! With nine children, fifteen grandchildren, and two great grandchildren between them, they still manage to find time to exercise regularly, dance, and travel. They've taken several 4-month-long cruises around the world, a 2-month cruise around the Pacific, river cruises in Russia and on the Danube, and shorter cruises to the Caribbean, Greece, the Baltic Sea, Asia, Mexico, French Polynesia, the Samoan Islands, Alaska, and Europe. And that's just the short list! This summer they will be driving across the country to Boston to take a one-month cruise, visiting locations in Canada, Greenland, Iceland, Denmark, Norway, The Netherlands, Ireland, and Maine. Then they are off to London for a month-long tour of the British Isles. In January 2014 they are scheduled to take the Holland America 2014 World Cruise, which circles the globe. Whew and wow! As two of our favorite "morning people," Larry and Velma set a great example. Larry's best piece of advice toward maintaining a regular exercise regime is to "get out of bed and get to it—right away—then it's over and done with for the day." When he was working, Larry got up at 4:30 a.m. so he could be assured of getting a workout in. We admire this amazing couple for their dedication to health, their great good natures, and the way they love the club!
MARCH EMPLOYEE OF THE MONTH—VALERIE WRAGE!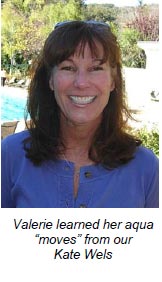 One of ABAC's aqua aerobics instructors, Valerie has been at the club for about nine months, and, oh, what a fun teacher she is! Just ask any of the aqua gals (and the occasional guy).
Valerie lives in Pismo Beach with her husband of 32 years, "Get the Lead Out" Rob and two adorable kitties: Fat Cat and Little One. They have three grown children, and they love to walk on the beach together. Valerie is an artist and was a full-time volunteer art teacher at Shell Beach Elementary for over ten years. One of her many students included Jan Berdar's daughter—small world. She draws and paints and still maintains an art studio in her home where she teaches children. Her passions also include travel (she loves Paris best), sea glass hunting, and her family.
Valerie says her favorite things at the club are the pool, the sauna, and massages! She also says she is planning to start taking group fitness classes soon!
If you look in the dictionary under "delightful," you'll find a picture of Valerie. Her smile and warmth light up the club. We are so lucky to have her and appreciate her energy, spirit, and her big beautiful heart. Thank you, Valerie, for being you!
FROM THE SPA
BY SHERRI BUVICK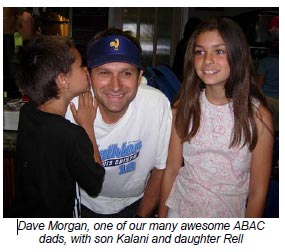 FATHER'S DAY is right around the corner, and you KNOW what he wants! A massage, of course. Schedule his massage now, or pick up a gift card. A great gift like that might even elicit a HAPPY DAD DANCE!
TEETH WHITENING is now available every Friday from 8-1. Available other days and times by request. Three to six shades whiter in one hour. Yes, it's true. $79
MANICURES & PEDICURES, GELS & ACRYLICS! Denise does it all! Enjoy our massaging pedicure chair while Denise works her magic on your nails.
CHIROPRACTIC by Dr. John Quinn. Every Tuesday and Thursday, from 9-12. Call 481-9696 to schedule.
MASSAGE is available daily. Stop by the front desk to schedule your appointment.
BOTOX is offered by Dr. Wendy Weiss. Look years younger in just minutes! $11 per unit.
FACIALS can help will dry, dehydrated skin, acne, and much more. What shape is YOUR skin in? Watch for Candice and Nicole in the lobby and take them up on a free consultation!
ACUPUNCTURE by Erika Eddy. Every Tuesday.
Kids' Club News

by Bre Boswell
Summer is upon us. School is out and it is time to play! This is the month that Kids' Club starts staying open all day, so come in and enjoy the company of all your friends. And speaking of friends, I want to welcome two new teacher friends to Kids' Club: Vanessa Copley and Emily Schoof! Vanessa and Emily are a lot of fun, and
your kids are going to love them!
Starting June 17, our new hours will be:
Mon—Fri 8:00 a.m. to 6:30 p.m.
Saturday 8:00 a.m. to 2:30 p.m.
Sunday 9:00 a.m. to 1:00 p.m.
Even though we are open longer hours, please keep in mind that children need a break every couple of hours. Make sure to "break up" longer periods of time by fetching them out of Kids' Club for a little time with mom and/or dad.
Don't forget our Kids' Club Book Exchange on June 1 and 2. Bring in books, exchange them for "new-to-you" books! It's a very inexpensive way to refresh your child's library!
We look forward to another great summer! Make sure to keep an eye out for all our upcoming Kids' Club activities. If you are not already signed up to receive strictly Kids' Club related emails, please
do so at the Kids' Club desk—it's the best way to stay in the loop!
Big congratulations to our Kid of the Month: Laila Soheli! We love having Laila in Kids' Club. She is funny and such a good friend to all the children. Laila is blossoming into an outgoing child with an active and unlimited imagination!
Upcoming Dates to Note
June 1 Saturday. Parking Lot Swap Meet & Amazing Wine Sale! 9-1
June 1-2 Kids' Club Book Exchange
June 7 HAPPY HOUR! Featuring Shival Experience! 6-8 p.m.
June 14 HAPPY HOUR! Featuring the Mudskippers! 6-8 p.m.
June 15 Parents' Night Out! Saturday. 5:30-8:30 p.m.
June 16 Happy Father's Day to all our fabulous ABAC DADS!
June 21 HAPPY HOUR! Luau themed, and featuring Zongo All-Stars! 6-8
June 21 Swim Competition & Game Day, 3:45-5:30 p.m.
June 28 HAPPY HOUR! Featuring the Usual Suspects! 6-8
Third-Thursday Wine Down Takes a hiatus during the summer months. See you September 19!
CLUB SUMMER HOURS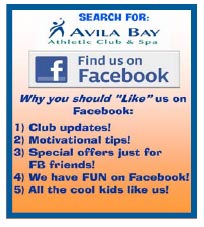 Mon-Fri: 5:30 a.m. to 9 p.m.
Saturday: 7 a.m. to 9 p.m.
Sunday: 8 a.m. to 8 p.m.
KIDS' CLUB HOURS
Mon-Fri 8:30am-12:30pm & 3:30-6:30pm
Saturday 8am-12:30pm
Sunday 9am-12:30pm
See above for extended hours starting June 17